Arthur's Hall of Viking Manliness: Top 10 Wrestlers of All Time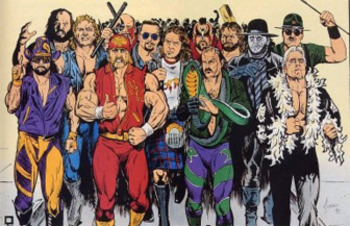 This article is "The Top 10 Wrestlers Ever". There is one caveat, I believe that professional wrestling became the sport that we know and love in the early 1980s so all the wrestlers will be post 1980. In order to create this list I had to come up with some diagnostic criteria which took some time. What makes a wrestler great? Is it athletic ability in the ring? Or perhaps it is charisma and microphone skills? Or is greatness determined by lasting impact on the sport and cultural influence? I decided that all three are equally important. These criterion exclude one-dimensional characters like Batista or Jake "The Snake" Roberts. There are a ton of guys who were great at one of the three aspects that make up professional wrestling but only the all-time greats could pull off all three.
As you all should know by now, this site is devoted to bringing manliness to the masses. In my opinion, professional wrestling did this in spades in the 80s and 90s. I am no longer a fan of wrestling, it has been taken over by the "Maxim" crowd. What I mean by that is that now instead of two men arguing and questioning each others manhood (very manly) most of the storylines are influenced by plastic tanorexic Barbie dolls. What has happened is that wrestling has become a testosterone enhanced MTV of sorts and there is nothing about that I can approve of. Professional wrestling is at its very best when two juiced up men, one good (face) and one bad (heel), are at each others throats due to some intrigue in the storyline. The best part was that often the feuds that were acted out in the ring were based on real life dislike for one another. Usually this dislike for each other was based on the respective wrestlers status in the promotion or jealously about salaries, etc...real life things that men get pissed off about.
Before I start with the list I will take you through the three things that make a wrestler great. The centerpiece of professional wrestling is the action in the ring. For a wrestler to be truly great he must be able to execute a series of moves that bring the crowd into the match....watching two guys punch and kick each other only creates so much excitement. Make no mistake, professional wrestlers are athletes and the best wrestlers are damn good athletes. So athletic ability is important but so is wrestling style and execution. We have all seen guys who are unable to execute their signature moves with style and grace. To be a great wrestler in the ring a competitor must be able to execute all the standard wrestling moves with speed and accuracy. He must also be able to take a fall. This is a lost art in modern wrestling. Anyone can smash and throw guys around but it takes a true great to be able to take the punishment as well as he dishes it out. So a wrestler must have good athletic ability, skill and attention to detail, and ability to take a fall...but he also needs to be able to excite the crowd in the ring. This is a true art that few have perfected. You know it when you see it but it is hard to quantify. Being able to play to the crowd (in the case of a face) or getting the crowd root passionately against him (for a heel) is critical for a superstar.
Charisma is the most important factor in determining a wrestlers true place in the pantheon of greatness. While in ring skills can be taught and learned, inherent charisma is just a natural thing. No gimmick can create it, no amount of shit talk can fake it...it just comes naturally to those who have it. The way a wrestler looks is also part of this. His physique is part of it but so is his hair, walk, in ring attire...the whole package. The love-hate relationship that fans have with wrestlers is a product of their charismatic skills. Without natural charisma most fans are indifferent.....Kane for example. Yeah, he is big, ugly and dominant but did I ever really care? No. It is easy to confuse charisma with skill on the mic, because most wrestlers who are charismatic are also good mic guys but there have been examples of charismatic wrestlers who could not talk whatsoever. Take Hacksaw Jim Duggan for example..he was loved by many fans but had no skill with the mic. He just had an infectious enthusiasm for what he was doing and everyone could see it.
Skill with the microphone is another important aspect of a wrestler's arsenal. We all remember the promos and pre-match shit talk from the greats...in fact it is my favorite part or wrestling. To have skill on the mic, a wrestler must be able to deliver a message and be funny and menacing at the same time...and don't forget the trademark tagline. Every wrestler needs a certain phrase or yell that lets everyone know that THEY are talking and no one else. A great tagline brands a wrestler into your brain forever. Superstars are often given the chance to improv and talk for a couple minutes at a time. There was nothing better than watching Ric Flair go on a five minute rant about Space Mountain and stylin' and profilin' mixed in with at least ten "WOOOOOs". It makes me laugh just thinking about it.
The lasting impact and influence of a wrestler is the last of the criteria for all-time greatness. To ascertain this I asked myself "Did this guy change the sport or was he just a cleverly created gimmick?". The all-time greats transcend their gimmick or even what promotion they worked for. Part of having a lasting impact is longevity. Being able to be a superstar for a couple of years proves nothing...being a star for decades is the measure of greatness. No single aspect of a wrestler allows them to be stars forever, wrestling skills fade, injuries diminish ability, and time can make a wrestler's persona just seem old and played out. The greats overcome this by reinventing themselves. I also decided to try to assess the impact an individual wrestler had on professional wrestling as a business. Let's face it, we all starting watching wrestling for some reason....most of the time it was because of one or two wrestlers.
Now that greatness is defined, it is time to list the Top 10.
#10 Chris Jericho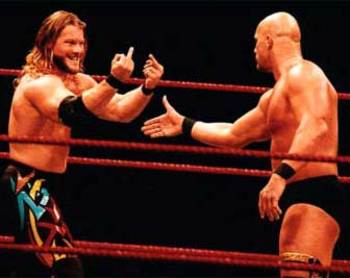 Ring Performance - 8
Charisma/Mic Skills - 9
Overall Impact - 6
I bet that many of you thought that he would NEVER, EVER..be on this list but you were wrong. In doing my research for this article I found out that the name Jericho was inspired not by the Biblical city of Jericho but by the song "The Walls of Jericho" by Helloween. Now that is great. I became a fan of Chris Jericho in his run as a heel in the WCW. His gimmick was that he was a smart ass coward. He would constantly talk about how great he was and yet he would always find a way not to wrestle the guy that he was talking shit to. A truly great gimmick and it fit his personality to a tee. He is not the biggest guy ever (as a matter of fact he may the smallest guy on the list) so him being afraid of bigger, stronger men made sense. A personal highlight for me was his feud with Dean Malenko, a talentless midget who got promoted for some odd reason. Malenko was the "Man of a 1000 holds"..well Jericho thought it would be funny to start calling himself "The Man of 1004" holds. In a moment that could only happen on the overblown three hour WCW Nitro he proceeded to bring a list of the 1004 holds and started reading them. Nitro went to commercial and when they came back he was still in the ring reading the list, it was hilarious. Every other move was an armbar..and he called one of his holds the "Saskatchewan spinning nerve hold", amazing. He was able to make fun of himself and run his mouth at the same time. His non-existent feud with Goldberg was another classic Jericho moment. He would call Goldberg into the ring when he knew that he was not there and call him a coward for not coming to the ring. He then wrestled a midget dressed up like Goldberg and beat him so that he could say he was undefeated against Goldberg. Of course, they never wrestled, he would run away every time Goldberg came on screen.
In the ring he is a technically sound wrester having trained at the famous Bret Hart Academy in Calgary. His finishing move "The Liontamer" or the "Walls of Jericho" is a devastating maneuver that most wrestlers do not escape from. He also uses a variety of moonsaults and aerial skills to destroy his opponents. The best finishing move is not really a finishing move at all. After knocking someone down to the canvas he would proceed to put his foot on his opponent's chest and flex and scream "C'mon Baby!!"..makes me laugh still thinking about this little guy flexing and smiling.
His impact on the long term future of wrestling is not as great. He has made some appearances on VH1 and MTV usually commenting on metal. He is a huge metal fan which makes him even better. As a matter of fact, I was watching the top 50 metal songs ever on VH1 and after "Run to the Hills" he said that "Iron Maiden is intelligent metal, I always felt like I learned something after listening to Iron Maiden"..that's right Chris. He also sang "The Evil That Men Do" on the Iron Maiden cover album, Numbers of the Beast. That being said, I do not believe that people starting watching wrestling because of him. I think they were quite entertained by Chris's antics but he just does not transcend the sport. I also appreciate that he is a Christian and does not participate in some of the lewd storylines that dominate modern wrestling..that counts for something. This guy is one of my all time favorites but I could not place him any higher because he just has not made a huge impact on the sport and his career has been pretty short.
#9 Scott Steiner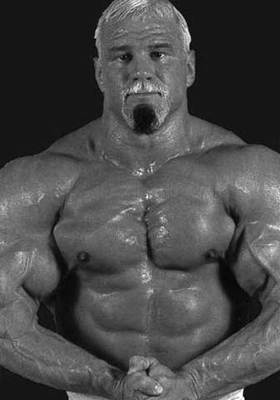 Ring Performance - 10 (early) 5 (late)
Charisma/Mic Skills - 7
Overall Impact - 6
While he is the most impressive looking wrestler in history..that is not the reason he makes the list. Don't get me wrong, looking the way he does did help him gain entry into this hallowed list but he is much more than his physique. In my grade of Steiner you will see that I chose to differentiate early Steiner (mostly as a tag team wrestler with his brother) from late Steiner (Big Bad Booty Daddy). Early in Steiner's career he was the prototype for the modern wrestler. His combination of size and athleticism was unparalleled in wrestling. The only athlete in wrestling history that is comparable to Steiner is Brock Lesnar.
Steiner was an accomplished amateur wrestler. He was an All-American at the University of Michigan and he brought that skill and agility to the pro ranks. He was the first mainstream wrester to use the "Frankensteiner" the headscissors takedown that has become a staple of modern wrestling. To see a man of his size do that maneuver was a sight to behold. He was also king of the suplex, one of the most devastating moves in wrestling. Along with his brother, Rick, they were the Steiner Brothers, one of the great tag teams in wrestling history. The art of the tag team has gone by the wayside in modern wrestling and that is unfortunate. Now you just see two stars teamed up temporarily usually just to get face time. In the 80s and early 90s there were actual tag teams whose wrestlers never competed in singles...in some ways it was a separate sport and added to wrestling's appeal. Later in his career, he made a heel turn and started pushing the limit in terms of steroid use and his physique changed. Instead of being a big, strong athlete he became a bodybuilder. His body paid a serious price for this and his wrestling ability diminished rapidly. He started to rely on pure strength and general nastiness to overwhelm his opponents. As the injuries mounted he became a side show, flexing at people and just beating people up. Entertaining as hell but not up to the standard that he set for himself early on in his career.
I gave Scott a 7 on the charisma and microphone skills section. This may come as a surprise because he is certainly not the most eloquent speaker. What he lacks in skill he makes up for with pure aggression and obnoxiousness. He is one of the few wrestlers who never bowed the internal pressure of his promotion. Along with that, he is one of the great heels on the mic ever. My favorite from Steiner was in the WCW when he said the following "When I look into the crowd I think to myself that I must be all of your idols (heavy breathing), but then I realize that you are all genetic junk and I am a genetic freak"...hilarious. Nothing better than bashing the home crowd. In another classic rant he went off about Ric Flair on live TV and I quote "When you came on TV the people at home grabbed their remote and change the channel to the WWF and watch Stone Cold a person you and your friends got fired from here because you are jealous old bastard" and then he called Flair "A ass-kissing, butt-fucking bastard" and his final exclamation point was "WCW sucks"...he was suspended for two weeks without pay for that incredibly obnoxious rant. His in ring demeanor is also a contributing factor to him making the list. One of his trademarks was to beat his opponent senseless and then mock his opponents by doing push ups and flexing on them, classic heel stuff. His appearance also helps him in this category, when he was in the WCW you just had to watch him come out flexing his amazing biceps. He just had the it factor that made me want to watch him.
Steiner had a moderate impact on wrestling as a whole. He did blaze the way in the ring early in career and some of his innovations have made the sport more entertaining. He also pushed the envelope physically which led to HHH's and Batista's of the world. His heel turn was one of the best re-inventions of a personality and it propelled him to new heights in wrestling. His horrible attitude and reckless behavior set a new standard for all heels to reach for. Steiner has appeared on a few bodybuilding magazines covers and probably got more than a few bodybuilders to watch pro wrestling. Of course, his attitude and appearance make him off-limits to advertisers and TV so his impact on popularizing wrestling as a cross-over has been negligible. But he makes the list....why?? "Because all he cares about are his freaks and his peaks"....manly indeed.
#8 Curt Hennig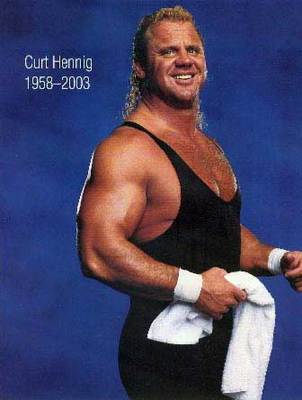 Ring Performance - 10
Mic/Charisma - 8
Overall Impact - 6
Curt Hennig is a "Perfect" choice for this list. Curt started his career with his legendary father Larry "Axe" Hennig in the AWA. Early in his career he teamed with his father to feud with the greatest tag team in history, The Road Warriors. They were unsuccessful in defeating them but he did receive his first notoriety during this feud. He later won the AWA Tag Team belts with partner Scott Hall...of Razor Ramon fame. He joined the WWF in 1988 and was launched with a promotional build-up that was ahead of its time. He appeared in numerous vignettes during the WWF telecast that showed him doing amazing things like knocking every ball in on a pool break and making half-court shots on a basketball court. It served to build him up as a superior athlete or the "Perfect" athlete and he became Mr. Perfect. He won 150 straight matches to begin his WWF career which only led to his character being hated by the crowd. He won many of his matches with cheating and then would proclaim that "You just witnessed perfection".
Mr. Perfect was an outstanding technical wrestler. He, along with Bret Hart, were the in-ring standard that all wrestlers would be measured by. Curt Hennig was my first favorite wrestler. I loved the little skits and I loved his "better than you" attitude. One thing that still cracks me up about Mr. Perfect was his pre-match routine. He would walk down to the ring with a smug grin on his face waving his hand at people as if to shoo them away. He would then get down to the ring and spit his gum out and hit it into the crowd. I was just so damn funny!! Curt was injured a lot during his career but he did not let being injured affect his ability to talk shit. In the WCW, he would come down on crutches in get in the ring and hold himself up on his crutch while flexing his tricep and pointing at it and shaking his head....now that is a Viking thing to do. Of course he was as Norwegian as they came..he gets bonus points for that. His technical skill was on display with his finishing move, The Perfect Plex. The Perfect Plex was a suplex that ended with Curt doing an absurd bridge and holding a underhook-leg pin...it was just an awesome finishing move. His match against Bret Hart at the 1993 King of The Ring (Hart won) is regarded as one of the great matches in WWF history. Bret Hart called him "the best wrestler I ever worked with".
Mr. Perfect was one of the most charismatic wrestlers in history. The only reason he does not receive a higher grade in that department is due to the relative length of his run as a big time heel in WWF. He was also limited by various back injuries that kept him out of the ring for extended periods in his prime. During one of his rehabs he was a bodyguard for Ric Flair during Flair's two WWF Champion reigns. He was also great in this role..helping Flair win by cheating and then acting coy about it.
His impact on the sport was limited to starting the trend of giving a wrestler a long build up before debuting. This was copied in the late 90s with the Val Venis buildup. Ha, ha..Val Venis buildup!! But unlike Curt, Val was a gimmick and Curt's in-ring ability carried him beyond the gimmick status that haunts some wrestlers. We lost Curt prematurely...he died of acute cocaine intoxication...I hope that his death, along with his good friend Rick Rude's, will teach wrestlers that they are not immortal. That would be a fitting result of a "Perfect" career.
#7 "Stone Cold" Steve Austin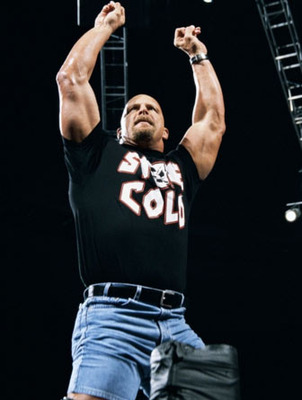 Ring Performance - 8
Mic/Charisma - 9
Overall Impact - 7
Steve Austin is another obvious choice for the Top 10 wrestlers in history. He, along with The Rock, was the centerpiece of the WWF's second golden age (1995-2000). Steve Austin began his career in 1991 in the WCW as "Stunning" Steve Austin. He success quickly winning the WCW TV Championship in June of 1991. He soon formed the Hollywood Blondes with Brian Pillman and this is my first memory of Austin. The Hollywood Blondes were a great tag team winning the tag team titles soon after they were formed. Their gimmick was that they were beautiful and looking back at Steve Austin playing with his blonde hair is humorous now. I always admired Steve Austin partially because he and I look damn similar. I went to a WWF event and I had kids approaching me and asking me for my autograph, it was funny. He was never promoted correctly in the WCW. The WCW always had a reputation for pushing older stars and he became frustrated with the promotion and was released from the WCW in 1995.
He joined the ECW in 1995 and it was there that he developed his Stone Cold persona. He debuted on ECW with a series of spoofs and vignettes aimed at the WCW. He came out and talked about Monday NyQuil and started promoting the "Bottle of Geritol on a Pole" match between Flair and Hogan. He began his WWF career in late 1995 as the "Ringmaster" managed by all-time great Ted DiBiase. He hated this gimmick (it was terrible) and would soon turn into Stone Cold Steve Austin, a bad ass beer drinking, shit talking Viking of a man. This new persona was a huge hit and he became the first true "badass" face. He cemented this with a feud against old-school face Bret Hart where he said "If you put a S before Hitman that will tell you my opinion of Bret Hart".
Steve Austin is what I would call a self-made wrestler. He did not have elite athletic ability or size or agility for that matter. What he did have was aggressiveness and a willingness to job and take bumps. When Austin would get hit, he would sell it. His move set was straight out of the 1980s, he did not have any high flying or truly difficult moves. One of his trademarks was stomping someone in the corner of the ring...nothing special but he did it with flair. His finishing move "The Stunner" became the most feared move in wrestling and it was a good move, it could be executed quickly and on anyone who would stand near him. I think everyone even affiliated with the WWF was "Stunned" more than once including the McMahon family, including Sharon McMahon, Vince's benevolent wife.
Austin's place on this list is mostly due to his ability to captivate a crowd and steal the show. His charisma and mic skills were in the elite of all time. Stone Cold was not supposed to be face....but the crowd loved the character so much that the WWF had no choice but to make him a face. So with Austin as a face, the WWF needed to create a heel that was good enough to talk and wrestle with Austin and they turned to The Rock. The Rock became the Corporate Champ and started, in my opinion, the best feud in WWF history with Austin. The storyline was that Mr. McMahon hated Stone Cold for his white trash antics and wanted his boy, The Rock, to destroy him. This storyline unleashed the greatest feud in history. The feud was littered with white trash references from the Rock and pussy references from Austin.
Austin's impact on professional wrestling is difficult to gauge. He was wildly popular but on the other hand wrestling started collapsing during his reign as the top WWF face. His reign brought a new style to the hero, a bad ass shit talker who would kick everyone's ass. This gimmick worked well for him but it has become too common for faces to be "bad guys" now...wrestling needs to get away from that and bring back the traditional face. All this may be true but Austin is certainly an all-time great but his greatness was fairly short lived and therefore only gets a 7 from an impact standpoint. And that's the bottom line...
#6 Shawn Michaels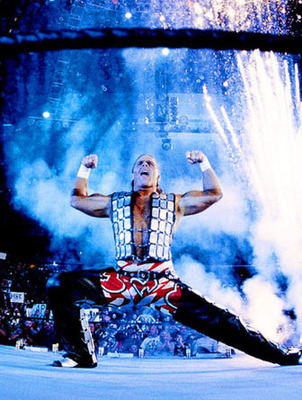 Ring Performance - 9
Mic/Charisma - 8
Overall Impact - 9
I will confess that I have never been a fan of Shawn Michaels but I do have to put him on this list. I am generally not a fan of small guys who wrestle and he is the smallest man on this hallowed list. He is one of the few stars in wrestling history that did not work in both the WWF and WCW. His career with the WWF began in1987 as a tag team wrestler. He and Marty Jannetty were the "The Rockers". They had a great gimmick...they had all-time great mullets and Shawn would wear big hanging earrings. They were a high-flying tag team who were popular in an era of bigger, slower wrestlers. They were a mid-card tag team until 1990 when they faced the Hart Foundation for the WWF Tag Team belts. They were scheduled to, and won the belts but after Jim "The Anvil" Neidhart agreed to a contract the match was voided and the belts were given back to the Hart Foundation. This was the beginning of a long feud with Bret "The Hitman" Hart.
Shawn Michaels was the face of the WWF as it struggled in the early 1990s with legal issues related to rampant steroid abuse. Steroid abuse?? Impossible in my opinion but nevertheless the WWF was forced use smaller and more athletic wrestlers and Shawn Michaels was the prototype for the new WWF superstar. He and Bret Hart were the biggest stars in the WWF and this naturally led to a genuine rivalry between them. Shawn Michaels split from The Rockers and he made a heel turn. He would come out with a mirror and was in awe of himself (one of the all time best gimmicks). I can remember him playing with his mullet in the mirror and I also remember that women were in love with him. He was certainly pretty so this allowed him to make his heel turn successfully. Bret Hart, on the other hand, was the classic good-guy face (probably the last one). Their feud would begin with Hart defending his WWF Championship against Michaels at Survivor Series in 1992.
His in-ring ability was his biggest asset. He was a smaller and more athletic wrestler and this allowed him to do use a different skill set than most of his contemporaries. The late 80s WWF was dominated by big plodding wrestlers who mostly kicked, punched and body slammed each other. Michaels, on the other hand, was doing moonsaults, top rope elbow drops, and superkicks. In addition, he threw himself around the ring at break neck speed and was not afraid to take legendary bumps. He was in the first ladder match matched up against Razor Ramon (he lost) at Wrestlemania X. This match was named "Match of the Year" by Pro Wrestling Illustrated in 1994, one of the six "Matches of the Year" he wrestled in, an all-time record. He is known as the innovator of this type of match but it was Bret Hart who brought the idea to the WWF.
He became WWF Champion in 1996 in a marathon match against Bret Hart. Later, as champion, he forfeited the belt due to injury (in his words). He was scheduled to lose the belt to Hart at Wrestlemania and it is widely believed that he did not want to lose to Hart. This subplot would continue to play out culminating in the Montreal Screwjob..the most infamous incident in WWF history. I will fully detail the Montreal Screwjob a bit later but basically Michaels was booked with Hart and the match was supposed to end in a disqualification with Hart retaining the belt but Vince McMahon wanted to strip Hart of the title due to contract issues and he, the ref and Michaels conspired to take the belt away from Hart. Michaels put Hart in the Sharpshooter and the ref rang the bell as if Hart submitted...he did not. This was a violation of Hart's contract...Hart had two clauses in his contract....he would lose his belt in Canada or to Michaels. Needless to say, Hart was pissed and he spit on and punched Vince in real time....it was not a job, it was 100% real.
Michaels later retired from the ring due to injuries. He fell on to a casket in a match against The Undertaker herniating two discs and crushing one other. He was a founding member of Degeneration X, a stable that would dominate the late 90s WWF. He, along with HHH, were the leaders of DX and they were just plain great. They would come out and make fun of Double U C Double U (WCW) with fake southern accents. They also targeted Vince, Shane McMahon and The Rock with classic skits. Shawn Michaels was critical in launching HHH into stardom and the two of them have been the creative force behind the WWF since then. He is now wrestling in a somewhat limited capacity against the advice of doctors...he is no longer the athletic marvel that he once was but he is still one of the big stars of the WWF.
Shawn Michaels is a legend, end of story. His impact on wrestling has been immense. His athletic style changed the sport forever. He blazed a trail for the Chris Jericho/Eddie Guerrero/Chris Benoit's of the world which of course made wrestling a more entertaining product. It is not a stretch to say that he has been the biggest star in the WWF since Hogan left for the WCW and he, along with Hart, kept the WWF in business in the mid 90s. If you don't agree....I got two words for you.......SUCK IT!!
#5 Bret Hart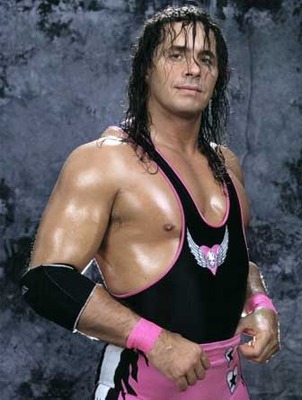 Ring Performance - 10
Mic/Charisma - 6
Overall Impact - 10
You had to know that the Hit Man would be here. If you are one of those clowns who disagrees with me, you are dead wrong. The first thing about Bret is that he is the greatest technical wrestler in history. Curt Hennig and Kurt Angle were in the same ballpark but compared to anybody else, it isn't close. In the ring he really was "The best there is, the best there was and the best there ever will be".
It is widely known that Bret never seriously injured an opponent, an incredible claim to fame considering how common in ring gaffes lead to serious injuries. Another great compliment of Bret Hart was spoken by none other than Vince McMahon who called him "the greatest storyteller in the history of the business" for his ability to build tension and excitement in the ring.
Many wrestlers are capable of pre-match antics that lead to a heightened sense of tension but very few (Hart, Michaels, Flair) are/were able to do it in the ring. He was trained by his legendary father, Stu Hart, in the the basement of his house along with his three brothers and also Jim "The Anvil" Niedhart and Davey Boy Smith aka The British Bulldog.
I am of the belief that Bret is the most underrated wrestler in history. He is underrated because he was never the most eloquent or exciting speaker. He tended to want to be the old-school face that the kids liked and parents looked at with admiration. He wanted to be the "good guy" who prevailed without cheating, talking much shit or acting like an idiot. I will admit that his personality was not a strong suit of his but I do think that we could use some guys like him and Jericho in the business now. To me his impact also lies in the wrestlers that followed in his footsteps. I think it is fair to say that without Bret we would not have Chris Jericho, Chris Benoit, Edge and Christian, and all the other great Canadian wrestlers. Bret is a national hero in Canada and as kids I can imagine that many of these guys aspired to be like Bret.
Bret's career closely mirrors his arch-enemy Shawn Michael's. Both were the beneficiaries of the steroid controversy that opened the door for smaller, more athletic wrestlers. Both were willing to take unbelievable bumps and both utterly refused to lose to one another. In July of 1992, Bret Hart defeated Michaels in the first ladder match and while Michaels is credited with this innovation it was really Hart that had brought this new type of match from his Calgary Stampede days. This feud would simmer for years and culminate in the Montreal Screwjob...explanation will come a bit later. He and his brother, Owen Hart (who died in a tragic wrestling accident) would go on to have an epic match in the 1994 SummerSlam event, this match was given the rare 5-star rating from noted wrestling analyst Dave Meltzer.
Hart was a five-time WWF champion back when it meant something...long before the belt was being handed over to undeserving champions like Batista, Booker T and the like. His first reign as champion was brought on by beating The Nature Boy in Canada. All this aside, Bret Hart was the face of the WWF from 1992 to 1997, most of the great storylines of the time involved him and nearly every legendary match from that era included him.
THE MONTREAL SCREWJOB
This is a long explanation of this infamous incident. It may be the most famous real-life incident in wrestling history....
It will go down in history as the single most famous finish of a pro wrestling match in the modern era. Twenty or thirty years from now this story, more than any famous wrestler jumping promotions, more than any prominent death, and more than any record setting house, will be remembered vividly by all who watched it live, and remembered as legendary
from all who hear about it later. Through the magic of video tape, the last minute of this match will live forever and be replayed literally millions of times by tens of thousands of people all looking for the most minute pieces of detail to this strange puzzle. But the story of what led to those few seconds starts more than one year ago, far more reminiscent of the dirty con man past of the industry than the current attempted facade of a multi-million dollar corporate above-board-image those in the industry like to portray.
October 20, 1996
Bret Hart was in a hotel room in San Jose, CA, hours from making the biggest decision of his life - who would win the biggest bidding war in the history of pro wrestling. He had pretty well leaned toward staying with the World Wrestling Federation despite a much larger offer from World Championship Wrestling, but had changed his mind a few times over the previous two weeks as each side presented new offers. Many close advisers of Hart's tried to tell him going to WCW was the best move for his present, and more importantly his future after wrestling.
McMahon, not to lose a very public fight with his archrivals, offered him the famous 20-year contract where he'd, after retirement in about three years, become almost a first lieutenant when it came to the booking process. Hart would earn somewhere in the neighbourhood of $1.5 million per year as an active wrestler, and a healthy but far lesser figure working in the front office for the 17 years after retirement as an active wrestler.
The money was still only around half that offered by WCW, but largely out of loyalty Bret was ready to sign with McMahon. He was concerned about the legacy and future of the Bret Hart character, and Vince assured him the character would be a WWF hero (babyface) for years to come. He accepted the WWF offer.
March 10, 1996
Top babyface didn't last long as McMahon asked him to turn heel. At first Hart balked at the idea but after three days, Hart realized that people might be tired with his white hat image and agreed. He figured it's more fun to be the heel anyway. McMahon and Hart came up with the Anti-American angle, where he would remain a babyface in Canada and Europe and be the heel in the States.
September 8, 1997
Vince McMahon and Bret Hart had their first meeting where McMahon seriously approached Hart about his contract. About three months earlier, McMahon had told Hart that the company was in bad financial straights and that they might have to defer some of the money until later in the contract. This time his approach was more than point blank. He wanted to cut Hart's regular salary, around $30,000 per week, more than in half and defer the rest of the money until later in the contract period when hopefully the company would be in better shape financially. Hart declined the suggestion, because he didn't want to risk not getting the money in the future after he was through taking all the bumps
September 22, 1997
On the day of the RAW taping at Madison Square Garden, McMahon told Bret Hart flat out that they were going to intentionally breach his contract because they couldn't afford the deal. He told a shocked Hart that he should go to World Championship Wrestling and make whatever deal he could with that group. "I didn't feel comfortable doing it," Hart said of the suggestion. "I feel like an old prisoner in a prison where I know all the guards and all the inmates and I have the best cell. Why would I want to move to a new prison where I don't know the guards and the inmates and I no longer have the best cell? I felt really bad after all the years of working for the WWF." McMahon agreed to insert an escape clause in Hart's contract and that he would have what the contract called "reasonable creative control" of his character during that lame duck period so that he couldn't be unreasonably buried on the way out.
October 11, 1997
The personal problems with Hart and Shawn Michaels were legendary. The verbal war in the ring, had gone beyond work. After Michaels claimed Hart was having an affair with blonde bombshell Sunny, the
two came to blows in the dressing room. After some time, the two made an agreement to work together again, and to leave their respective families out of their interviews. It took just one week before Michaels did an interview talking about Stu Hart being dead but walking around Calgary because his body and brain hadn't figured it out yet. By this point, Hart and his family had stopped watching RAW (the WWF television show) because he was furious with the way Vince had dealt with the death of his friend and fellow wrestler, Brian Pillman. McMahon did a live interview with Pillman's wife on that night's wrestling show, and made it part of a wrestling story line. Hart had problems with what he considered the perverted sexual content of the show because he has four children that were wrestling fans. He found out about Michaels remarks about Stu from his brother Owen. Once again, Hart concluded that the feud with Michaels was personal.
October 24, 1997
McMahon, before the show at Nassau Coliseum, told Hart that the money situation in the company had changed and they would have no problems paying him everything promised in his contract. Hart told McMahon that WCW really hadn't made him a serious offer and that he really didn't want to leave. McMahon asked Hart to go on a tour of Oman, Hart agreed, with the idea that he was staying with the WWF, but knowing due to the window for the release in his contract, he had to make the decision to give notice by midnight on November 1st.
October 31, 1997
Hart surprised McMahon and returned from the middle-east a day earlier than planned. This allowed the WCW's Eric Bischoff to catch up with Hart who had been basically incommunicado in a foreign land most of the week. Bischoff used to work for McMahon, and the hatred between the two made Hart and Michaels look like friends.
Just one day before Hart had to either give notice or stay for another year, Bischoff made a huge offer: $3 million per year and working one hundred and twenty five days a year, half the days in the WWF contract. Hart neither agreed nor turned down the deal, but gave the impression to WCW that they had a great shot at getting him.
November 1, 1997
Hart had until midnight to make up his mind. He called McMahon and told him about the WCW offer and said that he wasn't asking for anymore money to stay, but that he wanted to know what his future in the WWF would be over the next two years as an active wrestler. Hart made it clear his main concern was with the direction his character would take. McMahon said he'd think about it and call him back in an hour with some scenarios. Before McMahon called back, Bischoff called again trying to solidify the deal. McMahon ended up calling back four hours later from his barber Error! Hyperlink reference not valid. and told Hart he didn't know what he was going to do with him but that he should trust his judgment because of their past relationship. He said he had made him into a superstar, and he wanted him to stay and that he should trust him, and asked Hart to give him an idea of where he wanted to go.
During the conversation, McMahon brought up the scenario of wanting Hart to drop the title in Montreal, but promised that he would get it back in Springfield. "I realized he had given the top heel spot to Shawn, but to turn back babyface it was too soon.", Hart said. Like in the negotiations one year earlier, it was going down to the wire and he had until midnight to make up his mind.
At 7pm Bischoff called again and presented a deal that, according to Hart, "would have been insane not to be taken". At that point Hart was really having mixed emotions. He somehow felt bad about leaving the WCW and was hoping McMahon would lay out a good set of scenarios for him and convince him to stay. At 9pm, McMahon called and, reversing fields once again, urged him to take the WCW offer. Hart told him that his heart was with the company and it would break his heart to leave, and that he appreciated everything McMahon and the company had done for him.
McMahon told Hart that he wanted him back as a babyface, and had been wanting him to turn babyface for two or three months but just hadn't brought it up until that point. He then presented a scenario to Hart, presenting it as a way to get Hart to stay, but obviously designed to get Hart to take the WCW offer. Hart looked at the scenario of four major losses with only one win and before his midnight deadline, gave official notice to the WWF and signed the contract WCW had sent over, with the agreement from all parties that the word wouldn't leak out until November 10th to protect the Survivor Series PPV.
November 2, 1997
Hart and McMahon started a very amicable conversation with the pressure finally off and the decision for Hart to leave having been made. He again suggested that Michaels win the title in Montreal. And, in what will go down as perhaps the ultimate irony, said they could do a screw job ending to steal the title from Hart, and that the next night, on RAW, McMahon would suggest the two get into a mock argument where Hart would punch him, blaming him for the screw job. McMahon even suggested to hardway him (a real blow) to make it look legit. Hart refused to do the job (lose) in Montreal, saying that he had never refused to do a job but he wasn't going to lose on Sunday or Monday (at RAW in Ottawa). Hart made it clear that to lose in Canada would be an insult to his Canadian fans, and would destroy the "Hit Man" character in Canada. He said he was a hero in Canada, and wouldn't do the job there. He agreed to put Michaels over in Madison Square Garden on November 15th, Springfield or anywhere else.
McMahon made legal threats to Hart if he wouldn't lose in Montreal. Hart talked about the clause in his contract giving him "reasonable creative control" but McMahon claimed that refusing to drop the strap in Montreal wasn't "reasonable".
November 4, 1997
By this point word that Hart had signed with WCW had actually been reported the previous night on the Observer and Torch hotlines. In response, WWF Canada released a press statement originally totally denying the story, claiming it was simply propaganda being spread by WCW. However, as the word got out, Titan Sports in Connecticut, a few hours later, contradicted that story by saying simply that Bret Hart was exploring all his options but not going any further - with the feeling that they wanted to protect the PPV show. Hart wouldn't publicly talk to anyone.
THE MATCH
It appeared that about 10 to 20 percent of the crowd knew Hart was leaving and there were negative signs regarding his decision and negative signs toward the promotion for picking Michaels above him or the direction that seemingly forced him to leave.
Some things were also strange - and not just the absence of McMahon from the broadcast. Hart the champion in the main event wasn't scheduled for an interview building up the match. When his name was announced early in the show there were great cheers, but there were many boos from fans who knew he signed with the opposition.
Once Michaels got in the ring for the introduction, he wiped his butt, blew his nose and then picked his nose with the Canadian flag. He then put the flag on the ground and began humping it. Hart was immediately established as a babyface.
The two began the match as a brawl all around ringside and into the stands. The crowd was so rabid that it appeared there was genuine danger they'd attack Michaels. As one point they were brawling near the entrance knocking down refs as planned, knocking down Patterson as planned, and, as planned, Hart and McMahon had an argument almost teasing the idea of a spot later in the match where Hart would deck McMahon
Yet it was also clear that everything going on was 100% professional and the only curiosity left at that point was how good the match was going to be (it appeared to be very good) and how would they get "out" of the match (with something nobody will ever forget). But one thing was strange: Why were so many agents circling the ring and why was McMahon right there and acting so intense? About eight minutes before the show was "supposed" to end, Bruce Prichard in the "Gorilla" position (kind of the on-deck circle for the wrestlers) was screaming into his Error! Hyperlink reference not valid. that "We need more security at the ring." Why? They had already done the brawl in the crowd. The finish was going to be a DQ and it was still several minutes away.
THE DOUBLE CROSS
Hart climbed the top rope for a double sledge on Michaels. Michaels pulled Hebner in the way and Hart crashed on him. Just as planned. Michaels for a split second looked at McMahon and put Hart in the sharpshooter, just as planned. The next split seconds were the story. Ciota, listening to his headpiece for his cue to run in, heard the backstage director scream to Hebner it was time to get up. Hebner, listening himself, immediately got up. Ciota started screaming that he wasn't supposed to get up. Owen Hart and Smith readying their run in were equally perplexed seeing him get up. Prichard was freaking out backstage saying that wasn't supposed to happen. Bret still not realizing anything was wrong laid in the hold for only a few seconds to build up some heat before the reversal. Michaels cinched down hard on the hold and glanced at Hebner and then looked away - which more than one wrestler in the promotion upon viewing the tape saw as proof he was in on it - but then fed Bret his leg for the reversal. Hebner quickly looked at the timekeeper and screamed, "Ring the bell!"
At the same moment McMahon sitting next to the timekeeper elbowed him hard and screamed, "Ring the fucking bell!" The bell rang at about the same moment Bret grabbed the leg for the reversal and Michaels fell down on his face on the mat. Michaels music played immediately and was immediately announced as the winner and new champion. Hebner sprinted out of the ring on the other side, into the dressing room, through the dressing room and into an awaiting car in the parking lot that already had the motor running and was going to take him to the hotel where he'd be rushed out of town with his ticket home instead of staying to work the next two RAW tapings.
Michaels and Hart both leaped to their feet looking equally mad, cursing in McMahon's direction and glaring at him. Hart spit right in McMahon's face. The cameras immediately pulled away from Hart to Michaels. Vince screamed at Michaels to "pick the fucking belt up and get the fuck out of there." Michaels still looking mad was ordered to the back by Jerry Brisco who told him to hold the belt up high and get to the back. The show abruptly went off the air about four minutes early. The camera never returned to Hart, standing in the ring, looking perplexed, disappointed, angry, and even somewhat amused.
THE AFTERMATH
The officials left the ring immediately. McMahon went into his private office in the building with Patterson and a few others and locked the door behind him.
Hart in the ring flipped out on the realization of what happened and began smashing the television monitors left behind until Owen, Smith and Neidhart hit the ring to calm him down. The four had an animated discussion in the ring all looking perturbed. Finally Hart thanked his fans who for the most part left with the air let out of their sails, gave the I love you sign to the fans and finger painted "WCW" to all four corners of the ring, which got a surprisingly big pop, and went back to the dressing room.
He first confronted Michaels who swore that he had nothing to do with it. Michaels obviously afraid Hart would punch him out right there told Hart that he gets heat for everything that happened but this time it wasn't his fault and he was as mad as Hart about the finish. He said he didn't want to win the belt that way, was disgusted by what happened and to prove it, would refuse to bring the belt out or say anything bad about Hart on RAW the next night.
Hart said that Michaels could prove whether he was in on it or not by his actions on television the next night.
The entire dressing room was furious at McMahon by this point. The feeling was that if Hart having worked for the company for 14 years and not missing shots due to injuries the entire time and having made McMahon millions of dollars throughout the years could get double-crossed this bad, then how could any of them trust anything he would say or do? People were saying that "How could anyone trust anyone ever again?" and that it was an unsafe working environment.
For three years after the steroid trial and all the bad publicity McMahon had worked favourably to change his legacy in the industry: not as the man who ran all the other promoters out of business; not the man who marketed pro wrestling to young children while pushing steroid freaks; not as the man who tried to destroy wrestling history and create his own; not his worked Harvard MBA, worked billion dollar company; not a man so vain as to give himself a Hugh award in Madison Square Garden as "the genius who created Wrestlemania"; not the man who at one time tried to monopolize every aspect of the business for himself. But instead, as the working man's hero, coming from humble beginnings, fighting those ruthless rich regional promoters and through nothing but guts, gusto and vision, became the dominant force in this industry and taking it to a new level. And now, against all odds, fighting against Billionaire Ted Turner.
Three years of a facade was largely working on a new generation of wrestling fans who saw him as their underdog hero. Only this time there was a situation where those who didn't "know" him were truly "introduced" to him for the first time.
Undertaker was furious, pounding on McMahon's locked door. And when he came out to talk with him, Undertaker told him in no uncertain terms that he needed to apologize to Hart. He went to Hart's dressing room where Hart had just come out of the shower.
Smith answered the door and Hart said he didn't want to see him. Vince and son, Shane McMahon, came in with Sg. Slaughter and Brisco anyway. Vince started to apologize saying that he had to do it because he couldn't take the chance of Hart going to WCW without giving back the belt and he couldn't let Bischoff go on television the next night and announce Hart was coming while he was still his champion and said how it would kill his business.
Hart shot back that he had no problem losing the belt and told McMahon that he was going to dry off and get his clothes on and told McMahon, "If you're still here I'm going to punch you out."
Hart called McMahon a liar and "a piece of shit" and talked about having worked for him for 14 years only missing 2 shots the entire time and being a role model for the company and the industry, and this was his payback?
McMahon tried to say that in 14 years this was the first time he'd ever lied to him and Hart rattled off 15 lies over the last year alone without even thinking about it. Those in the dressing room watching were stunned listening to Hart rattle those off and McMahon not offering a comeback.
Hart got dressed and twice told McMahon to get out. Hart got up and a scuffle started with them locking up like in a wrestling match. Hart broke free and threw a punch to the jaw that would have knocked down a rhino. One punch KO in 40 seconds. McMahon growled like he was going to get up, but he had no legs.
Shane McMahon jumped on Hart ' s back and Smith jumped on Shane's back pulling him off. Not realizing there would be trouble Smith had already taken off his knee brace and hyper extended his knee in the process of pulling Shane off. Hart nearly broke his hand from the punch. McMahon's jaw was thought to be fractured or broken.
Hart asked Vince if he was now going to screw him on all the money he owed him and a groggy Vince said, "No". Hart told Shane and Brisco to get that "piece of shit" out of here and glaring at both of them told them if they tried anything they'd suffer the same results. In dragging McMahon out someone accidentally stepped on his ankle injuring it as well.
Phone lines were ringing off the hook around wrestling land that night. Some people who were close to the inside thought it was the greatest worked finish in all of wrestling because it got everyone talking. By the morning, everyone realized the truth. This was the biggest double-cross in the history of modern, professional wrestling.
With all that being said, Bret Hart later appeared in WCW and made a big time heel turn. His gimmick became that he was a bitter pissed off wrestler and that he would injure anyone who would wrestler him and he did. He was quite convincing at this and I always wondered if they had just paid the guy off to take a serious beating at the hands of the newly insane Bret Hart.
He has since mended fences to a certain extent with Vince McMahon and he was inducted into the WWF Hall of Fame eariler this year. He certainly deserved it, his career had been one of sweat, toil and heartbreak. From the Screwjob to watching his brother die on live TV in the sport that they had devoted their lives to....He may not have been a good speaker, often he looked out of his element on the mic and he was but everything else that he did, he was the best at....in terms of actual wrestling he truly was " The best there is, the best there was and the best there ever will be "
#4 "Macho Man" Randy Savage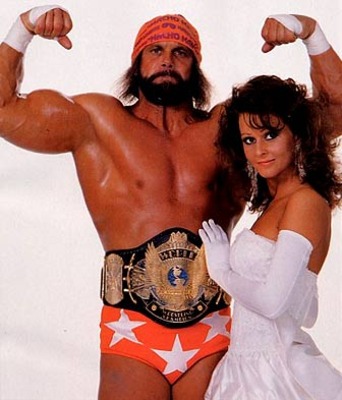 Ring Performance - 8
Mic/Charisma - 8
Overall Impact - 10
OOOOOOOOOOhhhhhhhhhhhhhhhhhh Yeeeeeeeeeeaaaaaaaaaaaaaahhhhhhhh! That's right, the Macho Man is here, could there be a list of the 10 best wrestlers of all time with him...no way. He started his career in the WWF in 1985. He was signed by Vince McMahon to be the top heel in the WWF. He chose the lovely Miss Elizabeth to be his manager and thus ushered in the era of having attractive women as managers. It may have been done before but she and Savage were able to popularize this practice, they had a great on-screen dynamic and it worked well. We now have to deal with brainless whores on screen because of this but at the time it was great. As an eight year old I had a serious crush on her...she was classic 1980s hot!
I will confess that I am a bit young to remember The Macho Man as an in-ring wrestler. Most of his best matches were in the mid 1980s and at that point I was not knowledgeable about execution and technical ability. I do know that his match with Ricky "The Dragon" Steamboat at Wrestlemania III is known as one of the great matches in history. The match was choreographed prior, Savage wanted the match to be perfect so him and Steamboat worked through all the details in the pre-match buildup.
Savage also teamed with Hogan as the "Mega Powers", needless to say these two legends went on to win the WWF tag team belts very quickly. Hogan and Savage were the two lead wrestlers in the golden era that brought everyone reading this into professional wrestling (1985-1990) The interplay between Savage and Hogan was always interesting. You could almost see the big brother, little brother relationship complete with brutal sibling rivalry. Hogan and Savage were friends until, allegedly, Hogan slept with Elizabeth leading to Savage and Liz getting divorced in 1992.
Everyone knew that Hogan was the cash cow of the WWF but you could always see that Savage was trying to take that position for himself and he came damn close to doing it. If it were not for the blind faith in Hogan by Vince McMahon, Savage would have been the biggest star in the WWF Savage held the WWF Championship for one calendar year, an impossibility in modern wrestling due to the younger generation's inability to pay attention to anything. Too much fucking Ritalin. Ok, back on subject. He was one of the first wrestlers to use a high-flying maneuver (top turn buckle flying elbow) as his finishing moves. That, of course, is significant because every wrestler now uses some sort of top of the ring flying technique.
One of his biggest rivals in the WWF and the WCW was the Nature Boy Ric Flair. In fact they are the only wrestlers to have won and lost the WWF and WCW belts to one another. The main point of their feud was of course Miss Elizabeth. Ric Flair was a legendary womanizer, on and off-screen, and was constantly hitting on Elizabeth and claimed on many occasions to have banged her. This would drive the Macho Man nuts and they would fight and have matches and basically call each other out of months at a time, it was one of the great rivalries in a sport full of them.
I am not sure how this fits in but I will do my best. Savage left the WWF in 1994 rather abruptly. It was always rumored that he left because Hogan did and that could have had something to do with it but the prevalent story now is that he was fired because he had sex with Stephanie McMahon, the then 14 year old daughter of Vince McMahon. Now we do not condone statutory rape here Arthur's Hall but you have to admit banging the Boss's 14 year old daughter is pretty manly...a sociopathic form manliness but manliness nonetheless. It is said that the name "randy savage" is not to be uttered in the presence of Vince to this day.
The Macho Man is, even to this day, one of the most famous names in wrestling history. When you say "The Macho Man" everyone thinks Ooooooooohhhhhh Yeeeeeahhhhhhh, I can only imagine him saying that after he was done with Stephanie!! Ha, Ha. He was a charismatic speaker, his trademark deep, raspy voice is a voice that I would bet that all of us tried to imitate at some point in our youth. His character was able to translate as a face and a heel. He has gone on to the be the spokesman for Slim Jim and it has been an effective ad campaign... when I see a Slim Jim all I can think about is "Snap into a Slim Jim... Ooooohhhhhh Yeeeeahhhhh". He finished out his career as a lunatic in the WCW and I don't blame him for that, it was nearly impossible for the WCW to promote any of its wrestlers (even the great Bret Hart was a mere second card guy in his term in the WCW). The Macho Man is every bit as ubiquitous with professional wrestling as the Hulk Hogan and Hulkamania. That is why his impact is a 10...he and Hogan created the sport that we loved growing up. I would pay money to see him bust out a "Oohhhhh Yeahhhhh" one more time in the ring. That lasting impact is what this list is all about, fleeting stars and gimmicks are everywhere in the annals of professional wrestling but characters like The Macho Man will live forever.
#3 The Rock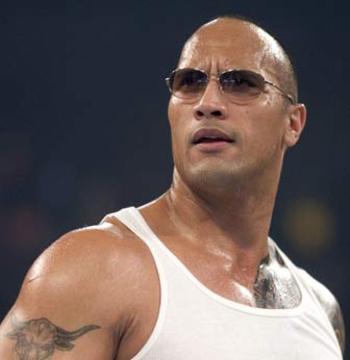 Ring Performance - 8
Mic/Charisma - 10
Overall Impact - 9
So here is the problem one is presented with when ranking The Rock's position in wrestling history: The fact is that The Rock is simply the greatest professional wrestler to ever compete in the ring… yet his career was cut short by his success as a Hollywood star.
The Rock was hands down the most charismatic, entertaining, and passionate interviewer in the history of the business. The Rock's ring work, while not as technical as a Bret Hart or a Curt Hennig, was always crisp and dramatic... exactly what it should have been for his larger-than-life character. His impact on the wrestling industry was also great, and he brought the WWF to new levels of popularity and exposure. His long term impact is really only diminished by the fact that he had a relatively short 6 year career before leaving to make movies, and possibly because Stone Cold Steve Austin had already jump-started the WWF's popularity in the year or two before the Rock's debut. Stone Cold's popularity meant The Rock had to share the spotlight with another superstar quite nearly his equal. With those qualifiers out of the way, The Rock is simply the greatest!
After his football career fizzled at the University of Miami and later in the Canadian Football League, Dwayne Johnson decided to follow in his father's (WWF Tag-Team Star Rocky Johnson) footsteps and enter the world of professional wrestling. The Rock was trained by his father and given a WWF tryout soon after. WWF official (and stoodgy gaywad) Pat Patterson was quoted as saying that The Rock had displayed more raw talent and potential in that tryout than he had ever witnessed. After a quick stint in the USWA, Johnson debuted in the WWF in 1996 under the name Rocky Maivia, a combination of his father and grandfather's wrestling names.
The WWF had recognized Rocky's immense talent, and immediately pushed him as a cheerful fan favorite. He did his job admirably. But unfortunately for Rocky another wrestler, Stone Cold Steve Austin, had just revolutionized the sport by creating a heel (bad guy) character that was so compelling, he had become the biggest draw in wrestling. The character Rocky was the old "Hulk Hogan" model, and was outdated in the new "Stone Cold Era". The fan response was negative to say the least, as fans chanted "Rocky sucks", and "Die Rocky die" during his matches. Rocky no doubt felt betrayed by the fan reaction, but he did what any great wrestler would do - he rolled with the punches and let the organic fan reaction set the stage for greatness.
After taking the fan's abuse for several months Rocky was finally allowed to turn heel. This is when we were all introduced to the character "The Rock". As The Rock, Johnson took the egotistical heel character to new heights. Although he was loathed by the fans, he began referring to himself in the third person and declared himself "The People's Champion". He joined the militant black organization (The Nation of Domination) led by Farooq (the great Ron Simmons), who he later overthrew. He later aligned himself with Vince McMahn himself, and became the "Corporate Champion".
It would take too long to get into every hillarious catch phrase and gimmick The Rock brought to the WWF, but I will try to touch on a few of them here. As a heel he constantly referred to himself as "The People's Champion". When he raised his eyebrow it was "The People's Eyebrow", and when he dropped his elbow, it was of course, "The People's Elbow". He created popular catch phrases and verbally and physically abused interviewers and his fellow wrestlers. The Rock had created the greatest ego-maniac heel character in the history of wrestling. His heel character was so hillarious and compelling, he out-did Stone Cold Steve Austin at his own game... the fans were cheering him as a heel. In 1998 the Rock won his first WWF championship. The fans were now waiting for a face (good guy) turn, which they soon received as The Rock left the side of McMahn, and became what he had long claimed to be... "The Peoples Champion".
Between the years of 98 and 2002, The Rock was involved in almost every single notable feud in the WWF. He feuded with Steve Austin, Mick Foley, HHH, and The Big Show. While always hugely entertaining to watch, The Rock added something to the industry that past champions had lacked... The Rock was a team player. While champions of the past (Hulk Hogan, Bret Hart, Shawn Michaels) had been overly concerned with their character's direction and often reluctant or unwilling to drop titles or lose to other wrestlers, The Rock seemed willing to lose to just about anyone or drop the title at any time to further the story line. The Rock selflessly lost matches all the time to legitimize less popular wrestlers, or to set up another situation where he could insult his opponents and do what he did best... chase the title once again. The Rock was without a doubt the WWF's MVP in the late 90's and early 2000's, losing matches to better the company, and always overcoming a potentially career damaging win/loss record with his hard work and personal charisma. As a result of his hard work and selflessness, the Rock held the WWF title an unprecidented 7 times, and the WCW title 2 times in his short career. He was also a two time IC Champion, and a 5-time Tag Team champ. The WWF could not possibly have paid The Rock enough for his contributions to the company.
Alas, The Rock's great talents were too big for professional wrestling. In the past when wrestlers like Stone Cold and Hulk Hogan had attempted to make the jump to TV and Film, they had all proven to be somewhat (or extremely) limited outside the world of wrestling. Not the Rock. His good looks, natural charisma, and fantastic comic timing came across very well on screen and his first starring role, "The Scorpion King" debeuted at number one at the box office. The more successful The Rock became in Hollywood, the fewer dates he wrestled. The Rock competed in what was most likely to be his final match at WrestleMAnia XX alongside Mick Foley who was feuding with Rick Flair, Batista, and the young and douchy Randy Orton. In true Rock fashion, he and Foley lost the match.
The Rock's potential long term impact on the wrestling world was limited by his short career. But by becoming a Hollywood star, he is still contributing to the sport. Everyone knows who "The Rock" is, and most people know him as an ex-wrestler. That can't possibly hurt the industry. To his credit, The Rock has never disowned wrestling, and maintains a professional relationship with the WWE. The question of The Rock's greatness comes down to weighing his career length and impact against his raw talent. He may come in at number three on this list, for reasons I do not disagree with, but when it comes to the basic tools that make a great wrestler, The Rock is #1. I hope everyone smells what I'm cookin.
#2 Hulk Hogan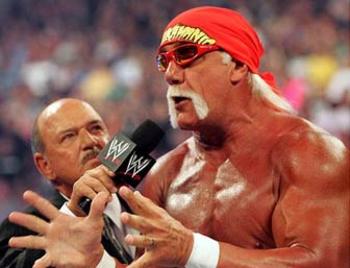 Ring Performance - 4
Mic/Charisma - 10
Overall Impact - Infinite
Terry Bollea AKA "The Hulk" "Hollywood" is the Babe Ruth of modern professional wrestling. To this, there can be no argument. He, along with Vince McMahon, invented what we call pro wrestling. Prior to these two men getting together, pro wrestling was much like a circus act, multiple regional organizations that relied on live audiences for their revenue. It was the demand created by Hulk Hogan that ushered in WrestleMania...an event that changed the landscape of "sports entertainment" forever.
I will say this, Hogan was never a good wrestler. As you can see from my ranking, I gave him a 4 in his in-ring performance which could be a bit generous. He was basically an immobile brawler and was utterly incapable and, more importantly, unwilling to take bumps. His offensive skill set was basically kicks and punches and a slow motion leg-drop as a finisher. He was often painful to watch in the ring, he would stand around, get beat up for a few minutes and then powered by the Hulkamaniacs, he would "hulk" up and become superhuman and punch and clothesline his opponent into a daze so that he could do his 30 second run across the ring and plant the leg drop. It was not his wrestling ability that made him a star. It was his infectious charisma and his ability to buy into a character that made him great. There was never a time that I felt like he was acting, it really seemed that this guy was "Hulk Hogan" and only the true greats can pull this off without a hitch.
The Hulkster also had the look of a wrestling legend. He was tremendously big by modern standards and positively gigantic in the mid 1980s. It is important to keep in mind that professional bodybuilders at the time typically weighed around 230 lbs while Hogan was a solid 275 at around 6'4. He claimed to have the largest arms in the world and I never really saw any evidence that he was wrong. He was one of the biggest men on the planet and the fact that he wrestled for as long as he did speaks to his toughness. It would be roughly akin to one of the world's strongest men competitors wrestling today. I know that many of you clowns out there think that modern wrestlers are big...often they are not, they are just quite lean. The 1980s wrestler was usually built more like a taller power lifter and we all know that looking like a power-lifter is much more masculine than being lean for the bitches. Of course the softer, rounder bodies of the 80s could have been due to the incredible amount of androgenic steroids these guys were taking (Anadrol, Dianabol). Modern wrestlers rely on Human Growth Hormone (HGH) to maintain muscle mass while staying lean, HGH was not widely used or synthesized in the 80s. Hogan epitomized the "80s weightlifter" more than anyone ever has even down to the weightlifting belt he wore while he wrestled.
Hulk Hogan joined the WWF in 1979 as a heel, actually hired by Vince McMahon Sr. Hogan was immediately successful, successful enough to be offered a role in Rocky III. Vince Sr. refused this cross-promotional opportunity and thus Hogan left the WWF in 1981. He toiled in the AWA and in Japan for three years building his reputation as a master promoter and single-handedly carrying both organizations. In late 1983, Vince McMahon Jr. bought the WWF from his father and set out on his plan to build an international media empire. His first move was to rehire Hogan and make him the centerpiece of the WWF.
Hogan won the WWF Championship three weeks into his second run in the WWF and would remain champion for an unprecedented four years. I would assume that most of us remember Hogan during these years. This was the era of "Hulkamania" that we are so fond of remembering. It was during this time that the WWF exploded into an international phenomenon. It was during this time also that he introduced his three demandments; train hard, say your prayers and take your vitamins. When translated into man language it really meant; Lift Heavy Weights, Cheat if Necessary and Take as many steroids as possible...and I could not think of a better set of demandments.
Hulk Hogan became an icon at WrestleMania III where he faced Andre The Giant. It was held at the Pontiac Silverdome and over 90,000 people were in attendance. He picked up the 500lb+ man up and body slammed and pinned him. This was the first time that Andre The Giant had ever been pinned and this match (as horribly as it was wrestled) is the most famous match in pro wrestling history. He later went on to have a famous rivalry with the Ultimate Warrior who was the man who would defeat Hogan and end his four-year reign as WWF Champion. One of the problems with a wrestler like Hogan is that he was so built up during his championship run it made it hard for him and the promotion to book loses or just become part of the overall storyline of the sport. He toiled in the WWF having a few rivalries here and there but was always seemingly lost without the belt around his waist. In the late 80s and early 90s the WWF came under investigation for alleged steroid distribution under Vince McMahon and of course, Hogan was the central man in this investigation. At this time, McMahon had decided to promote smaller more technical wrestlers like Bret Hart and Shawn Michaels. Hogan left the WWF in 1992 to concentrate on business interests such as movies and television.
In 1994, he was lured to the WCW by Ted Turner and launched the "Hulkster" character which was of course the same red and yellow face he had always been. The WCW fans were generally unimpressed with this... they were fairly anti-WWF and they despised the new star of the WCW. In order to stay relevant Hogan decided to become a heel for the first time in his American career and became Hollywood Hogan.
He, along with Scott Hall and Kevin Nash, founded the most dominant stable in wrestling history...the New World Order. He became the WCW Champion and took the belt and spray painted it with a black N.W.O. The N.W.O stable led the WCW to 84 straight ratings victories over the WWF and at the time it seemed as if the WCW would soon overtake the WWF as the pre-eminent wrestling federation. The WCW got drunk with success and fell victim to never-ending backstage battles and a lack of institutional control that led to its ultimate demise.
I don't have to explain the presence that Hulk Hogan has become. He now has that bitch show, Hogan Knows Best, and was able to launch his hot little daughter's soon to be over music career. Since the mid-1980s Hogan has been synonymous with wrestling and has done more to promote the sport of wrestling than all other wrestlers combined.
#1 "The Nature Boy" Ric Flair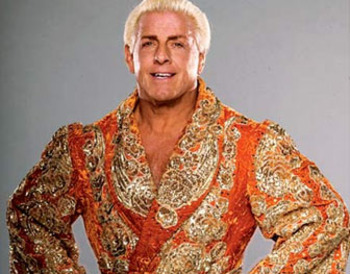 Ring Performance - 9
Mic/Charisma - 10
Overall Impact - 10
We finally have our greatest professional wrestler and as you may have guessed by now, it is the one and only, Ric Flair. You will notice that I do not believe that Flair had the impact on the sport that the Hulkster did and I will defend that to the death. Of course, I don't have to...after this is the definitive list of wrestlers in history. The reason I say that is that Ric Flair never attained the level of crossover appeal as many of the wrestlers previously featured here. Flair never appeared in TV shows, commercials or anything else commercial. Why? Because The Nature Boy now and for the last 30 years has ate, slept and breathed professional wrestling. Of course, part of this lack of national appeal was his clear preference to stay in the AWA/NWA/WCW which was a regional promotion for most of its history.
Ric is, without a doubt, the quintessential heel in the history of wrestling. There was no wrestler who had more of a love/hate relationship with the crowd. In his days in the WCW, there would be thousands of Sting fans wishing Flair would keel over and die during one of his heart attack inducing rants and yet you know that they were to see him.
Ric began his career in 1972 (He has been wrestling for 35 years! Holy Shit!) in the American Wrestling Association. He suffered a back injury in 1975 and had to change his wrestling style because of it. To compensate for his lack of athletic ability and limitations due to back injury he invented the "Nature Boy" character that would remain his signature gimmick throughout his entire career. I do feel like I have to explain the AWA and the NWA for my younger readers. Ric gained his notoriety in these leagues and yet they ceased to exist 15 years ago so a short history lesson is in order.
Prior to the 90s, wrestling was largely regional with a strong following in the South. The AWA and the NWA were basically competing organizations that were combined to create the WCW in 1986. That is the reason the WCW had a more Southern feel even in the late 90s. Flair was the centerpiece of this new conglomerate and the WCW would become a fixture on TBS in the mid 1980s..when I started watching wrestling. I actually watched the WCW much more as a kid than I did the WWF because TBS was more widely available.
Back to The Nature Boy and his great career. One of the major contributions that Flair made to the world of professional wrestling was the introduction of the faction. Of course, the faction that I speak of is The Four Horsemen. The Four Horseman came to be in 1986 with Flair as the leader. The original members were Flair, Ole and Arn Anderson and Tully Blanchard. This faction was the precursor for later factions like the N.W.O and DeGenerationX. The Horsemen reigned terror on the WCW by attacking people backstage and during matches. They also had incredible success with Flair as the Heavyweight Champion, Blanchard as the TV Champion and The Anderson Brothers holding the tag-team straps. They were also close out of the ring as they traveled around the circuit in jets and limos while banging chicks in every town they traveled to. I can just picture "Natch" sniffing coke off of some nasty 80s whore in preparation for a one of his cocaine-enhanced shit talk rampages...simply priceless. They were the ultimate heel faction, they were booed mercilessly at every arena and yet you could not help but think that the crowd loved them. This faction would live on until 1999 with many other members but Flair and Arn Anderson were the constant within The Horsemen. I was always bothered by the fact that losers like Dean Malenko and Steve "Mongo" McMichael were allowed to call themselves Horsemen. Nonetheless, The Four Horsemen invented the idea of a stable of wrestlers united for one cause and it was an important innovation that improved the sport immeasurably.
While Flair did most of his damage in the WCW he did have a stint in the WWF from 1991-1993. He was fired by the WCW when he refused to take a pay cut and change his gimmick. He joined the WWF while still holding the WCW title and he billed himself the "real title holder". He gained the WWF title in the 1992 Royal Rumble defeating Sid Justice, the last man standing. His run in the WWF was helped by fellow legend, Curt "Mr. Perfect" Hennig who was posing as Flair's assistant while he recovered from a major back injury. He held the title until he dropped the title to Bret Hart in a loser leaves town match. He rejoined the WCW after losing the title and is one of the few truly great wrestlers to be primarily a non-WWF wrestler.
In 1993, Flair rejoined the WCW and beat Vader to regain the WCW Heavyweight Championship. In 1994 the WCW would sign Hulk Hogan and the inevitable Flair vs. Hogan match was set in which Hogan took the belt. He "retired" after losing a retirement match to Hogan and returned in a more limited role later in 1994. He reignited his WWF feud with The Macho Man in late 1994 the featured each of them winning and losing the belt to each other. Flair assaulted Savage's father and defeated Savage and more importantly he walked away with Elizabeth to conclude the feud.
Flair was the point man in the N.W.O vs. WCW war that began with The Outsiders declaring war on the WCW in 1996. As the N.W.O became increasingly popular, Flair was reduced to feuding with Eric Bischoff and providing comic relief. It was sad to see the WCW lose sight of what made it a relevant organization and this type of incompetence led to its ultimate demise.
The Nature Boy was clearly an accomplished wrestler and had as much success within the sport as anyone but that is not why he is the greatest wrestler in history. Flair, for intents and purposes, invented the modern image of pro wrestling. While The Hulkster was the prototypical 80s wrestler, Flair was the prototype for the modern wrestler. He was brash, stylish and able to deliver world-class taglines without a hitch. His interviews are bar none the best ever..no one could excite and piss off a crowd with such ease. He was "Stylin and Profilin" all night long for 30 years. Of course, "Woooooooooooo" is the ultimate tagline in the history of wrestling...it will screamed every time a guy hits someone with the chop to the chest. The greatest Flair line was when he was talking about his cock which he called "Space Mountain" (naming your cock is most certainly manly)..."Space Mountain may be the oldest ride but its got the longest line baby..Woooooooo"..what could possibly be better than that.
In the ring Flair was no slouch. He was not an aerial guy or a power guy but what he did do was sell better than anyone in the history of the business. To me the ability to sell getting your ass kicked is more impressive than being able to powerbomb someone through the canvas. Most of the great starts are known for their no sells, look no further than #2 on this list. The Flair Flop may be the single greatest wrestling maneuver in history. For any idiot out there that does not know what the Flair Flop is I will attempt to explain this breathtaking maneuver. The Flop can be executed anywhere in the match but mostly it was done to signal the end of an opponent's offensive combination. He would take a punch, for example, take about four steps sometimes in a circle and then kick his legs out so that he was parallel to the ground and plant his head in the mat. It would bring the crowd to its feet and always give his foe a boost of confidence. Looking back, most of Flair's best in-ring performances were based on him getting his ass kicked. Another gem is the Flair Flip. When he is Irish whipped into the corner turn buckle he will run full speed at the buckle and then flip himself over the turn buckle. It looked painful and it was unique to The Nature Boy. His ability to sell a beating is part of his greatness in the ring but the way that he would win matches was equally as great.
Flair was the dirtiest wrestler in history. As we all know, there is no "cheating" in wrestling, in other words everything is allowed. That being said, there are certain "rules" that you are supposed to follow and most wrestlers generally do. A rake to the eyes is technically illegal and most wrestlers don't do it... Flair was the king of the rake to the eyes. Another no no is to beg out of a beating. In nearly every match Flair would be getting his ass kicked and he would cower in the corner begging for the beating to stop by shaking his hair around and putting his arms out as if to say "no more". The best part of this begging is that it was always a ploy to draw his opponent in for a forearm shot to the nuts. It was pure genius. Flair was always able to gain the mental advantage using ploys like this and it served him well. Flair is the 16 time Heavyweight Champion of the World (although the record shows that he is, in fact, a 22 time Champion) making him the most decorated professional wrestler of all time.
His signature offensive moves were simple and effective. He pioneered the knife edge chop to the chest which to this day I have never seen another wrestler do with such ferocity. In all of Flair's matches you could see swelling and redness on his opponent's chest. This move was always followed by a Wooooooo to which the crowd would repeat. To this day, a knife edge chop in any wrestling match results in a collective Woooooo from the crowd. His finishing move the Figure Four submission hold. It was an ankle lock that very few ever escaped from. It was set up by Flair attacking the knee repeatedly and you could always feel the end coming when Flair would attack a knee. In the 1980s, wrestling matches were much longer than they are now so the momentum of a match was more important than it is now. Flair would turn the momentum of a match around with some sort of cheap shot to the knee. As soon as that happened the assault would commence and more often than not, the match would end in a submission to the Figure Four.
As great as Flair was talking and wrestling, he also had the look of a legend. His out of the ring attire was always a custom suit complete with aviator sunglasses. As he would say "He was custom made, head to toe". He also had the greatest hair in history. His platinum blonde feathered mullet was simply the greatest hair style in wrestling. It served two purposes; one, it made him look like a million dollars and also was used to flail around to make the matches more believable. It is not a stretch to say that millions of southerners still see that hair as model for their own mullets, it was simply the best. His ring entrance was also head of the class. He would come out the music from the Space Odyssey...an eerie sounding ring entrance that always let you know that the man was on his way. When he would emerge from backstage he would be adorned in his legendary sequined robe with The Nature Boy written on the back. On his way to the ring he would mock fans, pretend to shake hands and then pull his hand back and fix his hair and let around a handful of Wooooo's to the usually booing crowd. In the early days he would have a woman remove his robe and tell her that she was coming backstage with him after the match.
Simply put, everything Flair did was the best. He was the best talker in history. His in-ring antics were hilarious, entertaining and amazing at creating a mood for the match. His character was the standard that all wrestlers try to emulate...and ultimately they fall short. Ric "The Nature Boy" Flair is the greatest wrestler in history..to this there can be no argument. I feel fortunate that I was able to see the greatest professional wrestler in history in his prime. I know that no wrestler will ever match him, I could write this list in 20 years and I know for a fact that Flair would still be #1. Ric Flair, thank you for being the greatest, thank you for not selling out wrestling, thank you for setting the standard of what a wrestler should be, thank you for being the best ever. To be the man, you have to beat the man, Woooooooooooooooo!
Keep Reading