The Top Five Reasons the Chicago Bears Will Fall Short This Season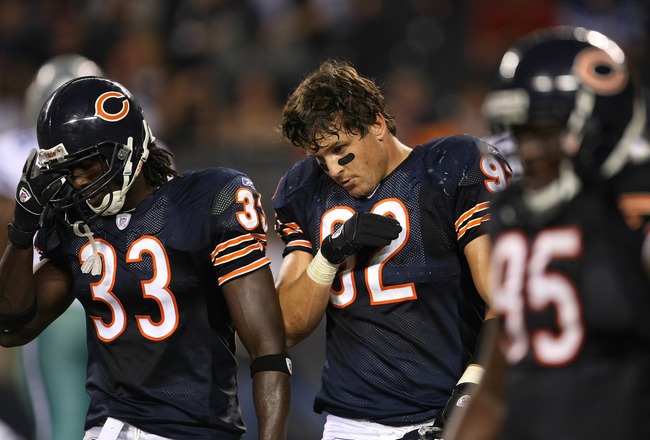 Before people start blasting me, I will say that there are reasons to be optimistic this year for the Chicago Bears. Those include:
- Jay Cutler and the receivers' potential to succeed in the run-and-gun offense.
- The return of Brian Urlacher and Pisa Tinoisamoa from injury.
- The re-addition of Chris Harris at the safety spot.
- The free agent signing of Julius Peppers.
That said, the Bears are facing some major question marks going into camp. Now logic would say that every team has questions going into camp and that the point of camp is to get answers (or depending on the draft and free agency, see if the new players can be the answer).
Unfortunately, the Bears have some issues that I am afraid will stray into the regular season...
No. 5: Jay Cutler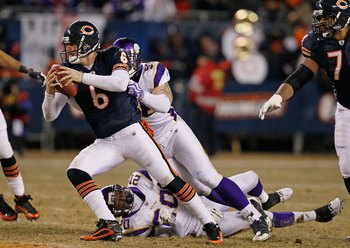 Jay Cutler is a gunslinger.
I am okay with that.
Unfortunately, he is going to have to learn an entire new offensive system, along with the rest of the team.
Reports coming out of training camp have made it sound that Cutler has been forcing passes into the heart of the defense which has been making this Bears writer a little apprehensive.
(In the first day of camp, Brian Urlacher snagged a Cutler pass over the middle).
Now, it is still early in camp, however, judging by the extensive playbook for not just Cutler, but for the receivers as well, it would be safe to say that there will be a learning curve this season and more than a few mistakes which will undoubtedly lead to turnovers.
Hopefully, Cutler makes better decisions and his receivers adapt to the new plays, but don't bet on Bear fans holding their breath...
No. 4: The Defensive Line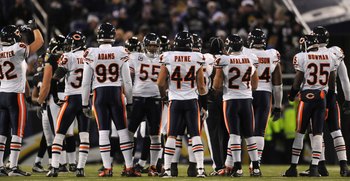 Julius Peppers—great addition. One of the top defensive ends in the league by far. Dominating against both the run and pass.
That, however, is basically where the good news ends.
The biggest mistake made this offseason was letting DE Alex Brown go. Brown would have been the perfect compliment to Peppers in the starting lineup.
Last season with the Panthers, Tyler Brayton and Charles Johnson combined for nine sacks opposite Peppers.
Last season with the Bears, Brown had six sacks starting across from Adewale Ogunleye, now a former Bear.
Opposite Peppers for the start of this season, the Bears will lineup Mark Anderson (who has had roughly eight sacks the past three seasons) and converted defensive tackle Israel Idonije.
Not exactly fear inducing.
Add to that the defensive tackle combination of Marcus Harrison (fairly ineffective since his rookie campaign) and Tommie Harris who, when not injured (or getting ejected), has been a shell of his former self for the past two seasons.
Then of course there is Jarron Gilbert (played a total of 10 plays last season) and Henry Melton (didn't even see the field), two completely unproven second-year players that no one has any idea who could either could be...
Need I say more?
No. 3: Lovie Smith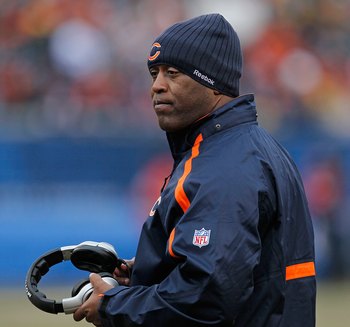 In my opinion, Lovie should have been fired after this past season, but instead, Ron Turner was used as an easy scapegoat.
This season, it will be interesting to see how Lovie's defense works out.
Now Lovie did promote Rod Marinelli into the defensive coordinator position and some have praised this move, as Marinelli's demeanor demands respect from his players.
That said, "Hot Rod" is still Lovie's boy and it shouldn't take too much to assume that if Lovie tells him to call a certain coverage, Marinelli will be on it like white on rice.
Which, one will note, is the exact reason that Bob Babich was so ineffective at that position and one might argue that Ron Rivera's difference of opinion with Lovie was what made him so good.
The Bears need the defensive coordinator to disagree with Lovie, plain and simple.
When every single Bears fan on the earth sees an opposing team lineup for a third down and five yards to go, they already know what is going to happen.
Lovie will have the cornerbacks play eight yards off the line and the opposing team will throw a slant pattern for seven yards and a first down. Almost like clockwork.
And that has been true no matter if Babich was calling the plays directly or Lovie himself last year.
Really, ever since Rivera's departure, that specific defensive scheme has been a staple in the playbook and a pain in every Bears fan's side.
Unless Lovie can adapt to the opposing team's offensive play calling, the Bears D, corners especially, are in for a long season.
No. 2: The Free Safety Position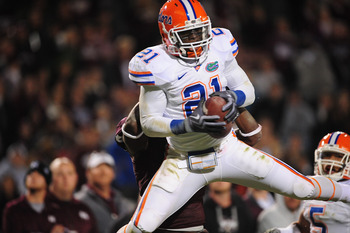 With Chris Harris coming back into the fold at the strong safety spot (there has been speculation of having him at free safety, but in the end, if Lovie isn't a complete moron, which isn't a slam dunk, Harris will be in his usual strong safety spot), the Bears biggest defensive hole is at free safety.
The Bears drafted Major Wright out of the University of Florida in the third round of the NFL draft, but to expect him to be starter-ready by September is putting a lot of pressure on a rookie.
The other options are not exactly sparkling.
Craig Steltz has had good reviews so far out of camp, but that means pretty much nothing at the end of May.
Al Afalava has shown a lot of promise, although more so at the strong safety spot than free.
Danieal Manning has been nothing short of a train wreck and should be kept in the nickel corner position.
Josh Bullocks continues to earn himself less and less playing time.
The Bears should have tried attracting a veteran free safety through the free agency market so Wright could have someone to tutor him (like Darren Sharper).
But no, the biggest question mark from last season has not been resolved, at least in the short term.
No 1: The Offensive Line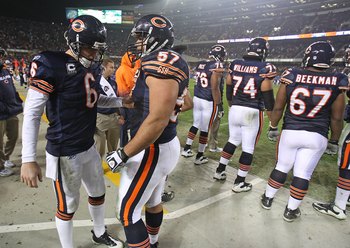 The offensive line—the catalyst for the running game. The driving force behind the passing game. The backbone of the offense.
And yet this unit is the weakest link on the Bears team. Let's break it down:
Right tackle: Chris Williams. A promising young player that could very well be the cornerstone of the offensive line for the next decade. Only thing is that in his first two years, he has yet to start the entire season. He came out of college and immediately had back problems. Slight cause for concern.
Right guard: Josh Beekman. Now this position is still up in the air as there are several players battling it out. That said, Beekman is probably the most qualified and has some solid starting experience, but is not actually expected to be the future at guard, instead he is pegged to be the future center for the Bears upon the retirement of...
Center: Olin Kreutz. A staple on the Bears offensive line for nearly a decade and is a multiple time Pro Bowler. That said, he is also 31 years old and has definitely passed his prime. He seems to be getting slower every season and has trouble shedding blocks and getting a body on the linebackers when it comes to running plays.
Left Guard: Roberto Garza. Also a 30+ year old player whose best years are behind him. While Garza has shown amazing longevity at a position that usually doesn't, his age (and knees) can't keep holding up. And even if they do, he is another one that has been having more and more trouble getting to the second level.
Left Tackle: Frank Omiyale. When Jerry Angelo signed Omiyale last offseason, he moved him from tackle to guard and Big Frank failed miserably. As many pointed out, Omiyale was much more effective when he was allowed to operate in space. Hopefully, moving him back to his real position will allow him to play to his "strengths," but after watching him so some one-on-one blocking last year, this writer is worried that we might end up seeing Caleb Hanie as the starter by week eight.
Now on the surface, this unit doesn't look terrible. They do have some potential, and after last season's pitiful performance (29th in rushing yards per game in the league and gave up 35 sacks), they really should have room for improvement.
That was until the Bears hired Mike Martz.
Martz always has a very pass-oriented offense and the only problem with that is because Martz is big on seven-step drops.
Cutler was getting flushed from the pockets on three- and five-step drops. How do you expect him to survive when he is standing back there for longer periods of time waiting for his receivers to run their routes?
Martz has had success with teams when his offensive line has been solid. During the Rams run in the late '90s and early '00s, Kurt Warner (and later Marc Bulger) had tremendous success when they were allowed to drop back, survey the field, and allow their receivers to get open. Once the line broke down, or Warner become less mobile, the Rams dropped significantly.
Even as the offensive coordinator for the Lions, Jon Kitna had his best statistical two years under Martz, but was sacked a total 107 times... SERIOUSLY!?! That is an insane number.
It is plain and simple: In the NFC North, the games are won in the trenches. If the Bears offensive line doesn't get a whole lot better and do so quick under the Mike Martz system, the Bears won't even hit the .500 mark.
Keep Reading

Chicago Bears: Like this team?