2010 FIFA World Cup: England Ready for Glory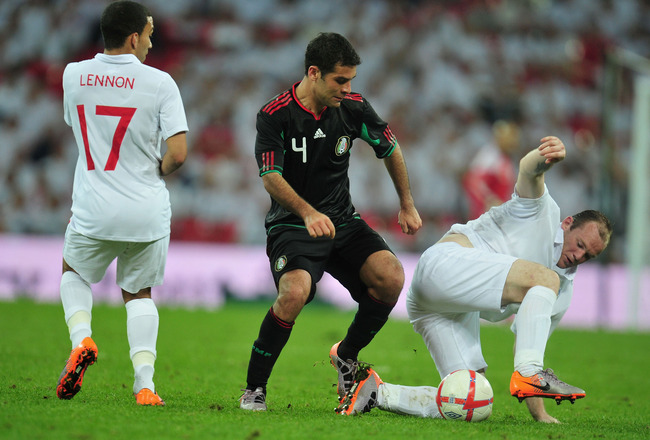 England having their best FIFA World Cup Performance in a long time and they are now ready to destroy everyone in their path to claim the FIFA World Cup 2010!
Winning their final game before the FIFA 2010 World Cup with a terrible 3-1 win? Considering the out of form players and their main stars not on the field, England did pretty well to come back 0-1 down and defeated Mexico 3 to 1.
Top star Wayne Rooney failed to make any impact on that match but stills remains England best hope to score.
Steven Gerrard's hunger for Glory after a completely pointless season should help England's campaign.
Frank Lampard's wonderful season and scoring form will see England defeat the Big Names of the FIFA World Cup as everyone in England are ready to see their "sex scandal fulled" captain with the cup.
Lion number 1 - No. 10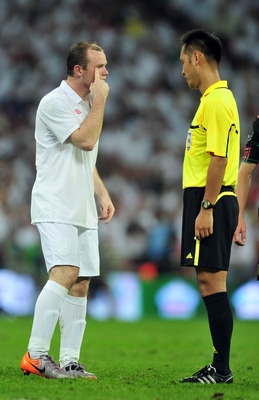 Wayne Rooney who is the only striker around for England is considered lack of experience compared to the likes of Frank Lampard and Steven Gerrard.
In addition to that, his temper which has caused England in the pass World Cup might return and continue his wonderful job of being sent off for being stupid.
However, Wayne Rooney is still the only striker available to Capello that he could actually have faith in. He seem to have lost his scoring touch after returning from injury, failing to net anything in the final EPL match to fight for the title and Golden Boot. After failing to net a single thing in recent match, can Capello still hope for anything from him?
the answer is YES. Wayne Rooney is still the best bet he has and in some cases, the only bet he has. Capello can only hope that once he get pass his injuries, Rooney can regain his form and put fear over defenders from all over the world.
Rooney netting 26 goals this seasons has impress everyone and certainly pleased England's boss Capello seeing that his only striker had a good season when he needs him in best form!
Let's us all hope that he can net 26 in the FIFA World Cup... But that is actually kinda crazy isn't it? But then, who else can Capello depend on the score for England? Walcott? I would rather give up the campaign if England is to depend on Walcott to score...
Lion number 2 - No. 8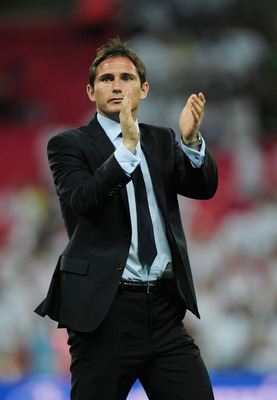 Frank Lampard ability to shot from way far away from the the goal similar to Gerrard's long shot certainly gives England an upper hand.
Years of experience that the player has will give England a boost for this years World Cup.
His scoring form in the EPL will prove useful if he can continue his wonderful form in Chelsea in England's FIFA World Cup campaign.
His passes and play making is the central of England's game. Frank Lampard will certainly wish to add a FIFA World Cup medal into his collections by the end of July and fans of England can only who that he would be able to change England's game and help England claim the World Cup.
Lion number 3 - No. 6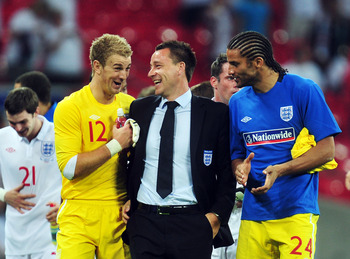 John Terry's captaincy removal could be one of the worst mistake Capello has ever done and replacing him with who? another guy filled with sex scandals? What? next thing you know Wayne Bridge will be Captain!
But then, England's defense depend a lot on John Terry's form and of course also Joe Hart's goal keeping skill to remain as good as how he denied every Big Four a win this EPL season.
John Terry will be remembered after the World Cup for everything he did for England and Capello will then understand what mistake he did.
Capello the Boss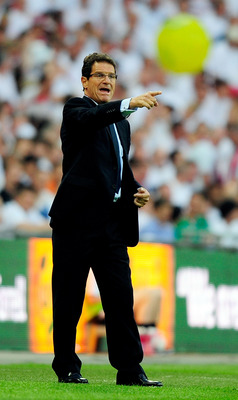 Fabio Capello sits in his office waiting for the biggest Glory or the biggest disappointment in his life time.
the Three Lions depends highly on the Three Lions to play well and the other players to support well! The likes of Steven Gerrard and Barry must perform for England to make an impact in the FIFA World Cup.
So fans... all we can do is cheer and pray.
Keep Reading