WWE Feuds That Bleacher Report Expert Writers Would Like to See
The WWE is the juggernaut of pro wrestling. Fans tune in to see the weekly thrill ride every Monday, Tuesday, Thursday, and Friday because of its unpredictable matches and its entertaining segments.
Fans always dream about what feuds they would like to see, so I thought about doing a slide show of some dream feuds and asked for some other writers to pitch in.
A link of their Bleacher Report profile is at the bottom of each slide so readers can go check out their other articles too.
I am hoping to start doing a weekly BR segment with wrestling writers on various topics, so this is almost like a pilot episode.
I hope the wrestling community enjoys this and please comment no matter what your view is, heck, even throw in some of your ideas too.
Also if you would like to join in on this project/group then please email me here on the Bleacher Report so that I can involve you on the next several projects.
Thanks and Enjoy!
Joe Burgett's Choice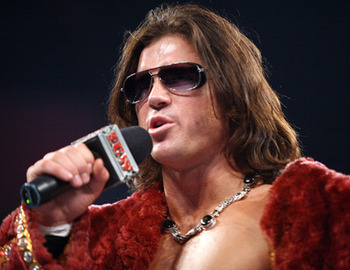 We've seen many rivalries come and go, but unlike some that people have been wanting to see redone, I've picked one that has never been seen before in the WWE.
What is that you ask? John Morrison vs Edge!
The Shaman of Sexy taking on the Rated R Superstar would bring a lot to the table. First off, it could push Morrison very well, because it would give him a main event opponent, and because he's involved with him alone, he'll be in the main event picture too.
If Morrison does well in the rivalry, his stock goes up. If he doesn't, then he just goes back to mid-card status. So really, what does Morrison stand to lose here?
Edge is brilliant on the mic, and Morrison has gotten better over the years. Not to mention, both can bring it in the ring. So naturally, you're going to see something entertaining.
We've seen Miz/Morrison and we've seen Edge/Christian. We are currently seeing Orton/Edge too.
All were good, but I don't want to see another redone rivalry in the WWE when there are plenty of people, like Morrison, who deserve the main event push, and Edge can give it to him.
If there is one rivalry I'd would want to have in the WWE right now, it would have to be between these two, simply because it could end up hidden magic the WWE hasn't discovered yet.
http://bleacherreport.com/users/48037-joe-burgett
Lewis W's pick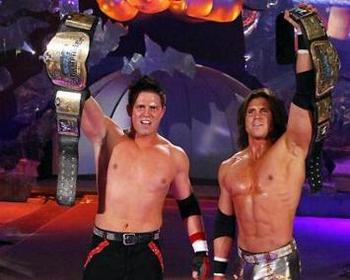 Hey Bleacherholics!
I, Lewis W, have had many thoughts, but I feel this one is most important in two of WWE's future main-eventers. The feud I would most like to see in this moment in time would be; John Morrison vs. The Miz.
Although I would like to see this feud, I would want it to take place around next year. This feud I hope is what will propel both The Miz and John Morrison to main event status.
I feel, if done correctly the feud could build up amongst other feuds eventually becoming the feud behind the World Title chase.
If WWE did make this feud become a reality, I think that John Morrison and Miz would get the much needed exposure to catapult them to WWE stardom. This feud is bound to happen sooner rather than later.
Some of you may feel we have already seen this one twice, but I beg to differ.
Although they had a short lived feud around the later months of 2009, It wasn't a proper feud.
The second so-called feud took place the month of Wrestlemania 26 when R-Truth and John Morrison teamed to take on the Unified tag team holders at the time Big Show and The Miz.
These both were very short lived feuds and I for one would like to see a real lengthy feud which could see the duo break the WWE glass ceiling, which is often talked about.
Both John Morrison and The Miz are regarded as the much needed future for WWE and I think the force which they need to make the push to the top are each other. John Morrison vs. The Miz, has the potential.
http://bleacherreport.com/users/288753-lewis-w
Iam D Real Deal Yo's Pick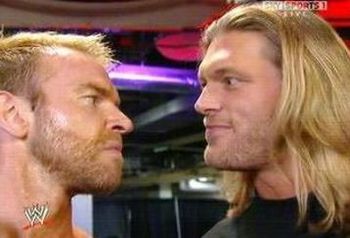 Heya fellas, I am back.
Now, as you all now that this is a slide show about the dream feuds.
Well, there are tons of dream feuds possible but of all the feuds possible in the WWE, the one I would like to see the most is none other than a feud between two top shot Canadians, i.e. Edge and Christian.
The reason why I choose this feud is because this feud will have everything, I mean great "OMG Awesome" matches, really great confrontations on the mic, tons of emotions and one hell of a ride. Also, these guys have tons of history to drop on.
We all know how great is it to see two former best buds or brothers lock horns on a regular basis, so yes, it would be fun indeed.
This will be The Kill switch vs. The Cutting Edge vs. The Peep Show, The Spear, and The Rated-R Superstar vs. Captain Charisma.
I mean these two guys have hell of a lot of history to drop on and hence we can rest assured that the intensity, power and energy associated with this match would be absolutely over the limit.
The way their personalities are going to collide will be fun. We will have a person who loves to be engulfed in controversy with a guy who cares about the crowd while the other one hides a lot behind his smile.
The best way to put this plan into action would be to allow Christian to win the Royal Rumble after last eliminating Edge and then allowing Edge to win the title at Elimination Chamber in 2012, the year when Mania takes place in Canada.
So, hell yes this is a dream feud and as I said also a dream match too see two top Canadians fight each other at Mania for the gold.
Whether Edge or Christian wins, we will see one hell of a rivalry unfold!
So, that's it fellas, I will be back soon but as of now I am signing off, thanks for reading!
http://bleacherreport.com/users/248988-iam-d-real-deal-yo
Ashley Morris's Pick
Shad Gaspard vs. MVP
For quite some time, fans have been clamoring for MVP to return to his heel roll. I feel a brief feud with Shad Gaspard could accomplish this.
Initially, this feud seems as if it would go nowhere. Immediately one would guess that MVP would be the springboard upon which Shad is propelled into the upper mid-card stratosphere.
In a sense, this is true; with MVP's in-ring abilities and mic skills, he would not only engage Shad in verbal warfare, but it would also give Shad a chance to look like gold by being in the ring with a solid mid-carder like MVP.
On the other hand, MVP gets placed in a quality feud where he not only makes an up and comer look good, but is also given a window of opportunity to get out of his hobo tag teaming efforts and into a storyline where he can slide back into being the heel he's quite adept at being.
At the risk of returning to an Attitude Era storyline (i.e. The Nation of Domination,) Shad could approach MVP and claim that he's merely a tool for the mysterious WWE Management, a "feel good" story meant to inspire kids to always reach for the stars despite coming from bad life experiences.
Shad then goes on to talk about how the fans or kids don't really appreciate him, and after all of his hard work, all he has to show for his redemption is being shuttled between tag team opponents.
MVP would disagree, and then the feud would proceed, eventually leading to a series of matches that would lead MVP to the crossroads of making a decision: continue to pander to the crowd with no results, or strike out on his own like Shad and make an impact by his rules and by his way?
I'd buy into it.
http://bleacherreport.com/users/164730-ashley-morris
Chris Mueller AKA The Dude's Pick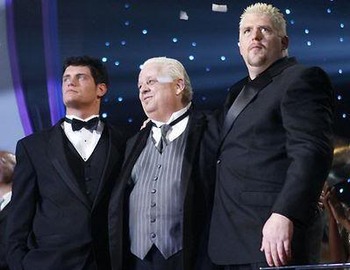 Goldust is a superstar that many people know to be the son of the legendary Dusty Rhodes. Early in his career he went by Dustin, and even tagged with his father for a short period of time.
Eventually he went on to create one of the most controversial characters of all time. Now his younger brother is cutting his teeth in the wrestling game, and in the same company.
Cody Rhodes was a member of the heel stable Legacy before recently being drafted to Smackdown.
Since re-debuting with the company, Goldust has had a couple short encounters with his brother in the backstage interview areas.
The WWE has mostly kept them apart,, but now is the time for the brothers to face off.
Goldust is one of the more technically gifted wrestlers in the WWE, but his time is coming to an end. Dustin is in his forties, and can't last forever.
This is the perfect opportunity to have Cody feud with his older brother before it is too late.
The brothers are both solid performers, but each has their own style. Cody is more traditional with his trunks and basic boots while Goldy is unique in every sense of the word.
The fans would love to see this as Brother vs. Brother feuds have always done well going back to Bret and Owen, and more recently Jeff and Matt.
I think having Cody claim to be ashamed of his brother's weird ways would be the best way to kick off the fight between Rhodes and Rhodes.
http://bleacherreport.com/users/64083-chris-mueller-aka-the-dude
Travis Smith's Pick
People have seen some of the greatest feuds in WWE history from The Rock vs. Stone Cold to Andre The Giant vs. Hulk Hogan to even Randy Orton vs. John Cena. All of these feuds have captured the imagination of the wrestling world because of their great segments on the mic and their physical battles inside the squared circle. When I had to think about what feud I would like to see the WWE do next, I looked at the WWE roster and really didn't see a lot of possibilities of a first time feud until I saw a very young superstar that is the World Champion and I saw a veteran that has done it all in the WWE. The feud that I have chosen is Jack Swagger vs. The Undertaker.
Swagger really got his break this year by winning the Money In the Bank Ladder Match at WrestleMania 26 and then cashing it in four days later on SmackDown against Chris Jericho. Swagger seems to be a weak champion to casual fans but look at what he has done as champion; Swagger has become a top WWE heel, he has gotten rid of being goofy and instead has become more serious on destroying his opponents, and he has defended the title against guys like Edge, Jericho, and Randy Orton. Swagger is still young and needs to build on his title reign and who else is there to fill the bill other than The Undertaker?
Undertaker has done it all in the WWE; former WWE Champion, Royal Rumble Winner, 18-0 at WrestleMania, and has been in some of the greatest matches in pro wrestling history. Undertaker is now at the stage in his career where he can put over younger talent and he has done that in the past with guys like Brock Lesnar, Batista, John Cena, Stone Cold, Kane, The Rock, and others. Swagger is the World Champion and needs a veteran to put him over the top in the WWE, thus being the Undertaker's duty in the next couple of months.
Taker and Swagger had an amazing bout six days before Extreme Rules in April when the RAW crew was stuck in Europe due to the volcanoes. That one match really got the WWE universe buzzing over a possible feud of these two great in-ring workers. I'd be very amped if this feud does happen because we will get to see some great bouts and we will also get to see a young man become a star at the end of this feud.
http://bleacherreport.com/users/234036-travis-smith
Keep Reading