The 10 Worst College Football Teams for Oversigning Recruits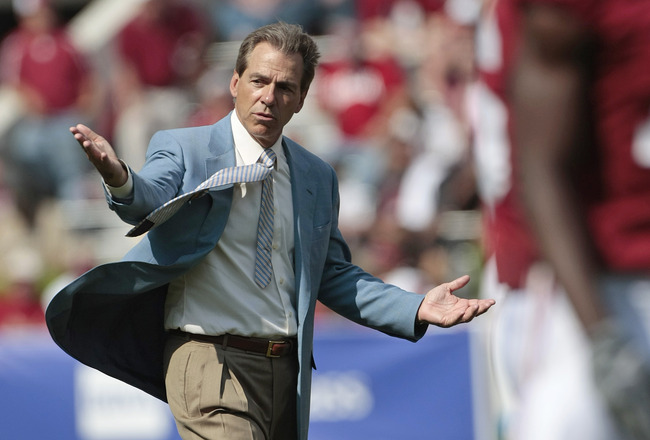 Relatively speaking, oversigning recruits isn't like North Korea torpedoing a South Korean warship. Saban lies, nobody dies.
But it's still a highly unethical practice with several harmful consequences.
Players on oversigned rosters that don't "make the cut" either lose their scholarships partway through their schooling, or, if they're true freshmen in an oversigned class, never get one in the first place.
The process of transferring is cumbersome, while the JUCO system is an easy way for a player to disappear off the radar and never be discovered again.
From the chart available at Oversigned.com, I've taken the 10 schools listed as the worst offenders at oversigning and either argued in their defense or showed how the numbers indeed indicate an unethical practice at work.
Take a look.
No. 10: Iowa State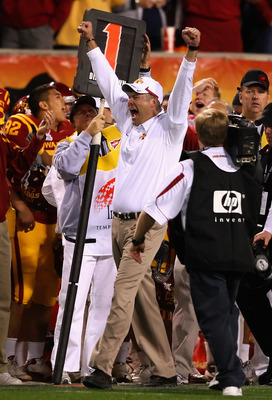 Class sizes: 2007—25; 2008—25; 2009—26; 2010—28 for a total of 104.
New head coach Paul Rhoads has had to deal with the coaching transition from Gene Chizik, who didn't leave the cupboard well-stocked (yes, there was a time Gene Chizik was bad at recruiting).
For that, Rhoads deserves a pass, provided he keeps the numbers down in the 2011 class. In his defense, he's said the Cyclones will do as much for 2011.
No. 9: West Virginia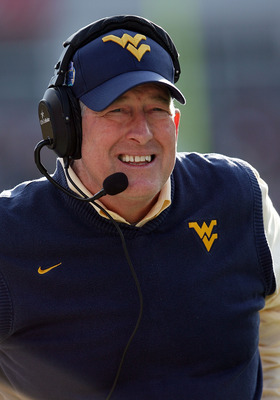 Class sizes: 2007—28; 2008—30; 2009—27; 2010—21 for a total of 105.
Rich Rodriguez might have started the ball rolling with that 28-man class in 2007, but Bill Stewart's first class was more to blame.
I'm shocked that in the middle of such an ugly transition, Stewart was able to sign 30 kids! Still, there were three academic casualties from that class alone: JUCO DE Tevita Finau, RB Jordan Roberts and JUCO ATH Chaz Russell.
The Mountaineers' 21-man 2010 class is playing down the impact of those classes, but I know of at least one recruit, ATH Latwan Anderson, whom they were planning on signing before he changed his mind on Signing Day, so don't give them a pass just yet.
No. 8: LSU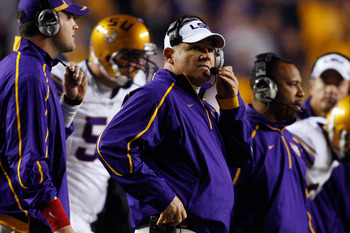 Class sizes: 2007—26; 2008—26; 2009—24; 2010—29 for a total of 105.
Miles, egregious on the outside, is tame by SEC standards.
The Tigers oversigned by a total of 20 players, facing routine academic casualties in each of their four classes, including at least four from 2010 that are at risk of not qualifying: Tharold Simon, Dexter Blackmon, Delino DeShields and Alfred Blue.
With the way their 2011 class is filling up fast, they could be at risk of doing it again.
No. 7: South Carolina
Class sizes: 2007—31; 2008—23; 2009—29; 2010—23 for a four-year total of 106.
The Gamecocks list no official academic casualties from their four classes, but the high-profile transfers of players like QB Aramis Hillary must be addressing more than just lack of playing time.
Smaller 2010 and 2011 classes should help alleviate the burden of keeping those two huge 2007 and 2009 classes on the roster.
No. 6: Kansas State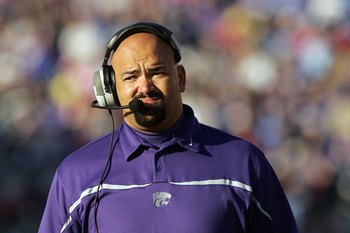 Class sizes: 2007—34; 2008—33; 2009—25; 2010—17 for a grand total of 109.
Wow, apparently Ron Prince was an egregious oversigner. Not only did his final two classes as Kansas State's head coach exceed the 30-man mark, but his 2006 class was 30 kids, too. Those exceed the 85-player limit in just a three year span!
There was a method to Prince's madness that was also supposed to be something of a homage to Bill Snyder—sign a lot of JUCO players who will immediately impact the state of play on the field, but it's not the cleanest strategy.
Bill Snyder appears to be addressing the problem by signing two modest-sized classes, and 2010's is downright tame at 17.
But there was a recent dismissal for violation of team rules. I'm saying it's smoke, not fire.
No. 5: Arkansas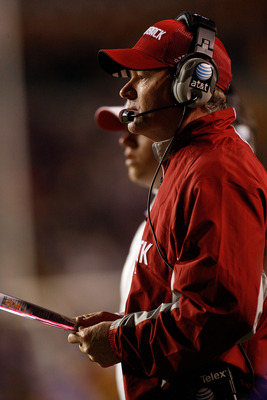 Class sizes: 2007—27; 2008—26; 2009—31; 2010—25 for a four-year total of 109.
Bobby Petrino can't blame Houston Nutt for his oversized roster, but he can do a fairly good imitation of the former Arkansas coach.
Petrino's 31-man 2009 class was signed in the same year of Nutt's monster 37-man class. It featured four JUCOs and at least one player who never signed a letter of intent, Franco Broyles.
There's been at least one high-profile transfer since, as well.
No. 4: Mississippi State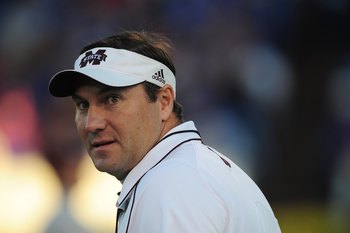 Class sizes: 2007—33; 2008—27; 2009—27; 2010—26 for a grand total of 113 players, 28 above the scholarship limit.
Sylvester Croom did Dan Mullen no favors with that 33-man 2007 class, but those numbers were inflated by a load of JUCO signings, seven total.
Assume those seven players are for sure no longer on the roster, and we get a little closer to acceptable territory.
But don't expect Mullen to take his foot off the gas. Recruiting is how a team overcomes the gap of mediocrity. Mullen will be hawkish in his desire to do so, having learned from the best at Florida.
No. 3: Auburn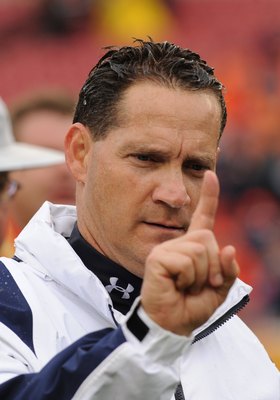 Class sizes: 2007—30; 2008—29; 2009—28; 2010—32 for a grand total of 119 players.
On numbers alone, Auburn has been the worst offender for oversigning recruits. 119 players is 34 players beyond the limit. That's not only an additional class worth, it's an illegal additional class worth!
Tommy Tuberville's classes did tail off at the end, but I won't buy for a second the idea that the cupboard was bare, which is the excuse coaches often use for signing large classes.
Nor do I see how Gene Chizik will be able to flout the Houston Nutt rule and sign all 32 of the players in the 2010 class, unless he counts the early enrollees towards the previous class. Even then, the NCAA caps the number of enrollees at 25. Someone isn't getting his fifth year of eligibility here.
A repeat performance in 2011 can't and shouldn't be tolerated.
No. 2: Ole Miss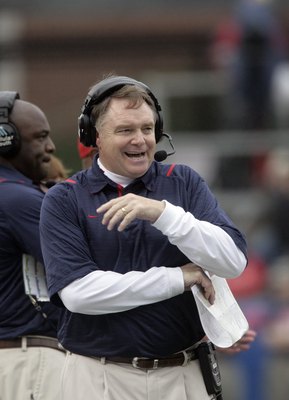 Class sizes: 2007—22; 2008—31; 2009—37; 2010—25 for a grand total of 115 players.
Auburn may have the aggregate numbers, but Ole Miss coach Houston Nutt gets the single-season oversigning egregiousness award.
That 37-man 2009 class led to the passing of a rule among the SEC schools that no class can exceed 28 players in a single year.
Rivals lists 11 players from that class as not enrolled. My guess is they're currently stuck in the morass of the JUCO system, where players are either passed by or entirely forgotten about.
With all due respect, the Nutt Rule doesn't do enough. Players signing letters of intent without the guarantee of a scholarship equates to an athlete's forfeiture of rights. He pledges to a school that can't, and doesn't, return the favor.
No. 1: Alabama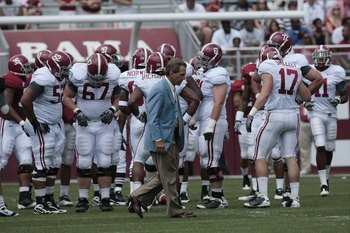 Class sizes: 2007—25; 2008—32; 2009—27; 2010—29 for a total of 113.
113 kids is 28 over the limit, which equates to having a whole separate recruiting class signed to your school. Plus, the Tide have taken the least amount of JUCOs of these top offenders—on average, one per class—so there's no sense arguing that the possible roster numbers are inflated.
The Tide are the most high-profile school guilty of oversigning players for four reasons: 1) because of the impassioned defense of the practice by the Alabama fanbase; 2) because of the well-publicized number of shady transfers and team dismissals; 3) because of Nick Saban's colorful reaction to inquiries regarding oversigning (namely, browbeating reporters into submission, which, in his defense, he does for all inquiries), and 4) because they've been the most successful school to do so.
Questionable transfers aside, Alabama fans argue for Saban's ethics either by saying that everyone oversigns past the 25-man limit, or that it's negative effects are counterbalanced by the benefit of having a loaded roster.
In any given class, Alabama's oversigning might be excusable. Yes, everyone signs past the 25-man limit...sometimes. But the numbers can't lie—over the past three years, Bama hasn't taken a class off and stayed below the limit.
On the contrary, they're averaging over 28 recruits per year, and I'm not stupid enough to believe they'll go lightly in 2011.
That defense also misses the point of what a scholarship is supposed to do. Scholarships should not be revokable on a hair trigger. They're there to provide players with the chance for an education provided they follow the rules.
Saban's is the Pete Carroll method of creating competition at every position taken to its logical extreme. Competition is good; muscling underperforming players out of a program is unethical.
Alabama's talent has gotten better, because its recruiting has gotten better. But that shouldn't mean the players that were in the program before have to hold onto their scholarships like life jackets as the hotshots hit campus.
Unless Alabama stays below the 25-man limit in 2011, Tide fans will have to at least own up to the trend, even if they fall short of admitting it's an unethical practice.
Keep Reading