Top Ten: From The "Next M.J." to Mid-Caliber Player/Ineffective Retiree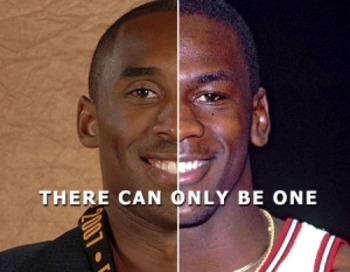 We doesn't have "one" player who can be called as the "Modern Michael Jordan". Whenever that topic pops, names appearing such as Kobe Bryant, LeBron James, Dwayne Wade, Derrick Rose, etc.
Kobe Bryant has Mike's mannerism, similar jumpshot and release, but Mike has more accomplishments than Kobe.
LeBron James, regardless of jersey No. 23, they both have the high-flying skills and defensive ability. Although, they didn't have the same size like Kobe and Mike, LBJ is more bigger than MJ.
Dwayne Wade, they both have the versatility and acrobatic maneuvers.
Derrick Rose, the go-to-guy of the Chicago Bulls after Mike left. They're both effective on the inside
Harold Miner, was tagged as "The Baby Jordan" but, he didn't had a great career. But let's not forget these players who once called "The Next Michael Jordan" after Mike retired from the NBA in 1998
10: Rip
Richard Hamilton, Three-time NBA All Star, One-time Champion. He is one of the prolific shooter in Pistons franchise history. He was drafted by Washington Wizards back in 1999. In 2001, Michael Jordan made a comeback out of his retirement. Being mentored by MJ during his stint in Washington. He was traded to Detroit Pistons in 2002. He became one of the league's top shooting guards. He helped the Pistons win the title in 2004. He became a three-time All Star, he participated in three-point shootout at All Star Game 2008. In 2009-2010 season, he had his lowest ppg average (14.3) from 21.6 ppg from last season. They had their worst record since 1994. We'll see in next season if Rip can still play like he used to be.
9: E.J.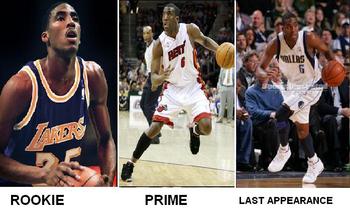 Eddie Jones, three-time All Star, one-time steals Champion, 1995 Rookie Challenge MVP. He began his NBA career when he was drafted by L.A. Lakers in 1994. He switched his jersey number from 25 to six. Jersey number 25 was retired by Gail Goodrich. He was traded to Charlotte Hornets and he had his finest statistics and even voted as East All Star starter. He was then traded to Miami Heat after he resigns with Hornets, he led the Heat to the Playoffs with the absence of Alonzo Mourning. When Dwayne Wade entered NBA with the Heat, his averages was dipped low so he was then traded to Memphis Grizzlies but waived him. He signed with the Heat again. After 2006-07 season he signed with Dallas Mavericks. On October 2008, he was dealt to Indiana Pacers but released him to clear more cap room.
8: Mitch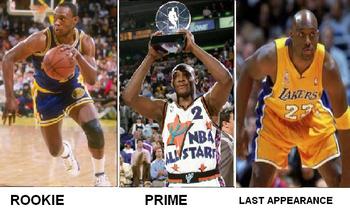 Mitchell Richmond, one-time All Star MVP, one-time Champion, 1989 Rookie of the Year, six-time NBA All Star. He was part of Don Nelson's fast-paced offense, so-called "Run TMC", with Tim Hardaway and Chris Mullin. With the great passing ability of Tim Hardaway and Chris Mullin's shooting skills, Mitch complemented on this offense. He was dealt to Sacramento Kings, he was blossomed into a individual scorer, his jersey number was retired in Sacramento by the way. He played well as shooting jumpshots and attacking the basket. He was traded to Washington Wizards for Chris Webber. The Kings bloomed into a title contender team. But the Wizards didn't work out for Richmond. He ended his career with L.A. Lakers, where he won the title despite of sitting mostly on the bench.
7: Stuck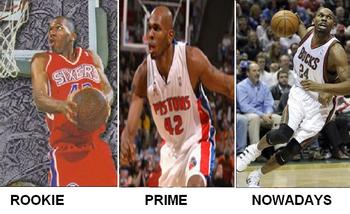 Jerry Stackhouse, two-time All Star. He was drafted by Philadelphia 76ers in 1995, In 1996, the Sixers drafted Allen Iverson, a future MVP. The duo combined for 44.2 ppg for their team. But he was dealt to Detroit Pistons. With the Pistons, he set the Pistons' franchise record and the league's season high for points in a game with 57 points. He led the Pistons to the Playoff, but didn't make it to second round. Then he was traded to the Washington Wizards. Stackhouse led the Wizards in points and assists per game respectively. He missed most of the 2003-04 season while recovering from arthroscopic surgery on his right knee, playing in only 26 games. He was traded to Dallas Mavericks in exchange for Antawn Jamison. He was the first one who worn a stockings for the legs. To aid his groin injury and warm his legs. Stackhouse was coming off the bench as the 6th man for the Dallas Mavericks during the 2005-06 NBA season, he was a significant factor in the NBA Finals series with the Dallas Mavericks against the Miami Heat. He was traded to the Memphis Grizzlies on July 2009, in a four way trade. On the day after the trade, Stackhouse was waived by the Grizzlies. In 2010, Milwaukee Bucks signed Stackhouse for the remainder of the 2009–10 season.
6: Stevie Franchise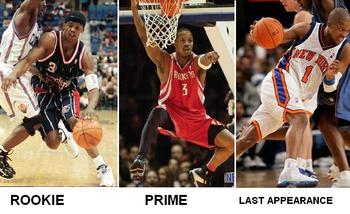 Steve Francis, three-time NBA All Star, 2000 Co-Rookie of the Year. He was known early in his career for his crossover dribble, driving ability, and flashy dunks. He was the go-to-guy of the Houston Rockets. In 2002, Yao Ming entered the NBA with the Rockets. Francis had a lighter clutch to carry the team. In 2004, he was traded to Orlando Magic for Tracy McGrady. Francis was unhappy with the trade, but still became the leader of the team. He was upset when his friend/teammate Cuttino Mobley was dealt to Sacramento Kings. In 2006, he was traded to the New York Knicks, He switched his jersey number from three to one, prior to Stephon Marbury's jersey number. He was shipped to Portland. But, he was bought out of his contract. He signed with the Houston Rockets again, but he's not a fit for Rick Adelman's rotation. He was sent to Memphis Grizzlies. But, waived him after a month.
5: Penny
Anfernee Hardaway, four-time NBA All Star. 1994 Rookie Challenge MVP. Who can argue with his playing skills. Fans in the 90's knows how great he was during his stint in Orlando. He can pass the ball while spinning in the air, he can dunk on anybody. Despite of his leadership, he was dealt to Phoenix Suns where he and Jason Kidd became the "BackCourt 2000". He had his injury that made him expandable to other team. He helped Stephon Marbury to carry the New York Knick to the Playoffs in 2004. He spent various injuries and shipped him again in Orlando but waived him immediately. He signed with Miami Heat but was released. He said he still want a shot, but he never played in NBA again since then.
4: T-Mac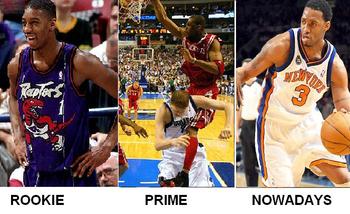 Tracy McGrady, 2001 Most Improved Player, seven-time All Star, two-time Scoring Champion. Being a high-flyer, he competed in Slam Dunk contest in 2000. He and his cousin Vince Carter led the Toronto Raptors for the first playoff appearance in franchise history. But, he was overshadowed by Vince Carter so he was shipped to Orlando. He played with Grant Hill, but with the injury of Hill, he blossomed into an NBA star. Despite of having a great plays with the Magic. He was traded to Houston Rockets for Steve Francis. He and Yao Ming became one of NBA's top duo. He never played in the 2nd round of the playoffs until he suffered his injury, he became ineffective and dealt to New York Knicks. He had his brilliant debut but after that he still not the TMac he used to be. Let's see if he can regain his versatility in the next season.
3: Half-Man, Half-Amazing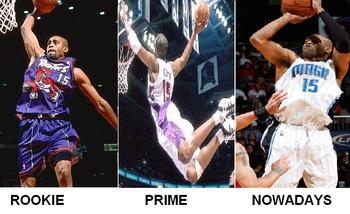 Vince Carter, eight-time All Star. 2000 Slam Dunk Champion, 1999 Rookie of the Year. He and TMac became the 1-2 punch of Toronto Raptors after TMac left Toronto. Carter became the Raptors' franchise player. He carried the Raptors to Eastern Conference Finals in 2001, but failed to defeat the Sixers. In 2004, he moved to New Jersey Nets where he became teammates with Jason Kidd. Every time his team plays in Toronto, he always get booed. In 2009, he was dealt to Orlando Magic to help the Magic to their quest to the NBA Finals despite of his career-low averages.
2: G Money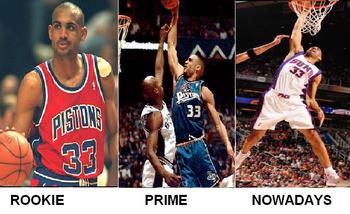 Grant Hill, seven-time All Star, 1995 Co-Rookie of the Year. Many fans thought when MJ retired in 1998, Grant Hill will be the new face of NBA. During his time in Detroit. He was dubbed as the "Next Michael Jordan". It doesn't matter how great his opponent was. As long as he can score, he will score. Many NBA fans know how his injuries affect his effectiveness. He didn't play a lot during his period in Orlando. But he was named an All Star starter in 2005. But after that season he was once again injured. In 2007, he joined Phoenix Suns. In 2010, he helped the Suns to reach the playoffs and played for the Western Conference Finals against the Lakers.
1: The Answer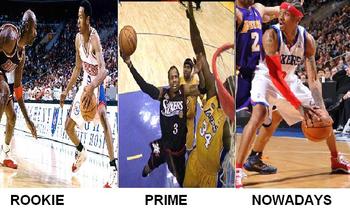 Allen Iverson, 2001 NBA MVP, two-time All Star MVP, 1997 Rookie of the Year, 11-time All Star, four-time Scoring Champion, three-time Steals Champion. The most controversial player in NBA history. One of the most popular NBA player around the world. Who can forget his flashy dunks in the 90's, who can forget his killer crossovers and anklebreakers, who can forget his reverse layups, who can forget his ball fakes, who can forget his behind the back and no look passes. Who would wear an arm sleeve if this guy didn't started it. Who would braid his hair to cornrows if this guy didn't started it. Allen Iverson is the best pound-for-pound player ever. He has posters with big men on it. He might be the shortest NBA player who have won the scoring champion 4 times. He even led the Sixers to finals during his MVP season in 2001. But now, he just had his lowest average in his entire career. Being benched in Detroit and Memphis. Detroit down-fell when AI arrives. The coaching style of play didn't fit him. AI is a go-to-guy type of player not a support type. But he have to adjust to it, that he's not that MVP type anymore. Some say that he was the face of NBA after MJ. But now, who would have thought that this guy who once became great is near retirement. Now, there are guys like Brandon Jennings, Stephen Curry, Rajon Rondo, etc. Who could be the next AI. But there's only one Allen Iverson.
Keep Reading