2010 FIFA World Cup: The Top 5 U.S. Soccer Players To Watch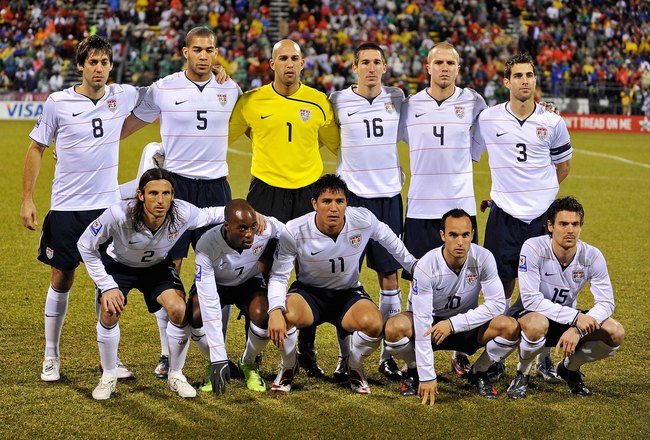 The U.S. has never been known for producing great soccer talent, but recent performances by a number of Yanks made the world take notice.
It is time that American footballers finally prove themselves on the game's biggest stage and give the U.S. something to cheer about this summer.
And now that the final U.S. roster is officially set, I give you their top five players to watch at the 2010 FIFA World Cup.
5. Tim Howard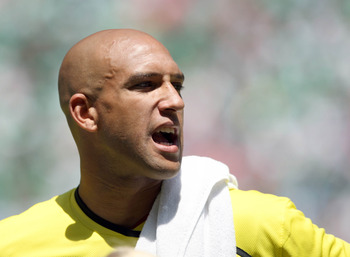 While the U.S. may not have any world-class field players, there is no debate that they churn out stud goalies faster than McDonald's makes their hamburgers.
In addition to earning prestige overseas in the English Premier League, Tim Howard is the latest in the long line of American goalkeepers—Brad Friedel and Kasey Keller, for example—to man the backstop for the national team.
Howard's (mostly) successful stint at arguably the world's most famous club, Manchester United, made him a household name. It was not uncommon to hear the name "Tim Howard" among the likes of Gianluigi Buffon or Edwin van der Sar.
Now at Everton, Howard reestablished himself as one of the premier goalies in the world. In the 2008-09 season, he set the club record for most clean sheets.
If the U.S. is to go far, Howard has to be on top of his game.
4. Oguchi Onyewu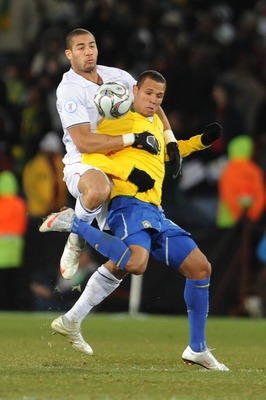 Listed at 6-foot-4 and 210 pounds, Oguchi Onyewu may be the most physically imposing defender ever to come out of the U.S. His brute strength makes Oguchi a force to be reckoned with in the backfield.
Onyewu has shown he can be invaluable on the international stage, most notably when he helped the U.S. reach the 2009 Confederations Cup final for the first time ever. In the U.S.' 2-0 semifinal victory over Spain, Onyewu was a huge factor in the U.S.'s ability to hold Spain's lethal duo of Fernando Torres and David Villa scoreless.
Unfortunately, the big fella suffered a patellar tendon rupture in his knee during a World Cup qualifier against Costa Rica in October, so there is doubt as to whether he will be 100 percent fit.
If the United States is to shut down the likes of Wayne Rooney and Steven Gerrard come June 12, they better hope Onyewu's back to form.
3. Jozy Altidore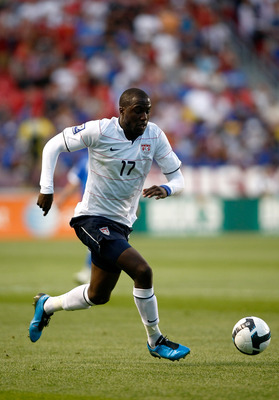 The 20-year-old phenom out of Boca Raton, Florida asserted himself as one of the U.S.' premier attackers with his quick pace and physical play.
Altidore's uncharacteristic blend of strength and blinding speed enables him to body up on defenders and fly by them a second later.
And people have taken notice.
After agreeing with Major League Soccer and the New York Red Bulls, Spanish giant Villareal signed the young Floridian for a roughly $10 million transfer fee—the highest ever paid for an American player.
At Villareal, Altidore became the first U.S.-born player to ever score a goal in La Liga—doing so after coming on in the 90th minute against Atletico Bilbao.
Not bad for an 18-year-old.
Altidore was then loaned to Hull City of the English Premier League for the 2009-10 season. He was fairly quiet during the year (1 goal, 3 assists in 28 games), but is still no less important for the U.S. national team—6 goals in 13 appearances.
With a lack of truly dangerous forwards on the squad, it is up to Altidore to provide some spark up top.
2. Clint Dempsey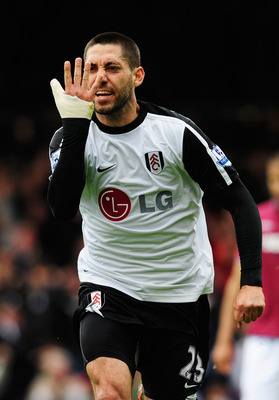 When Clint Dempsey made it to the UEFA Cup final with EPL's Fulham this month, he became the first American ever to play in a European final.
Although Dempsey's side lost 2-1 to Atletico Madrid, his career has clearly taken off with the mid-table club. Seven goals in 27 appearances made him a fan favorite—a definite rarity for an American overseas. And his miraculous chip over the Juventus goalie to secure a trip to the UEFA quarterfinals forever cemented his place in Fulham lore.
But it's not just his club play that has impressed.
Dempsey was the only player on the U.S. squad to score during the 2006 World Cup in Germany. Although this could be viewed as depressing rather than inspiring, it shows Dempsey is a definite threat in the American attack.
Five goals in World Cup qualifying and three more during their remarkable 2009 Confederations Cup run give fans all the more reason to watch the flashy winger come June.
1. Landon Donovan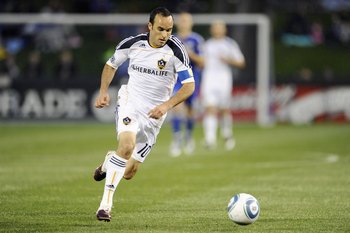 Does he need any introduction?
Any true U.S. soccer fan knows that Landon Donovan is the national team's all-time leader in goals and assists. But, after a shaky performance in the 2006 World Cup, it is time Donovan returns to top form on the international stage.
Success for the United States is like this: as far as Donovan goes, the U.S. goes.
For example, Donovan's two goals in the 2002 World Cup helped catapult the team to a quarterfinal appearance, while zero tallies in 2006 resulted in failure to advance past the group stage.
His stellar play during the 10-week loan to Everton convinced me that Donovan still has what it takes to carry the American side beyond the group stage. He proved he can excel in one of the top leagues in the world, so there is no reason he can't do the same in South Africa.
At 28, however, time is certainly ticking for the California native. I don't doubt he will make the 2014 squad, but this may be the last World Cup where Donovan's speed and quickness can make a historic impact for the U.S. That being said, I think Donovan will do everything in his power to ensure a good showing this summer.
Keep Reading

United States (National Football): Like this team?