The Top 10 Player-Coach Feuds in Sports History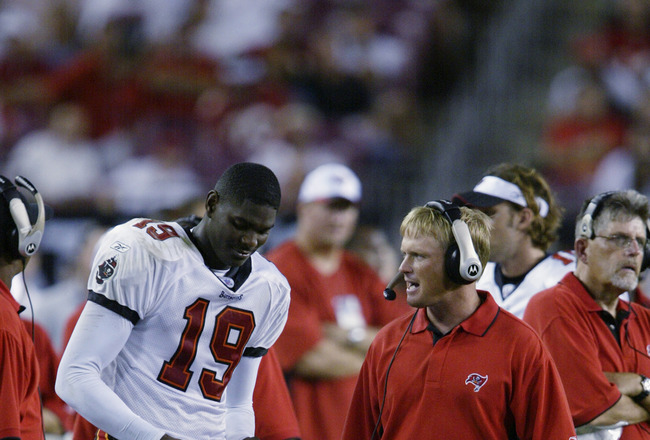 "Can't we all just get along?" That is what you would usually say when your in the middle of an intense conversation/fight.
That is usually what other players say when a coach and a fellow player are not getting along.
How about we take a look at some of the ugliest player-coach feuds in sports history.
10. Fredi Gonzalez and Hanley Ramirez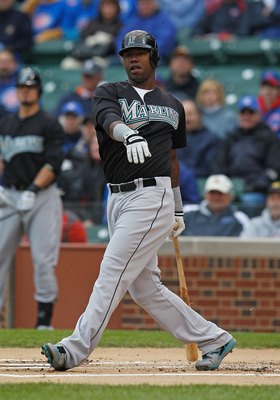 Listen, I know there are a bunch of feuds out there, but I am not very good at research and I have to finish this slide in a hurry.
Hanley Ramirez was questioned by his manager, Fredi Gonzalez, when Hanley seemed to show "a lack of effort" when chasing a single.
Ramirez had something he wanted to say, "It's his team. He can do whatever the (expletive) he wants."
Of course this seemed to start a major feud for the next couple of days.
It didn't last long but the last thing this Marlins team needs right now is a feud between their manager and star player.
9. Shaq and Stan Van Gundy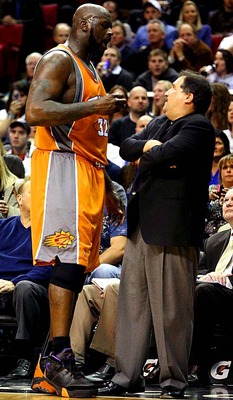 Not a huge feud, but there is definitely some bad blood.
Shaq was a former player of Stan Van Gundy on the Heat, until Pat Riley returned to become head coach after Stan Van stepped down on December 12, 2005.
In the 2008-09 NBA season, Van Gundy, coaching the Magic, faced the Suns and Shaquille O'Neal. Stan Van said after the game that Shaq was flopping throughout the night.
Of course, Shaq fired back at Stan Van Gundy saying, "He is a master of panic."
Now those probably seem like too many words to make this a feud. But when you have a coach calling out his former player and that player fires back at you, then there is some really bad blood.
8. Stephon Marbury and Mike D'Antoni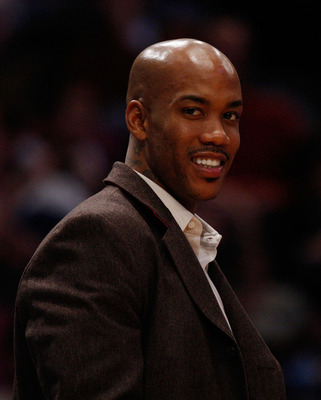 Stephon Marbury never got to play with Mike D'Antoni while he was with the Knicks. I can't necessarily remember all that was going on.
Mike D'Antoni would not give Stephon Marbury a single minute of playing time. While this feud was going on, the media basically made Marbury look like the bad guy.
This became a distraction for what seemed like a long period of time. The Knicks ended up buying out Marbury's contract and now Marbury is not playing in the NBA, while the Knicks...still suck.
7. Jay Cutler and Josh McDaniels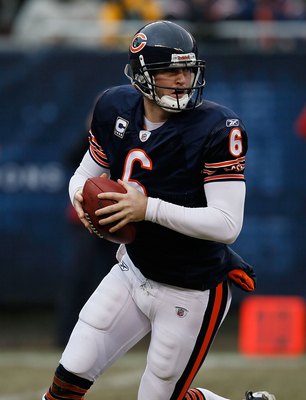 It's kind of funny how you can have a rivalry with a coach that you've never played for. But that was the case with Chicago QB Jay Cutler and Denver Head Coach Josh McDaniels.
After The Broncos came off a disappointing season, the Broncos decided to fire then-head coach Mike Shannahan. They then went on to hire Patriots offensive coordinator Josh McDaniels.
McDaniels was seeking to make a trade that would send Jay Cutler to Tampa and would bring in QB Matt Cassel, who McDaniels coached in New England.
The trade didn't go through and Jay Cutler was not pleased when he found out that Denver was trying to trade him.
Cutler then stated that he did not want to play for McDaniels, even after McDaniels said he was not going to trade him.
Cutler then forced the Broncos to trade him to Chicago. As a result neither team made the playoffs.
6. Terrell Owens and Andy Reid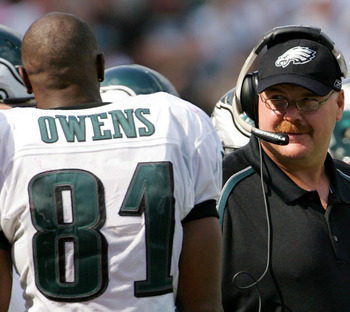 After it just seemed that Terrell Owens would never be able to get along with 49ers coach Steve Mariucci, the 49ers decided to send Owens off. He landed in Philly, where he would team up with Donovan McNabb and Andy Reid.
Things looked really good when the Eagles had a run to the Super Bowl. But after that, Reid ended up suspending Owens for a week the next season, and then the whole season.
As a result, Owens ended up signing with the Cowboys, of all teams, after his contract was up.
5. Shaq and Phil Jackson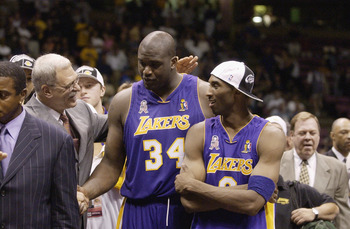 Shaq and Kobe would have been on this list if it was just player feuds. But unfortunately, this is called the top 10 Player-Coach feuds.
Now even though the Shaq and Phil feud was not as bad as the Kobe and Shaq Feud, it was pretty bad to say the least.
Now the trio of "Big Diesel," "The Black Mamba," and "The Zen Master" did win three NBA Championships, but despite their success, Phil had to decide between Shaq or Kobe. As we all know, Shaq ended up being traded to the Heat.
During the 2005-06 Season Phil decided to take a shot at Wade and Shaq.
He called Shaq lazy and basically called Wade a cheater. Now this was interesting because it involved one of Phil Jackson's former players.
If he had just taken a shot at Wade by himself, then maybe it wouldn't be looked at as something bad to say about one of his former players. But Phil ignited a flame between him and Shaq.
Later Shaq even claimed that Phil started the Shaq-Kobe rivalry.
Shaq and Phil haven't seemed to ever have liked each other, and the words that have been said since the departure of Shaq has ignited a huge flame that will take a very long time to put out.
4.Terry Bradshaw and Chuck Noll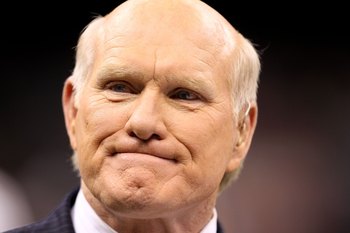 Terry Bradshaw was the number one overall pick in 1970. You would think after maybe one or two seasons he would be starting. But no, it was actually four and half seasons before Bradshaw played.
Chuck Noll thought that Terry Bradshaw would never grab hold of the offense. The year that Bradshaw finally played, he won the Super Bowl.
So basically, you made life hell for your young and talented QB, and then when you finally stop trying to make his life difficult... you win the Super Bowl!
3. Terrell Owens and Steve Mariucci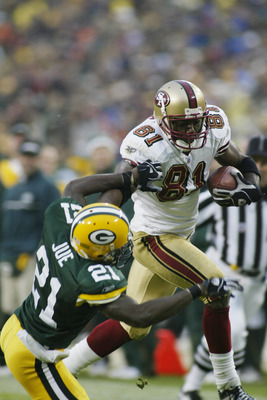 I could not find any picture with Steve Mariucci and Terrell Owens and I apologize for that. Owens we all know for throwing players and coaches under the bus.
Owens criticized (openly of course) Mariucci's play calling. The two just could not get along.
This ended up being a huge deal as Owens ended up being traded to the Eagles and eventually went to the Super Bowl. As a result, Mariucci ended up coaching the Lions and of course (like all coaches who have stints with the lions) it didn't last long until he was fired.
2. Keyshawn Johnson and Jon Gruden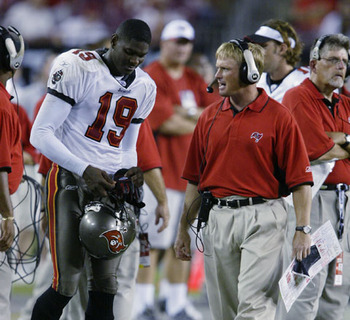 Jon Gruden and Keyshawn Johnson are buddy-buddy when they are covering the Super Bowl, and maybe when they are out of the studio. But these two didn't get along when they were part of the Tampa Bay Bucanneers.
For some reason, when Gruden arrived to Tampa, so did some bad blood between the coach and star wide-out. It eventually led to Johnson's deactivation for the last seven games of the regular season.
The Buccaneers eventually won the Super Bowl that year, but that was also the last year Keyshawn Johnson was in Tampa Bay. Johnson ended up being traded to Dallas Cowboys where he was reunited with Bill Parcells.
1. Latrell Sprewell and P.J Carlesimo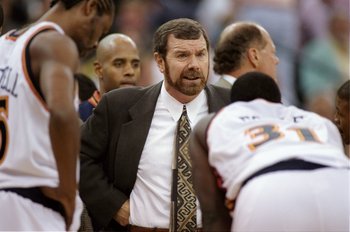 You know a player doesn't like you when he is literally trying to kill you.
P.J Carlesimo had to learn that.
On December 1st, 1997, Latrell Sprewell (Left) was being yelled at by P.J Carlesimo to make his passes crispier. Sprewell told Carlesimo he was not in the mood for his criticism and told him to stand back.
P.J Carlesimo decided to approach Sprewell. Sprewell clearly didn't like that and decided to grab him by the throat and slam him down. He was choking him for 10 to 15 seconds and then his teammates finally decided to separate Sprewell's hand from Carlesimo's throat.
About 20 minutes later Sprewell decided to knock Carlesimo's lights out (like the choking wasn't good enough for him) before being separated once again.
Keep Reading