Just Saying, Is All... | How God Will Help Tim Tebow in the NFL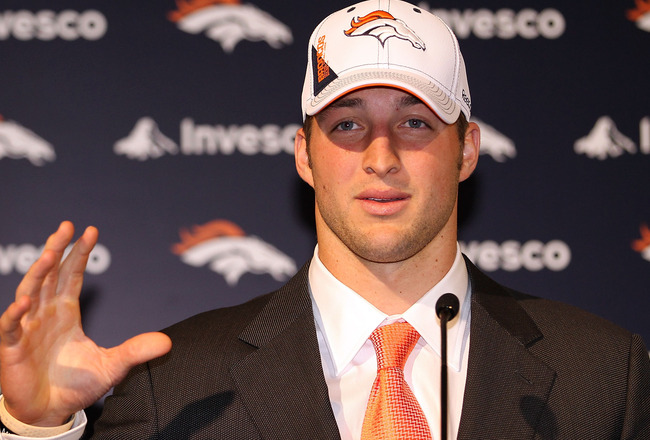 Doug Pensinger/Getty Images
Conviction is self-sustaining.
Tim Tebow is a rookie quarterback. He's also a veteran Christian. After a heavenly career at the University of Florida, the newest Denver Bronco faces a baptism by fire in the NFL—which would be more worrisome news if his long-burning faith hadn't already prepared him to pass the test.
Fear means doubting your competence.
Hope, on the other hand, means trusting your Creator.
I'm not suggesting that God will actually intervene on Tebow's behalf this fall. Sunday is supposed to be a day of rest, and I can't imagine that the Lord would profane His Sabbath by handling pigskin. But let's not dismiss the possibility that Tim's Our Fathers may really translate into touchdowns. In a league where excellence depends so heavily on mental toughness, the most hallowed QB is the one who's holy in his own head.
Beauty is in the eye of the beholder.
Grace is in the heart of the believer.
If there's a moral to Tebow's story, it's simply that happy endings wait for those who walk the strait and narrow way.
Courage is the mother of athletic success. Blood, sweat, tears—they're the price of admission for aspiring stars, afflictions that every pilgrim endures on the road to the top. The implication, of course, is that jocks ought to beg for grit from whomever happens to be listening. Atheists will argue that Tebow is naive to beseech an invisible coach who lives in the sky. I'd counter that Tim's kind of naiveté is the most sophisticated option for a mortal player who toils in the dust.
Will Tim Tebow be a star in the NFL?
Skepticism is good.
Optimism is better.
Tebow's spirit may be buoyed by the promise of fake myths, but at least his body gets a boost from the real moxie those myths inspire.
Positive thoughts produce positive outcomes. How you act depends on how you feel; how you feel depends on how you dream. God will help Tim Tebow in the NFL just by being God, even if He doesn't care about football and especially if He doesn't exist. For two thousand years mankind has found strength and solace in the teachings of Jesus Christ. Whether there's metaphysical truth beyond that historical fact is a question hair-splitters and hell-raisers will have to answer on their own.
*
The Sons of Korah never made the jump to a pro-style offense, but they did know a thing or two about resilience in times of transition:
God is our refuge and strength, an ever-present help in trouble.
Therefore we will not fear, though the earth give way and the mountains fall into the heart of the sea,
though its waters roar and foam and the mountains quake with their surging.
Which is a psalm whose proof lies in the mere act of singing it.
Because the safest havens are those we build inside our own skulls, and anyone with enough sense to pray illogical prayers may yet be spared from the doom of only just saying, is all...
This article is
What is the duplicate article?
Why is this article offensive?
Where is this article plagiarized from?
Why is this article poorly edited?

Denver Broncos: Like this team?