Oakland Raiders Projected Depth Chart: Part 5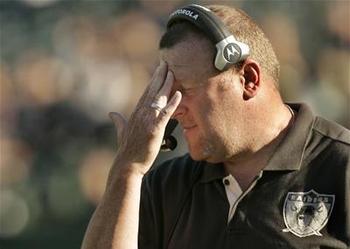 Something tells me with all the decisions, possibilities, and scrutiny upon him, Tom Cable must have a permanent head ache!
This is the final installment of my five part series projecting the Oakland Raiders opening day depth chart. Today I will be discussing the secondary. As this is the most cut and dry area on the team, it will make Cable's job a bit easier...and mine too!
The secondary added some nice young talent this offseason. Some of that talent will contribute right away; some will take some time to develop. I'm going to try to predict those that will, and those that won't contribute in this slide show.
There are six cornerbacks, two strong safeties, and two free safeties listed on the Raider's roster. It's not likely they will all make the team. I will attempt to sort through them all and predict who will play in the base defense for the Raiders in 2010.
Let's see how it looks...
Cornerback No.1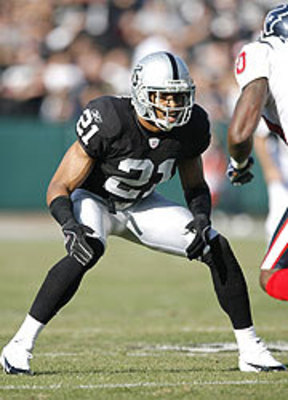 No shocker here. Nnamdi Asomugha is a stud and will be where he belongs—in the starting lineup.
Widely regarded as the best cover corner in the league today, if not one of the best ever, Asomugha is an integral part of the Raiders defense and a fan favorite.
The hard part of this is deciding who will back him up. This will be dependent upon who wins the starting job opposite Asomugha. Therefore, I will save revealing who I think the backups are until the end of this slide show.
Strong Safety
Tyvon Branch was one of the few pleasant surprises on the the Raider's defense last season.
Branch stormed onto the scene by being the second most prolific tackler on the Raiders in the 2009 season. It is a bad sign for the team from a performance standpoint when a safety gets 124 tackles, but it's nice to know that if the front seven fail, there's some one in the secondary that can live up to the title of "safety!"
Mike Mitchell is the only other player on the roster listed as a strong safety. Therefore, it is obvious who Branch's backup will be.
I can also see Mitchell replacing the free safety on obvious run downs, coupling with Branch to add a little more thump in the lineup when it's warranted.
Free Safety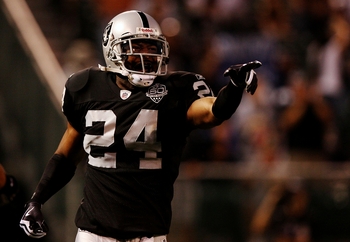 At the beginning of the 2009 season, Michael Huff finally started to play like the high first round pick he was. His performance tailed off a bit as the season wore on, but I have a good feeling about Huff for the 2010 season.
Now that he knows he can do it, his teammates know he can do it, and the coaching staff knows he can do it, I believe Huff will come a lot closer to living up to the expectations placed on him.
When I coach youth and high school football, I look for what I call "the light-bulb moment." The moment a young man gets it all put together and plays free and instinctively. Huff had that moment in 2009 and I look for him to build on it in 2010.
The only other free safety on the roster at this moment is Hiram Eugene. This does not mean that Eugene will be only a backup. I look for Eugene and Huff to share the field in obvious passing situations, much like Branch and Mitchell will in obvious running situations.
Cornerback No.2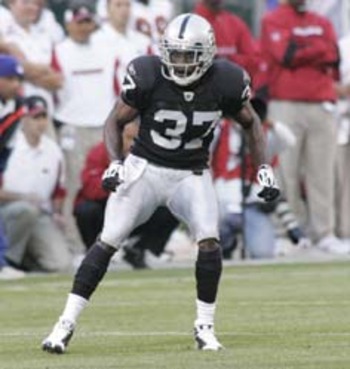 This spot is the only one in the Raider's secondary that is sort of "up in the air." At this moment, I really believe this spot belongs to Chris Johnson.
Johnson had moments of greatness and moments of "WHAT THE...?" in 2009. He'd have a great game followed by bad game, followed by average game. It was hard to predict which Chris Johnson was going to show up.
It seems to me that in 2010, Johnson will be pushed for the No. 2 spot by rookie Walter McFadden from Auburn. McFadden is showing a lot of good things in OTAs and has some good tape from college.
That said, Johnson is certain to improve during the offseason and is a couple of years of experience in John Marshall's system ahead of McFadden. He is likely to start the season opposite Asomugha, but he'll be looking over his shoulder the whole time!
Nickel Back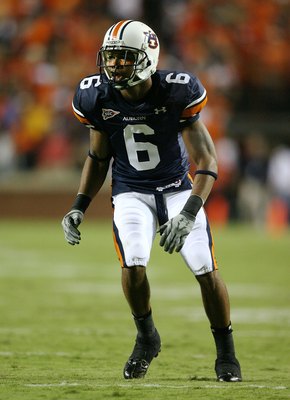 The young talent added to the Raider's secondary is led by Walter McFadden. Coming from a big-time college program, McFadden has seen good competition and excelled against it.
Bringing McFadden in with the nickel package will be an upgrade over Stanford Routt. McFadden has all the skill Routt does, but from the tape I've seen, he seems to put it to better use!
Assuming that my previous slide is correct, McFadden will be elevated to the No. 2 spot and Chris Johnson will find himself in the Nickel spot by mid season. Either way, it will still be an upgrade to the Raider's nickel package.
Dime Back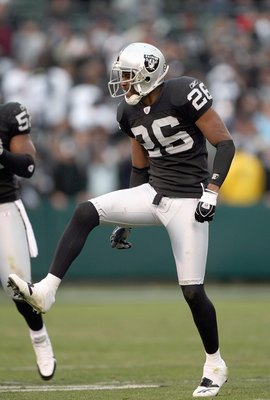 Stanford Routt is one of those players that hasn't had "the light-bulb moment" as I described in the slide about Michael Huff. All the physical skills are there, he just hasn't been able to use them to their fullest.
For this reason, Routt will be moved down the depth chart into the No. 4 spot, and will only see time in the dime package. However, like Chris Johnson, Routt will be looking over his shoulder at a talented rookie.
Jeremy Ware was drafted by the Raiders out of Michigan State and will be pushing Routt hard for playing time. I'm still undecided about whether or not Ware will unseat Routt for playing time, but there will be a serious battle.
There is also Joey Thomas; a fifth year player out of Montana State. Thomas has good size and speed, but has yet to see significant playing time, or make a significant impact. I don't expect 2010 to be any different for Thomas. He'll be lucky to see the practice squad.
Let's review...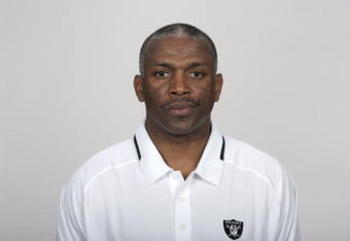 Defensive backs coach Lionel Washington's job is a bit easier than some of the other position coaches on the Raiders. He has great talent to work with and it is all pretty obvious who should play where.
If I'm correct in my assumptions, the secondary will look like this:
CB-1: Nnamdi Asomugha
CB-2: Chris Johnson
Nickel: Walter McFadden
Dime: Stanford Routt
Reserve: Jeremy Ware
This will leave Joey Thomas on the practice squad or unemployed.
To close...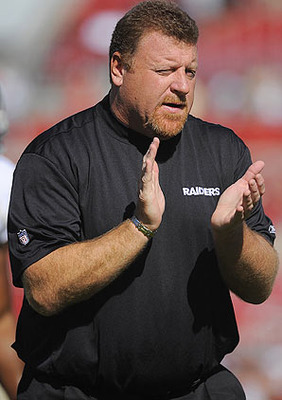 When you look at the Raiders secondary, it's easy to see that Coach Cable has a lot to clap about. Great talent and great coaching make for a great squad.
The Raiders were ranked seventh against the pass in 2009. This was no doubt due, in part, to the fact that the run defense was so bad and teams didn't have to attempt many passes.
With the infusion of youth and talent, the Raiders' secondary will better than they were last season. You add great coaches like Lionel Washington and Willie Brown, and the Raiders could wind up being ranked even higher than they were last year.
So what's the consensus Raider fans? Do I have this one right? Am I way off? Let me hear you!
Don't forget to read more of my NFL articles at www.RealSportsNet.com and sign up for free to join the forums.
You can find more of my Raiders articles at www.RaiderNews.com/x/
And be sure to join me every Saturday at 6pm Eastern, 3pm Pacific for my pod-cast "It's Game Tyme" at www.blogtalkradio.com/itsgametyme for an hour of sports talk and caller participation.
Follow the "It's Game Tyme" blog at www.blogspot.com/itsgametyme
Keep Reading

Oakland Raiders: Like this team?