Pull Your Weight: 10 NFL Players Who Need to Prove Themselves in 2010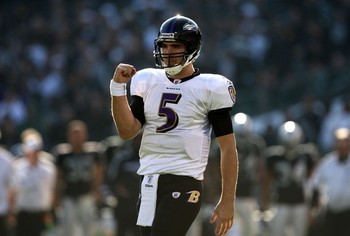 So far this offseason, we have bared witness to a barrage of criticism toward certain players in the NFL.
Predominantly though, the main players that have been under scrutiny or questioning have been quarterbacks, as it seems the league of today is plagued with "halfway there" guys that are capable of getting the job done, but have failed to convince most people.
Therefore, 2010 is more than just another season. It is judgment day, and for many players, it is fair to go as far as saying that 2010 is a "make it or break it year."
Some players find themselves in the safe zone, while others find themselves caught between a rock and a hard place as they try to establish their legacy in the NFL.
Who has made the list? Well realistically the selections aren't very surprising, but I think you'll find it narrows down the Top 10 players who need to prove themselves this year quite well.
Is your quarterback, wide receiver or running back featured? It's time to find out.
Honorable Mentions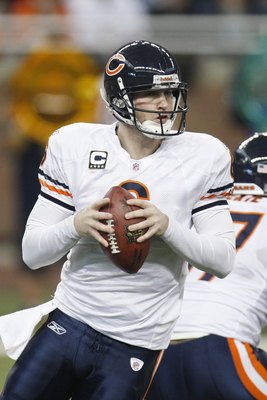 -Jay Cutler
-Matt Stafford
-Kevin Kolb
-Jason Campbell
-Matt Leinart
-LaDainian Tomlinson
10. Santonio Holmes - New York Jets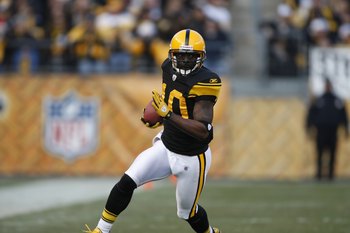 2010 brings what looks to be a rejuvenated Santonio Holmes. He is out of Pittsburgh, and amongst the several players who find themselves meeting and greeting the faces of their new hometown.
In 2009, Santonio Holmes didn't have a bad year by any standards, as his five touchdowns and 1,248 yards were much appreciated by Pittsburgh Steeler fans.
However, with that said, a serious question must be asked of Santonio Holmes' ability, especially considering that he no longer has the luxury of having one of NFL's elite quarterbacks in Ben Roethlisberger delivering passes to him.
Instead, Santonio Holmes will have young but oh so talented Mark Sanchez throwing and passing to him. It is a duo that doesn't seem all that great on paper, but it is one that could work reasonably well if team chemistry and communication is applied early.
For the most part, some fans do criticize Santonio Holmes, particularly in regards to his overall discipline. In New York, expect Santonio Holmes to be walking on the straight and narrow, considering that Rex Ryan is now playing an almost "father figure"-type role for many of the Jets' young players.
Santonio's career could go well in New York, or it could go south very quickly. It is important that he listens, and just gets the job done.
If we've learned anything in recent years, a wide receiver who complains with a new team often suffers in the long run.
9. Matt Cassel - Kansas City Chiefs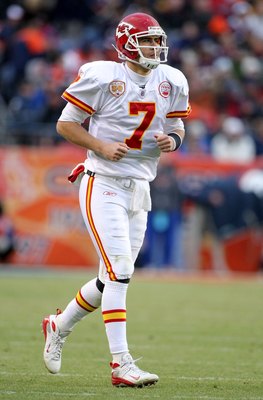 It seems that we never really hear much about the Chiefs, or Matt Cassel anymore. They are the quiet team in the NFL, but unfortunately for Chiefs fans, they aren't quiet achievers.
Kansas City is a team that has potential, however is a long way away from being a top-flight team in the NFL.
I remember thinking nearly two years ago to this day after Matt Cassel had successfully completed a season as the starter for the New England Patriots when Tom Brady went down with a knee injury, "Boy, this kid has got some talent."
Not to say that that same ability is no longer there, but it seems Matt Cassel is no longer the explosive passer he once was in his time with New England.
A lot of this could be blamed on the Chiefs' lack of wide receivers, and the fact that Matt has only been the starter in Kansas City for a single season.
No one in their right mind has thrown Matt Cassel under the bus just yet, as he is still a young and upcoming player.
In 2010, expect Matt Cassel to come out of his shell a little. He is like the kid at school who was always too scared to put his hand up and answer a question, give him some confidence, and he'll excel quicker than the speed of light.
So can Matt erase his dismal 16 touchdowns and 16 interception season from 2009?
Of course, and if there is one young quarterback you could bet on it is probably Matt Cassel.
However, it is time for Matt Cassel to wow a few people, as some are growing tired of inconsistent Kansas City quarterbacks.
8. Anquan Boldin - Baltimore Ravens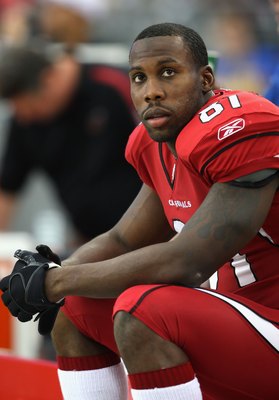 Now I know what you're thinking, "Anquan Boldin is already a well established wide receiver in the NFL." Of course, you are right.
However, the one thing I personally tend to focus on with Anquan Boldin is how well he can adapt to a new environment.
Gone are the days of the cozy Arizona Cardinals locker room, and Anquan arrives at an AFC powerhouse type team, who is relentless on achieving Super Bowl glory.
Inconsistency isn't likely to be tolerated by the Ravens this year, as it seems head coach John Harbuagh is intent on going "all or nothing" in 2010. With this said, there is no reason for Anquan Boldin to fail in a Ravens uniform.
The only other concern that is relevant in this debate, is whether or not Anquan can adapt to being the No. 1 wide receiver for Baltimore. Let's face it, he has obvious talent, and it would be wise for Joe Flacco to try and exploit this very fact.
Therefore, can Anquan Boldin handle this pressure? as he is so used to playing the "second option" role behind Larry Fitzgerald.
It's debatable, but I'm sure Anquan has it well covered.
7. Joseph Addai - Indianapolis Colts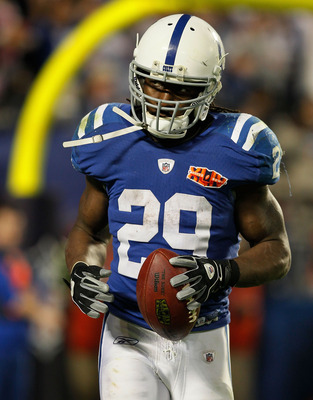 Like most people, I too jumped on the Joseph Addai bandwagon way too early.
In his early years, Joseph Addai seemed to be the real deal. He was rushing well, was a quick and speedy running back, and always seemed to find the right holes to exploit opposing teams' defenses.
In the past two years though, Joseph has taken his foot off the gas a little and eased back into a seemingly noticeable role behind Peyton Manning.
This of course was the case up until the 2009 playoffs, when Joseph came bursting out of the gates like a horse at the Kentucky Derby and made everyone realize that he too does have what it takes to be amongst the elite running backs in the NFL.
Perhaps this sudden burst of energy was inspired by the Colts desire to hoist the Lombardi Trophy, or perhaps Joseph finally reached deep down inside of him and found what it is he had been missing recently.
Whichever reason it was, I simply don't know. One thing is for sure though, Joseph Addai is facing a proving season in 2010.
It's time to see Joseph take off, step out of Peyton Manning's shadow and assert himself as the Colts leading running back.
He has the ability, he has the talent, so now it's time to add that little extra spice to this already boiling mixture.
6. Vince Young - Tennessee Titans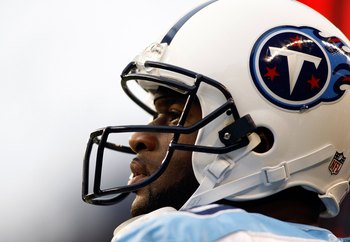 Like Santonio Holmes, Vince Young is rejuvenated and ready to go this season.
In 2009, we finally saw the Vince Young of old. He was passing well, his vision was present and his ability was finally on display.
Aside from the praise that is circling about the new Vince Young though, I can't help but find some criticism to address about the Tennessee Titans star.
The word "inconsistency" arrives quite frequently when considering Vince Young, as it seems he does struggle to be dominant in all 16 games of a season.
I guess you could call him a "hot and cold" quarterback, as we never really know which side of Vince Young is going to show up.
Another point to be made is Vince Young's ability to adapt to aggressive defensive schemes. Can he still play well against teams such as Indianapolis and Baltimore? Or will he collapse and lead a mediocre game?
These are all questions Vince Young is well aware of, but is yet to address. The era of Vince Young has just begun, so hopefully we do see the former Texas Longhorn at his very best in 2010.
If not, well it probably won't cost him his starting role, but it will cause for quite a bit of criticism from fans and the media.
5. Matt Ryan - Atlanta Falcons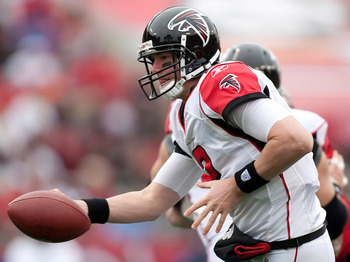 Matt Ryan is one of the few quarterbacks in the league that has a potential Super Bowl winning team.
What has he done with it though? Not much.
Okay, so the blame isn't all entirely on Matt Ryan, after all the injury bug along with several other factors have plagued the Falcons recently.
However, it's time for Matt Ryan to just play well, and show everyone why he should be considered amongst the Aaron Rodgers' and Matt Schaub's of this league.
We all know what a great passer Matt Ryan is. Heck, he threw a touchdown on his very first possession as an Atlanta Falcon. Unfortunately though, Matt Ryan didn't do himself any favors.
Yes, he did post 22 touchdowns and 2916 yards last season, but the team effort from Atlanta lacked immensely.
For Matt Ryan to succeed, the Falcons need to be on the same page. If an 8-8 record is posted again in 2010, I feel that Matt Ryan may be labeled amongst the "garden variety"-type quarterbacks in the NFL.
With this said, a postseason run and more importantly a attempt to outdo the New Orleans Saints will surely boost Matt Ryan's career to the next level. All he has to do is prove himself.
4. Joe Flacco - Baltimore Ravens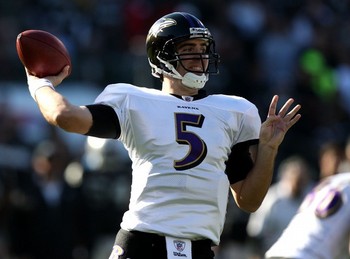 From one potential Super Bowl quarterback to the next, we focus on Joe Flacco.
Like Matt Ryan, Joe Flacco is lucky enough to be a part of a Super Bowl favorite team.
The Ravens have enormous talent, they are a contender in 2010, and they are coached by a highly intelligent and creative coach in John Harbuagh.
This we all know. However, it is what we don't know that concerns Joe Flacco fans.
Can he become an elite quarterback? Or will he always be just an average type guy that gets the job done sometimes, but is prone to 5-6 losses in a season?
Right now, nobody knows for sure.
As a Packer fan, my most recent memory of Joe Flacco was against Green Bay last season. Flacco played a fairly mediocre game, and realistically didn't help the Ravens at all to overcome Green Bay.
A loss was the fate of the Ravens, and a lot of this could be due to Joe's inability to squeeze in tight passes when experienced defenders are lurking.
This once again resorts back to Joe Flacco's ability, and whether he can get over that last hurdle and develop into an all-around quarterback.
For the Ravens, they don't exactly need a great quarterback, but it sure would help in the long run.
Joe Flacco, it's judgment time and it's time to prove that you aren't just another footnote type quarterback in NFL history.
3. Ryan Matthews - San Diego Chargers
It's rare to find a rookie that needs to prove himself from the very get-go, and unfortunately for Ryan Matthews he is one of those rare players.
Now that LaDainian Tomlinson is well out of San Diego, the need for a No. 1 running back is present for the Chargers.
By drafting Ryan Matthews, the Chargers have seemingly ensured that they will have a future star in the coming years.
But what about this season? Surely if the Chargers have Super Bowl hopes (once again), they will need a top of the range running back, right?
Exactly. Therefore, Ryan Matthews needs to be ready to go from the very beginning of Week 1.
We can expect some rookie jitters, as this is only natural, but if there is one young rookie running back that can get the job done, it is Ryan Matthews.
Fortunately for Ryan, the job won't all be on his shoulders, as Darren Sproles looks to the favored starter right now.
However, there will come a time that Ryan will have to step in, and whether or not it is on third down or first down, Matthews' speed and agility will look to be on display.
The pressure isn't huge for Ryan Matthews, but if god forbid Darren Sproles gets injured, then it's simply go time.
2. Mark Sanchez - New York Jets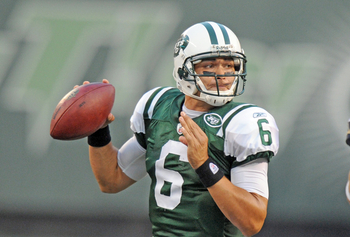 You knew he was coming sooner or later.
2009 brought many new things for the Jets franchise. A new head coach, a new quarterback and more importantly an absence of a 30-year curse that had been haunting this franchise.
When thinking of Mark Sanchez, many fans have varying opinions. The most constant one that seems to appear though is that the New York Jets carried Mark Sanchez, rather than Mark Sanchez carrying the New York Jets.
Much of this is of course true, considering that Mark Sanchez did throw more interceptions than touchdowns in 2009.
Aside from this now irrelevant fact, though, there is simply no denying that this young man has talent.
From USC to New York, Mark Sanchez's time to shine is now. He's coped well in his rookie year, and it is now time for Mark to take the bull by the horns and really take a firm stranglehold on this team.
In case you've missed it (I'm not sure how), the New York Jets are Super Bowl favorites. To some quarterbacks this may be seen as a challenge but also a little overwhelming.
The pressure is on Mark Sanchez to deliver this season, and really post some fantastic stats. Some early season jitters may be present, but it seems Mark is doing everything in his ability to have an outstanding 2010 campaign.
1. David Garrard - Jacksonville Jaguars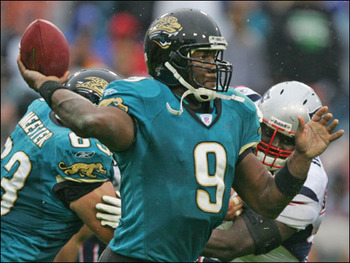 No one has trained harder this offseason than David Garrard. He has been working out, throwing nearly every day and just spending time with wide receivers to make sure they are on the same page this season.
For this, I think everyone commends David Garrard's work ethic, however now comes time for offseason workouts to result in plays on the NFL field.
The issue for David Garrard perhaps isn't just ability, it is the team that surrounds him.
An air of negativity fills Jacksonville right now following a poor draft campaign, along with serious doubts toward the teams overall fan base.
This isn't to say that Jacksonville can't have an above-.500 season, though. David Garrard has the weight of the world on his shoulders, and his ability will continue to be questioned.
Maurice Jones-Drew should alleviate some of the pressure, but David himself recognizes just how vital this upcoming season is.
It's proving time for many players, but none more so than David Garrard. Stats are irrelevant at this point, so the best way to describe it is: David, you must do well, or you may have to get out.
Keep Reading

Jacksonville Jaguars: Like this team?