The Top Ten Women's Wrestling Matches of This Era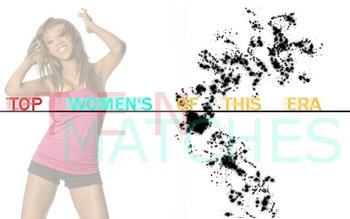 Over the past few years, and since the 'Golden Era' of women's wrestling the WWE's Divas' Division has been in a recession. Although there are many gems in WWE's arsenal, they've yet to be utilized in proper fashion. Only a select few have been given the chance to go outside the box and really 'wow' the fans in epic matches, and here are the top ten of the current era.
#10:Alicia Fox vs Kelly Kelly vs Beth Phoenix vs Gail Kim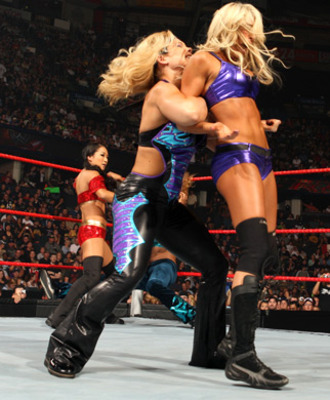 This might be a contreversial one, but stick with me on this one.
Throw four semi-unique characters, all with their own signature movesets and looks into a ring and what do you get? A great match. This battle lasted a decent amount of time and never seemed to lag. The crowd was overly-into the match, and the hometown girl got her much-deserved win. Not to mention the birth of 'Alicia Fierce'! ;)
#9:Michelle McCool vs Victoria (In Her Last Match)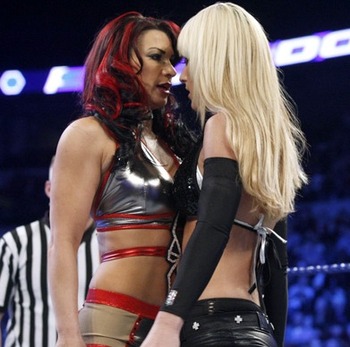 In her last match, Victoria was planning to leave with a bang, and boy did she ever! It was a nicely-paced, nitty-gritty, back-and-forth match up that still leaves a lasting memory in all of our hearts and heads. The only bad part about this match was that Victoria lost! But she'd reclaim her top worker status in another major promotion...
#8:Mickie James vs Jillian Hall on 'Heat'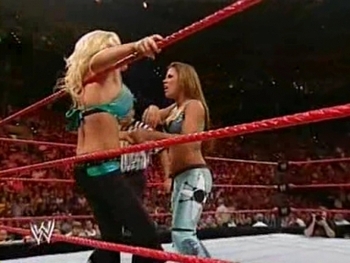 This match has most definitely been overlooked due to the simple fact that it wasn't broadcast on Raw or Smackdown. Well, once upon a time, in a world magical as ever, lived a show. A parent show to 'Superstars', actually, and it was called 'Heat'. Women got good timing, main event slots, and all was well in Divaland, as seen here.
#7:Survivor Series Divas' Elimination Match 08'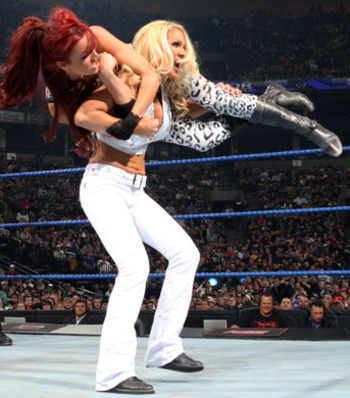 And so rose a lovely little Diva named Maryse. Although she didn't win the match up (understandably so), Maryse was definitely at center stage in this fight. She taunted, flaunted, and more importantly, wrestled! All the women invovled brought their A' Game, and it led to a spot on this top ten list.
#6:Survivor Series Divas' Elimination Match 09'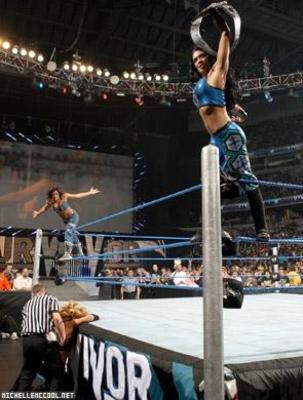 Yes, I think this one is better than the one in 08'. And yes, I'm still pissed that Melina had to come out to Mickie's music.
#5:Candice Michelle vs Beth Phoenix-2 Out of 3 Falls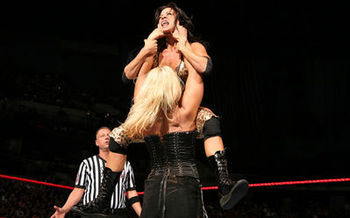 Ahhh, back when Candice Michelle was WWE's Golden Girl, and Beth phoenix was railroading through the competition. Some people criticize Candice's wrestling ability back in 07', but I believe she was great in the ring! Her moveset was unique, she had a good understanding of the basics, and when paired up with the Glamazon, how could it go wrong?....*cough*.....Plus, the crowd was wildy into it all.
#4:Mickie James vs Michelle McCool-TLC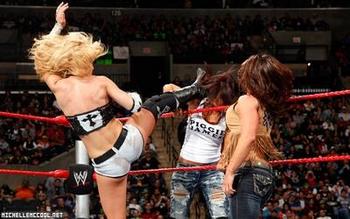 'Piggie James' may be remembered as the most contraversial mainstream women's wrestling angle in recent history, but you can't say it wasn't good.
Put a majorly over face, stoic heel, hilarious laggy, and interesting angle together and you get this. For some it might've hit home too hard, but I found it to be just right.
#3:Melina vs Michelle McCool-One Night Stand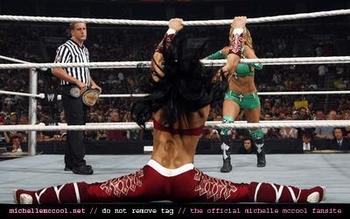 Come on, I think we're all still reeling from how great this match was. Everyone loves this match. Everyone. Even the casual fan found this match to be 'watchable', as they say. The truth is, this match was more than 'watchable', it was damn right loveable.
Michelle and Melina's hatred sold so well on screen. You could literally feel it, and you were sucked into all 6 minutes of the match.
#2:Melina vs Beth Phoenix-One Night Stand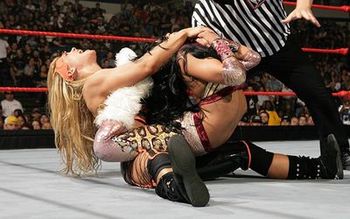 Need I explain? Really? REALLY?!!
Fine.
Before the whole unfortunate 'Melina incident' of 08',the Divas' Division in WWE was looking a hella' up. Melina was the badass face we all new she could be, Beth was the aggravated monster, and everything was overall fan-frickin-tastic! People tend to forget it, but this feud was on the brink of launching the WWE Women's Division into the stratusphere! And it all culminated at One Night Stand.
#1:Melina vs Mickie James-Backlash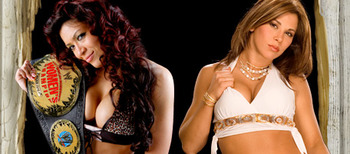 Epic. The new Trish-Lita. Astounding. Unexpected.
All terms used to describe the feud between Mickie James and Melina in 2007. This match was technical and unrelenting. The backstage brawls, in-ring matches, promos, and talented people invovled all led up to this moment on one of WWE's most illustrious pay per views, Backlash.
Nuff' Said.
Hope You Enjoyed!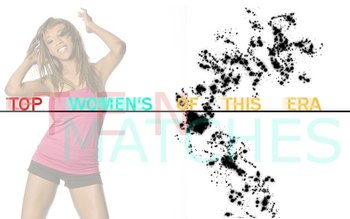 I hope you all enjoyed my list! Any matches I missed? Any that should never have even been thought to be added? Any typos? In any case, tell me your thoughts down below in the comments section!
>;D
Keep Reading