Running out of Chances in Seattle: Five Hawks with Ticking Clocks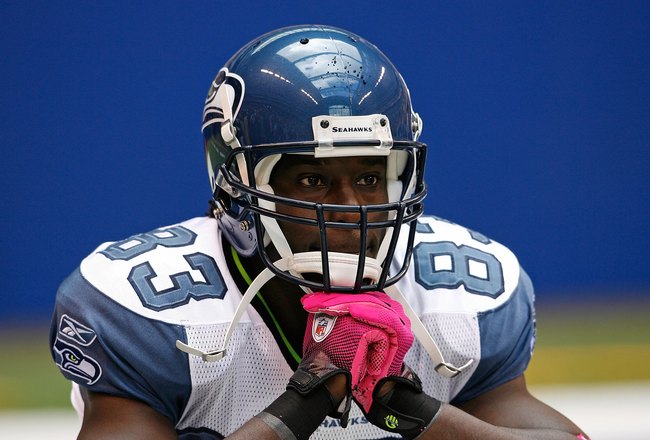 As the Pete Carroll era begins in Seattle, the new staff comes in with a demand that each player be ready to fight for his spot on the roster, and implications that no man at any position will walk into camp as a "lock" for a starting role, have been anything but subtle.
Anytime a new regime is introduced, it should be assumed that unless there's unique history or some other link between an existing player and the new staff, few coach-to-player emotional attachments exist, and therefore no individual should be considered exempt from replacement or dismissal, with any upheaval (more commonly and kindly referred to as "rebuilding") of player personnel.
A coach typically has "his guys," which more often than not are those players he has drafted or acquired to play a specific role in his system. A previous coach's "guys" may have been brought in to play within a different system and therefore, if they're not the ideal fit for the new scheme, they are many times viewed and treated as replaceable, regardless of how they performed previously. Other times, it's simply a matter of the new coach preferring certain types of players (i.e. tall WRs, athletic QBs, single-cut RBs, etc.) over others.
Then there are those players who have had ample opportunity to prove their worth and for whatever reason, have not lived up to expectations. Whether they've been drafted high, perceived as a draft "steal" or "sleeper" and therefore tabbed with high expectations that have gone unfulfilled, acquired via trade, or plucked from Free Agency, and/or if the perception has been that their team has given up a lot for their services (i.e. high draft pick, large contract), these players are susceptible to thinner patience and more scrutiny, and in many cases, rightfully so.
It is this group of players that should feel a significant amount of pressure, a "ticking clock" if you will, to "up" their game and make a fast impression on the new coaching staff, or risk falling quickly into anonymity and subsequently, out of a job and looking for a new home.
Let's take a look at five Seahawks who should be considered immediate members of the "make-or-break" club in Seattle, heading into the 2010 season.
Lawrence Jackson—DE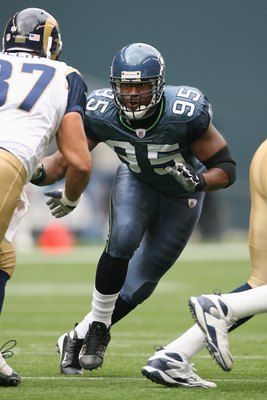 Lo-Jack has, thus far, been a mediocre pass-rush performer at best for Seattle since being a first round pick in the '08 draft.
In both of his first two seasons, Jackson got off to pretty good starts, tallying 2 sacks in the first two weeks of '08 and 4.5 sacks in the first five weeks of 2009, however, his sack productivity fell off drastically both years, as he completed the remainder of each season without racking up a single additional sack.
The fact is, while he has prototypical size to play DE in the NFL, Jackson simply does not possess the athletic skill-set to be an elite edge-rusher (consistent double-digit sacks), particularly from the right defensive end position, at this level.
Specifically, he lacks the pure speed to beat most NFL left tackles around the edge, and he does not possess the needed burst, power and/or explosiveness to be a consistent bull-rush/power rusher who can use leverage to knock NFL Tackles off balance and beat them with quickness (spin moves, swims, etc.).
If Jackson is going to have a long-term career in the NFL, it's going to be primarily as a left defensive end, matched up on right tackles, while displaying a consistent ability and knack for stopping the run.
In fact, if he would have been drafted for such a role, the current perceived failure to live up to expectations may not be as severe at this point, being that he has actually played the run pretty well and shown an ability to shed blocks and make plays at the line.
He'll be competing, however, with rookie E.J. Wilson and fellow two-year veteran and converted DT Red Bryant, for that base end starting role, so he'll really need to separate himself in camp.
It doesn't hurt that he played for coach Carroll at USC, but don't count on that getting him through if he puts on a lackluster performance out of the gate.
Chris Spencer—C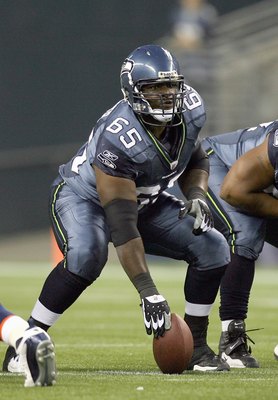 Spencer, another former first rounder, has struggled with blocking assignments and reading defenses at center, and as a guard early in his career displayed a tendency to get overpowered and out-leveraged by bigger defensive tackles.
Last season, he lost his starting job to Max Unger in the wake of a plethora of collective O-line mistakes and also in part to a broken right hand that hampered him throughout the season and forced him to snap with his left hand for several games.
With Unger moving back to right guard, and a demand for more athleticism along the front line with Alex Gibbs installing his Zone Blocking Scheme, Spencer is being given another shot to earn the starting Center position.
One of Seattle's more athletic linemen, Spencer will need to display the quickness and instincts to get off the line and block effectively in a zone system, where the abilities to read and react to the movement of the defense and make key blocks at the second level are highly critical.
Entering his sixth season as a Seahawk, expect 2010 to be Spencer's last in Seattle if he can't put it together this year.
Owen Schmitt—FB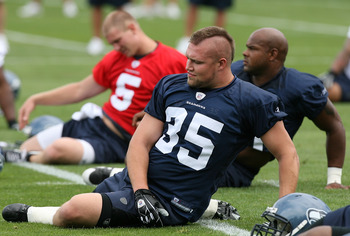 Schmitt was brought in to replace Mack Strong at fullback after a successful college career at West Virginia.
He's shown the necessary physical tools and blocking skills to be a successful Fullback at the NFL level, however, inconsistent spurts of playing time and the implementation of a new Zone Blocking Scheme have slowed his progress.
This year, under Jeremy Bates and Alex Gibbs, you're going to see a lot of I-Back, 2-TE sets and single-cut run plays that will demand a lot from the Fullback, so Schmitt will have his work cut out for him.
In terms of where he's struggled, it seems as though he gets a little confused on his blocking assignments when reacting to the defense on running plays almost as if he doesn't know whom he should block. More consistent playing time could yield a breakout year for Schmitt, but he'd better pick up the playbook quickly, or he could be replaced.
Right now, he has the fortune of being the only true fullback with any significant NFL playing time on the roster, but with the Seahawks being in 6th position to claim any player off the waiver wire, that could all change.
Not that bloody foreheads aren't cool though.
Leroy Hil—OLB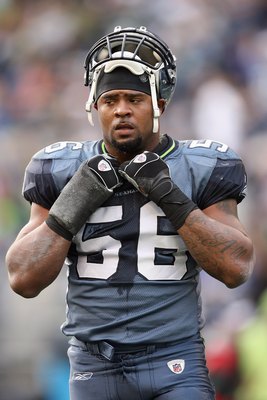 Hill's recent legal troubles have been well documented, so much so that they have overshadowed his underwhelming performance on the field in recent seasons.
The DUI and marijuana possession charge that earned him a four game suspension last season, and now the domestic violence charge that he currently faces after allegedly shoving his girlfriend down a flight of stairs during a dispute at their home in April, have been the primary topic of conversation with regard to Hill it seems, along with the controversial 6-year $38 million contract he was awarded by former GM Tim Ruskell, prior to last season.
Since being selected by the Seahawks in the 3rd round of the 2005 draft, Hill has shown some nice flashes with his speed, ferocious hits and open-field tackling ability.
In his rookie season, used primarily as an edge-rusher on passing downs, Hill garnered 7.5 sacks, a forced fumble and 72 total tackles.
Since then, he's spent less time rushing the passer (3 sacks in 2007 is his highest sack total since rookie season) and has played more in zone coverage underneath where, over the past couple of seasons, he's struggled with gap discipline and wrap-up tackling.
Hill's had had a tendency in recent years to overrun his gaps, leaving him out of position on cut-back run plays and passes underneath. His elite athleticism, at times, has allowed him to compensate for some of these errors; however, many of his mistakes have contributed significantly to the big-play vulnerability that has plagued the Seattle defense over two consecutive losing seasons.
Let's face it, the legal woes have only made Hill's chances of sticking around that much slimmer, not to mention the emergence of David Hawthorne as a legitimate big-play guy who's chances of being a more-than-adequate replacement for pretty much anyone in the LB corps seem to be rapidly improving.
With linebacker being perhaps the deepest and most talented group on this Seahawks squad and assuming that his legal troubles don't knock him off the roster before camp even begins (which is highly possible), Hill is going to have to prove that he's worthy of a starting role by showing significant improvement in his gap discipline and fundamental tackling.
I still think Hill's speed and athleticism make him better suited rushing the passer from the edge than when spending the majority of his time underneath, and if he's around for camp, look for him to be utilized more in a pass-rushing role. This will allow guys like Hawthorne and Herring more opportunities to play.
Don't forget that this is his second run-in with the law in as many years, and he could easily be looking at an eight game suspension from Roger Goodell, in which case the Seahawks would have to take a serious look at simply cutting him. It has been intimated in recent weeks that Hill's contract may include a clause that allows for the Seahawks to terminate the relationship, voiding their financial obligation to him, in the case that he's issued another suspension by Goodell. This would explain why the team continues to refer all questions to a position of "waiting for the league to make a ruling."
At some point, you have to decide whether holding a roster spot for a guy who continues to display bad judgment off the field is really worth it, especially when his on-field performance has been declining and you have adequate talent on the roster to replace him with.
Deion Branch—WR
Deion Branch has impressed in mini-camps and voluntary workouts, and it seems as though the coaching staff plans to keep him around, at least for now.
His veteran presence could be valuable, although he's going to have to stay healthy to warrant taking a roster spot. This staff is just too determined to overhaul this roster with guys who are willing and able to compete and if at any time Branch steps out of that process, injury or otherwise, don't be surprised if he's cut, plain and simple.
An advantage you have with Branch is that he knows the West Coast terminology, knows Matt Hasselbeck as well as any other receiver on the team, and has been a Super Bowl winner.
The downside, obviously, is the durability. He missed five games in 2007, eight games in 2008 and then two more last year.
People have a tendency to knock Branch for not living up to the value that the Hawks gave up for him (a 2007 first round draft pick), but when he's been healthy, he's actually been pretty effective.
Last season was an aberration for all receivers on the team, simply because Hasselbeck had very limited time to throw and until late in the season, the Seattle rushing attack was anemic at best, making it easier for defenses to game plan against the pass.
Branch has certainly lost a step through the various injuries, and his best chance of making an impact this season will be from the slot, and as a 3rd down target underneath, much like the role Bobby Engram played during his latter years in Seattle.
As for the injuries, Branch can't afford any more.
With Deon Butler, Mike Williams and Golden Tate making a significant impression in mini-camp and voluntary workouts, the competition will be hot for the No. 2 and No. 3 receiver spots, so Branch had better bring his "A" game and cross his fingers that he stays healthy.
Visit The Blue Bird Herd for more articles and discussion by on the Seattle Seahawks.
Keep Reading

Seattle Seahawks: Like this team?