The Kick Ass Crown: The Greatest Mullets in Sports History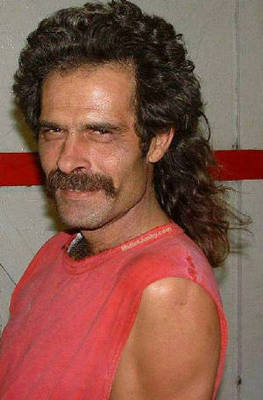 The mullet oozes sophistication, style, and grace. It is no wonder that mullets were almost made illegal due to their crotch-wetting effects on unsuspecting and innocent women who may happen to sneak a glace at a beautiful 10-90.
In a news that has devastated the worldover, Jared Allen is shaving his mullet. I'd like us all to take a moment of silence.
Okay...
Nope, that wasn't long enough. I'm still not ready.
Alright, I think I can keep it together long enough to continue.
In honor and eulogy of Allen's luxurious locks, we are going to take a look at some of the greatest mullets in sports history.
Jaromir Jagr: The "I'm Not a Girl, But You Wish I Was"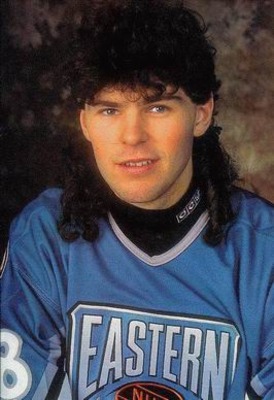 Some say that the young Czech superstar pushed it too far. I say a mullet is all about pushing the limits, and not just of personal taste.
This mullet is dangerously close to a full-on overdone perm job. But we have to give the kid some points. He wanted to assimilate into American culture, and he did so with a curly-q mullet that will entice you, seduce you, and then beat your ass when you try to make a move.
It's just for show. Don't even think of touching it.
Adam Morrison: The "I'm Gonna Take Off Everything, Except My Socks"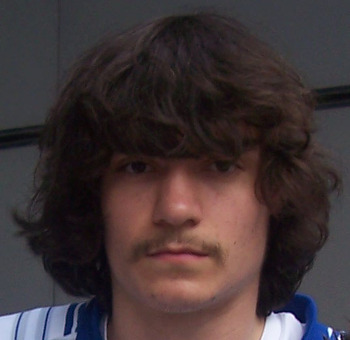 Adam Morrison was almost disqualified for having equal length all around, but the judges ruled in his favor after extensive testing.
That, and the fact that his mustache put the one I tried to grow in seventh grade to shame.
Adam Morrison's mullet-flow is unbridled like a pack of wild stallions careening through an endless desert in search of an oasis or lost treasure or something.
Morrison's trademark look was no accident. Although a legendary basketball player in his own right, Morrison often went unrecognized and the lack of attentuion hurt him deeply. Morrison decided that he would fashion his look after a Spokane ice cream man that offered kids a super-secret popsicle for free.
Soon after, Adam couldn't walk down a street without people pointing, staring, and spitting. Whatever, at least he was recognized.
Dennis Eckersly: The "I Like My Hair Smooth and My Bud Heavy"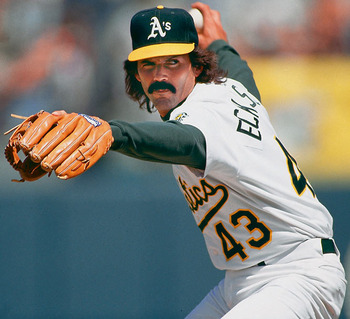 While we are on the subject of great hair/stache combos, Dennis Eckersly cannot be overlooked.
Dennis' mullet was a perfect example of the man making the hair, and not the other way around. Dennis' mullet was but the piece d'resistance on his style that screamed "I'm the law in these here parts"
Just look at that dead-eye stare. I'm shaking in my boots just from the picture.
Andre Agassi: The "Silky Perfection"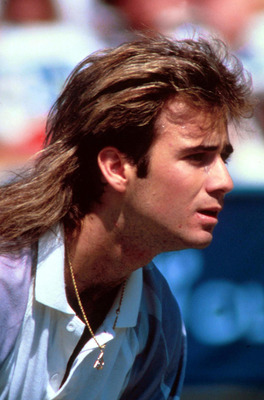 If God was a surfer, this is the type of wave he would get totally stoked on.
Andre's hair defied sweat and physics. It was always fluttering and immaculate.
Andre's mullet made peacocks jealous, both because it was more awe-inspiring and beautiful than their feathers, and because it could fly and they can't.
Kurt Rambis: The "I'm Literally The Coolest Man on Earth"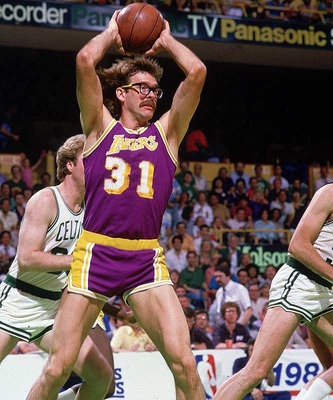 Despire popular opinions, mullets don't have to be long or voluminous to be great. They just have to be effective.
And boy, was Kurt Rambis' ever.
Kurt Rambis' glasses, stache, and mullet equated to a triumverate that not even the combo of peanut butter, jelly, and five shots of scotch can top.
Keep Reading

Minnesota Vikings: Like this team?