2010 FIFA World Cup: The Top WAGs of Team France
A top contender to win the World Cup, France may be a top contender for another reason...WAGs
The World Cup isn't just for the guys. Sexy women from France come out to show why they are the top WAGs of the country, and even maybe take home the top prize—a French soccer stud!
Although there are many beautiful, sexy women to chose from who could fit into this category, finding the best of the best French WAGs was no easy task.
Just ask Thierry Henry!
He is onto number two!
Begin Slideshow

»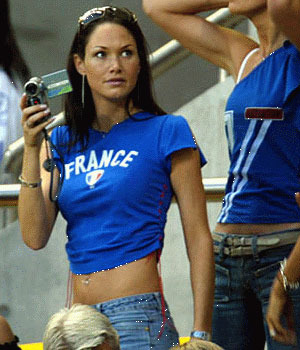 Theirry Henry's ex-wife Nicole Marry
Hopefully she comes to South Africa just for fun, I mean who would want to see her in the stands again?
Maybe this time in a bikini?
Although his second WAG doesn't bare it all much and isn't a French native, Andrea Rajacic is worthy enough to make the list. Just imagine how beautiful she would be in a bikini!
A French native?
Yes!
One of France's biggest assets?
Yes!
The hot WAG of John Terry, may be deployed by France to help distract the English. I mean why not, just look at her! Even though she is devoted to John Terry, she is still French and still sexy.
Domenech definitely has a reason not to be disappointed if France is knocked out early in South Africa.
Who would disagree?
I mean she was born in the city of love—Paris.
Smoking hot blonde Beatrice Trezeguet is a favorite to be seen daily in the French tabloids.
Who wouldn't line up at the local news stand to see a picture of her?
Although her husband may not be the best at fashion or hairstyles, he is surprisingly amazing at picking a beautiful wife when he wants to!
Maybe she can help him with a new hairstyle? After all she is a hair dresser!
I know I would want her, too! Who wouldn't?
Although her husband French player Christian Karembeau was snubbed from the World Cup Final roster, wife Adriana still deserves a spot on the French WAGs.
Famous for her sexy modeling for Wonderbra, and her seductive billboard ads she definitely makes this list!
What is France trying to do here leave out all the players with smoking hot wives? If so they have done it again with Noemie Lenoir and husband Claude Makelele who didn't make the final roster.
That's OK, his wife a former Victoria Secret model made this final roster spot!
Maybe she will make a quick trip to South Africa to cheer on France anyway?
Here's to wishful thinking!
Cheryl Vieira is the third snub in this list. Her husband Patrick Vieira just missed the final roster for South Africa. Maybe it is time for this change.
Almost another snub, but this time just by the skin of his teeth William Gallas and wife Nadege Gallas will be at the World Cup!
They first met when they were teenagers in France. With hair like that and a face that blows away others, I can see why he fell for her at such a young age. I would, too!
Veronique and her famous French husband Zidane. Now that he is retired there shouldn't be any headbutts.
Although you never know!
One of the top WAGs for France Charlene Suric, models the new line from Umbro. Yes, men she is taken by current French player Gael Clichy!
Sexy, breathtaking, beautiful, and most of all smoking, Laetitia Casta should surely be welcome to attend the World Cup and cheer on France to victory any day.
Casta is a model from Normandy, France. I wish she would come over state side I could get used to her!
Did I mention she is a Victoria Secret model?
Stunning, sexy, and a bombshell!
Also a player on the French women's team.
Can't forget about the women's team, if they all look like this then the women's World Cup can't come soon enough!
After missing out on 2006, Rachel Legrain-Trapani should be on the fast list to receive tickets to South Africa.
Those sexy looks should encourage all of the French players to dig a little deeper.
Oh did I mention she was Miss France 2007?