2010 NBA Draft Big Board: Top 30 Prospects
The 2010 NBA Draft class is as loaded as they come. With potential stars at every position and an anticipated free-agent extravaganza, fans should have plenty to look forward without any games being played. My first big board highlights the top 30 prospects before teams have had a chance to work them out.
---
Follow me on Twitter @JohnLorge.
30. Lance Stephenson, G/F, Cincinnati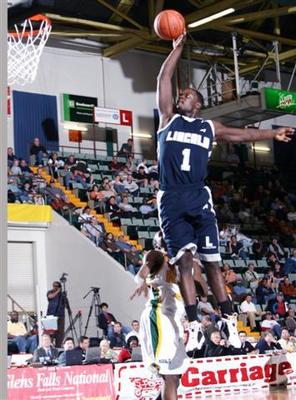 One of the few college freshmen who is trying to lose, not gain weight. Stepehnson can control the half court at times and shedding some fat will help his explosiveness. Still needs to mature.
29. Devin Ebanks, SF, West Virginia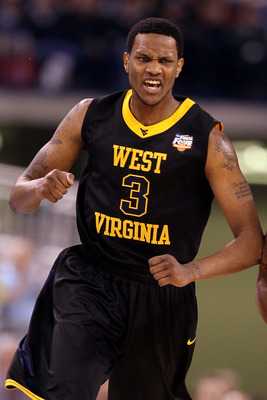 Very comfortable on the floor and he makes the game look easy. Ebanks was terrible from three but shoots much better from 15 feet.
28. Craig Brackins, PF, Iowa State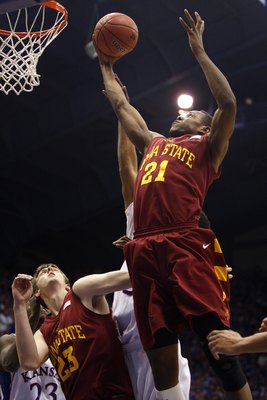 A much better athlete than most realized, he posted a 40 inch vertical in front of scouts. Brackins didn't replicate his 2008-09 numbers after returning to school but says he's a much better, and smarter player now.
27. Quincy Pondexter, SF, Washington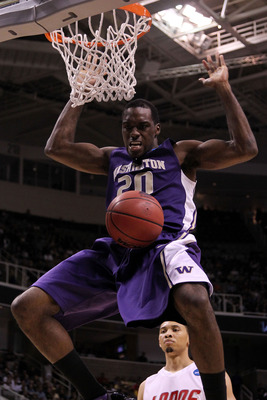 If Pondexter dedicates himself to defense and practices the corner three he can become a starting three for a quality NBA team.
26. Damion James, F, Texas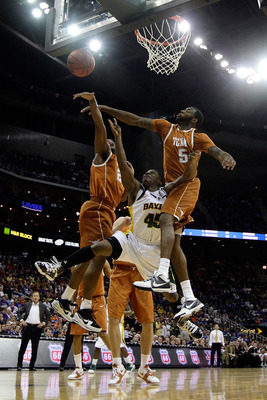 A fringe first rounder before pulling out of last year's draft, James got the most out of his extra season. Does a lot well but nothing exceptionally, a true role player.
25. Donatas Motiejunas, F/C, Lithuania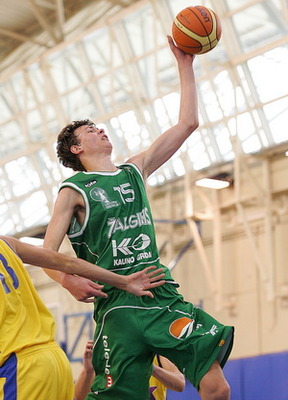 Big and talented but I haven't seen enough of Montiejunas in game settings or against NBA talent to get a real pulse.
24. Jarvis Varnado, F/C, Mississippi State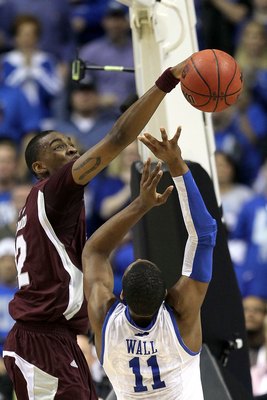 One of the best shot blockers ever in the college ranks, Varnado has a skill that will easily transition to the college game. One scout said he could be the next Birdman, and its hard to see any team not wanting one of those.
23. Solomon Alabi, C, Florida State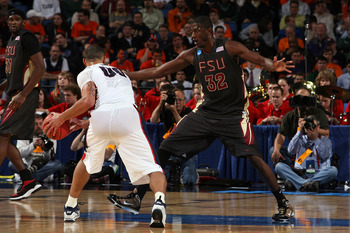 Had Alabi been 7'2" as listed (came in just under 7'1" in shoes) he would be a much more interesting prospect but in a very big and long draft (with great shot blockers) he isn't standing out. Still a project with questionable rebounding ethic, Alabi's 79.4% shooting from the stripe is a plus.
22. Jordan Crawford, SG, Xavier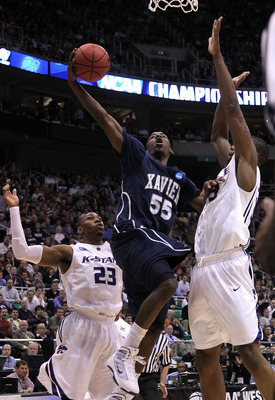 Confidence will carry Crawford a long ways because he is going to continually have to prove that he isn't too small and that he is a good enough shooter. Without a strong Tournament I'm not sure he gets enough exposure to make the leap.
21. Larry Sanders, F/C, VCU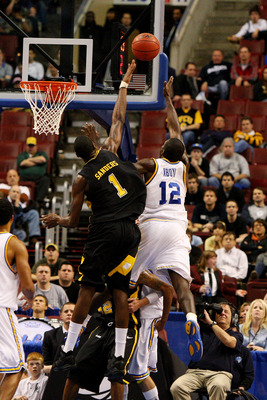 With go-go-gadget arms Sanders is ready to defend and wants to have an impact on offense. His shooting percentages have improved from the field and stripe every year in college.
20. James Anderson, SG, Oklahoma State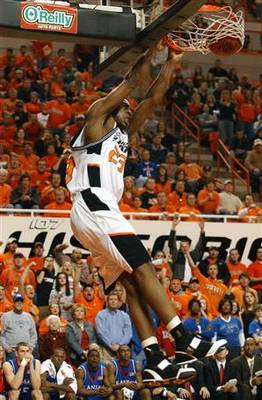 An effective scorer from everywhere on the floor, Anderson is guaranteed points--hitting double-digits in 47 straight games.
19. Paul George, SF, Fresno State
A dangerous slasher with the ability to score from deep, not many were exposed to George at Fresno State this year but he's rising quickly. He can guard multiple positions and shot 90.9% from the stripe.
18. Ed Davis, PF, North Carolina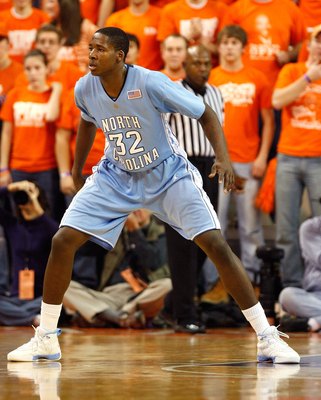 Davis burst on the scene with some big plays as a freshman but hasn't done much to improve his stock since. He will battle for points and rebounds but he isn't exceptionally long or talented.
17. Patrick Patterson, PF, Kentucky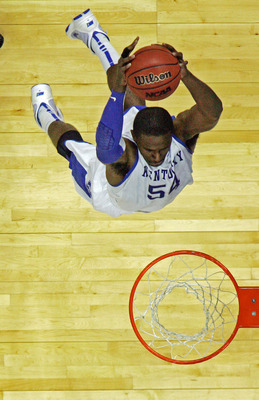 Patterson isn't a sexy prospect like a lot of the guys but he's productive and has shown improvement over the past three seasons. At 6'9" he's a legit NBA 4 and his effort is unquestioned.
16. Avery Bradley, G, Texas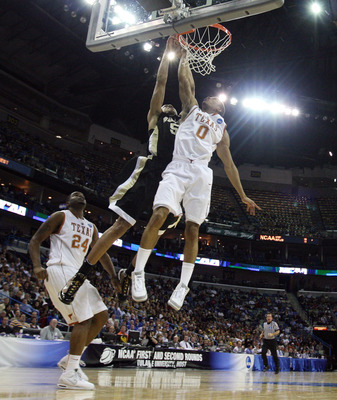 Many labeled Bradley the best perimeter defender in college basketball this year, this lanky athlete is a fast break waiting to happen. Bradley will need to improve his point guard skills but he is ready to contribute for an up-tempo team.
15. Willie Warren, G, Oklahoma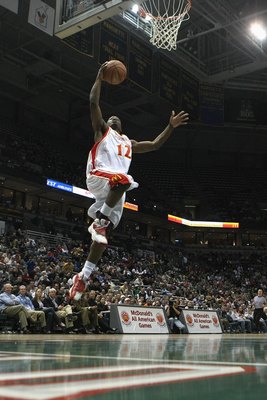 Nobody can argue Warren's talent, the debate is how much does his off-court & personality issues impact his draft stock. Warren was a projected top 5 pick entering the season and cannot be stopped in a one on one setting.
14. Hassan Whiteside, C, Marshall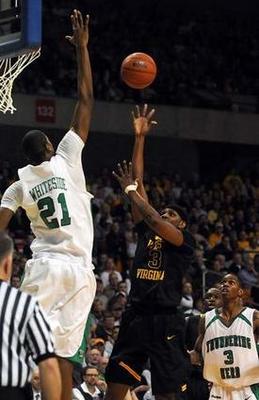 Talents like Whiteside don't come around often. A 7'7" wingspan is bigger than Hasheem Thabeet's, he posted multiple triple-doubles this year, and even hit a few threes. The transition to the NBA could also have Whiteside starting in the D League.
13. Gordon Hayward, SF, Butler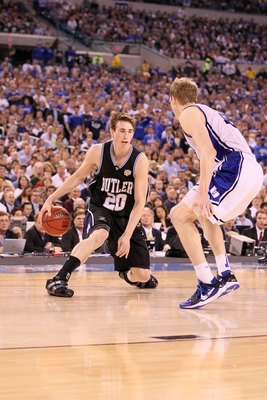 Hayward is a talented shooter who hustles on D and for boards. I question how much he will be able to do off the dribble in the NBA but his athleticism is competitive.
12. Terrico White, G, Mississippi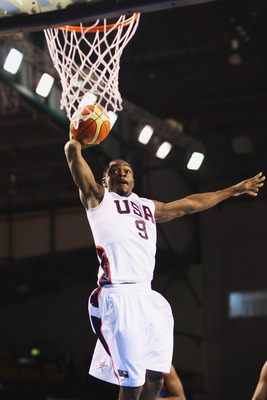 Is he a PG? Is he a SG? The fact is White can fill both roles, at 6'5" size is no issue and he is one of the most explosive and best conditioned prospects in the draft.
11. Cole Aldrich, C, Kansas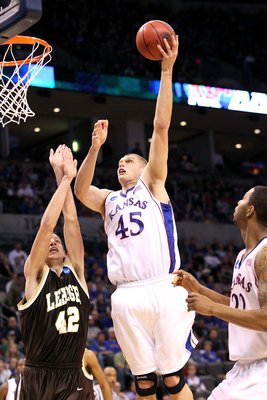 A mix of Raef LaFrentz and Scott Pollard, Aldrich has a nice shooting touch to go with his blue collar game. He never showed the ability to take over in games but should be a solid starting center.
10. Luke Babbitt, F, Nevada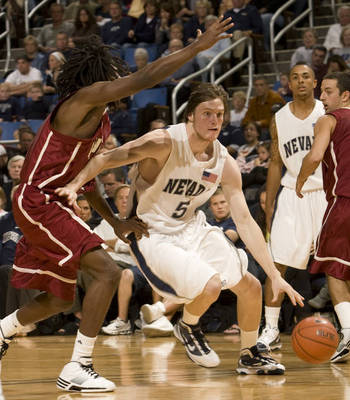 Size and expert shooting ability take you a long way in the NBA. Babbitt's quickness is in question but he may be more than just a spot up shooter on offense.
9. Al-Farouq Aminu, SF, Wake Forest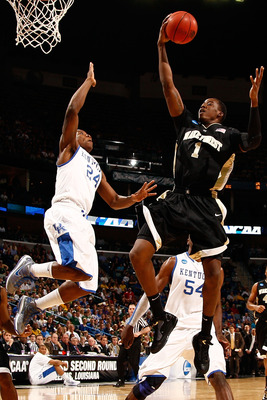 The college game comes easy for guys this athletic. The blueprint has been laid for Aminu but he has a lot of work to do offensively before he's more than a contributor.
8. Xavier Henry, G/F, Kansas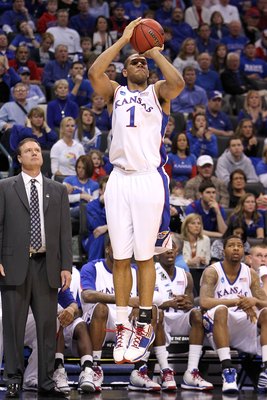 Would have shined more on a younger roster, Henry's touches were limited by Collins and Aldrich. He has the body and shooting touch that's desired for 2-guards and he is willing to battle.
7. Greg Monroe, F/C, Georgetown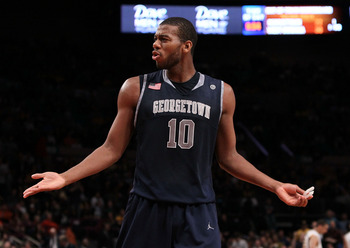 With a Tim Duncan mentality some question his drive and heart but Monroe's skills are never in question. Will be a major win for a someone in the second half of the lottery.
6. Ekpe Udoh, PF, Baylor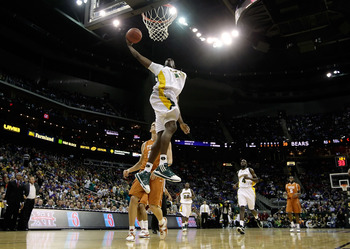 Had a better combination of energy and focus than any other post in the NCAA this year. Knows how to block shots and is effective on the break, underrated shooter.
5. Wesley Johnson, G/F, Syracuse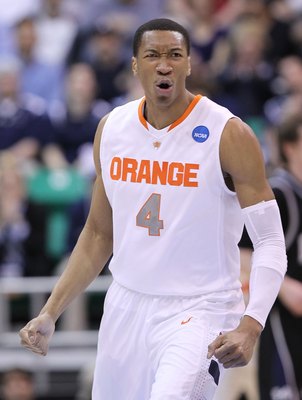 Upside may be limited but Johnson is a player who can quietly get 20 and 10 because he doesn't need to dominate the ball to be effective. Fantastic three point shooter this season.
4. DeMarcus Cousins, F/C, Kentucky
So long and effective in the post but his smoothness is what stand out the most. Strong veteran leadership will help his development more than any other prospect.
3. Derrick Favors, F/C, Georgia Tech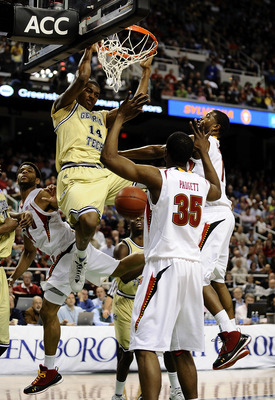 Unlimited potential and the willingness to be the best. His athleticism and D will carry him but a jumper will make him great.
2. Evan Turner, G/F, Ohio State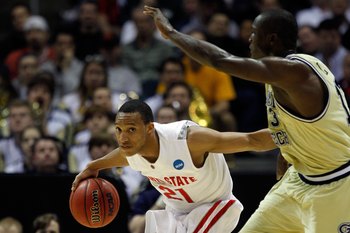 Maybe the highest floor in the draft, Turner can fit in on any roster and ads value at both ends of the court. Not long for his size but the skills he has at 6'7" are impressive.
1. John Wall, PG, Kentucky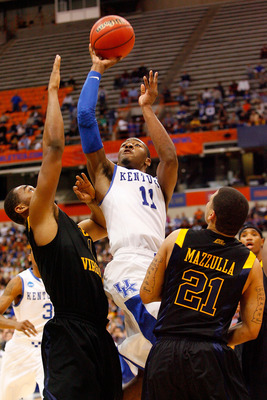 With great size, athleticism, and vision Wall can be the NBA's next great point guard. He was one of the most competitive player in college hoops this year.
Keep Reading