UFC To Open Office in Canada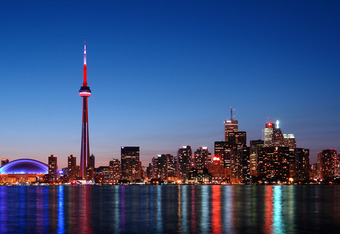 Well, the eagerly awaited big announcement from the UFC finally came today at a press conference held in Rogers Centre in Toronto, Ontario.
UFC President Dana White and CEO Lorenzo Fertitta were in attendance, and they gathered the assembled media to reveal the big news: The UFC will be opening a permanent base in Toronto.
White began proceedings by saying, "Welcome to the 'We Love Canada' press conference." Always open with a joke, eh!
He recounted the work done by Lorenzo Fertitta in the last few years in taking UFC global. White mentioned that the announcement a few years back that Lorenzo was coming onboard full-time was indeed a big announcement, despite what people thought at the time.
White thanked Lorenzo for his great work in the last few years and added that he never saw Canada coming. Canada is now the second largest UFC market behind the USA.
White then invited Fertitta to the microphone.
Lorenzo began by saying, "Canada is an important market to us, we have all been amazed at what we have accomplished in the last few years. Three years ago we opened an office in the UK to help expansion. Things have gone well in the UK and Europe and we have seen huge growth in MMA over there in the last few years."
Lorenzo continued by saying that Canada is now a focus for the UFC. Fertitta then invited Tom Wright to the stage as the man to lead the Canadian office.
So who is Tom Wright?
Well, as Lorenzo explained, he is a unique individual. Wright has a strong blend of business and sports experience. He ran Adidas Canada for 11 years, worked for Solamon and Taylormade, and, lastly, was the commissioner of the Canadian Football League for four years.
Wright then took the stage to thank everyone and said what a great opportunity it was for him. His personal passion is sport and his country, and he thinks he brings a unique perspective to the role.
Wright, White, and Fertitta then opened the floor to questions. They reaffirmed that the UFC wants to push for regulation of MMA in Ontario and really lock up North America. Canada now makes up 17 percent of overall business for UFC and that was one of the main reasons for the decision.
This is huge news for the UFC and Canadian MMA in general. Although it may seem a bit disappointing at first glance, as it was not the regulation announcement that people were hoping for, fans should not underestimate what this means.
Plans for a Canadian season of The Ultimate Fighter were mentioned and a UFC gym will likely open in Toronto in the near future. White also added that Wright will be charged with nurturing Canadian MMA talent and education of the Canadian markets, especially Ontario.
That's about it in terms of the major things to come out of the press conference today. What are your thoughts on what this means for the UFC?
Cheers
This article is
What is the duplicate article?
Why is this article offensive?
Where is this article plagiarized from?
Why is this article poorly edited?