The Best Players at Each Position Not in the Baseball Hall of Fame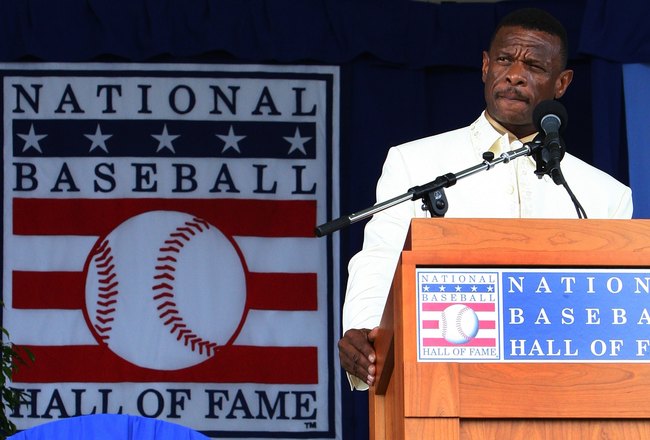 Last summer, Rickey Henderson and Jim Rice were inducted into the National Baseball Hall of Fame. Henderson is one of the greatest players of all time, and an easy choice for voters.
Rice was a more difficult choice, making it after more than a decade on the ballot. But plenty of worthy candidates remain on the outside looking in.
In Bill James' book about the Hall of Fame, he suggests that fans often try to make cases for players they grew up watching, and liked.
We should focus more on the best players we can put in, rather than simply making a case for a player because we can.
Sure, we can make a case for Keith Hernandez. But there are plenty of players much better than Keith Hernandez not in the Hall of Fame.
So that's what I did here. I decided to take a look and determine the best player, at each position, that is eligible (sorry Pete, Joe, and Eddie) but not in the Hall of Fame.
Catcher: Joe Torre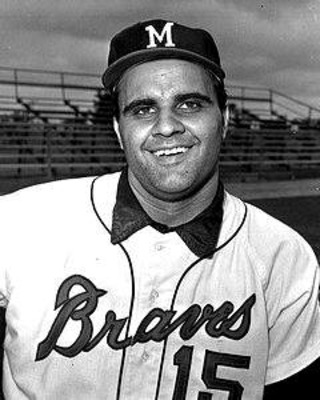 The question here was simple: Joe Torre or Ted Simmons?
I think Joe Torre was clearly the better hitter of the two. His best season came at third base, but even as a catcher, I think he was a better hitter than Simmons.
Torre's numbers in the 60's were fairly consistent, aside from a couple of seasons: 1967 and 1968.
Torre had a couple of slightly down seasons, and coupled with the complete pitching dominance of the late-60s, his average dropped under .280. But aside from that, he was consistently the best offensive catcher in the league.
He hit somewhere around .300 every year. Sometimes .290, sometimes .320. He was a tremendous power hitter for a catcher, hitting 20 homers a year, and in 1966, hitting a career-high 36.
From 1964 to 1966, Torre posted an OPS 45 percent better than the league average, while playing a ton of games at catcher. He hit .310, and averaged 28 homers a season.
In 1971, Torre moved to third base, and won a batting title and MVP.
Simmons was also a good hitter. He hit a little under .300 almost every season, hit 20 homers a year like Torre, and walked just a bit more. He was one of baseball's better offensive catchers, but he wasn't the dominant offensive force that Torre was.
From what I can tell, Joe Torre was also the better defensive catcher. He wasn't a great defensive catcher, but the idea that he couldn't handle himself behind the plate is, by all accounts, a myth.
Torre threw out 41 percent of base runners over his career, compared 34 percent for Ted Simmons. Torre actually won the Gold Glove at catcher in 1965 and 1966, led the league in CS percentage, throwing out nearly half of potential base stealers.
Ted Simmons has a good Hall of Fame case. He was a below average, but not exactly horrible catcher. And he was one of the league's best offensive catchers.
But Torre was a better defender, and a much better hitter. Better career, and better prime. Torre is the best catcher eligible for the Hall of Fame, and not yet in. In this case, he certainly should be.
First Base: Dick Allen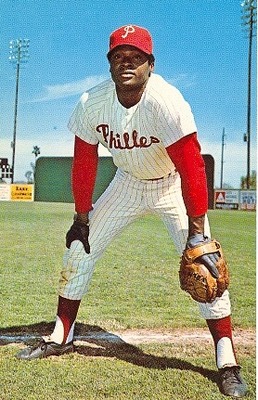 Like with catcher, this was really a contest between two players. Dick Allen and Mark McGwire.
I'm not offended that McGwire did steroids. I do however think there is a reasonable argument to be made that, had McGwire not taken steroids, he wouldn't be in the Hall of Fame discussion.
If we complete ignore the steroid issue, this is very close.
Allen's career numbers aren't quite as impressive as McGwire's career numbers, but when you adjust for the era he played in, they're close.
McGwire had a career OPS+ of 162, compared to 156 for Dick Allen. Both are in the top-20 all time in that category. In one more season, McGwire was worth about two more WAR.
Dick Allen led the league in OPS four times, McGwire twice. Allen led the league in SLG three times, McGwire four times. Both led in OBP twice.
Allen and McGwire were two of the most powerful hitters ever. Allen was a .300 hitter, but he didn't walk as much as McGwire. Their offensive numbers were fairly close, overall.
Allen played more games at first than anywhere else, but he also played third, and in the outfield. He wasn't a good defender anywhere.
McGwire was probably better at first than Allen. But the fact that Allen could play solid defense elsewhere helps his cause.
Allen, in his best seasons, was probably slightly better. Allen has two 9+ WAR seasons. McGwire's highest WAR was 7.2. In his best season, 1972, Allen led the league in OBP, SLG, OPS, HR, RBI, and BB.
While his raw numbers couldn't touch McGwire in 1998, his OPS+ of 199 was much closer. Allen played solid defense that year, McGwire in '98 did not. Allen stole 19 bases that year, McGwire stole just one.
By all accounts, Dick Allen was kind of a dick. But most of his teammates did not dislike him, and some even considered him a very good teammate.
His attitude issues, in my opinion, color the perception of him. He truly was a great player.
Dick Allen had an up and down career, but at the end of the day, his 1964, '66, and '72 seasons were all MVP-caliber years. His career numbers were probably as good as McGwire's, and his prime was probably better.
McGwire took steroids. If I have a Hall of Fame vote (someday) that's something I do have to consider. Can I say, without a doubt, how much the steroids effected his play in the late 90s? No, I can't. But that's up to the voters to decide.
In my opinion, we can't accept his 1998 season at face value. I think McGwire should probably be in the Hall of Fame. But Dick Allen should be in there first.
Second Base: Roberto Alomar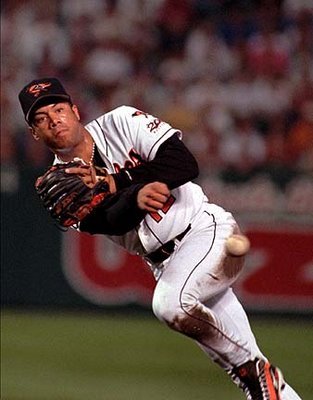 Roberto Alomar gets the nod, ever so slightly, over Lou Whitaker.
Offensively, I think Alomar was the better player. His career OPS+ of 116 is identical to Whitaker's, however Alomar stole 32 bases per 162 games, Whitaker just 10. In 19 seasons, Whitaker created 1395 runs. In 17 seasons, Alomar created 1575 runs.
Defensively, well you decide. Statistically, Alomar is an extremely overrated defensive second baseman, and Whitaker has the edge here.
However, Alomar is widely considered one of the greatest defensive second baseman ever. In his prime, the numbers agree.
The reason I went with Alomar is that, though their careers are quite similar, their primes are not. In 1999, and again in 2001, Alomar posted MVP-caliber seasons, with WAR's approaching eight. Both seasons, he finished top-4 in MVP voting.
Alomar was nearly the league's MVP in 2000, when he hit .323, stole 37 bases, hit 24 homers, and posted a .422 OBP. The next season, he hit .310, stole 39 bases, and hit 19 homers.
Alomar's 2001 season was probably one of the best offensive seasons a second baseman has ever had. He hit .336, stole 30 bases, hit 20 home runs, and got on base at a .415 clip. His OPS+ was 150.
Whitaker had some nice seasons, but they were more in line with Alomar's Toronto years. Alomar's play in Baltimore and Cleveland put him over the top.
Of course, Alomar barely missed induction in his first year on the ballot. He'll be in next year, and Whitaker will take over this spot.
Shortstop: Barry Larkin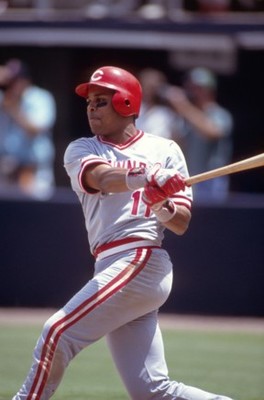 In my opinion, Barry Larkin was an even better Hall of Fame candidate than Robbie Alomar. He was basically Alomar, at a more important position.
It's beyond me how little support Larkin received in his first season on the vote. First of all, he was a truly great player.
Second, he was a fan favorite, and seemed like a good guy, playing in a big time baseball city. Third, he was always recognized during his career. He made 12 All Star teams, and won the MVP award in 1995.
Even so, this was not an easy choice. I believe Allan Trammell should also be in the Hall of Fame. Trammel was a great defensive short stop, and in his prime, a great hitter as well.
Larkin's career numbers are better. His 116 OPS+ is higher than Trammel. He was worth two more wins in one fewer season. He hit for a better average, walked more, hit for more power, and stole more bases.
While Trammell's 1987 season takes the cake as the best season either of these guys ever had, Larkin was consistently better. He was an All Star caliber player basically each season from 1988 to 1999.
At the end of the day, I think Larkin was a better offensive player in almost ever respect. He wasn't as good a defender as Trammell, but he was still a very good defender. His best seasons were almost as good, and his career, as a whole, was much better.
I think both Trammell and Larkin deserve a spot in Cooperstown, but I think Larkin is the slightly better player.
Third Base: Ron Santo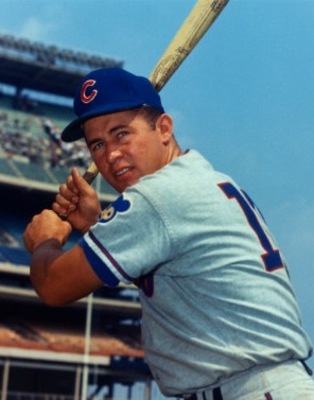 This is the one position where, in my opinion, there is no contest. Santo should have been in the Hall of Fame a long time ago.
Graig Nettles is probably the second best third baseman not in the Hall (not counting Edgar Martinez) and I have my doubts as to whether he should be in.
Santo played during the 1960s mostly, so his offensive numbers aren't off the charts. His career .277 batting average was quite good for his time, and he hit over .300 a few times. He led the league in walks four times, and his career OBP of .362 was pretty damn good for the 60s as well.
In his prime, he was a 30+ homer a year kind of guy. In only 15 seasons, he hit 342.
Santo wasn't just a good hitter, he was a great fielder. He won five straight Gold Gloves in the late 60s, though had he been playing in the American League, he probably wouldn't have won one.
From 1964 to 1967, Santo was as good a player as there was in baseball. He hit .302 over that period, and hit 30 homers each season, walking 90 times a year.
His OPS+ went from 164, to 146, to 161, and finally to 153, all four in the league's top-10. He won the Gold Glove each year, and received MVP consideration, finishing as high as fourth.
Santo posted incredible WARs over that four year stretch, 7.9, 7.6, 8.3, and 10.2, finishing 3rd, 2nd, 2nd, and 1st among National League position players.
Left Field: Tim Raines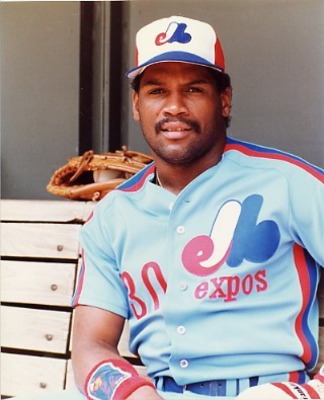 Why isn't Tim Raines in the Hall of Fame? I'm not sure. Maybe voters were looking ahead to Rickey Henderson, and felt as though Raines shouldn't go in before him. Maybe he's just underrated.
Either way, one thing's for sure. Raines, who seemed to have a good Hall of Fame shot leading up to his first season on the ballot, has not had nearly enough support.
Raines was probably the second greatest leadoff hitter of the last half century, behind Henderson. He hit for a high average, with a .294 career mark over 23 seasons, and 2,605 hits.
He also walked a lot, 1,330 times to be exact. He reached base almost 4,000 times, and 22 more times than Tony Gwynn. If Raines had 500 fewer walks, and 400 more hits, he'd be in the Hall of Fame right now.
Considering that, for a leadoff hitter, a walk is almost always about as good as a hit, this doesn't make much sense to me. Raines' career OBP of .385 was tremendously valuable.
And when Raines got on base, watch out. He led the league in steals four straight seasons, stealing 70+ bases each and every season. He stole 70 bases the next two seasons. In 1986, Raines won the batting title, hitting .334 with a league leading .413 OBP and 70 steals.
Raines ranks fifth all time with 808 steals. He was a solid defensive left fielder, who could play center, hit well over .300, walk a ton, steal 70 bases, and hit a bunch of triples. Tim Raines should be in the Hall of Fame.
Center Field: Dale Murphy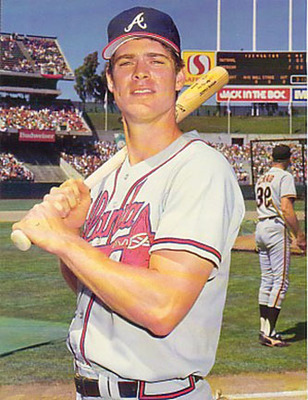 Should Dale Murphy be in the Hall of Fame? I don't know. There are certainly plenty of players on the current ballot I'd put in before Murphy, but there isn't a center fielder. So I'll briefly make the case.
Dale Murphy had a Hall of Fame prime. In 1980, at 24 years old, Murphy had his first good season. He hit .281 with 33 homers, made the All Star team, and finished 12th for the NL MVP.
From 1982 to 1987, Murphy was a .300 hitter. He walked 90 times a year, hit 35 homer runs a year, and stole 20 bases a year. He was one of the best all-around offensive players in the game of baseball, and was also a Gold Glove-winning center fielder.
Murphy was considered by his contemporaries the best player in the National League at some point during the mid-80s. He won two straight MVP awards in 1982 and 1983. He finished ninth in 1984, seventh in 1985, and 11th in 1987. He won five Gold Gloves and four Silver Sluggers during that six year stretch.
Now here's the case against Murphy. As good as Dale Murphy was in the mid-80s, his 1982 season was his age 26 season. His 1980 season was good, but aside from that, he'd been fairly average as a Major League player before the age of 26.
Murphy was also completely finished after his 1987 season. He hit 20 or more homers three more seasons, but his OBP the rest of his career was .307. Dale Murphy had an awesome prime, but was done by his early 30s.
Murphy was also a slightly overrated defensive player in his prime. He had some great defensive seasons, and some horrible ones. In his two MVP seasons, he finished second and seventh in WAR. He also finished second in WAR in 1980 and third in 1987.
But for a guy who's case is so dependent on his prime, he was never really the best player in his league in any given season.
Do I think Dale Murphy should be in the Hall of Fame? Maybe. If I had to vote, I'd probably vote yes, but I have an inclusive view of the Hall of Fame that I know not everyone shares.
There aren't that many good center fielders outside the Hall though, so Murphy gets this spot.
Right Field: Dave Parker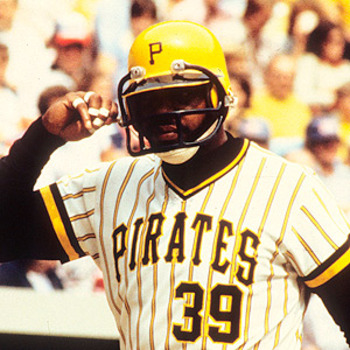 Like Dale Murphy, Dave Parker is a guy with a tremendous prime who's career numbers may not warrant induction into the Hall of Fame.
Still, I think a very reasonable case can be made for Parker.
Parker's career numbers aren't bad. He was a .290 career hitter, and though his .339 career OBP isn't great, it's not horrible, either. He has 339 career home runs and 2712 career hits. His career OPS+ is a solid 121.
Of course, on those career numbers, Parker probably doesn't get in. He's not a much worse candidate than Andre Dawson, but Andre Dawson, in my opinion, was not worthy of Hall of Fame induction.
Again, like with Murphy, this case is dependent on prime. Dave Parker was considered one of the best players in baseball during his prime, and he was one of the best.
From 1975 to 1979, Parker was a .320 hitter, hit 20+ homers a year, and nearly 40 doubles and 10 triples. From '77 to '79 he walked 60 times a years, and his OBP was in the .390s.
Parker posted OPS+'s of 148, 133, 145, 166, and 141, elite offensive production from any player. But he also won three Gold Glove, deservedly, saving 41 runs in the field from '77 to '79 according to Total Zone.
Parker finished third in MVP voting twice, and won it in 1978, leading the league in batting, slugging, and OPS, hitting 30 homers, and stealing 20 bases.
Parker is in the same boat as Murphy. Maybe he should be in, maybe not, but he's the best player not in the Hall of Fame at his position.
Designated Hitter: Edgar Martinez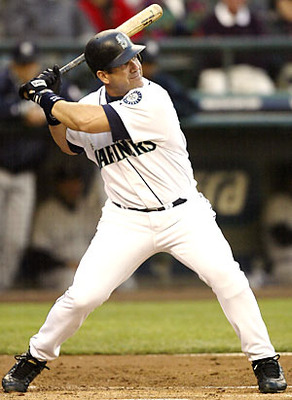 Edgar is the third guy on this list that first appeared on the ballot this year, and unsurprisingly got less support than he deserved.
He was never fully appreciated when he was in Seattle. Yeah, he was a DH. He was also one of the best hitters in baseball for a decade.
Edgar has the career numbers for induction. He's a career .312 hitter, with a .418 OBP, and a .515 SLG. He was a DH, so all his value came from his bat. Fine.
But he also has a higher career WAR than Willie Stargell. If you're a more valuable player, over your career, than Willie Stargell, simply with your bat, you deserve to be in the Hall of Fame.
You want big seasons? Edgar had them. He won two batting titles, twice led the league in OBP, and once led the league in OPS.
In 1995 he hit .356, led the league with a .479 OBP, hit 29 homers, led the league with 52 doubles, had a .628 slugging percentage, led the league in OPS, and finished third in MVP voting, while playing almost every game at DH.
If voters in 1995 can realize Edgar had enough offensive value to outweigh the position he played, why can't voters in 2010?
Right-Handed Pitcher: Bert Blyleven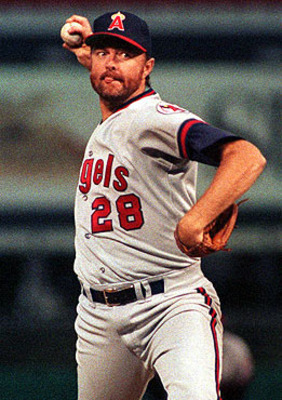 The case for Blyleven has been made so many times, I don't want to reinvent the wheel.
The case is pretty simple. Every single pitcher with the same career numbers as Bert Blyleven is in the Hall of Fame, and plenty of pitchers with lesser numbers are in the Hall of Fame too.
Blyleven won 287 games, but lost 250, right? Nolan Ryan won 324 and lost 292, a worse winning percentage. Blyleven never won a Cy Young? Um, Ryan?
Blyleven never led the league in ERA? Sure, but in 1973, he led the league in park adjusted ERA, pitched 325 innings, and led the league in Wins Above Replacement (he didn't just lead all pitchers, he led everyone).
He won 20 games, but still finished seventh in Cy Young voting. He also led the American League in pitching WAR in the strike shortened 1985 season.
Blyleven's career WAR of 90.1 is 13th all time among pitchers. His 328 adjusted pitching runs are 23rd highest of all time.
His 60 shutouts rank ninth all time, and fourth since World War II, just three behind Warren Spahn for the post-war record.
His 3701 strikeouts rank fifth all time behind Hall of Famers Nolan Ryan and Steve Carlton, and future Hall of Famers Randy Johnson and Roger Clemens.
Blyleven was often one of the best pitchers in the league. He was top-10 in ERA ten times and top-10 in WAR 13 times, an incredible feat.
He was, at one point, the league's best pitcher, leading pitchers in WAR twice, and in ERA+ once.
There really is no argument, in my opinion, against Bert, aside from the argument that he just didn't "feel like" a Hall of Famer. He was a dominant pitcher, one of the best in baseball for nearly two decades.
He pitched a lot of innings, and a lot of good innings. Bert Blyleven is probably the most deserving player not in the Hall of Fame.
Left-Handed Pitcher: Ron Guidry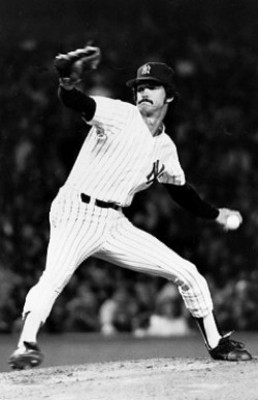 I think most would put Tommy John in this position, but in my opinion, Guidry had as many great seasons, despite retiring ten years younger.
Guidry's career, like the career of many lefties, started off slowly.
Guidry's first real Major League season was at the age of 26 in 1977. During that season, he won 16 games, finishing ninth in the league in that category, and in strikeouts with 176. His 2.85 ERA was also fourth in the league. Guidry finished seventh in Cy Young voting.
The next season would be Guidry's finest, and one of the greatest pitching seasons ever. Louisiana Lightning went 25-3, struck out 248 batters, and led the league with a 1.74 ERA and 208 ERA+.
In 1979, Guidry again led the league in ERA. He went 18-8 that season in 30 starts, and struck out 201 batters. He finished third in Cy Young voting.
The following three seasons, he would win a total of 42 games, finish seventh in Cy Young voting again, and even led the league once in WHIP and K/BB rate.
The next year, he went 21-9, finished fifth in MVP voting, and completed 21 of 31 starts. He had a pedestrian 1984, before finishing first in the league in wins again in 1985, his third 20 win season, and finishing second in Cy Young voting.
Guidry would never win 10 games again. Still, in total, he had six top-10 Cy Young finishes, and a win. He was, for a decade, one of the best pitchers in the game.
He came into the league in his mid-20s and left in his mid-30s, but between that, I think he put together a Hall of Fame career.
Keep Reading