Projecting the 2010 New Orleans Saints Offensive Depth Chart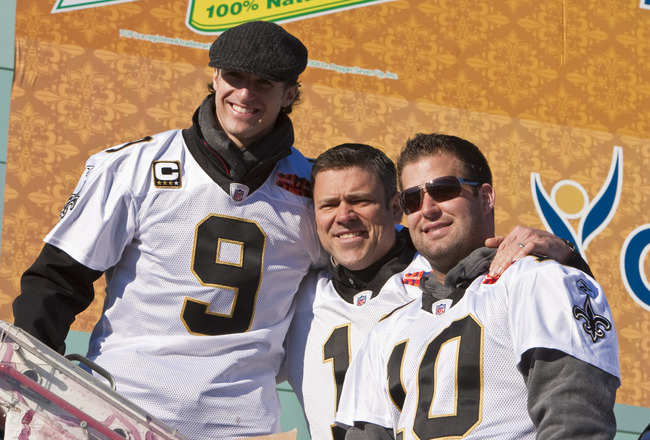 This New Orleans Saints' offense should be clicking on all cylinders again this season as they return nearly every key member from last year.
The Saints return every wide receiver, tight end, and starting offensive lineman from a year ago.
And most importantly, they've still got that Brees guy.
New Orleans gave its largest free agent contract, seven years, $56.7 million, to right guard Jahri Evans.
Restricted free agents Pierre Thomas, Lance Moore, and Jammal Brown are expected to re-sign with the team within the next few weeks.
Running back Mike Bell, the only NFL player to switch teams via restricted free agency, is the lone key member of last year's offense to leave the team.
Quarterbacks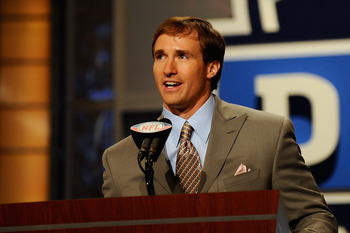 Starter: Drew Brees
Backup: Chase Daniel
Overview: Nobody will be challenging the Super Bowl XLIV MVP as the starter so the real competition is at the No. 2 spot.
Prehistoric Mark Brunell was the backup last season and is currently a free agent. Daniel, the second-year player out of Missouri, is the only other quarterback with knowledge of the Saints' system.
New Orleans drafted Sean Canfield out of Oregon State and he is expected to battle for either the No. 3 spot or a position on the practice squad.
Prediction: Brees should duplicate the production he's had since arriving in New Orleans in 2006.
I expect the Saints to sign a veteran quarterback before their mini camp on June 4-6 to compete with Daniel and Canfield for the backup position.
Wide Receivers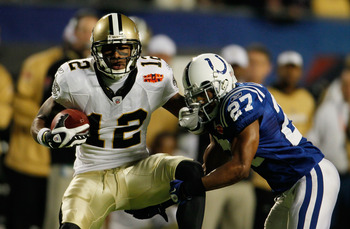 Starters: Marques Colston and Robert Meachem
Backups: Devery Henderson and Lance Moore
Overview: New Orleans generally starts in a two-receiver look, but since they play much of the game with three- and four-receiver sets, either Henderson or Moore can be considered the third starter.
Despite all of the production last year, there are still questions surrounding this group.
Will Meachem continue to build off of his breakout performance from 2009?
The former first round pick exploded onto the scene, as no Saint had more than his nine receiving touchdowns. He was a threat to score every time he touched the ball as he scored a touchdown once every five catches.
What impact will Lance Moore have on the 2010 Saints?
Outside of a six-catch performance against the New York Giants, Moore contributed very little as an ankle injury limited him to seven games last year. He has yet to sign his restricted free agent tender, which is a surprise considering his team won the Super Bowl without counting on him.
Prediction: New Orleans could potentially have the most dangerous receiver corps in the NFL. Three receivers should get at least 50 catches and 800 yards.
Running Backs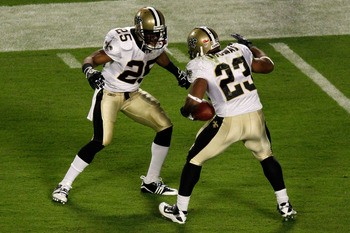 Starter: Pierre Thomas
Backup: Reggie Bush
Overview: Other than Brees, Thomas may be the offensive MVP of this team. While he may never get 1,000 yards, he is a jack of all trades type of player. He has led the team in rushing in each of the past two seasons, has a career rushing average of over five yards per carry, and has scored 20 touchdowns in his last 29 games.
Coach Sean Payton learned that less is more with Bush. His role was significantly reduced last year, but brought the wood in the playoffs against the Arizona Cardinals. If not for an uncapped year, New Orleans may have not picked up Bush's $8 million option.
Prediction: Look for more of the same from Thomas and Bush. While Thomas has yet to sign his restricted free agent tender, he will sign a deal to keep him in New Orleans for four or five more seasons.
Bush is playing for his second professional contract, so the Saints may be getting a career season out of him.
Lynell Hamilton will take over the short yardage role vacated by the effective but brittle Mike Bell.
Fullbacks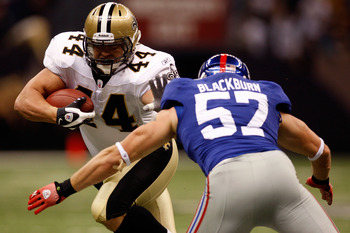 Starter: Heath Evans
Backup: David Thomas
The Saints' running game was at its best with Evans in the backfield, but he suffered a season-ending torn ACL against the Miami Dolphins.
Though Thomas is technically a tight end, he did get some work at fullback after Evans went down. Roster size limitations will likely prevent the Saints from keeping a second fullback on the roster.
Tight Ends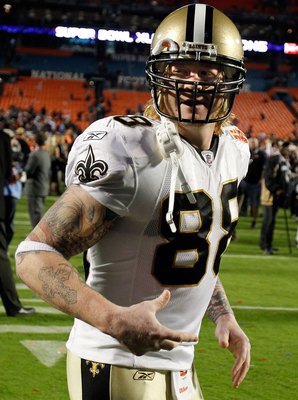 Starter: Jeremy Shockey
Backup: David Thomas
Overview: Shockey will enter his third season with the Saints as the starter at tight end after posting five touchdowns last year, including two in the postseason and one against his former team, the New York Giants.
Shockey's production has declined with age and he will turn 30 before the season starts. The Saints drafted his eventual replacement, Jimmy Graham, in the third round of this year's draft.
Prediction: Brees relies on his tight ends to move the chains on third down and this year will be no different.
Shockey will get 50 catches if he can stay healthy but they will need Thomas and Graham to combine for another 50 to keep defenses off balance.
Offensive Tackles
Starters: Jammal Brown and Jon Stinchcomb
Backups: Jermon Bushrod and Zach Strief
Overview: Brown should be fully recovered from his surgeries after missing the entire season but has yet to sign his restricted free agent tender as he hopes for a long-term deal.
Stincomb recently had sports hernia surgery to repair an injury he suffered during a workout but should be ready for training camp.
Bushrod gained a lot of valuable experience at left tackle when he replaced Brown. Strief appeared in packages that called for a third tackle to help block.
Rookie Charles Brown probably won't get many live reps, but is being groomed to be Jammal Brown's eventual replacement at left tackle.
Prediction: The Saints' tackles look better than they really are because Brees moves so well in the pocket and gets the ball out quickly. They will be exposed again this year against speed rushers just as they were against Dallas and Miami in 2009.
Guard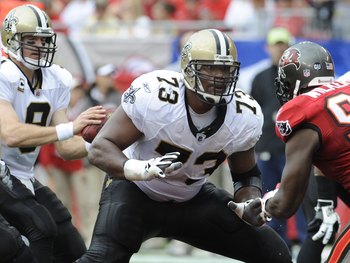 Starters: Carl Nicks and Jahri Evans
Backup: Tim Duckworth
Overview: Nicks and Evans are the two best offensive linemen on this team and Evans just might be the best guard in the NFL.
Nicks brings a nasty attitude in the running game while Evans' pass protection is unmatched at his position.
Prediction: Because of all of the hard work Evans has had to put in to go from obscure fourth round pick to NFL All-Pro, don't expect him to get all fat and lazy just because he signed record-setting contract.
Center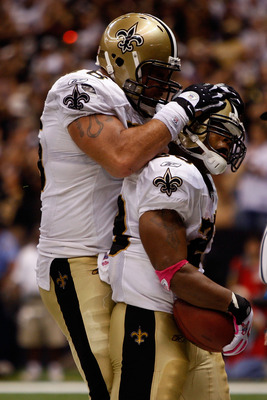 Starter: Jonathan Goodwin
Backup: Nick Leckey
Overview: Goodwin reaped the rewards of a Super Bowl season by making his first Pro Bowl. A backup to Jeff Faine during his first two seasons in New Orleans, Goodwin has been a consistent starter during his last two.
Prediction: Goodwin will again be adequate as a starter but won't be anything spectacular. His biggest value comes in being able to call out each and every blocking adjustment at the line of scrimmage when Brees calls an audible or when the defense shows an unexpected front.
Keep Reading

New Orleans Saints: Like this team?