Jacked Up: The NFL's 10 Hardest Hits on YouTube
Why is the NFL America's favorite league?
The game-day pageantry, over-the-top personalities, breathtaking athleticism, and hotly-debated strategies are all important variables.
But at its essence, football is a violent game. Fans want to see bone-jarring hits that leave players dazed and defenses in a frenzy.
While each game has its share of brutal collisions, there are occasionally some that make fans rewind their DVR and upload them to YouTube.
Here are the top 10 earth-shattering collisions.
Begin Slideshow

»
There isn't a player in the NFL today as vocal as Chad Ochocinco. For the most part his play has backed up his talk, but he has taken his fair share of brutal knockouts.
Chad wasn't dancing with the stars, but he was seeing them after getting ear-holed by the Browns' secondary.
Tough start to this list for Chad Ochocinco.
One of the League's all-time greatest hitters, Ray Lewis, goes headhunting for Chad's gold grill, but is only able to knock off his helmet.
Say what you want about Hines Ward—the guy brings the lumber.
While many of today's NFL wideouts are avoiding hits by running out of bounds or growing T-Rex arms over the middle, Ward goes looking for trouble.
He found some with Ed Reed.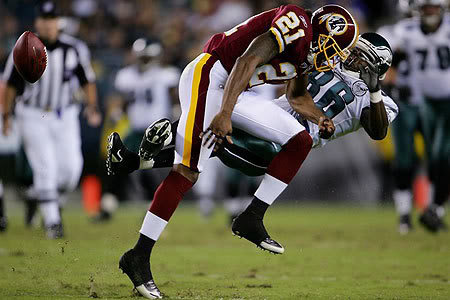 One of the hardest hitting safeties of all-time, Sean Taylor tragically lost his life in 2007.
NFL fans will forever miss his breathtaking hits, like this one he put on hapless punter Brian Moorman at the 2007 Pro Bowl.
Steve Largent was an undersized NFL receiver, standing a shade under 6' and weighing just under 190 pounds.
On this play, Largent proves that angles, speed, and leverage lead to more de-cleatings than pure brute strength.
You'd think an NFL linebacker like Keith Rivers would have a little better peripheral vision while pursuing a play to the sideline.
Football fans everywhere (outside of Cincinnati) are thankful he didn't.
Punters lead a peculiar life.
Though rarely on the field, they can be as important to a defense as a great middle linebacker or mammoth nose tackle.
A Ravens special teamer took that to heart on this play.
St. Louis Rams wide receiver Danny Amendola earned some notoriety as the featured undrafted free agent on the Dallas Cowboys' season of Hard Knocks.
He didn't make the final 53 on the Cowboys roster, and was later picked up by the Rams. After this hit by the Lions' Zack Follett, he probably wished he was still in Texas.
I remember seeing Sheldon Brown's hit on Reggie Bush live during the 2006 playoffs and being legitimately concerned about possible internal organ combustion.
Reggie's career hasn't ever really gotten off the ground. This hit by Brown certainly did, however.
It's a good thing NFL players have thigh-sized necks.
If not, Chris Henry's head would still be rolling somewhere through rural Indiana.