2010 FIFA World Cup: Ranking the Top 20 WAGs of the Soccer Elite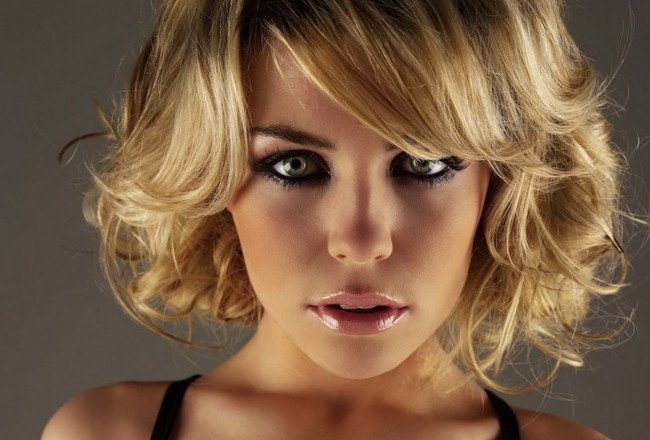 In just a couple of weeks, America is about to learn what the rest of the world already knows.
No, not just that soccer is the No. 1 world sport, but more importantly, soccer players attract by far the most gorgeous girlfriends.
Guys like Cristiano Ronaldo have become as infamous for their babe magnetism as their on-field prowess.
After you see this top 20 countdown, you might think twice about keeping world football on the outside looking in of America's top sports.
20. Colleen McLaughlin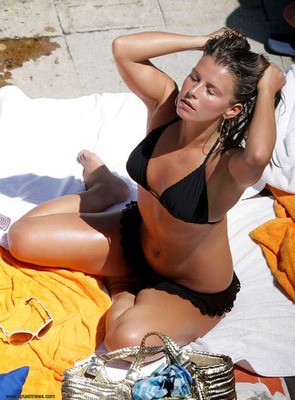 I feel bad for leaving Wayne Rooney's girlfriend way down the list, he will be one of the top stars in South Africa.
This is a sexy shot, but the overall body of work doesn't stack up.
Plus, Wayne, go play for Liverpool and I'll put her No. 1. Just kidding. Not really.
19. Bethany Dempsey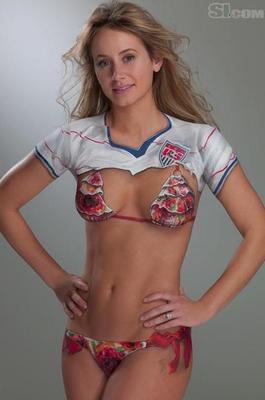 The wife of U.S. star Clint Dempsey is the only American representative on our list.
She's only on here because she had the guts to do the body paint thing for SI's swimsuit issue.
18. Alex Curran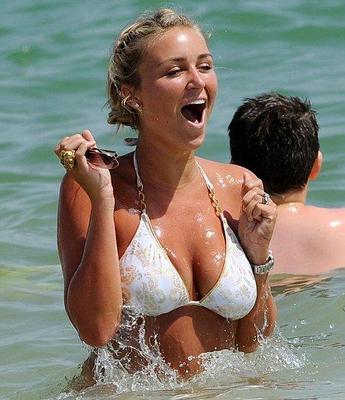 The long-time girlfriend and now wife of England middie Steven Gerrard is a fashion journalist and a giddy swimsuit wearer.
17. Alice Bregoli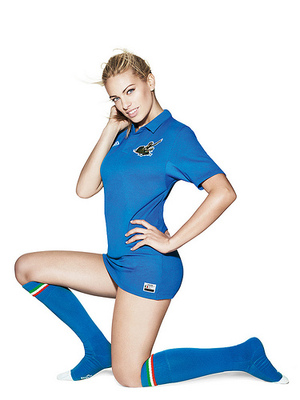 The girlfriend of Italian striker Alberto Gilardino recently sported the colors for Umbro's World Cup WAGs photo campaign.
16. Hayet Abidal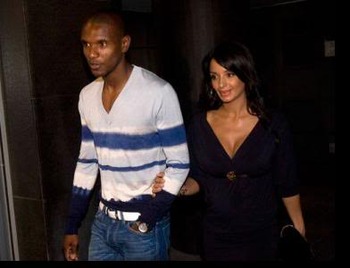 The former Hayet Kebir married French star Eric Abidal and promptly converted him to Islam.
I think I'd convert, too.
15. Charlene Suric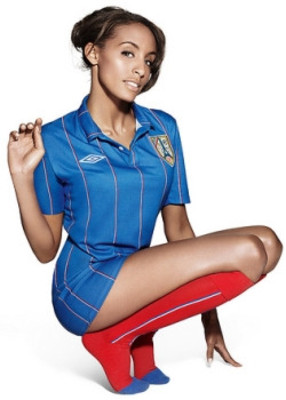 Thanks to France's Gael Clichy for dating this beauty to put her on our list.
Suric was also part of Umbro's campaign.
14. Ilary Blasi
Ilary Blasi is the wife of Italy's Francesco Totti.
She's been on TV since she was five and is currently a model and an Italian TV host.
13. Julia Goedicke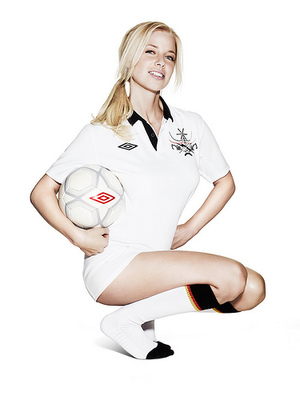 Goedicke is the girlfriend of German footballer Marcell Jansen.
She's the German representative in the Umbro World Cup campaign.
12. Susana Werner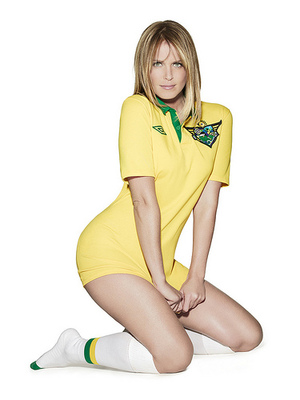 Werner is the wife of star Brazil goalie Julio Cesar.
As such, she got to represent the country bottomless for Umbro.
11. Nani Gaitan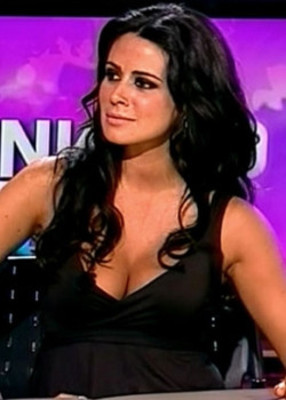 Real Madrid and Spain footballer Sergio Ramos is dating this cougar-ish WAG, who is 12 years his senior.
We've got a feeling that Real Madrid's Sergio Ramos Spain has a thing for older women. Not only is his girlfriend 12 years older than him, but she's also called 'Nani'.
10. Sara Carbanero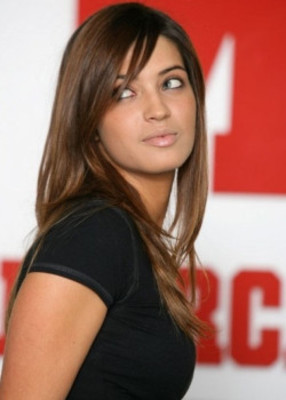 For once, someone beat Ronaldo in the dating department.
Rumors have it that Spain captain Iker Casillas and Ronaldo bet over who could call the TV football reporter their girlfriend.
Casillas won.
9. Yolanthe Cabau van Kasbergen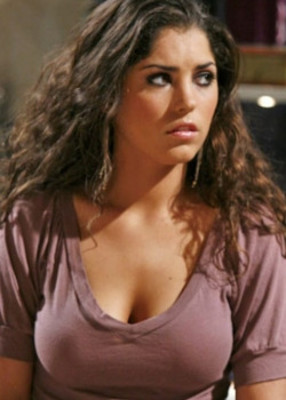 Yolanthe is a Dutch soap opera actress and girlfriend of Holland's Wesley Sneijder.
She kind of has a Meadow Soprano look to her.
8. Luli Fernandez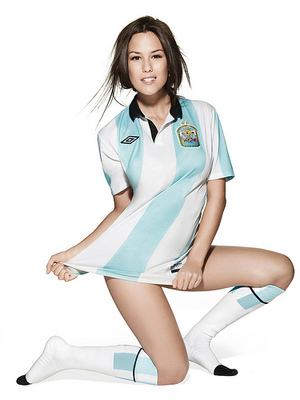 Fernandez is the girlfriend of Argentina's Pablo Mouche.
She was the Argentine choice to wear the Umbro shirt.
7. Zaira Nara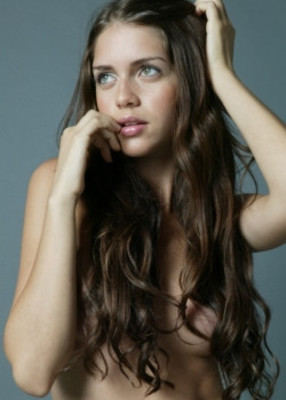 This Argentinean model has become more famous for dating Uruguay great Diego Forlan.
6. Kim Kardashian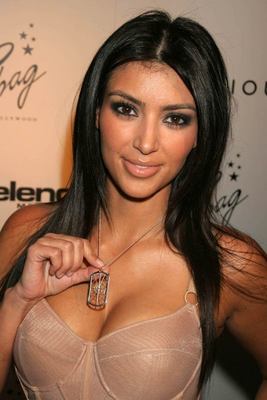 Kim is a reality TV star who has become famous for being famous.
She's the former WAG of Saints running back Reggie Bush and is currently rumored to be dating the greatest WAG dater in the history of man, Cristiano Ronaldo.
5. Sylvie van der Vaart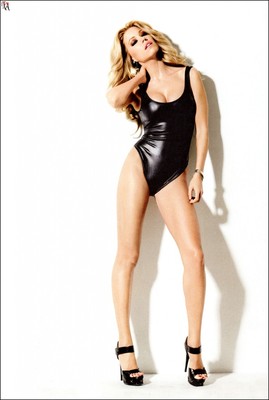 She was elected the sexiest Dutch female in 2003. After a successful modeling career, she moved on to TV hosting and marrying Netherlands star Rafael van der Vaart.
4. Sarah Brandner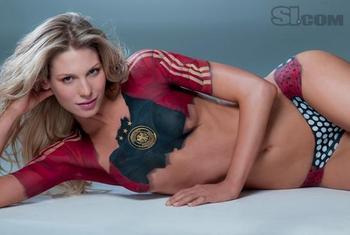 The girlfriend of Germany midfielder Bastian Schweinsteiger shed the clothes and wore the colors proudly for the SI Swimsuit Issue World Cup section.
3. Alena Seredova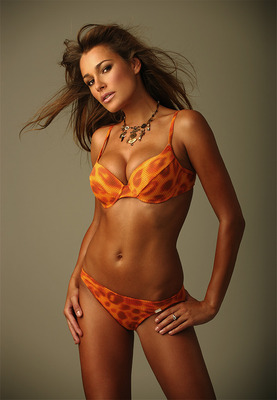 Alena Seredova is a former Miss Czech Republic and is now a TV host in Italy.
She has her own clothing line and does modeling whenever possible when she's not busy doting over Italian goaltender Gianluigi Buffon.
2. Lorena Bernal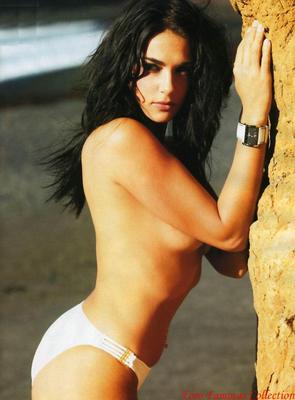 Mikel Arteta is still hoping to get a call up to the big boy Spain club after years of playing for the junior team.
But don't fret, Mikel. You have this former Miss Spain to come home to at night.
Bernal is a model and actress trying to make a name for herself in the U.S. She's recently guest starred on "CSI: Miami."
Lorena Bernal was born in Argentina but moved to Spain when she was just a child. Her impressive beauty took her to fame in 1999 when she was crowned Miss Spain and with that a lot of magazines wanted her on their cover.
Probably every soccer player from Spain wanted to date her but the lucky one was Mikel Arteta.
The couple married a couple of years ago and besides modeling, Lorena also does some TV work and she even appeared in CSI: Miami once.
1. Abigail Clancy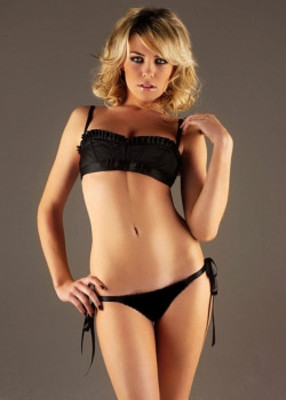 There was no doubt on this one.
Clancy is the queen of the WAG. She has made an art of it since first being attached in the tabloids to England star Peter Crouch.
A Cover Here, A Cover There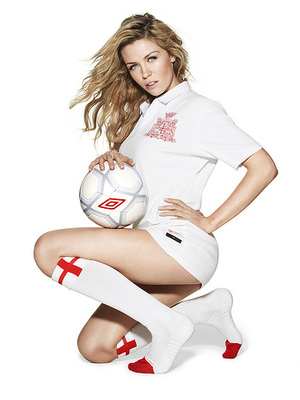 Duh. Of course she's Umbro's choice to rep England in their photo shoot.
Just about every magazine in the world wants her on their cover these days.
The Ugly Duckling Wins the Prize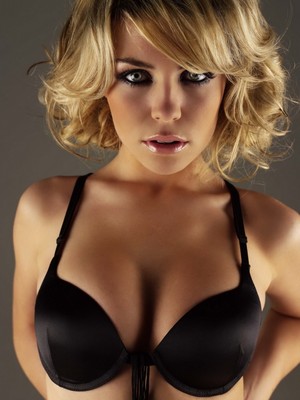 Crouch is not exactly pretty. He once said he thinks he's so ugly that he thinks he'd still be a virgin if he wasn't a footballer.
He's also said he thanks the stars above every day to be able to get a girl like Clancy to look his way.
Ain't Bodypaint Great?
God save the queen and God bless body paint.
Sports Illustrated made Clancy an American sensation by putting her in this glorious paint for their swimsuit issue.
Keep Reading