Free Agents the Oakland Raiders Need To Look At Before Training Camp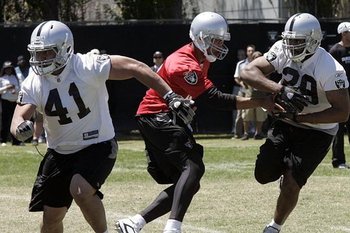 The Raiders have had a great offseason thus far including the draft, trades and free agency.
But they still haven't done enough yet to fill every hole they had. The o-line still looks shaky, they are in need of a big defensive tackle to clog the middle, their receivers are young and inexperienced and they could still improve on the defensive backfield.
Here's a look at some free agents still available that the Raiders should seriously consider.
Kevin Curtis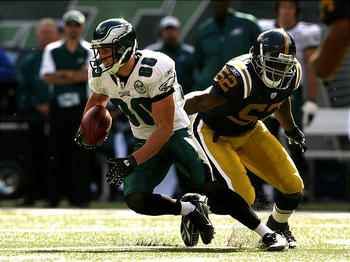 At 31 Kevin Curtis has seen it all: injures, playoffs, the Super Bowl, and even a 1,000+ yard season.
He has a reputation of being a deep threat receiver and is able to stretch the field.
Unfortunately though the last two seasons he has battled injuries. That, paired with the emergence of Jeremy Maclin and DeSean Jackson, prompted the Eagles to release him.
Now he is a free agent looking for a new team. He would add veteran leadership, reliable hands and depth to the Raiders receiving corps.
Muhsin Muhammad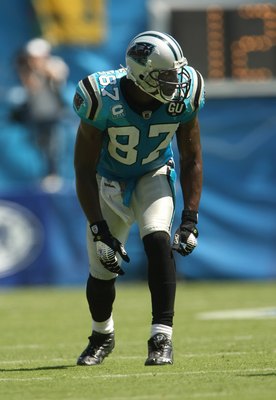 Muhsin Muhammad, at 37 and entering his 16th season, is about as seasoned as they get.
He is a possession receiver known for his sure hands and precise routes. Last year in 14 games he brought in 53 receptions for 583 yards and one TD.
He would not only bring in veteran leadership and experience to the Raiders receiving corps but he would help move the chains as a possession receiver.
Terrell Owens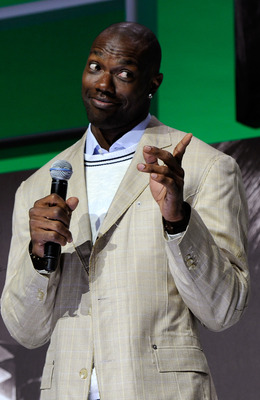 Terrell Owens has been called a locker room cancer, selfish, a team killer, a diva, and various other names.
But you cannot argue with production, the respect he demands from defenses or his offseason workout regimen.
Last season Owens had 55 receptions for 829 yards and five TDs.
He would bring a big threat receiver to the Oakland Raiders and open up things for other receivers, as Terrell Owens demands respect from the defense.
His work ethic would also be a positive influence on much of the locker room.
But signing Terrell Owens would be a double edged sword. Not only would you get production and a hard worker but a polarizing character in the locker room.
Laveranues Coles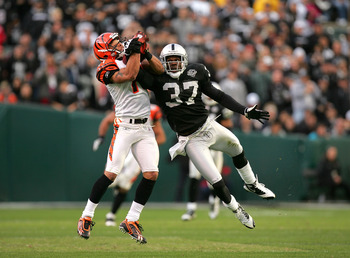 This 32 year old journeymen receiver was recently released by the Bengals and is now looking for his fifth team.
Like most veteran receivers this guy has seen it all, the good and the bad.
Last year Coles posted 43 receptions 514 yards and five TDs.
He isn't known for his blazing speed and is more of a possession receiver. His skills would complement the Raiders speedsters nicely.
John Henderson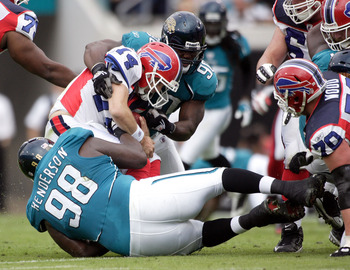 At 6'7" 335 lbs, John Henderson is a big man. The 31 year old DT has been clogging lanes for linebackers to make tackles for years.
Last year through 15 games he posted 36 tackles, three sacks, three deflections and forced two fumbles. All impressive numbers for an interior d-linemen.
He would add much needed depth to the d-line and help bolster the run defense.
Hollis Thomas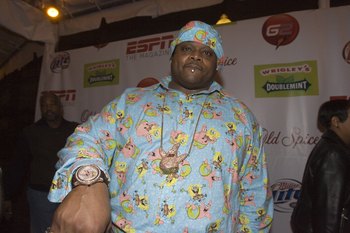 Hollis Thomas no doubt is a big man. He is known for his run stuffing ability more than anything. At 6'0" 340 lbs, he almost always wins the leverage battle.
Last year he played in the first three games for the St. Louis Rams, then was traded to the Carolina Panthers where he started the final 13 games.
Throughout the season Thomas posted 35 tackles and a safety while clogging lanes in the middle.
At 36 Thomas' career is reaching the end of the line but he could still be very valuable to a team on running downs.
Flozell Adams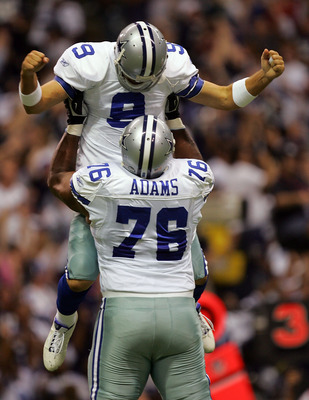 Flozell Adams is not only a seasoned veteran at 35 but a mean one at that.
His mean streak is well known throughout the league as some of his NFC East rivals have even gone as far as to call him out complaining about his "dirty" play.
Last year this five time Pro Bowl left tackle started all 16 games for the Cowboys, but now he is looking for a job.
Signing Flozell would add an immediate starter to the Raiders o-line for at least a year. Who knows, maybe his mean streak could rub off on guys like Bruce Campbell and Jason Veldheer.
Shawn Andrews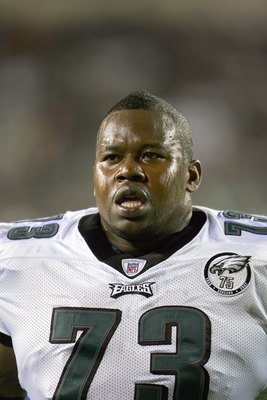 Shawn Andrews is a very interesting character. Before fighting back injuries and depression in 2008 and 2009 he was a three time Pro-Bowler at right guard.
This was despite having issues with depressing teammates, and observers have often noticed him skipping and singing through practice and the locker room.
If healthy, mentally and physically, Andrews could be a powerful force on the Raiders offensive line.
Kevin Mawae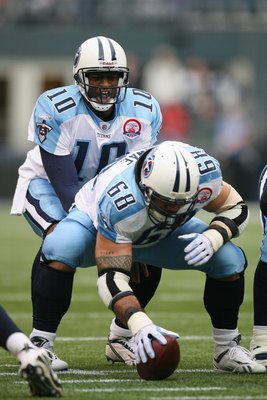 At 39 Kevin Mawae is an old man in the NFL. He most recently played center for the Tennessee Titan making the Pro Bowl, though now is a free agent.
Reportedly he is still hoping for a call from an NFL team and many expect him to land somewhere before training camp.
Mawae is still athletic and built for the Raiders zone-blocking scheme at 6'4" 289 lbs.
He may not have much left in the tank, but then again at 39 he just went to the Pro Bowl. Regardless, Mawae would be a quick temporary fix to one of the Raiders' problem spots and bring more of a mean streak to the o-line.
Orlando Pace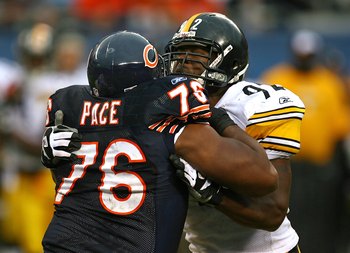 As the first pick in the 1997 NFL Draft and a 14 year veteran, Orlando Pace is a future Hall of Famer.
Last year after starting 11 games he suffered a tricep tear ending his season.
Adding Pace would not only add a likely starter to the roster but experience to the o-line and a coach on the field to tutor the Raiders' new rookie o-linemen.
Chester Pitts
Chester Pitts started every single game for the Houston Texans since they were added as an expansion team and was the first player to start 100 games for the team.
That is until he suffered a knee injury in Week Two last year.
He has been praised for his athleticism and throughout his career has seamlessly switched between guard and tackle.
If completely healthy Pitts would find a starting spot somewhere along the o-line, whether it be at guard or tackle.
Clint Ingram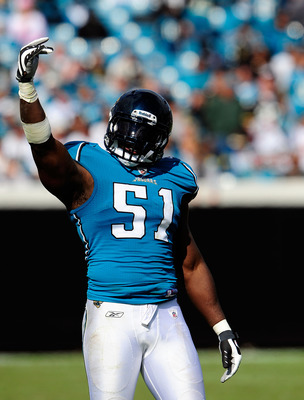 Clint Ingram is a very athletic linebacker, much in the same mold as Thomas Howard.
Last year through 12 games he posted 52 tackles.
He could add valuable depth to the Raiders very young linebacker corps and make an impact on special teams.
Keith Bulluck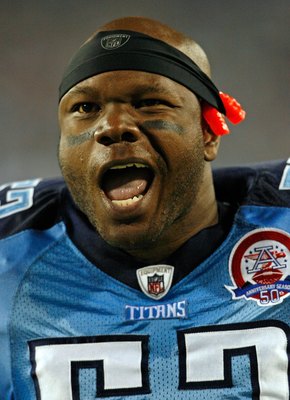 Keith Bulluck recently suffered an ACL injury and has been slowed due to age.
But he is still one of the most experienced linebackers in the game.
Last year through 14 games he posted 108 tackles and three interception playing outside linebacker in the Titans 4-3 defense.
He would bring the same kind of leadership and intensity to this team that Bill Romanowski once did.
Oshiomogho Atogwe
A free safety who can tackle? That is something the Raiders haven't had for ages.
Last year starting in 12 games Atogwe posted 74 tackles, one sack, three forced fumbles and two interceptions.
Atogwe has also reportedly been injury rehabbing in the Bay area.
Atogwe would not only be solid in coverage but would make the open field tackles that Michael Huff doesn't. Who knows, maybe his tackling ability could rub off on some of our DBs.
Shawn Springs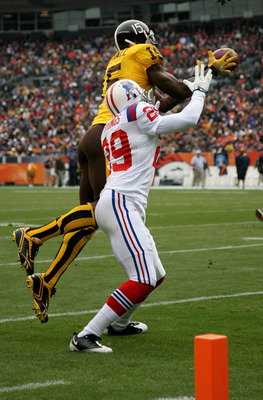 Shawn Springs recently failed a physical for the New England Patriots, prompting his release.
At 36, age may be catching up to Springs as he had an off year with 34 tackles and one interception through 10 games.
Though somewhat injury-prone as of late, if healthy he would be an immediate upgrade playing in place of Chris Johnson or Stanford Routt.
Dre Bly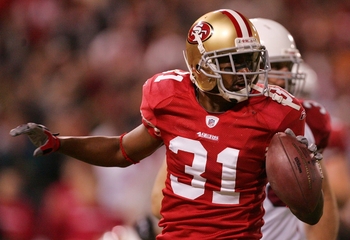 Like many of the veterans on the list Dre Bly has seen it all. He played in the Rams' last Super Bowl and was on the 0-16 Lions.
Bly would be a solid nickel corner and add some much needed swagger to the Raiders defense.
Last year he posted 29 tackles, one sack, three interceptions, 13 passes defensed, and two forced fumbles.
Antoine Bethea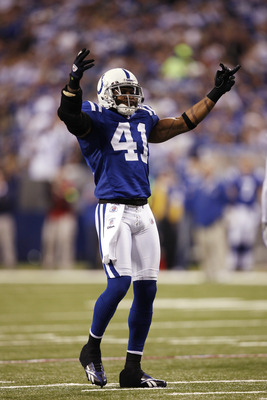 Antoine Bethea technically isn't a free agent. He is an RFA. But reportedly he is unhappy with his first round tender and has yet to show up to any practices for the Colts, and many are expecting a holdout.
Since being drafted four years ago Bethea has started all but four games for the Colts.
He is not only a ball hawk but one of the best tackling free-safties in the league.
Last year he posted 95 tackles, four interceptions and two forced fumbles.
If the Raiders were somehow able to land him we would have the best safty tandem since Jack Tatum and George Atkinson.
Keep Reading

Oakland Raiders: Like this team?