College Football's 10 Most Durable Returning Running Backs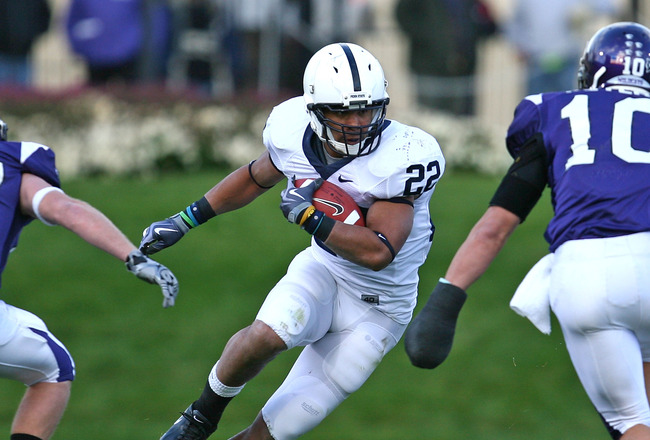 If there is one thing that kills a team, it's injuries.
And, going hand in hand with that, if there is one thing that's almost impossible to predict—you guessed it: injuries.
Despite the complete and utter chaos in actually trying to predict who will fall victim to the injury bug, I'm going to attempt to play God—at least in trying to determine who won't be getting hurt in the 2010 season.
Running backs take a beating. No doubt about it.
Other than the quarterback, they touch the ball the most during a game. But, unlike the quarterback, they don't have five linemen protecting them from the defense.
When they get the ball, they rush past their protection and into the waiting arms of a defense that would love nothing less than to lay a vicious hit on them.
So naturally, running backs are among the players who frequent the MRI table the most.
But, there are some backs who just don't seem to go down.
Either through great luck or sheer will, some running backs take carry after carry, put up big numbers, and still take the field every Saturday despite the bumps and bruises.
So, who are these "iron men?" Read on to find out.
(Disclaimer: This article assumes no responsibility for "jinxing" or "cursing" any of the following running backs if they happen to get hurt in 2010.)
Note: Rankings were based on number of carries, total rushing yards, and games missed because of injury in 2009. However, career numbers and injury history also played a role.
To be eligible, running backs had to have either 1,000 yards or 200 carries in the 2009 season. These seemingly arbitrary figures show that backs could handle a heavy workload while also producing good numbers. If any games were missed do to injury last year, the running back was immediately disqualified.
This may not be the most full-proof system for identifying "durable" running backs, but it attempts to identify elite backs who are consistently on the field. Like any top 10 list, good, durable running backs were inevitably left off.
No. 10: Alfred Morris, Florida Atlantic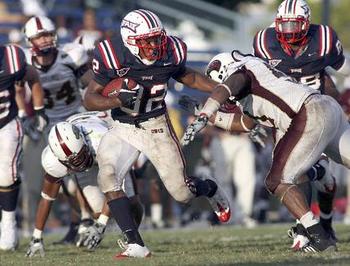 After seeing limited action as a freshman, getting only seven carries in 11 games, Alfred Morris took advantage of his new-found playing time as a sophomore in a big way.
Morris led the Florida Atlantic Owls with almost 1,400 yards on 263 carries, and ran in 11 touchdowns for good measure.
Morris also proved to the Owls' coaching staff that he can take hits, not missing a game despite averaging almost 22 carries a game.
If he can remain as durable his junior season as he was his sophomore campaign, he should once again be the top back in the Sun Belt Conference.
No. 9: Daniel Thomas, Kansas State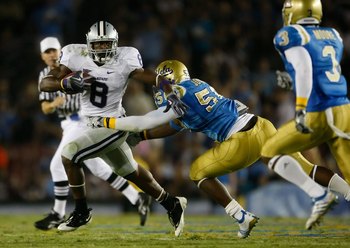 A junior college transfer from Northwest Mississippi CC, Daniel Thomas was one of the best running backs in the Big 12 in 2009. Thomas rushed for 1,265 yards and 11 touchdowns on 247 carries, leading the conference in both attempts and yards.
Although it was only his first year playing in the FBS, Thomas showed that he can definitely handle the hard hitters of the Big 12, not missing a game while still handling a bunch of carries.
Defenders certainly wish that Thomas was more injury-prone. At 6'2", 227 pounds, Thomas can deliver punishment while obviously being able to take it.
No. 8: Montel Harris, Boston College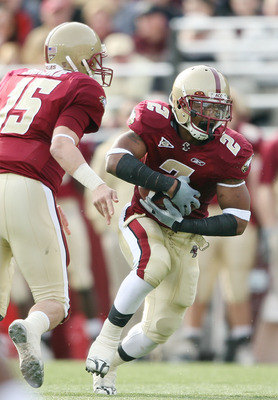 Although only 192 pounds, Boston College junior running back Montel Harris is one hard guy to take down, literally and figuratively.
In 2009, he ran for almost 1,500 yards on over 300 carries and didn't miss a game. Talk about a workhorse.
And what's better, Harris has proven he can do it for more than one season.
As a freshman, Harris rushed for 900 yards on 179 carries, receiving honorable mention All-Freshman honors in College Football News' selections.
And, if his sophomore season is any indicator for his junior one, he won't be breaking down near the end.
Against Virginia and Maryland—two November games—Harris rushed 38 and 41 times, respectively. After 10 games and in chilly weather, that's not a common feat for running backs.
No. 7: Ryan Williams, Virginia Tech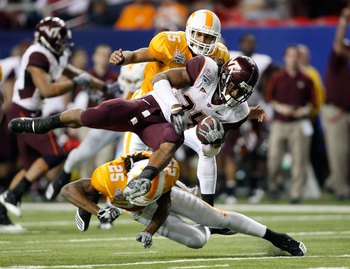 Just down the coast from Harris in the ACC lives what will be one of the best and most durable sophomore running backs in the country.
As a freshman, Ryan Williams of Virginia Tech rushed for 1,655 yards on almost 300 carries, an impressive 5.6-yard average.
Oh, and he also scored 21 touchdowns.
And, just for good measure, he also won ACC Rookie of the Year honors.
Talk about a way to start your career.
But what makes Hokies fans even happier is Williams' ability to step on the field Saturday after Saturday.
Taking the ball almost 300 times as a freshman is impressive, considering taking hits from ACC defenders is a little different than takings ones from high schoolers.
The irony in Williams even being on the field last year was that he stepped into the starting role for an injured Darren Evans.
It's safe to say Evans' replacement gave the Hokies what they needed and more: durability and the 8th-highest rushing total by a freshman in NCAA history.
Williams' running prowess in 2010 should have the Hokies in the national title hunt.
And luckily for VaTech, they can count on it every weekend.
No. 6: Jacquizz Rodgers, Oregon State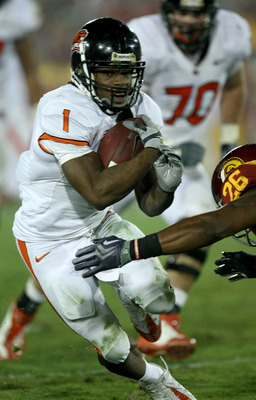 Going into his junior season at Oregon State, Jacquizz Rodgers is one of the most electrifying backs in the country.
In his first two years as a Beaver, Rodgers rushed for over 1,000 yards each season, including a 1,440 yard, 21 touchdown campaign last year.
And it's not like he's a guy coming off the bench catching the defense off-guard and never having to take a beating.
Over the last two years, Rodgers took the ball a total of 532 times. Just like any other back, Rodgers gets hit.
And in 2009, he was on the field for every game, bouncing back from a shoulder injury that kept him out most of the last three games of the 2008 season.
What's even more impressive is that Rodgers isn't exactly one of the most imposing runners in the land.
At 5'7", 191 pounds, Rodgers is simply tough. At that size, you don't become a Division I starting running back without having a lot of that quality.
No. 5: Dion Lewis, Pittsburgh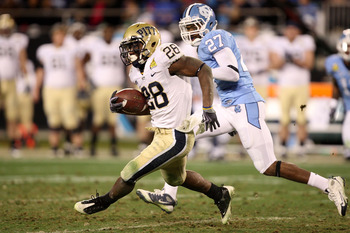 Although only a freshman last year, Pittsburgh running back Dion Lewis was second in the nation in carries with 325.
That's impressive for any running back. It's almost unbelievable for a freshman.
Why?
Because not only is that a lot of responsibility for a freshman, but also it's simply a ton of carries.
Oh, and there's just another little tidbit (pardon the pun) about Lewis: He's 5'8", 195 pounds.
As a tiny freshman, with almost 1,800 yards and finishing second only to Heisman finalist Toby Gerhart in total carries in 2009, if that's not impressive, I don't know what is.
Add on the fact that Lewis won both the Big East Offensive Player of the Year and national Freshman of the Year honors, and you've got one of the best freshman seasons in history.
And it's all possible because Lewis stepped onto the field every Saturday. When you're that small, that's anything but a guarantee.
Lewis should be a Heisman contender next year and with his speed, quickness, and surprising durability, he just might win it.
No. 4: Evan Royster, Penn State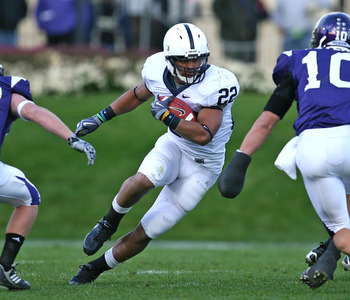 One of the most consistent—and overlooked—running backs in the country, Evan Royster will be entering his senior season at Penn State after two consecutive 1,000 yard seasons.
In 2009, Royster rushed for 1,169 yards on 205 carries and scored 6 touchdowns in guiding the Nittany Lions to an 11-2 season.
Part of the reason for Royster's success in his career (almost 3,000 rushing yards and 23 touchdowns) is his ability to stay on the field.
Although his carries have never been as high as other top runners, partially because of former quarterback Daryll Clark's own running ability as well as his passing prowess, there's something to be said for Royster's continued presence, and production, on the gridiron.
In two years as a starter, Royster hasn't missed a game. In the rough-and-tumble Big Ten, that's easier said than done.
Next year however, Royster's durability should pay off for the Lions.
With Clark's graduation, the offensive burden will fall on the running game. Although Royster may have been under-appreciated the previous two years, that perception should disappear in 2010.
No. 3: John Clay, Wisconsin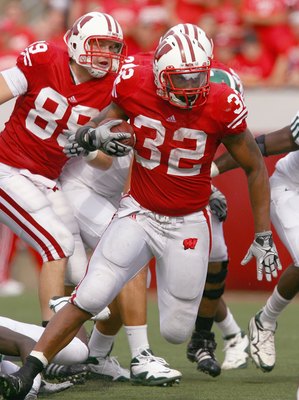 Standing 6'1", and weighing in at almost 250 pounds, Wisconsin running back John Clay is huge.
Last year, he punished undersized defenders all the way down the field en route to over 1,500 yards rushing and Big Ten Offensive Player of the Year honors.
And, unfortunately for those same defenders, injuring Clay to the point of forcing him from taking the field is about as easy as tackling him.
Iowa was able to do it and knock Clay out for the second half of that October game, but JC was back on the field for the Badgers' next game and promptly ran for 123 yards against Purdue.
Now, as his 287 carries last year indicate, Clay can take hits as well as he can give them out. In fact, he hasn't missed a game in his career as a Badger.
And, despite sitting out spring practice due to ankle surgery, don't expect a letdown from Clay next year.
No. 2: Mark Ingram, Alabama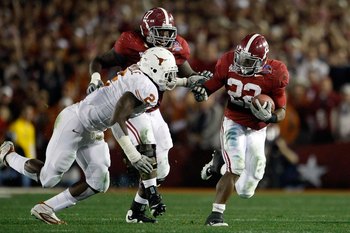 If you can't suit up, you can't win the Heisman. It's as simple as that.
And, as a sophomore last year, Alabama junior running back Mark Ingram did both of those things.
On 271 carries, Ingram rushed for almost 1,700 yards and 17 touchdowns without missing a game. Against those hard-hitting SEC defenses, that's not a feat to be taken for granted.
And, as added assurance for 'Bama fans, Ingram is definitely not a one-year wonder. As a freshman, backing up Glen Coffee, Ingram rushed for over 700 yards and 12 touchdowns.
And no, he didn't miss a game as a freshman either.
In 2010, Ingram will be needing that all-important durability. As a Heisman winner, he certainly won't go unnoticed next year.
There won't be a more keyed-on player in the SEC, if not the country.
No. 1: Noel Devine, West Virginia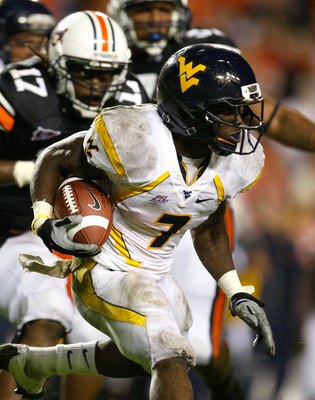 Maybe one the most-hyped high school running back recruits ever, Noel Devine will be entering his senior season at West Virginia in 2010 after three great years.
As a freshman, behind current Houston Texan Steve Slaton, Devine came off the bench to rush for over 600 yards on only 73 carries.
Then, when Slaton went pro, Devine took the reins in Morgantown. In the last two years, Devine has rushed for over 2,700 yards on over 400 carries, including almost 1,500 yards and 13 touchdowns last year.
For a player whose highlight tapes had millions of hits on YouTube, any college football fan would expect nothing less.
Although his speed and elusiveness are what Devine is known for, what's kept him from complete destruction in college football is his durability.
While in high school, many experts feared he lacked it; but he's still playing.
Why were there reservations about his durability?
Oh, only the fact that Devine stands an impressive 5'8" and weighs in at 176 pounds.
With over 500 attempts and almost 3,400 yards in his career, as well as zero missed games in the past two years as a starter, Devine has proven the skeptics wrong beyond a doubt.
Keep Reading