World Cup WAGs: Team Mexico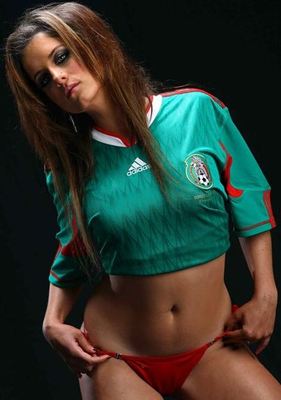 Mexico have featured in 13 of the 18 World Cup tournaments.
They have even hosted the tournament twice in 1970 and 1986.
The team however, have never made it past the quarter-final stage.
They'll be hoping to do a little better this time around.
Qualification wasn't easy for them and their group is potentially tricky with hosts South Africa, Uruguay and France.
All is not lost however, here are just some of the beautiful women who will be urging the 'El Tri' on to World Cup victory.
The Former WAG: Adriana Lavat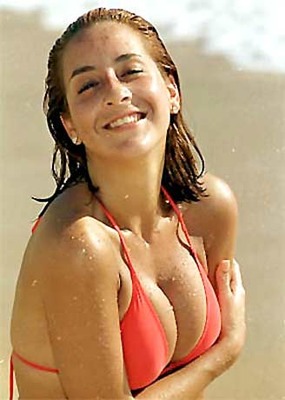 This is Adriana Lavat, an actress and model. She is also the former wife of Mexico captain Rafael Marquez.
I know what you're thinking. 'Former wife? Who could possibly be as stunning as her?'
Well...
The Current Wag: Jaydy Michel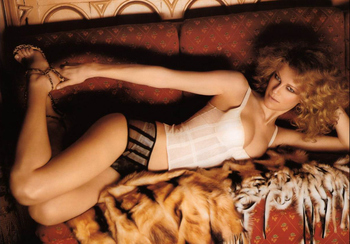 ...she is apparently.
This is Jaydy Michel, one of Mexico's top models.
Its probably safe to say, Rafael Marquez landed on his feet here.
The Pop Star Wag: Belinda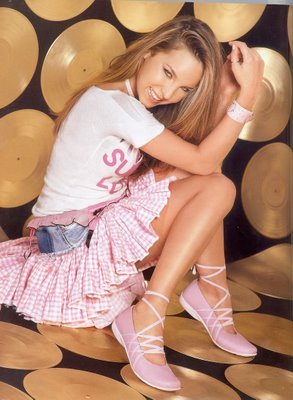 England had Posh'n'Becks, now Mexico have Belinda'n'Giovanni.
Belinda Peregrin Schull (who wisely chooses to just go by the name Belinda) is the pop star girlfriend of some time Tottenham Hotspurs player Giovanni Dos Santos.
Her music is described as being a lot like Avril Lavigne. I'll leave you to decide whether thats a good or bad thing.
Cuauhtemoc Blanco's girls #1: Galilea Montijo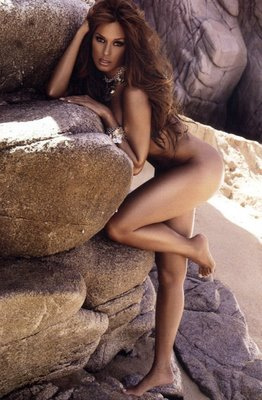 Cruelly, Cuauhtemoc Blanco, inventor of the Blanco trick (youtube it), was not selected for Mexico's final world cup squad.
That doesn't mean we can't enjoy some of his former ladies however.
First up: Galilea Montijo Torres. Former fiancee, actress and TV Presenter.
Cuauhtemoc Blanco's girls #2: Marisol Gonzalez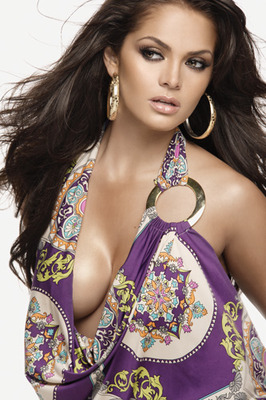 A former Miss Mexico, Monica Gonzalez was also a contestant in the 2003 Miss Universe competition.
If you look at Blanco, you have to wonder, footballer or not, how does he do it?
Cuauhtemoc Blanco's girls #3: Rossana Najera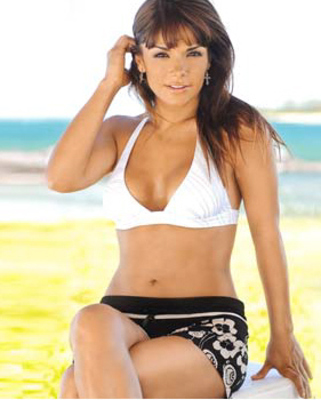 Blanco's current lady, soap actress Rossana Najera.
He is one lucky guy.
Salma Hayek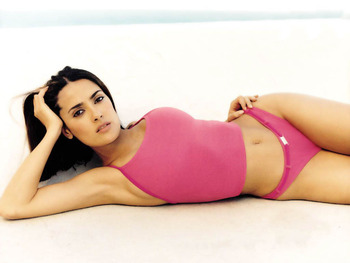 What would you do for the lovely Ms Hayek?
And you do want to make her happy don't you?
How about win a World Cup?
Now there's motivation for you.
Ana de la Reguera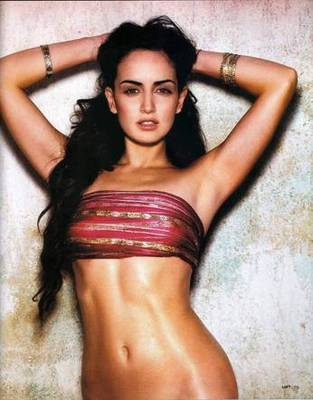 Actress Ana has been the face for products such as Pantene and Covergirl.
Her biggest role to date was in Jack Black film 'Nacho Libre', where she played a nun.
Not quite the same image as she presents here.
'Nacho Libre' was about an underdog wrestler. Mexico are regarded as somewhat an underdog team. Can they make good?
Kate Del Castillo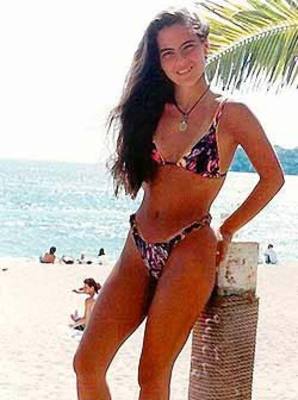 Kate del Castillo Negrete Trillo is a Mexican actress as well as being a former WAG, having once been married to Mexican international Luis Garcia Postigo.
However, Luis Garcia retired from football in 2001. The couple were married until 2004.
Does that mean she was also in retirement in those years? Can you retire from being a WAG?
...you're not seriously reading any of this are you?
Melina Perez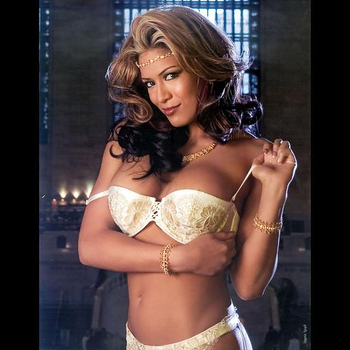 Any fans of WWE would have already recognised the beautiful Diva Melina.
Melina herself was born and raised in California, but qualifies for Mexico due to her Mexican lineage.
No doubt she'll be hoping Mexico lay the smackdown on their opposition.
Monica Gonzalez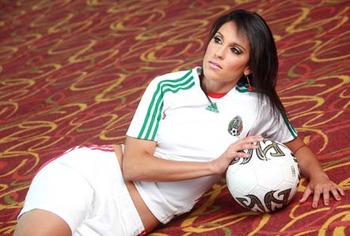 As well as being a stunning, 5'10" model, Monica Gonzalez is also captain of the Mexico women's team.
Fair to say, she knows her stuff.
Amanda Rosa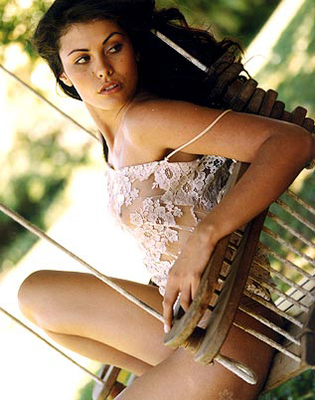 Amanda is a very popular soap actress in Mexico with a liberal attitude towards clothes.
Hopefully, the Mexican team won't need the melodrama to go all the way in the tournament (or the nudity).
Elsa Benitez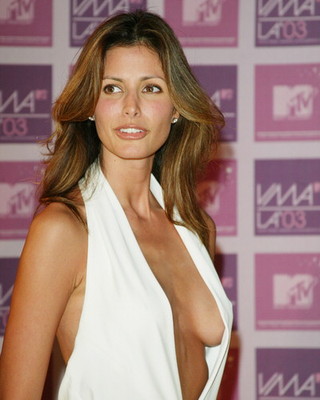 Elsa is Mexico's answer to Tyra Banks.
She is the host of 'Mexico's Next Top Model' after all.
Can Mexico be the 'World's Next Top Team?'
Jimena Sanchez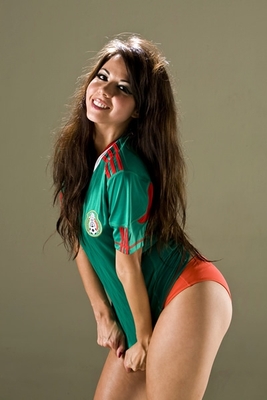 A sports journalist by trade.
Sexy minx in her spare time.
Mayte Carranco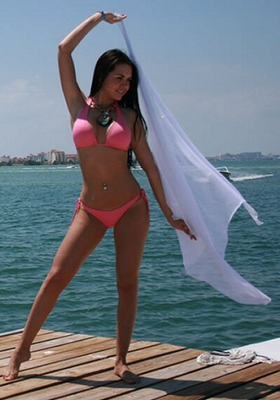 Ms Carranco is Mexico's top TV Weather girl. Well, I've decided she is anyway. To be honest, I don't really know much about Mexican weather girls but she is my favourite.
Her outlook seems pretty fine from here, but how about the outlook for the Mexico team?
Perla Beltran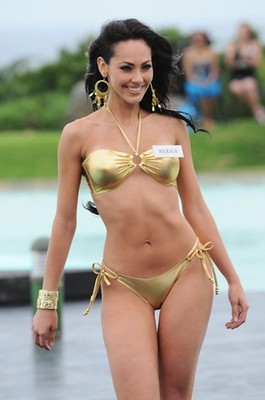 The lovely Perla was Mexico's entry into the 2009 Miss World beauty contest where she finished as runner-up.
No doubt, she'll be hoping Mexico go one better in the 2010 World Cup football contest.
Ines Sainz Gallo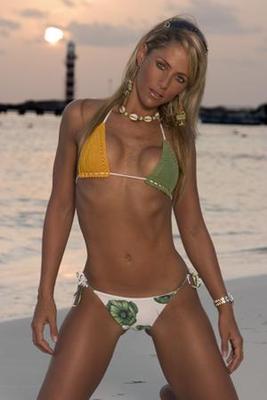 While many of us contemplate a summer looking at Gary Lineker and Mark Lawrenson, this is who the lucky Mexican football fans will be greeted by when they switch on their TV's during the World Cup.
Mexico fan #1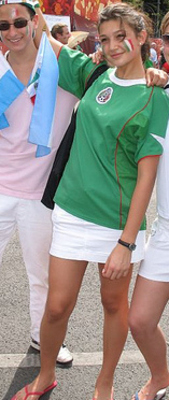 What is a side without its fans?
Here's just one example of Mexican beauties we can expect to see during the tournament.
Mexico fan #2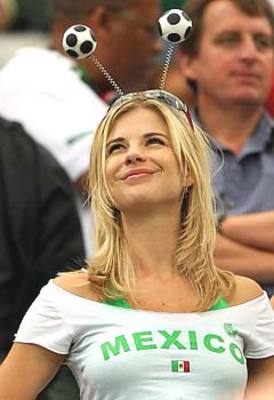 The further Mexico go, the more ladies like this we'll get to see.
What better reason to give Mexico your support?
Mexico fan #3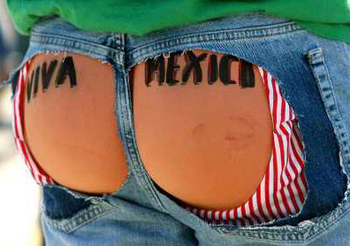 Keep Reading