The NBA: Where Improbable Trades Happen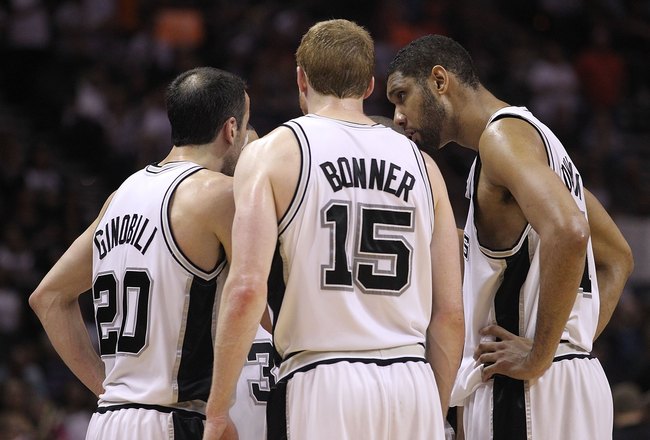 With the NBA Draft approaching, fans and front offices are looking to revive, reshape and transform their respective franchises. This leads to many strange, often unfounded rumors as hope spreads that next year could be the one.
Earlier this week, Derrick Favors, a certain top five and probably top three pick remarked how he expected the San Antonio Spurs would try and trade for him. This caused me to try and work out how, as well as create some other unlikely trades.
This article will also include a mock draft with how these trades would go down.
* All the math for these trades has been done, but was too boring to include in full detail.
Trading For Derrick Favors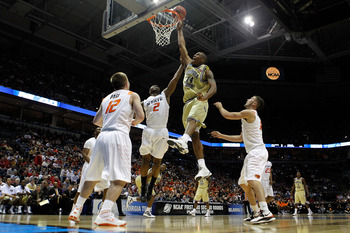 After a second round sweep at the hands of the Suns, San Antonio is looking to get younger while still making the most out of aging stars Tim Duncan and Manu Ginobili. It's possible the spurs feel adding Favors would be like when they drafted Duncan all those years ago. Now to the details.
This is either a three-way trade or two separate ones. To make things easier to understand I will just list what each team receives.
Philadelphia Receives:
Richard Jefferson's expiring contract, pick 20, and the draft rights to Tiago Splitter, one of the best bigs in Europe.
San Antonio Receives;
TJ Ford, Mike Dunleavy Jr, Troy Murphy, and the number two pick in the 2010 NBA Draft Derrick Favors.
Indiana Pacers Receive;
Elton Brand, Tony Parker, and a future first-round pick from the Spurs.
Why Would Each Team Do This?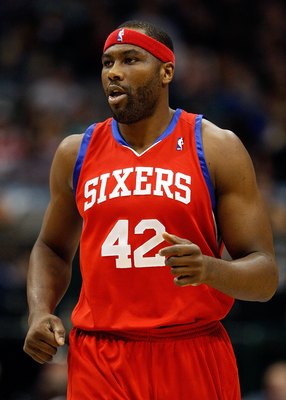 Why Would Philadelphia trade away a chance at Evan Turner or Derrick Favors you ask. Its all about the money. Elton Brand has probably the worst contract in the league, being owed another $51 million over the next three years.
Unfortunately for the 76rs, he doesn't fit with the uptempo style that the team is built for.
By taking back Jefferson's expiring contract Philly saves over $30 million during the next three years and gets the financial flexibility to build for success, something that couldn't happen until they got rid of Brand.
So where does Indiana fit in? The Pacers have been stuck in the lottery for the last several years thanks to some bad contracts. However, due to their refusal to tank they normally miss out on the best players in the draft.
Indiana has been waiting for the summer of 2011 where they would try to sign a free agent to compliment All-Star Danny Granger.
Parker is probably the best player in this class, so they use their expiring contracts to lock him up to a long term deal. Brand is also a better fit on the Pacers as they play a slower, more deliberate brand of basketball.
With the current condition of the Eastern conference, a team of Parker, Jones, Granger, Brand and Hibbert should be enough to make a small run in the playoffs.
Building In Minnesota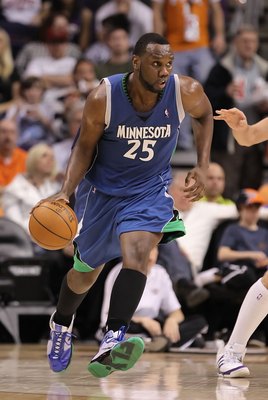 Minnesota has some problems. Coming off a 14-win season, their two best players couldn't be on the court at the same time. Darko Milicic was brought in to improve the team and did. It was the same Darko.
So how do you fix the Jefferson-Love Triangle issues? By trading the player that will return the most value to a place where they are most needed.
You send Al Jefferson, pick 16, and pick 23 to Detroit for Tayshaun Prince, Charlie Villanueva, and pick seven.
Detroit gets one of the best post scorers in the league and gets out of Charlie V's contract. There will be more changes in Detroit later.
Minnesota gets a professional for the young locker room in Prince who they can flip at the deadline for more assets if they choose.
Villanueva provides extra size off the bench and can open the floor with his shooting.
With pick number seven Kahn would draft a local, Cole Aldrich, to start at center and hopefully put the Darko era to rest.
Detroit Makes Another Move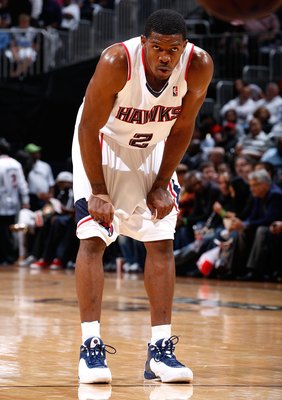 Joe Dumars always said this would be a quick rebuild. With a viable front court player available, the Pistons look to add a piece. In this case, by making a max offer to Atlanta and Joe Johnson via sign-and-trade
Detroit Receives
Joe Johnson re-signed to a max offer, and pick 24
Atlanta Receive
Rip Hamilton, pick 16, pick 23, and a future first
Detroit can absorb Johnson's salary thanks to the money saved in the Jefferson trade.
Also Houston trade pick 14, a future first, and cash to the Los Angeles Clippers for pick eight
Starting Fives For Traded teams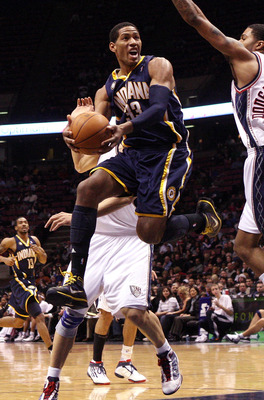 Further free agency will obviously fill out some of these rosters and maybe even change them.
Atlanta Hawks
PG Bibby SG Hamilton SF Williams PF Smith C Horford
Atlanta adds a few nice new pieces, and someone with championship experience.
Detroit Pistons
PG Stuckey SG Gordon SF Johnson PF Jerebko C Jefferson
This team lost most of its role players to the free agency pool, and will look much better when the roster is filled out.
Indiana Pacers
PG Parker SG Jones SF Granger PF Brand C Foster
A nice starting lineup with some good young bench players.
Philadelphia 76ers
PG Holiday SG Iguodala SF Young PF Speights C Dalembert
This team has its identity back. It will run past you, dunk on you, and lose a lot of games. But it will be fun.
The team will be financially viable and they will make a run in a couple of years.
San Antonio Spurs
PG Hill SG Ginobili SF Dunleavy PF Favours C Duncan
This team will be near the top of the west for a few more years.
Mock Draft What They Should Do 1.0 1-14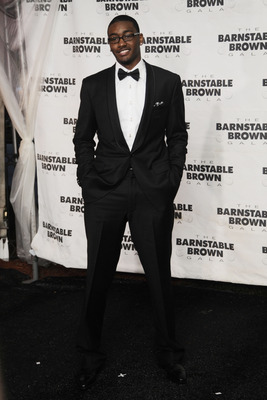 Washington Wizards 1. PG John Wall
San Antonio Spurs 2. PF Derrick Favors
New Jersey Nets 3. SG Evan Turner
MInnesota Timberwolves 4. SF Wesley Johnson
Sacramento Kings 5. C Demarcus Cousins
Golden State Warriors 6. SF Aminu Al Farouq
Minnesota Timberwolves 7. C Cole Aldrich
Houston Rockets 8. PF/C Donatas Motiejunas
Utah Jazz 9. PF Greg Monroe
Indiana Pacers 10. SG Xavier Henry
New Orleans Hornets 11. C Hassan Whiteside
Memphis Grizzlies 12. SF Gordon Haywood
Toronto Raptors 13. C Ekpe Udoh
Los Angeles Clippers 14. SF Paul George
The Rest Of The First Round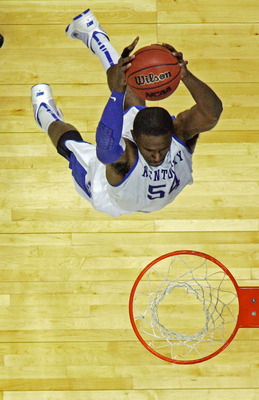 Milwaukee Bucks 15. PF Ed Davis
Atlanta Hawks 16. PG Eric Bledsoe
Chicago Bulls 17. SG James Anderson
Miami Heat 18. PF Patrick Patterson
Boston Celtics 19. SG Avery Bradley
Philadelphia 76rs 20. PF Larry Sanders
Oklahoma City Thunder 21. C Daniel Orton
Portland Trailblazers 22. SF Luke Babbitt
Atlanta Hawks 23. SF Stanley Robinson
Detroit Pistons 24. F Damion James
Memphis Grizzlies 25. G/F Quincy Pondexter
Oklahoma City Thunder 26. C Solomon Alabi
New Jersey Nets 27. SF Devin Ebanks
Memphis Grizzlies 28. PF Gani Lawal
Orlando Magic 29. G Willie Warren
Washington Wizards 30. SG Lance Stephenson
Keep Reading

Indiana Pacers: Like this team?