Phoenix Coyotes 2009-2010 Forwards This Season and Next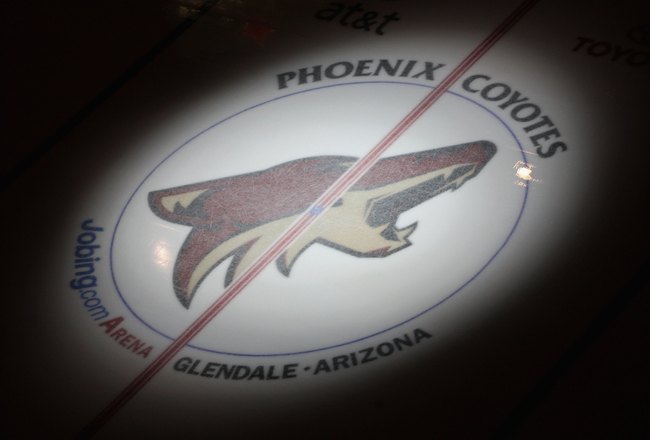 This is a look at the Phoenix Coyotes forwards from this past season 2009-2010 and if they are on the team next year the role they will play and what is expected of them. Upcoming season lineup prediction (assuming all key UFAs and RFAs are resigned) 1st Line Wolski/1st Line Center/Doan 2nd Line Upshall/Lombardi/Stempniak Shutdown Line Prucha/Hanzal/Vrbata 4th line Korpkoski/Fiddler/Winnik Depth- Nokelainen/Bissonnette/Pyatt Injury call ups-Boedker/Tikhonov/Turris/MacLean
Shane Doan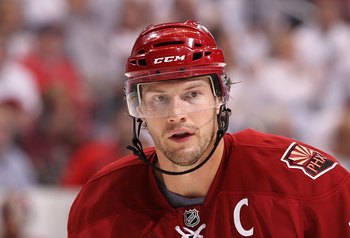 Shane Doan is the heart and soul of this team. He has been with the team since its move to Phoenix and he isnt getting any younger. He will be turning 34 in October.
This past season was the first one since the 1998-1999 season that he failed to score 20 goals. The season was not a failure, though. He lead all forwards on the team in ice time at over 19 minutes per game. He was second in hits with 154 behind Hanzal and first with take aways with 49.
It's safe to say he'll be anchoring the first line next season. He will be on the PP and PK units.
Wojtek Wolski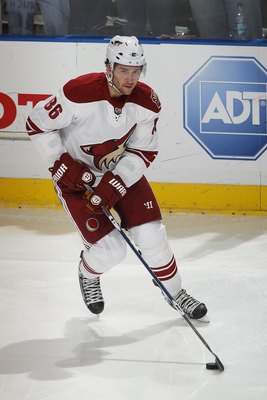 Wojtek Wolski: When the Coyotes aquired Wolski they aquired the offensive player they were looking for that would help with their goalscoring. In 18 regular season games he scored 18 points, was +6, and averaged 18 minutes of ice time per game.
The 24-year-old is poised to break out and many feel he can be a top line player who puts up 70+ points in a season. He is a RFA and very important to the offensive potency of this team next year. He will be a first line player who will see lots of time on the PP.
Scottie Upshall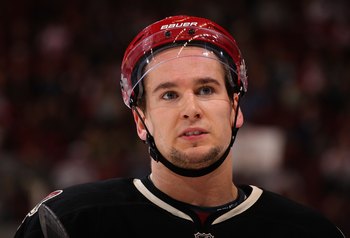 Scottie Upshall: Scottie Upshall was the offense for the Coyotes before he went down with a season ending leg injury with over 30 games to go. He was a spark plug offensively who led the team in goals and was always creating offensive chances with his linemate Lombardi.
If he returns to full form he could put up 50+ points on the second line. He is also a RFA after only signing a one year deal last year. His performance proved he was worthy of a raise but the seriousness of his injury now raises questions as to how well he can recover.
He is one of the key forwards the team should look to sign. He is slotted to be on the second line with Lombardi and will see time on the PP.
Matthew Lombardi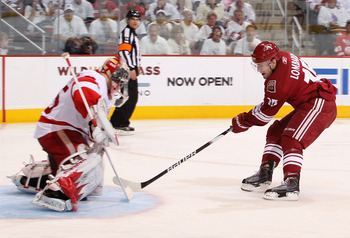 Matthew Lombardi: The Coyotes and their fans have been excited to have Lombardi from the moment they aquired him. On a team that was last in the league at faceoffs Lombardi provided a solid centerman who was not a liability in the faceoff circle and had blazing speed.
While he may never be an elite top-line center has has shown the ability to be productive. He finished the season with 19 goals and 53 points. It would not be a surprise for him to earn 20 goals and 60 points next season.
He is a key UFA that the team needs to focus on resigning. He is slated to be a second line center type of player who will see time on the PP.
Lee Stempniak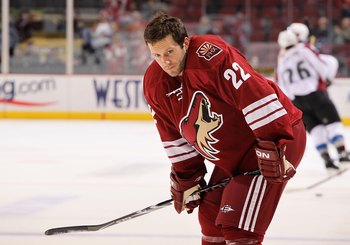 When the Coyotes traded for Stepniak at the trade deadline he was expected to be a solid 2nd/3rd line player who could contribute offensively. Nobody predicted that he would go on the tear that would have people would calling him Ovechniak when he scored 14 goals in 18 games.
Unfortunately, he failed to have an impact in the team's playoff series against the Red Wings. He has impressed enough during his short stint with the team for fans to welcome him back at reasonable terms. In all honesty we are looking at a second/third line player that Maloney isn't going to overpay.
If he wants too much of a raise expect Maloney to look for another UFA to bring in or give Boedker, Tikhonov or MacLean a shot. He would see PP time if on the team.
Petr Prucha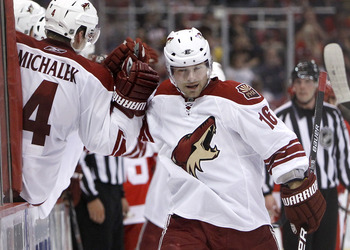 When the Coyotes aquired Prucha from the Rangers the general consensus among Rangers fan is that Prucha was a gutsy guy that worked hard and the fans loved. It didn't take long for Prucha win the hearts of Coyotes fans either.
In 79 games he delived 73 hits despite usually being the smallest guy on the ice at 170 lbs. He was a big part of the team's most well known Czech line. He was a solid player offensively who scored 13 goals and has the potential to score more.
He is expected to be on the top shutdown line with Hanzal. He willl see time on the PP and PK.
Martin Hanzal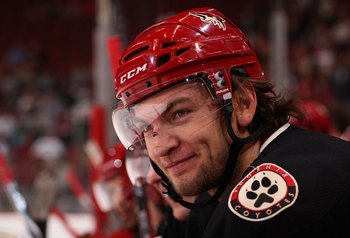 Martin Hanzal: This 23-year-old Czech has quickly developed into a core player on the team. He was second among forwards in ice time with 18:28 in ice time.
While his offensive numbers have not improved much, his defense and presence on the ice has been relied heavily on. He has also become more physical and finished the season with 104 penalty minutes, a huge jump up from last season's total of 40.
He has shown a willingness to stand up for his teammates that was not established before. He also lead all forwards on the team with 175 hits. He played key minutes on the penalty kill and blocked 42 shots, third amongst forwards.
He is slotted to be the center on the shutdown line and will usually see 17-20 minutes of ice time per game. He will be a top line PKer. He is a RFA and hopefully Maloney will lock him down for a long time.
Radim Vrbata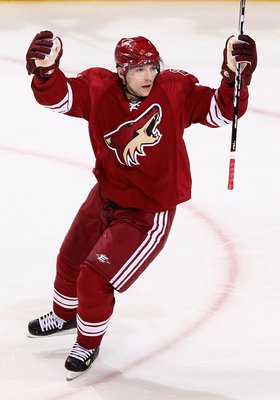 Radim Vrbata showed in his first stint with the team that he could be productive offensively and defensively and in shootouts. When he was brought back he was immediately put back on a line with fellow Czech Hanzal who he was familiar with and countryman Prucha.
In spite of their lack of size their commitment to defense earned them lots of playing time. They were also an offensive line that created chances and capitalized.
Vrbata finished with 24 goals and 8 shootout goals. He may be slightly overpayed at $3 mil per year, but he is slated to be on the top shutdown line with Hanzal and Prucha. He will get PP and PK time and play a key role in shootouts.
Lauri Korpikoski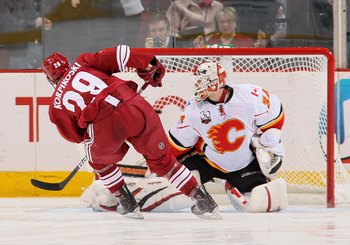 Lauri Korpikoski: When the Coyotes traded Enver Lisin for Korpikoski the general opinion was cautiously optimistic. Lisin was a goalscorer with blazing speed. Korpikoski was known to have speed and play a more defensively responsible game.
He turned out to be a nice surprise and solid player for the team. In 71 games he chalked up 92 hits. His offensive numbers failed to improve despite his speed and creativity.
He was, however, a key to the Coyotes' shootout success. His 7 goals in 17 shots were second only to Vrbata's 8. He also had two game-deciding goals in the shootout. He is slated as a fourth line winger who will get to see time on the PK and on shootouts. He is also a RFA.
Vernon Fiddler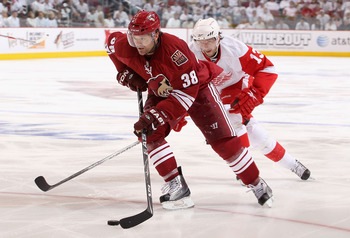 Vernon Fiddler: Vernon came into the season with the expectations of being a fourth line player with a limited role. He turned out to be a huge surprise. In 76 games he finished 6th on the team with 30 points.
He was also able to fill in on any line. He was tied for the lead with a +/- of 13 and also had 3 shorthanded goals. He also lead the team in faceoff winning percentage and was second in blocked shots with 47.
He was one of the key players on the team. In spite of being slotted as the fourth line center Fiddler will have a bigger role to play on the team. He will see time on the PK.
Daniel Winnik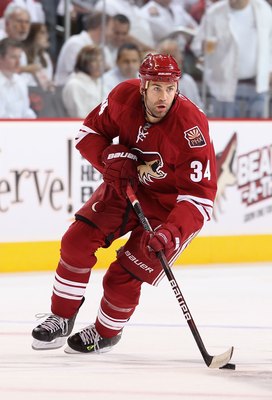 Daniel Winnik: After Winnik's mediocre season last year it was unclear what role he would play on this team. He was on the bubble and many felt that if someone was not going to make the team it would be him. He didn't sit back and take his position for granted however.
He stepped up his game and was a dominate force on the fourth line with Fiddler and Pyatt or Korpikoski. He landed over 100 hits and lead forwards with 54 blocked shots. He is a RFA who if retained would be a fourth line player with time on the PK.
Petteri Nokelainen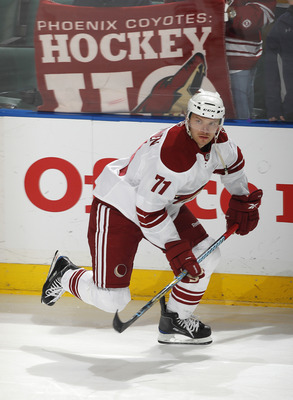 Petteri Nokelainen: The Coyotes traded for Nokelainen at the tradeline as they looked forward to the playoffs and realized they were relying on Lang a little more than they wanted to.
He played solidly but under the radar in his 17 regular season games. He did not have an offensive impact but did play on the PK and he played with a physical edge and was solid in the faceoff circle. If re-signed he would be a fourth line/depth type of player and see time on the PK.
Taylor Pyatt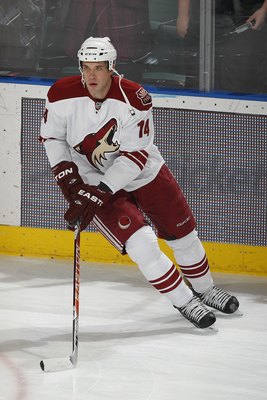 Taylor Pyatt: The reaction to Pyatt has been mixed during his year with the Coyotes. Most people were unimpressed with his career up to this point and the way he began the season.
Without making any excuses for him there were personal issues over the offseason and early in the season that he struggled to deal with. He emerged as a solid player with more a physical presence than he was known for despite his size.
When teamed up with Fiddler and Winnik, they made an imposing line. He was third among forwards with 115 hits and finished with 12 goals to establish himself as a solid team player. He is a UFA and if retained would be expected to be a third/fourth line forward.
Paul Bissonnette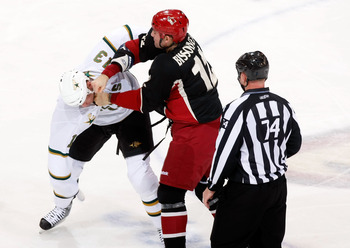 Paul Bissonnette: Paul came to the team just as the preseason was ending and the regular season was set to begin. The 6'3", 220 lb 25-year-old left winger was just the muscle the Coyotes were looking for.
He came in as a team player who understood his role and did just that. He played in 41 games and chalked up 117 penalty minutes. He averaged just under six minutes of ice time but still racked up 78 hits.
He didn't take minutes away from other guys like Fedoruk, cause a distraction like McGratton, or take penalties that hurt the team like Carcillo. He looks to be a depth player that could see anywhere between 20-50 games.
Robert Lang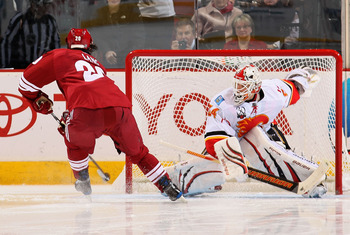 The 39-year-old center was called in to provide depth and leadership at the center position and help on the power play. While his stick handling, anticipation and experience were all very helpful to this team his skating and speed hindered him from being more of an offensive presence.
He was helpful in shootouts when given the chance. He scored in five of eight chances. If the organization decides to keep Nokelainen or feels that Turris has developed enough to earn a shot Robert Lang probably won't be returning. I hope he lands somewhere. It would be a shame to end a career 11 games short of 1,000 career games.
Mikkel Boedker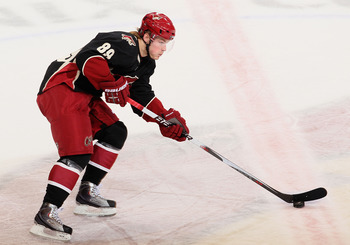 Mikkel was drafted because we was close to being NHL ready. In his rookie season he showed flashes of brilliance and the speed that created chances and drew penalties.
Many felt that he had a spot looked up on the team going into this past season but Tippett opted to go with a team of veterans and limit the ice time of the younger players.
Boedker appeared in 14 games but was usually kept under 10 minutes of ice time per game. Boedker will be first in line as an injury call up and is expected to eventually become a top-six forward.
Viktor Tikhonov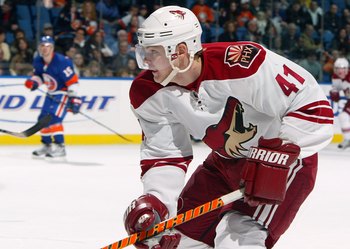 Viktor Tikhonov: The Russian forward who grew up in America is in a very similiar position to Boedker. He earned lots of playing time his rookie year and was expected to earn time with the team this last year but things did not work out that way for him and he ended up leaving for Russia.
He'll have another year under his belt and another shot at a roster spot in the preseason though. He is known more for his defensive play and decent offensive skills. If he makes the team he will probably see some PK time.
Keep Reading

Phoenix Coyotes: Like this team?