Five Best Philadelphia Phillies of 2010 (So Far)
Moving into interleague play, the Philadelphia Phillies are off to a hot start toward a third consecutive World Series appearance. Is it too soon to start rating the Phillies players' performance? Perhaps, but I'd like to try anyway.
Ladies and gentlemen, your early-season 2010 Philadelphia Phillies MVPs.
Honorable Mentions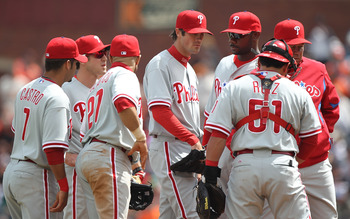 10) Jose Contreras, RHP: 14.1 IP, 2-1 W-L, 2 SV, 0.63 ERA, 0.70 WHIP, 20 K, 12.56 K/9
9) Carlos Ruiz, C: .309 BA, .443 OBP, .865 OPS, 2 HR, 11 RBI
8) Placido Polanco, 3B: .302 BA, 5 HR, 21 RBI, 10 2B
7) Shane Victorino, CF: .264 BA, 8 HR, 33 RBI, 5 3B, 8 SB
6) Cole Hamels, LHP: 5-2 W-L, 3.92 ERA, 1.40 WHIP, 60 K, 9.42 K/9
5) Ryan Howard, 1B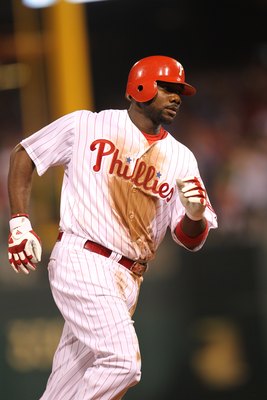 After inking a five-year contract extension that may make him a Phillie for life and almost certainly caused Albert Pujols to salivate in anticipation of this offseason, Ryan Howard has delivered in major form for the Phils.
Through 41 games, Howard is batting .310, almost 30 points above his career average. He has also hit eight home runs and driven in 32 runs to this point.
Keeping him from a higher ranking are the fact that he is only slugging .503 and his OPS is below 1.0. With the kind of raise he received come higher expectations as well. Hitting anything fewer than 40 home runs would be a disappointment.
4) Jamie Moyer, LHP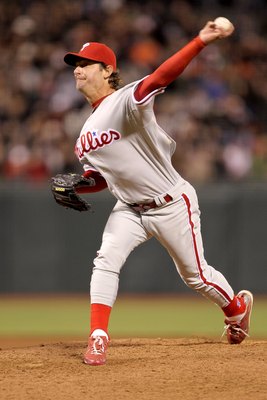 You could make an argument for Cole Hamels here, but Jamie Moyer is the surprise player of 2010 so far. The man is 47 years old and threw a complete game, two-hit masterpiece of a shutout. His fastball is the speed of a power pitcher's change-up.
Platitudes aside, his only gaudy number so far is his 1.05 WHIP, His 5-3 record and 4.30 ERA aren't reflective of his contributions to the team.
He has allowed the Phils to deal with injuries to J.A. Happ and Joe Blanton early in the season without a significant letdown. In fact, the argument could be made that he'd have outperformed them thus far even if they were healthy.
3) Chase Utley, 2B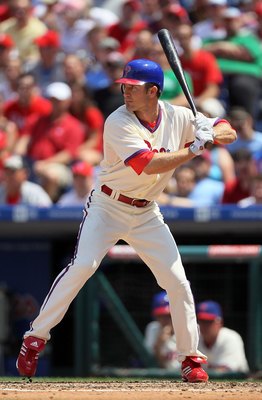 One of only two Phillies with significant at-bats with an OPS over 1.000 (hint: you'll see the other one later), Chase Utley leads the team with 10 home runs. Utley is batting .308 and leads the team (100+ AB) with a .432 OBP.
It's hard to find fault with Utley's game. He plays solid defense and is perhaps the Phillies' most consistent offensive player.
2) Jayson Werth, RF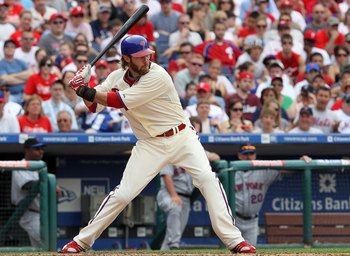 Easily the team's offensive MVP thus far, Jayson Werth has aligned himself as one of the leagues' elite outfielders. His 1.036 OPS is good for third in the MLB. He leads the team (100+ AB) in batting average (.329), RBI (33, tied with Shane Victorino), and slugging (.658).
And if it weren't for Andre Ethier's otherworldly season to this point, he'd be among the leading candidates for NL MVP as well.
If any criticisms can be leveled against Werth, it's that he strikes out too much (37) and doesn't get on base enough (.406 OBP).
With better pitch selection and a few more dingers, Werth could work his way into the Triple Crown discussion.
1) Roy Halladay, RHP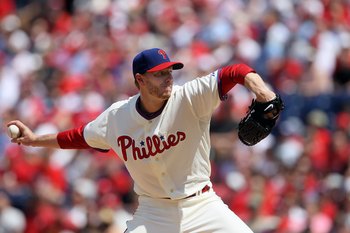 This may come as a surprise, but Roy Halladay is the Phillies' best player.
Halladay has been everything Phillies fans expected this season. If it weren't for a ridiculously good start by Ubaldo Jiminez and some poor run support, Halladay would be the easy leader for the NL Cy Young thus far.
In nine starts, Halladay has posted a 6-2 record with an ERA of 1.64, a WHIP of 1.05 and 58 strikeouts. He leads the league with four complete games (two more than the nearest pitcher) and two shutouts. His two losses can be chalked up in part to inadequate run support.
Halladay has been a force this season and shows no signs of slowing down. I still like his chances at a 25-win season and NL Cy Young.
Keep Reading

Philadelphia Phillies: Like this team?