Cleveland Browns: Top 10 Players with Something to Prove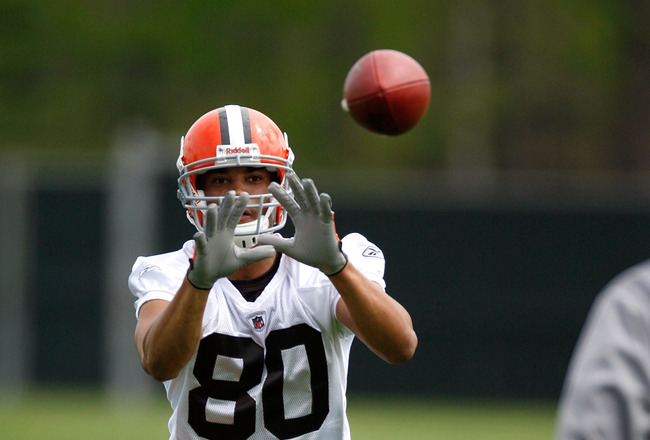 In the upcoming 2010 season, several Cleveland Browns players need to prove themselves, either to keep their jobs or to help the team have a successful season.
Some need to prove they are consistent and some need to prove they have the talent. Still, others need to prove they can stay out of trouble or avoid injuries. Every player on this list has something to prove one way or another, and they all need to do it now!
No. 10: Joe Haden
Being a top 10-draft pick comes with a lot of things, money, fame, and status among them. It also means you have to prove yourself almost immediately.
Most rookies have room to make mistakes and learn from them, but players drafted as high as Haden are expected to be stars immediately. He will have to make the adjustment to the pro game fairly quickly if he wants to avoid the premature whisperings of a "bust."
No. 9: CJ Mosley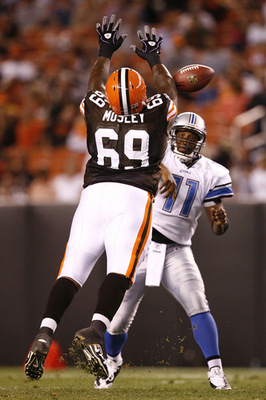 Coach Eric Mangini brought CJ Mosley, former Jets player, with him from New York. Mosley earned a starting job early in camp for his run stopping ability. But for a rush defense that finished 28th, it's obvious he didn't help the unit much.
He also finished the season without a sack for the first time in his career. If he doesn't want to be seen as just another replaceable DE he will need to improve in all areas.
No. 8: Jerome Harrison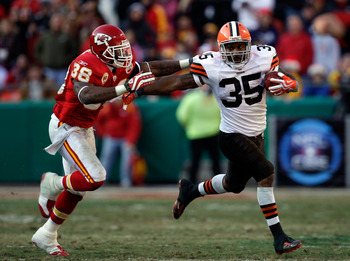 After getting his first chance to start towards the end of the season, Harrison finished magnificently. The highlight was his game against the Kansas City Chiefs, where he rushed for the third-most single-game yards in NFL history (behind Adrian Peterson and teammate Jamal Lewis, and ahead of Cleveland Browns legend Jim Brown).
Despite all this, many are skeptical he can carry the load for a full 16 game season, and the Browns brought in two bigger backs in Peyton Hillis and Montario Hardesty.
He is also looking for a larger contract, so he needs to prove he can handle the load while proving that he's worth the money he wants. Harrison needs 2010 to be his breakout season.
No. 7: Eric Barton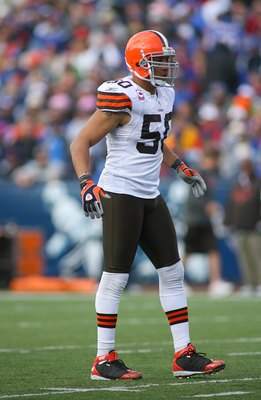 With an injury-shortened, eight-game year, Barton had his worst statistical season since his four-game year for the Jets in 2005.
Coming over from the Jets knowing Mangini's system, he should have been the leader of the Browns linebacking corps. Maybe he helped the younger guys learn the system off the field, but on the field, he was a disappointment who failed to put up a sack.
No. 6: Brandon McDonald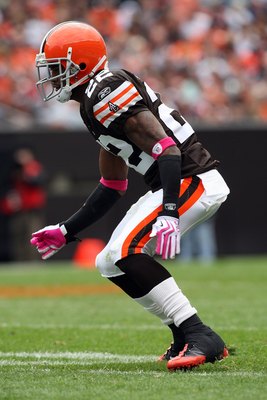 In one offseason, BMac has likely seen himself go from a starting cornerback to No. 4 on the depth chart. The front office has shown a lack of faith in McDonald since they arrived, first failing to mention him as a player with starting talent in the secondary, then by bringing in two more cornerbacks in Sheldon Brown and Joe Haden.
BMac's spot on the roster may even be on the line, so he will need to prove himself early on during training camp and in preseason games. The good news for him is he may be in the long-term plans with Sheldon Brown helping groom him into the nickel back, a spot many fans think would suit him best.
No. 5: Shaun Rogers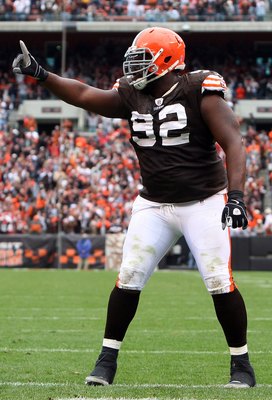 While there is no disputing Rogers is a good player, his effectiveness is in question. After being injured, the Browns defense seemed to improve when Atybah Rubin replaced him.
It has been said that Shaun likes to freelance too often instead of going with the play call, which causes holes in the defensive lines at times. Because of this, there were a lot of pre-draft trade rumors involving Rogers, rumors that ended when he was arrested for having a loaded gun (registered) in an airport.
Now not only does Rogers have to prove he can stick to his assignments during plays, but he also has to prove that he can stay out of trouble.
No. 4: Abe Elam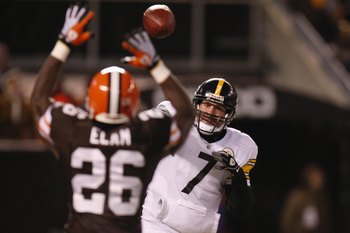 Elam was the key player in the 2009 draft day trade with the Jets (aka the "Sanchez Trade"). Elam had people excited about the Browns secondary, a unit that ended up being a weak point of the team. While it wasn't all Elam's fault, he didn't always play well.
While the new front office endorsed him as a legitimate starter in the secondary, the drafting of two safeties has to have Elam feeling some pressure. If he wants to keep his starting job he will need to stop being sucked in on play action and do a better job in coverage.
No. 3: Jake Delhomme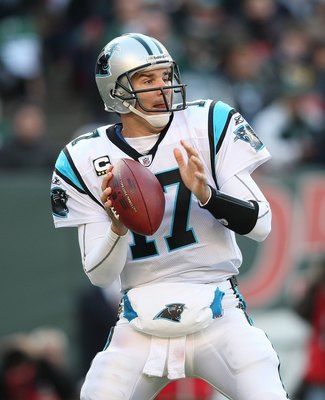 It should be no surprise to see Delhomme on this list. After being cut by the Carolina Panthers, he is expected to be the Browns starting quarterback this season.
A year removed from throwing 18 interceptions to just eight touchdown passes and a completion percentage of 55.5%, Browns fans are hoping he can return to the old Jake Delhomme, the one who led the Carolina Panthers to the Super Bowl during the 2004 season.
It should be noted his QB rating of 59.4 in 2009 still tops Derek Anderson's 42.1, but not Brady Quinn's 67.2. For his career his rating is in the 80's, so there is reason for optimism. It will need to be that Delhomme on the field if he doesn't want to hear chants for Seneca Wallace or Colt McCoy.
No. 2: Brian Robiskie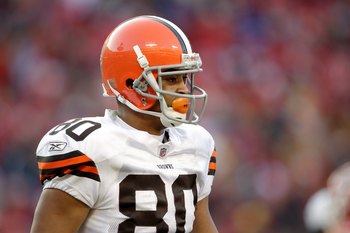 Being tabbed as the 2009 draft's "Most NFL Ready" WR coming out of Ohio State, Robiskie didn't see much playing time and was considered by many to be a major disappointment. Seven catches for a second rounder in a year not shortened by injury is a letdown, especially when the team's top receiver is also a second round rookie.
Robiskie is already dangerously close to being written off and considered a bust by many. Every Browns fan will be watching Robiskie closely this year, hoping he has what it takes to make it in this league. He will need to show us something starting with Tampa Bay this season.
No. 1: David Veikune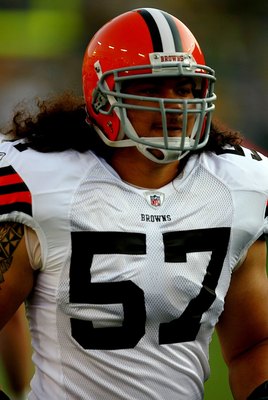 Another 2009 second round pick who didn't live up to his draft status, Veikune has no excuse this season with Wimbley gone.
He is supposed to be a dangerous pass rusher, recording 16 sacks his last two seasons at Hawaii as a DE. Last season with the Browns he didn't record a single stat.
Changing positions from DE to linebacker may be slowing his progress, but he will still need to show a lot of improvement if he hopes to keep his spot on the team. As of now, he is the biggest mistake of the Mangini era and needs to step it up.
Conclusion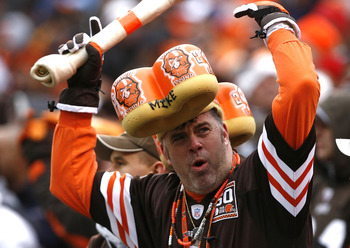 Like many others around the league, these 10 players need to step up and prove themselves this year. If they do this team could surprise a lot of people, if not they will likely disappoint. Either way, if they want to show they are a part of the Cleveland Browns' future, the time is now.
I appreciate any feedback, positive or negative. Feel free to suggest any players you think I left out or shouldn't have included.
Follow me on Twitter @deg4
Keep Reading

Cleveland Browns: Like this team?