Who is the Best CB in the NFL: Nnamdi Asomugha or Darrelle Revis?
"Shut down" corners are few and far between.
With many great cornerbacks over the years, the term has only been used on about half a dozen of them.
Players like Dick "Night Train" Lane, Darrell Green, Rod Woodson, Deon Sanders, and Champ Bailey (in his prime) were players who put fear in the hearts of quarterbacks and offensive coordinators.
Today, with solid corners in abundance, two corners stand out above the crowd as true "shut down" corners: Nnamdi Asomugha and Darrelle Revis.
We take a look at both to ask the question, "who is better?"
Nnamdi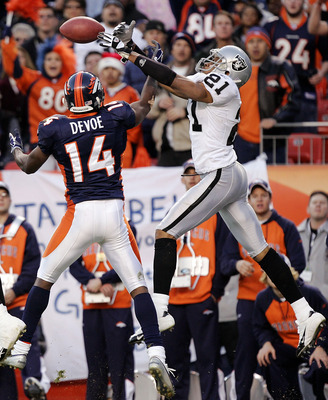 Standing 6'2" and weighing in at 210 pounds, Nnamdi is a force to be reckoned with.
In 2007, quarterbacks threw in his direction only 31 times for staggering 10 receptions.
In 2008, he was tested only 27 times, giving up only 8 receptions for the year.
The living embodiment of "shut down," Nnamdi shuts off an entire side of the field.
With a rare combination of height, speed and quickness, Nnamdi is one the best ever at the position.
Darrelle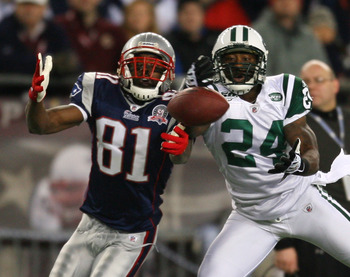 Standing at 6'0" and 198 pounds, Revis has faced the NFL's best quarterbacks and wide receivers, and shut them down.
Andre Johnson, arguably the best wide receiver playing today, was held to four passes for 35 yards against him.
After much trash talk, Chad Ochocinco faced Revis twice for a total of two catches and one interception.
Randy Moss scored one of the two touchdown yielded by Revis, but was shut down in their first match-up, and held in check in the second.
What is remarkable about this is Revis faced all of them one-on-one in the open field.
Nnamdi's Reach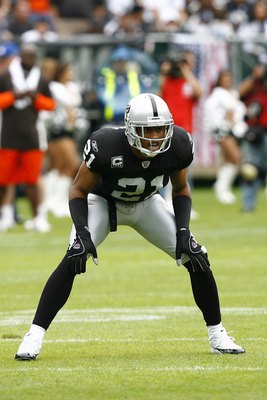 Rod Woodson on Asomugha, "He has a wingspan of probably a guy that's 7'6".
Nnamdi's height, long arms, quick feet, and ball hawk skills mark him as special, his football IQ makes him great.
Revis Island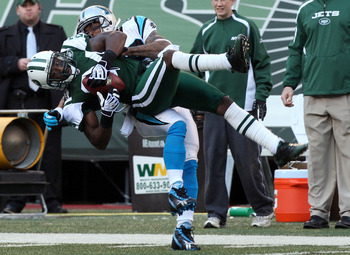 Torry Holt on Revis, "He is strong, I'm talking about grown man strong...he's the complete player."
A knock on Nnamdi Asomugha is that he only plays one side of the field. Revis plays the best wide receiver on the other team, not just a side.
He's fast enough to run with speedsters, strong enough to handle a Terrell Owens, and has great hands to pick the ball out air in front of Pro Bowl receivers.
Final Thoughts on Nnamdi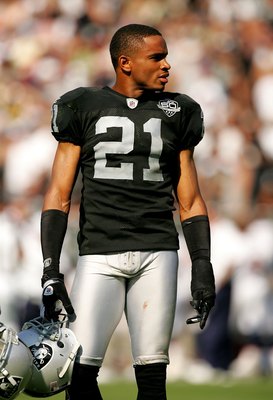 Nnamdi is the prototype shutdown cornerback whose great abilities has shut down one side of the field for a couple of years now.
Playing on a team that has had its first quality draft in number of years and with instability at head coach, he has been the one bright spot on a once great team.
The one thing that can keep him from being the best in the league is that he doesn't always cover the other teams best receiver.
Knowing that he only stays on one side of the field, other teams can game plan for him, shifting their best receivers to the other side of the field.
If he played the other teams best receiver, they would have to throw the ball his way more often.
The fact that could make him best is that he's done what he has without a great pass rush.
Final Thoughts on Revis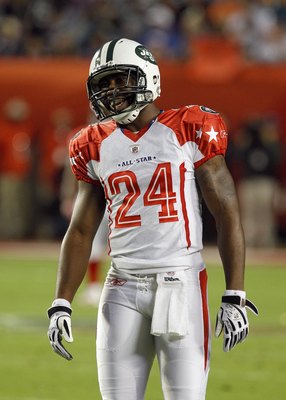 Revis lines up against the best receivers in the league, Sunday after Sunday, and shuts them down.
In the Madden games, speaking of cornerbacks, the game will often have a scout sheet that says that a corner is fast, "but you wouldn't want to line them up against Moss though."
In the real NFL, the scouting report for Randy Moss, Chad Ochocinco, Andre Johnson, and every other Pro Bowl receiver you can mention says this, "this player is great, but you wouldn't like to have them line up against Darrelle Revis though."
'Nuff said.
Whose the Best Corner in the NFL Now?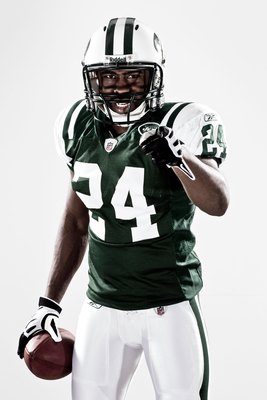 Revis, by a hair.
Nnamdi is a freakish talent and is the quintessential "shut down" corner, but until he faces the NFL's best receivers game after game, we have to give the nod to Revis as #1.
Revis has been in the league for a shorter time, but has stood in marquee matchups with the best, and emerged victorious.
Keep Reading

New York Jets: Like this team?