Ranking All 32 NFL Quarterbacks: NFC East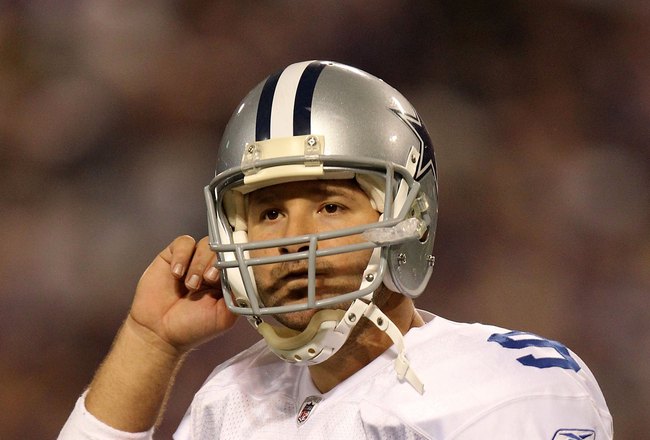 It's not quite training camp yet, but it's never too early to talk some football.
Continuing today, I'll rank the 32 quarterbacks in the NFL based on where they stand in their respective divisions.
It's time for the NFC East, which is by far the strongest division in the NFL, especially when it comes to QBs.
It's a division loaded with Pro-Bowl QBs that always compete against each other in the regular season and playoffs.
It's a very tough division to break down, so who comes out on top? Is it the only Super Bowl winner or one of the other two? Find out how they rank here.
No. 4 Kevin Kolb- Philadelphia Eagles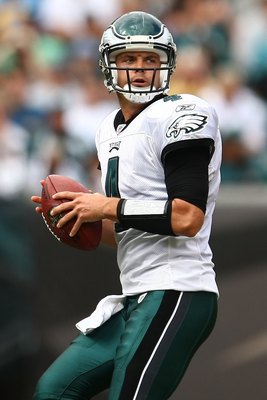 He may not be awful, but he certainly is the last ranked quarterback in the NFC East, and it's not even close.
Kolb will be called upon to replace Donovan McNabb, which isn't an easy job in its own right.
The Eagles and their fans were getting sick of McNabb. They may now realize how important he really was.
As the Eagles QB for 10 seasons, which included a trip to the Super Bowl, McNabb was reliable and always put the team in a position to win. It just never worked out.
Now Kolb, who didn't do a bad job in the five games he appeared in last season (throwing for a 64.6 completion percentage), will try to lead the Eagles back to where they always seem to be, the playoffs.
No. 3- Donovan McNabb- Washington Redskins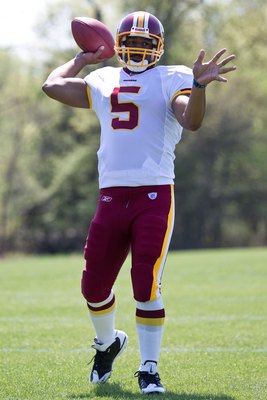 Is it strange seeing Donovan McNabb in a Redskins uniform? Well, Eagles fans, you asked for it.
McNabb will now be facing the Eagles twice this season and will try to take the Redskins past them, and into the territory where Philadelphia was for most of the last 10 seasons.
McNabb is part of the threesome in the NFC East that can all be ranked one, two, or three.
The reason I have Donovan at three is because I feel that being the oldest of the pack, and having to get used to a new environment, it may take a season to get adjusted, though Redskins fans want to hear none of that.
As a proven veteran and leader, McNabb will definitely make Washington a better team.
No. 2 Eli Manning- New York Giants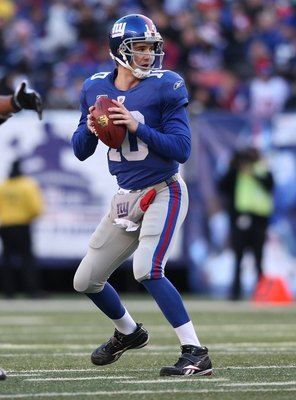 As much as it pains me to say it as a New York Giants fan, and even though Eli Manning has a Super Bowl ring, I still think he's a tad below the number one guy in this division.
Using process of elimination, that guy is obviously Tony Romo of the Cowboys—and I'm basing that purely on statistics. In my opinion, Manning is still the more clutch QB (and maybe more than McNabb as well), but all the numbers last season showed that Romo has the edge.
Romo had the higher completion percentage (Manning 62.3; Romo 63.1), had way more passing yards (Manning 4021; Romo 4483), and although Manning had one more touchdown, Romo had five less interceptions (Manning 14; Romo 9).
Based solely on those numbers, I have to go with Romo, but I would still take Manning if I needed to win a big game.
No. 1 Tony Romo- Dallas Cowboys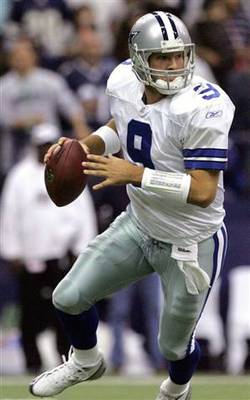 As you saw for the second ranking, I have put Tony Romo first based on pure statistics.
One thing Eli Manning does have the advantage in is guys to throw the ball to. The Giants' core of receivers, made up of Domenik Hixon, Mario Manningham, Hakeem Nicks, Steve Smith, and Kevin Boss outweighs that of the Cowboys, with Patrick Crayton, Roy Williams, and Jason Witten.
With that being said, Romo still puts up the bigger regular season numbers and seems to be more accurate with the football.
One problem Romo does have that Manning doesn't is the ability to escape from the pass rush.
If you measure that department, Manning probably has more ability in the pocket. But as I said, Romo has the overall numbers advantage.
Keep Reading