Champions' League Final 2010: Bayern-Inter Milan, Ten Impact Players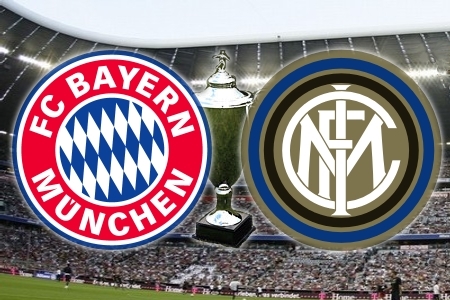 As part of the build-up to this prestigious competition's climax, I have put together a slide-show of ten players—five from each team—that could make the largest impact on the outcome of the Champions' League Final.
It should be a corker of a game for the English neutral—with a possible slant of support towards the team that isn't German.
I'll alternate between Bayern Munich players and Internazionale players each time.
Begin Slideshow

»
Hans-Jörg Butt is supposed to be a goalkeeper, but he's really not.
He's a striker in disguise! He scored 19 goals in 133 appearances for Hamburg SV during a three-year spell. That's even better than current Hamburg midfielder David Jarolím, who's only scored 14 goals in 209 appearances.
Butt has scored three penalties as well, all of which were against Juventus in the Champions' League. Furthermore, he has scored each one of those penalties for each German club he's represented.
Nevertheless, he's also very competent in what he's SUPPOSED TO be doing. He is renowned for his reaction saves and parrying powerful long-range shots. However, will he be able to cope with the close-range finishing quality of Diego Milito and Samuel Eto'o?
This Brazilian goalkeeper has made it into the provisional Brazilian World Cup squad, but only just. César has recently been overshadowed by Tottenham Hotspur goalkeeper Heurelho Gomes. But with the retirement of Dida, a space was there for César to fill.
That is not to say he's lacked in performances for Internazionale. I mean, look at him, he's in the Champions' League Final. As a goalkeeper he has kept a good few shots out of his net in that time. The 3-1 victory over Barcelona is notable.
Statistics don't lie. His title honours include FIVE consecutive Serie A titles with Inter and a FIFA Confederations Cup with his native Brazil.
César has a terrific ability to launch himself to either side for parrying shots. Additionally, he can perform octopus-like reaction saves, but he'll still need to be on red alert to stop the likes of Arjen Robben and Ivica Olić.
Arjen Robben has been instrumental in Bayern's title-winning triumph in the Bundesliga. And He has been just as important in their Champions' League campaign.
Last month, Robben successfully caught out Manchester United's goalkeeper Edwin Van Der Sar by volleying from a corner. Robben's Dutch international teammate nearly got a hand to the ball, but the shot was so perfectly placed in the left hand side of the net that it never looked possible to save it anyway.
That goal was an example of the wealth of experience Robben has. However, he won't score like one like that again. That's for sure.
Robben is very prolific in both cutting into the box to strike himself and making plays from anywhere on the flank, widening the choice of attack in Bayern's armoury to keep Inter guessing what will come next.
I imagine Robben is capable of switching play completely from one wing to the other where either Bastian Schweinsteiger or Hamit Altintop will be waiting as Franck Ribéry has been suspended.
Ribéry would've been included in this slide-show if he wasn't suspended after his foul on Olympique Lyonnais striker Lisandro Lopez in the second leg of the semi-final. Ribery would've been a major impact player for Bayern in the Final with the same qualities as Arjen Robben.
Another flying Dutchman. Wesley Sneijder seems to score exactly when you need him to. The winger was plucked from Real Madrid for an estimated sum of €15 million during the summer of 2009, and placed in the Inter squad the day after he signed.
During this season, he's had his fair share of moments. In the Champions' League, he scored an 89th minute winner in a 1-2 victory against Dynamo Kiev. He also also equalised for Inter against Barcelona in the first leg of the semi-final.
However, it doesn't end there. In an October 2009 game against Udinese—during their Serie A campaign—he scored a last gasp goal in the 92nd minute to make the score 2-1. Inter have since gone on to win the Serie A title as part of a double—Serie A plus the Coppa Italia. Inter's manager Jose Mourinho is hoping to win the Champions league and upgrade to a treble.
Whether Inter win or lose on Saturday, I tip Sneijder to score an important goal somewhere in the game to keep the suspense up. He has a thing for performing sweet curling strikes and free kicks which frequently yield great results for the team.
Mark Van Bommel has the attributes which most midfielders can only dream of: pace AND strength. This Dutchman—yes, another one in the same Cup Final—has constant energy resources. He uses that energy for pacey runs which can plough through most defences with ease. He can then finish with a powerful shot or a pass to a forward. Van Bommel will be useful for a Bayern counter-attacking move.
He does have a major flaw though. His tackling may be precise at times, but he has been known to give opponents an elbow—notably Lionel Messi. Additionally, he has been sent off for unnecessary dissent and scuffles more than once—not useful for one of the biggest games of your club's season.
Just ask Vinnie Jones...
They don't call him 'The Bull' for nothing. The Ghanian central midfielder can literally "run players down" like a bull with his super tackling ability.
Muntari recently cost Inter a match against Catania. He received two yellow cards within 80 seconds of him coming on as a 79th minute substitute. He received his first yellow for a senseless tackle from behind on Jorge Andrés Martínez. The second came for a handball on the resulting free kick. To rub salt in the wounds, Martínez put the game to bed with a goal that made the final score 3-1 to Catania.
Muntari's tackles will be very much welcomed, but he may need to be careful of Howard Webb's card fetish on Saturday.
With supplies of chances coming from the likes of Captain Van Bommel, Bastian Schweinsteiger and Arjen Robben, the chance of a goal for Bayern is more than likely.
Olić is an energetic striker. A predator in front of the goal who can latch onto most passes and finish confidently. The Inter defence will have their work cut out for them. If they don't keep up with this Croatian, they're in trouble.
Samuel Eto'o scored against Chelsea in the last 16 of the Champions' League to help Inter progress further through the tournament.
The Cameroonian is very confident on the ball. It shows through his silky skills and pin-point shot placement. Eto'o will be a worthy challenge for Hans-Jörg Butt.
Munich had a little Lahm, little Lahm, little Lahm...
Small in stature, big on game impact. This wing-back can play on either side. He is naturally right-footed. However, he has mainly been used on the left, where he is more effective.
Lahm is also a great tackler. While going forward, he can frequently cut into the centre in a Messi-mirror fashion. He also has a potent right-footed strike.
Unless Mourinho makes a tactical move by placing Wesley Sneijder on the opposite wing to Lahm, the battle between those two—if they play—will be an epic one.
Javier Zanetti is the Captain of Internazionale—"Il Capitano"; and a deserving one at that. The Argentinian has become the Argentinian National Team's most capped player.
He is also one of Inter's longest-serving and most decorated players. Under his belt are five consecutive Serie A titles, three Coppa Italias and a UEFA Cup. Next season will constitute his 700th league appearance.
He's a highly versatile player. He can play as a wing-back—left and right—or as an attacking midfielder on the right flank. His fourth nickname is "Il Trattore"—The Tractor. This nickname is presumably attached to Zanetti due to his combination of strength, stamina, and ability to effortlessly pass opposing players in attack. Additionally he can defend just as confidently.
Could be a match-winner.
This match will go down to the wire in Madrid. Let's just sit back and enjoy.