2010 FIFA World Cup: Diego Maradona's 10 Most Memorable Cup Moments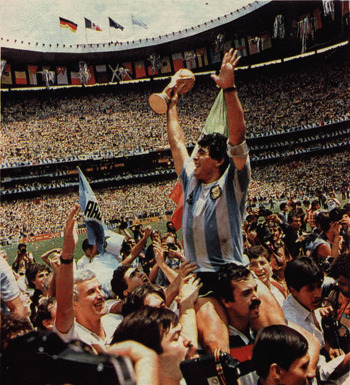 There is perhaps no name in football more linked with the World Cup than Diego Armando Maradona.
During four World Cups, El Diez played more games as captain than anyone in history and was involved controversy nearly every step of the way.
Now, in 2010 El Pibe de Oro is back for his fifth World Cup, this time as Argentina's eccentric manager. Although more memories will certainly be made next month in South Africa, here are Maradona's most memorable World Cup moments as a player.
10. Spain 1982: Group Phase: Argentina 4 Hungary 0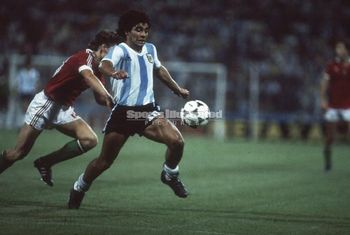 With a plethora of stars such as Daniel Passarella, Mario Kempes, Daniel Bertoni, Ubaldo "El Pato" Fillol, and Osvaldo Ardiles back to defend the crown they had four years earlier, Argentina would have been amongst the favorites at Spain 1982 even with out the 21 year old Maradona, already considered the best in the world.
Having secured a world record fee from Boca Juniors to Barcelona, the World Cup was supposed to be his, a chance to announce himself on the world stage, which he did against Hungary.
The Hungarians had just beat El Salador 10-1, but were no match for Argentina and Maradona.
They played to their full potential, smashing four past the Europeans, including two from Maradona, one from a diving header the other with a searing left footed drive.
http://www.youtube.com/watch?v=64pLXRN_XCM
9. USA 1994: Group Stage: Argentina 2 Nigeria 1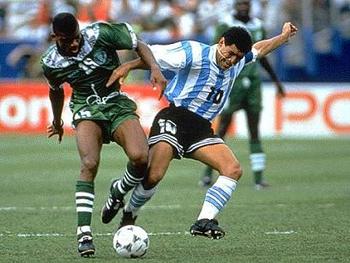 At the time, no one could have guessed that it would have been his last game as a World Cup player.
Coincidentally, Nigeria will also be Maradona's first opponent as a manager, and he will hope his team will at least be able to repeat success on the pitch.
The game itself was arguably the most entertaining group match of USA 1994 with the physicality of the Africans clashing with the technical skill of the Argentines.
After Nigeria grabbed an early lead, Maradona, now 33 and past his best, used his guile rather than speed and skill to lift Argentina back in front.
With the match tied at one, El Diez quickly took a free kick into the path of Claudio Caniggia who beat the keeper and qualified Argentina for the second round.
Romario later said that the only team Brazil feared was Argentina with Maradona, and after a confused Diego was led away for the anti-doping test, the path opened for the unspectacular Brazilians and slow-starting Italians to contest the Final.
Maradona's final act in a World Cup ended in disgrace, but there is no question revenge will fuel his run in South Africa this summer.
http://www.youtube.com/watch?v=l_L7MSivMOY
8. Spain 1982: 2nd Group Phase: Argentina 1 Brazil 3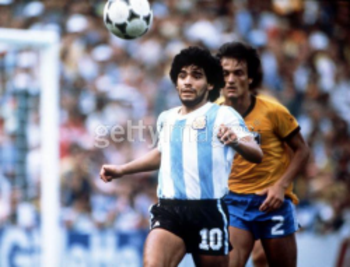 After Argentina's title defense had begun so promisingly at Spain 1982, they ran into Brazil and Italy in the second group phase and the team crumbled under pressure.
As his first World Cup came to an end to a bitter as El Diego lashed out and kicked Batista in the groin, resulting in a straight red card.
Afterwards, Maradona simply shook off the his act of violence by saying that he had actually meant to kick Falcao, saying
"I lashed out, kicking Batista in the balls. But it was mean for Falcao... poor guy, it was Batista."
http://www.youtube.com/watch?v=vefHf4Z2lnY
7. Italia 1990: Final: Argentina 0 West Germany 1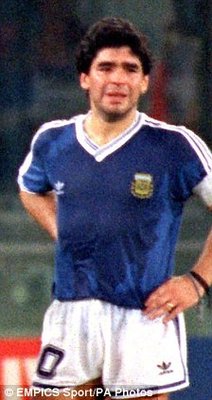 The Final at Italia 1990 was a rematch from four years earlier.
At the time, Maradona was at the top of his game, head and shoulder above the rest. In 1990, he was injured, tired, and was playing alone.
The match began with the Italians at El Stadio Olimpico booing and whistling during Argentina's Himno Nacional, to which Maradona mouthed "HIJOS DE PUTA" at the camera.
It set the tone for what is considered the worst World Cup Final which saw Argentina reduced to ten men and Maradona to tears as he received his second place medal.
At most World Cups, the iconic picture is that that of the captain lifting the cup, and although Germans may argue otherwise, the lasting image of Italia 1990 is an inconsolable Maradona.
http://www.youtube.com/watch?v=MsbXRqT19IY
6. Italia 1990: Round of 16: Argentina 1 Brazil 0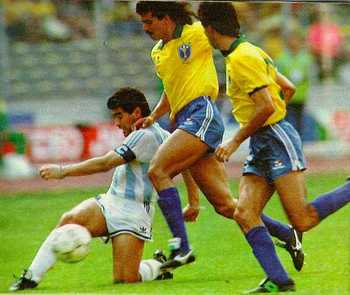 Although Argentina's 1990 World Cup squad has been vilified throughout history, the tactics other team used to contain Maradona was thuggish to say the least.
El Diez was by far the most fouled man in Italia 1990, receiving over 15 fouls in one match against Cameroon alone, and the Round of 16 match up against Brazil was no different.
Although the Brazilians had the majority of the play, Maradona was hacked, pulled, and elbowed for 80 minutes before the tiny playmaker sprang to life to dance past four defenders and slip a pass to Claudio Caniggia to round goalkeeper Claudio Taffarel and put Argentina into the Quarterfinals.
http://www.youtube.com/watch?v=Is1CxzEAxoI
5. USA 1994: Group Phase: Argentina 4 Greece 0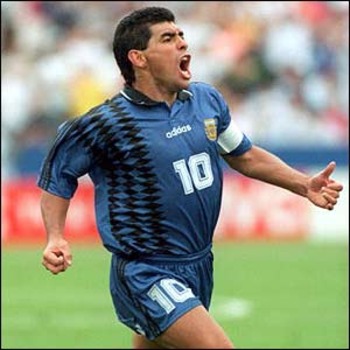 Although Argentina needed to qualify for USA 1994 through a play off against Australia, the side had won the last two versions of the Copa America and were amongst the favorites.
Maradona himself called the side the best team he ever played on: With Gabriel Batistuta, Caniggia, Diego Simeone, and Fernando Redondo all a the top of their game.
The opening round match against Greece served as a warning that Argentina were back and better than ever. Batistuta scored a hat-trick, but it was vastly over shadowed by a brilliant goal by Maradona and he crazed celebration that ensued.
Although he failed his anti-doping against Nigeria, most deduced the truth after watching derange scream at the camera against the Greeks:
http://www.youtube.com/watch?v=YIpLYnjcC5s&feature=related
4. Italia 1990: Semifinal: Argentina 1 Italy 1 (4-3 After Penalty Kicks)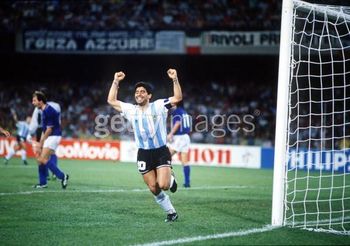 Naples is a city in the south of Italy that throughout history has been abused racially by the industrial north.
On the football field, things were no different. When Napoli traveled to face the likes of Juventus, Torino, or Inter signs and flags would fill the stands comparing Naples to the "Sewer of Italy."
As luck would have it, that Italy, the hosts and favorites, ended up having to play the first semifinal of Italia 1990 at the San Paolo in Naples against holders Argentina and Diego Maradona who had just come off a season where he led Napoli to their second Scudetto.
Diego immediately began posturing for the Neapolitans to support Argentina stating in a press conference: "I don't like the fact that now everyone is asking the Neapolitans to be Italian and to support their national team. Naples has always been marginalized by the rest of Italy. It is city that suffers the most unfair racism."
Although Maradona could not coax the city to actually root for Argentina, he did at least convince the Napoli supporters group to say "We will support Italy, but respect and applaud the Argentinians." In the crowd, there were various signs in support of both Italy and Maradona, including one that read "Maradona, Naples loves you but Italy is our Homeland."
For the first and only time during Italia 1990, Argentina's National Anthem was not greeted by whistles and jeers but applause.
After Toto Schillaci gave Italy the lead on 17 minutes, it looked like Argentina would be eliminated before Caniggia equalized and the match went to extra time and eventually penalties.
In the shoot out, it was Maradona, the King of Naples, who netted the decisive penalty for Argentina, before Roberto Donadoni, a player for AC Milan in the commercial north, saw his spot kick saved by Sergio Goycochea and put Argentina into the Final.
http://www.youtube.com/watch?v=PI3l06OcKFM
3. Mexico 1986: Semifinal: Argentina 2 Belgium 0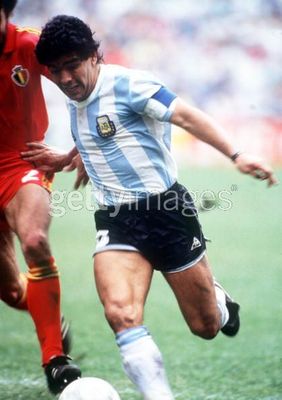 Although Mexico 1986 will always be remembered for a certain Quarterfinal against England, Maradona's greatest performance most likely came in the Semifinal against Belgium.
Maradona was imperious from the opening whistle, winning every ball, hardly missing a pass, and creating nearly every chance for Argentina.
Even with Maradona acting as the conductor, the match remained scoreless going into halftime as Belgian keeper Jean Marie Pfaff was in top form, pulling off a wonder save from a long range Maradona effort.
Six minutes into the second half, Maradona finally snatched the advantage from practically nothing. Jorge Burruchaga slipped a pass to El Diez who calmly flicked the ball past the on rushing Pfaff and in between two Belgian defenders.
His second was perhaps even better than his goal against the English: After picking the ball up near the top of the penalty area, Maradona charged past four defenders before shooting past Pfaff and all but sealing Argentina's passage to the Final.
Although the scoring was over, Maradona struck the post late on after yet another mesmerizing run, and laid a scoring chance on a silver platter for Valdano who blasted over the bar.
http://www.youtube.com/watch?v=m_8jK8RHbQM
http://www.youtube.com/watch?v=RFGkowMrq48&feature=related
2. Mexico 1986: Final: Argentina 3 West Germany 2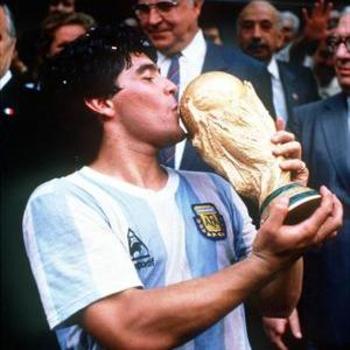 So brilliant was Maradona in the summer of 1986, that West German manager Franz Beckenbauer turned to his best player, Lothar Matthaus to mark Maradona who said of the German:
"He was a real pro; It wasn't normal man-to-man marking... Phenomenal."
Although Matthaus ensured that Maradona would not single handedly beat the Germans as he had done to the English and Belgians, the true greatness of Maradona was on display in the Final.
Even though he was man-marked, Maradona's movement still dragged players away from his teammates creating space for the likes of Jorge Valdano and Jorge Burruchuaga to run into. Seven minutes from time, Maradona settled the matter, not with a goal, but with a sublime through ball that put Burruchaga into the clear and the Nantes man made no mistakes.
Since then, no player has come close to dominating a single tournament the way Maradona did in the Mexican heat.
http://www.youtube.com/watch?v=d7kTcLWn_1I
1. Mexico 1986: Quarterfinal: Argentina 2 England 1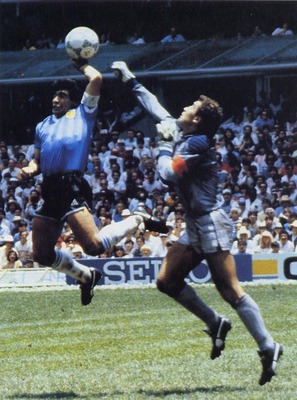 Without a doubt this is the game that shows both the World Cup and Diego Maradona at their best and worst. His "Goal of the Century" and "Hand of God" are quite possibly the most famous and infamous goals in World Cup history.
His first goal will always show the downside of the man, a piece of cheating that lives on as the most infamous goal in history.
Before the little wizard punched the ball beyond Peter Shilton, it is impossible to deny the brilliance of his tricky run past four English defenders.
The second goal pure genius that mere words cannot do justice. He seemingly weaves through the entire England team including Shilton, eventually banging it into the back of the net for the winning goal. What the game meant to the Argentine public, after the war for La Malvinas, can be be summed up by " Thank you god for football, for Maradona, for these tears, for this: Argentina 2 England 0.
http://www.youtube.com/watch?v=D-9I5DD6p4k
Keep Reading