The 20 Most Hilarious Athlete Quotes Ever
One of the most entertaining benefits of the 24/7/365 sports media landscape are the colorful comments athletes offer when their guard is down. Canned quotes and cliches are boring. These athletes went beyond the norm by providing some of the most humorous and simultaneously intriguing comments we've seen in sports.
We tried to mix it up and get a flavor of the most hilarious quotes from the four major sports. These quotes give us an insight into some of sports best personalities while also giving us a reason to laugh at just how ridiculous these comments are. Here is a look at the 20 most hilarious athlete quotes ever.
Begin Slideshow

»
"Son, looks to me like you're spending too much time on one subject."
The long time Texas A&M basketball coach offered up that gem to one of his players whose reported graders were four Fs and one D.
"Kids are great. That's one of the best things about our business, all the kids you get to meet. It's a shame they have to grow up to be regular people and come to the games and call you names."
Oh the always affable Charles Barkley providing excellent insight on the maturation of children.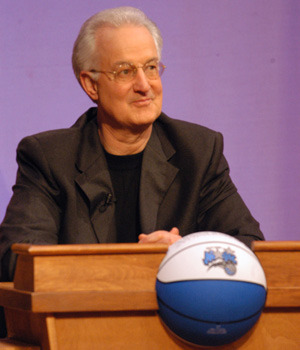 "We can't win at home. We can't win on the road. As general manager, I just can't figure out where else to play."
The former Orlando Magic general manager dropped that gem in 1992 while his team toiled with a 7-27 record in 1992.
"Bob Kelly was so dumb, they shoulda written his name on the Stanley Cup in crayon."
The long time former Philadelphia Flyers announce lobbed that grenade at former Flyers player Bob Kelly.
"We're going to turn this team around 360 degrees."
Kidd wanted to come across energized and ready to run the floor for the Mavericks when they drafted him over 15 years ago. Instead, he came across like maybe he need another year in school.
"I just tape four Tylenols to it."
Long time NHL defensemen Boris Mironov offered a simple solution when playing with an injured ankle.
"I feel like I'm the best, but you're not going to get me to say that."
Ohh...sneaky, sneaky Jerry Rice. You can almost see him smugly grinning while he said that.
"I knew I was dog meat. Luckily, I'm the high-priced dog meat that everybody wants. I'm the good-quality dog meat. I'm the Alpo of the NBA."
Shaq has certainly been the biggest dog in the NBA for the last 17 years.
"Nobody in football should be called a genius. A genius is a guy like Norman Einstein."
Woops. Well, nobody ever claimed Joe Theismann was a genius.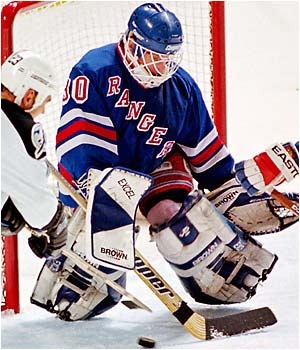 "One road trip we were stuck on the runway for seven hours. The plane kept driving and driving until we arrived at the rink and I realized we were on a bus."
The long time NHL goalie and former Director of Player Affairs described his confusion between air and bus travel while in the IHL.
""There is one word in America that says it all, and that word is, 'You never know.'"
Andujar had the wording right, but maybe someone forgot to teach him how to count?
"Hating the New York Yankees is as American as apple pie, unwed mothers and cheating on your income tax."
The former Chicago-based Pulitzer Prize winning journalist dropped that famous line.
"He treats us like men. He lets us wear earrings."
Former Houston Cougars wide receiver spoke praise of his head coach John Jenkins who led his players wear earrings.
""Our offense is like the Pythagorean Theorem. There is no answer."
"The Big Aristotle" recalled his sophomore year geometry class, but no answer? Reporters likely had no answer for that quote.
"Goaltenders are three sandwiches shy of a picnic. From the moment primitive man lurched erect, he survived on the principle that when something hard and potentially lethal comes toward you at great velocity, get the hell out of its path."
Can't disagree with much there.
"Well, Rickey's not one of them, so that's 49 percent right there."
That was Rickey Henderson's response to the notion that 50 percent of baseball players used steroids. We know Rickey always thought highly of himself.
Standing 7'5", the former center was famous for being one of the tallest players in the NBA at one time. However, Nevitt had a memorable moment of confusion when talking about the expected child of his sister.
"My sister's expecting a baby, and I don't know if I'm going to be an uncle or an aunt."
A frustrated Shaq did not care about being on live television and he let the world know...twice.
(NSFW)
"Left hand, right hand, it doesn't matter. I'm amphibious."
Shackleford remains No. 1 in sports history. There's no way around it. It's just the perfect word mix up.