Flying High: Ten Reasons The Blue Jays Are Contenders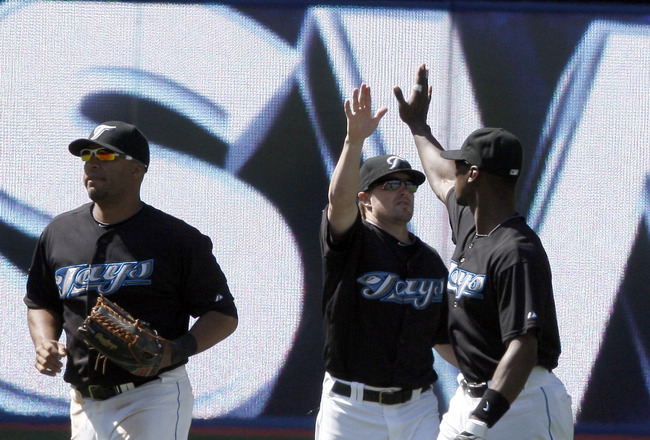 If nothing else, the 2010 edition of the Toronto Blue Jays may be the most exciting team in Baseball.
Off to their second best start in 15 years, this year the team isn't using smoke and mirrors or benefiting from mediocre play from the Yankees and Red Sox.
They are literally HAMMERING their way to a 25-17 record—good enough for third in the AL East and a mere one game behind the Yankees for the AL Wild Card.
With power arms and even more powerful bats, this team is starting to make the rest of the league take notice.
Can the Blue Jays maintain this torrid pace? With a roster filled with journeyman and young, inexperienced players, the conventional logic says no.
But this team is far from conventional. In fact, they may just take this league, and this city, by storm.
Here are the Top 10 reasons why the Toronto Blue Jays can win the Wild Card
Power Bats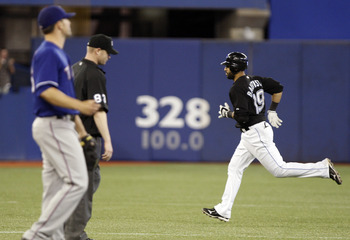 Sixty-five. That's the number of Home Runs the Jays have hit so far this season to lead all of Major League Baseball. Second place? Boston with 56.
So far this season, Toronto has refused to pray at the altar of OBP (on base percentage) and the results have been staggering.
Aside from HRs, the Jays are first in total bases, first in doubles, first in slugging percentage, second in RBI, and third in runs.
However, they also have the league's second highest strike out totals (for batters), sixth worst OBP, and sixth worst team batting average.
The question is, can the Jays maintain a pace that sees them go deep for every 22 at-bats?
Chance of leading the league in HRs by the end of the year: 60 percent
Power Pitching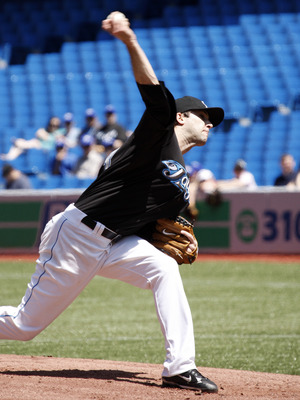 One of the drawbacks of having an all-or-nothing offense is that runs can dry up pretty fast. The best remedy for that is quality pitching.
If you aren't scoring, at least stop the other team from doing so as well.
Easier said than done, right? Not for this team.
The Jays strike out every 4.12 at bats. However, their pitchers also strike out 7.73 batters per nine innings—tops in the AL.
Pitching coach Bruce Walton has instilled a simple philosophy for his staff: mix your pitches and pound the strike zone.
The result is a young group of hurlers that has not only led the league in K's, but has put up an impressive 2.15K/BB ratio (strike outs to walks)—3rd best in the league.
Look at the numbers for Toronto's top three starters:
Shawn Marcum: 3-1 2.91 ERA 0.97 WHIP 6.53 K/9
Ricky Romero: 4-1 2.88 ERA 1.14 WHIP 9.43 K/9
Brett Cecil: 3-2 4.98 ERA 1.28 WHIP 7.86 K/9
Looks like a stat line you'd expect from the Red Sox, Yankees, or Phillies. But these relative unknowns (133 combined career starts) are mowing down the opposition and keeping this team in contention.
I haven't even mentioned the wild man of the staff, Brandon Morrow.
Currently sitting at 3-3 with a bloated 6.15 ERA and 1.68 WHIP, he's had a rough start to the season.
However, take away his first two starts and he's 3-2 with a 4.50 ERA and 1.28 WHIP with an insane 12.94 K/9.
Chance the pitching staff keeps up this pace: 50 percent
Outfield Defense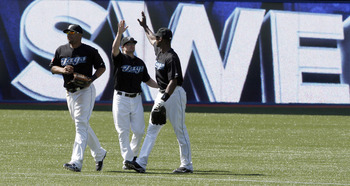 Although the infield gets most of the credit for the Jays' league leading defensive stats (more on that next slide), the outfield has done a very effective job.
The Toronto outfield is not flashy but they are clean (only one error) and have above average range. It's comforting to a young staff knowing that teammates are cutting off angles and making the plays when needed.
However, when Alex Rios was traded last year the Jays were all of a sudden without an arm to scare off base runners trying to turn singles in to doubles.
No longer. American League, meet Travis Snider.
Before he went on the 15 day DL on Monday, Snider was fourth in the league with two outfield assists and showing the kind of arm strength to keep runners honest.
When you add Travis Snider into the mix with three-time AL Gold Glove winner Vernon Wells, you have the makings of a rock solid outfield.
Chance the Jays still have a top-five ranked OF in September: 80 percent
Infield Defense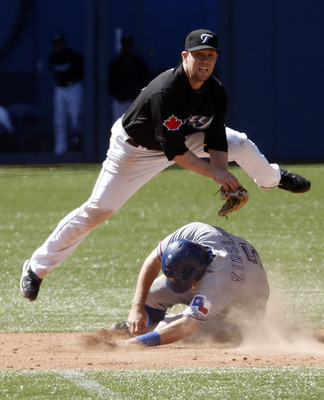 Its a testament to how good the trio of Alex Gonzales, Aaron Hill, and Lyle Overbay are that we can absorb the sloppy defense of Encarnacion and still be among the leaders in several defensive statistics.
First in put-outs, first in assists, third in double plays turned, and third in fielding percentage, these Jays are a beast to hit against when the ball is in play.
However, even though Gonzales leads the league in assists and Overbay leads in put-outs, there is a dark cloud lingering over the infield.
Overbay is hitting a pathetic .199 and may be shipped out by the July 13st trade deadline.
If this were to occur, then who plays first?
Lind is serviceable at best and Ruiz was just released. If Wallace is called up then he gives Toronto's offense a boost but the jury is still out on his defense.
Chance the infield stays intact AND effective: 50 percent
The Cito Gaston Effect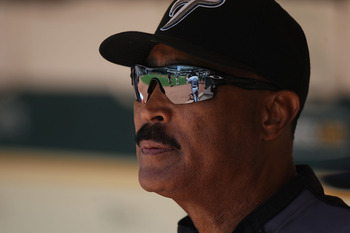 The hallmark of a Cito Gaston manged team: relentlessness.
Sabermetric stats are meaningless to Cito. He doesn't care what your TPR (total player rating) is, just hit the ball and throw strikes.
In Cito's world, station to station ball is for nerds like former boss JP Ricciardi. In fact, Gaston is more likely to tear a strip off a player for striking out looking then he is for an error.
Three players have been influenced by this approach more than anyone on the Jays: John Buck, Alex Gonzales, and Vernon Wells.
Buck and Gonzo are on pace to obliterate their career bests. However, it might not be so unrealistic to expect career years, albeit at a much more modest increase of say 15 percent over previous highs.
Both have legitimate pop in their bats so perhaps Cito's grip it and rip it philosophy is what these two needed to awaken offensively.
As for Vernon Wells, the Jays haven't seen him make an impact like this since 2006.
Unlike the previous two, Wells is a legit 30/110 hitter but hasn't produced as expected in a while. He's more relaxed at the plate and he's not swinging at as many bad pitches.
The results are .309/11/32 which projects to .309/42/123.
Chance of Cito keeping his team focused and aggressive all year: 80 percent
GM Alex Anthopoulos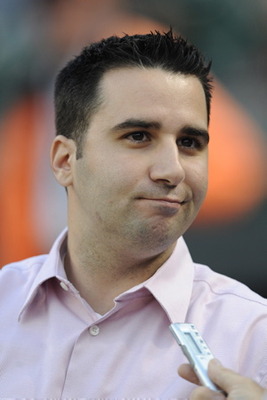 Alex Anthopoulos took over from JP Ricciardi after the latter was released in October last year.
Young and creative, he's stockpiled this team with young arms and added several nomadic veterans out to prove that their best is yet to come.
Alex Gonzalez, John Buck, Fred Lewis, and Jose Molina were all brought on board by the Jays GM.
Signed to one-year deals (or in Lewis's case, contract only had a year left when traded), these are low risk, high reward acquisitions.
On the pitching end, every player aside from Scott Downs has a one year contract. These guys are literally pitching for their dinner.
Included in that group are several Anthoploulos acquisitions and big contributors Brandon Morrow, Dana Eveland, and closer Kevin Gregg.
Anthopoulos is also the architect of the Halladay deal which has looked fairly good for Toronto. Considering this was a mess left by Ricciardi, Alex has drawn rave reviews from other league GMs for the players he acquired.
Of course, there is still the Overbay question and when to bring up Brett Wallace but if the previous seven months are any indication, these issues will be handled like a seasoned GM.
Chance of Anthopoulos making the right moves to keep Toronto competitive: 80 percent
Kevin Gregg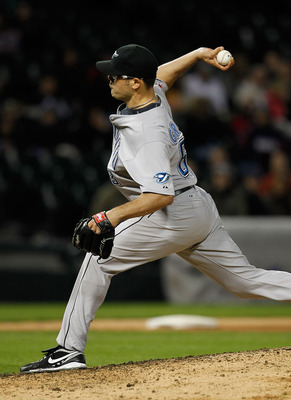 Signed to a one-year deal on February 5th of this year, Gregg was brought in to provide competition for then incumbent closer, Jason Frasor.
After Frasor struggled out of the gate, Cito gave the job to Gregg and he's been lights out ever since.
Sporting a microscopic 1.89 ERA along with a sparkling 1.00 WHIP, Gregg has converted 12 of 13 save chances. His 10.49 K/9 ratio is also impressive.
Collected off the scrap heap, Gregg looks to be reborn in a Blue Jays uniform and is a major contributor to this teams early success.
Chance that Gregg avoids an implosion and remains the closer: 70 percent
The Kids Are Alright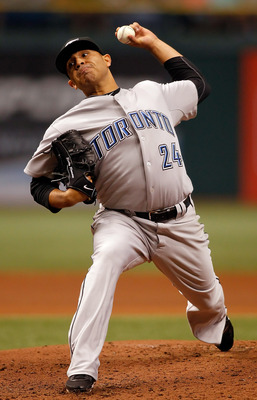 Two of the biggest reasons the Jays look poised to maintain this pace is the play of two of their prized prospects, Ricky Romero (pictured) and Travis Snider.
Drafted 6th overall in 2005, Romero was selected one pick after Ryan Braun and one pick before Troy Tulowitzki. Needless to say, expectations were exceptionally high.
Up until last season, it seemed that Romero was doomed to become a bust and forever labeled the guy we drafted instead of Tulo.
However, after last season's breakthrough year, it seemed that the Jays might actually get a return on their investment.
But few people expected the season he's having now.
Posting a spectacular 4-1 record with a 2.88 ERA and 1.14 WHIP, Romero is on the precipice of stardom.
His last start: A complete game shutout where he walked one batter and struck out 12.
Although Travis Snider is not getting the same headlines as his teammate Ricky, his contribution is still note worthy.
Drafted 14th overall in 2006, Snider destroyed minor league pitching on his way to making his MLB debut as a late September call up in 2008.
He fought through injuries and inconsistency last year and his bat was ice cold in April to start this season, finishing the month hitting a paltry .149
However, before being put on the 15 day DL on May 15th, Snider was hitting .378 in 12 games with three homers and 10 RBI to up his yearly totals to .241/6/15.
Travis is on the cusp of becoming something special and for the 2010 Jays, his timing couldn't better.
Chance these two both establish themselves as star players this season: 75 percent
The Future Is Now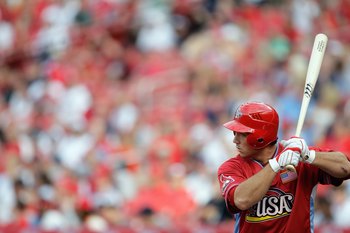 Hitting .309 with 11 home runs and 32 RBI while slugging a monstrous .612, Brett Wallace can't be kept in AAA much longer.
When you consider that Overbay is hitting just .199 and making $7 million this year, it's a wonder that Wallace isn't manning first base right now.
Brought over from Oakland in the three-team Halladay trade, Wallace has been living up to expectations.
To quote one scout, "Wallace's best tool is his bat....He's got good bat speed and good plate discipline, allowing him to hit for average and power.... his limited range has the Blue Jays moving him over to first, where he should be just fine."
Looks like GM Alex Anthopoulos has found our future (and present?) first baseman.
Chance Brett Wallace gets called up and contributes immediately: 40 percent
Element Of Surprise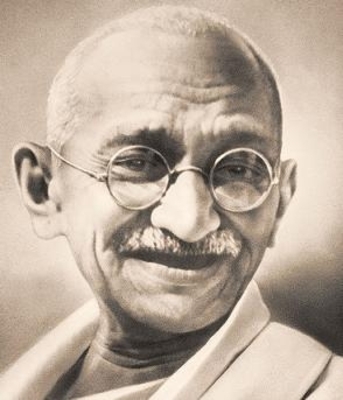 The fact that no one expects the Jays to keep winning can actually be a psychological advantage.
First, they ignore you.
Toronto was an afterthought as the season began. Many sports publications had the Jays fighting it out with Baltimore to win the prize of not being last. No one gave the team any hope of contending.
Second, they laugh at you.
After putting together a winning record as of mid-May, the pundits scoffed at our efforts.
The teams we beat were bottom feeders like Baltimore, Kansas City, Oakland and Cleveland while losing to good teams like Boston and Tampa Bay.
Third, they fight you.
Then all of a sudden we take 3-of-4 against Chicago, sweep Texas and come one crazy inning away from taking 2-of-3 against Boston. Finally, the league takes notice.
Then, you win.
Chances the Blue Jays win the Wild Card: 65 percent
Keep Reading

Toronto Blue Jays: Like this team?