Top 10 Impact Florida State Seminoles Not Named Christian Ponder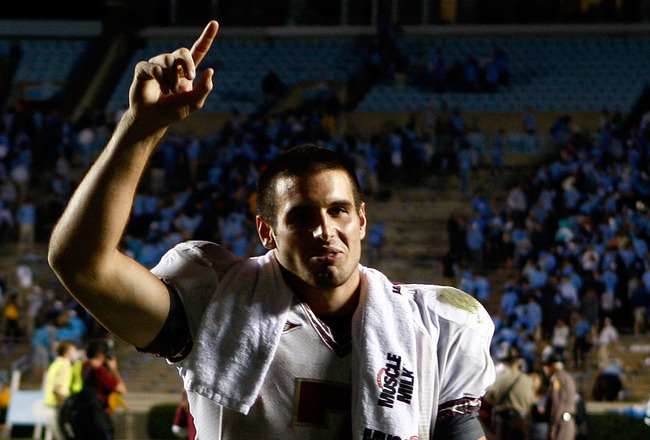 The 2010 season will bring multiple changes to the Florida State landscape.
For starters, the legend, Bobby Bowden, will not be roaming the sidelines or saying "dadgumit" a hundred times a year.
The season will also mark the start of the Jimbo Fisher era, which has been hyped ever since he was named head coach in waiting a few years ago.
Fisher has put together an excellent coaching staff to go along with a top-10 recruiting class and a roster full of playmakers.
Christian Ponder is the face of this team and deservedly so. He's a potential Heisman candidate and has even been predicted as a first rounder in next year's draft.
Ponder needs help, though, so here's a list of 10 potential impact players for the Seminoles that will help bring the 'Noles back to being a national powerhouse.
Jarmon Forston, Wide Receiver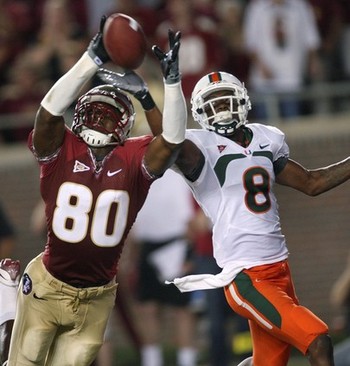 Wide receiver Jarmon Forston will look to be Ponder's go-to guy in this spread attack.
Forston has been flirting with breaking out for the past two seasons now. He's a long and tall receiver at 6'3" and 221 pounds.
A breakout season for him could not only mean success for the Florida State offense, but it could also mean first or second round hopes for Forston in next year's draft, something that Florida State receivers haven't had since Peter Warrick.
Beau Reliford, Tight End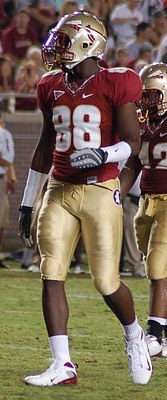 Tight end Beau Reliford is a monster of a target. Standing 6'6" and weighing 253 pounds, Reliford will be the perfect over the middle receiver and a great safety valve for Ponder.
Reliford emerged as the premier tight end late in the season last year for the 'Noles and will look to continue building on his potential this year.
He's slotted to be the starting tight end this year and will look to add a dynamic aspect to the offense, which has been lacking in the tight end department.
Rodney Smith, Wide Receiver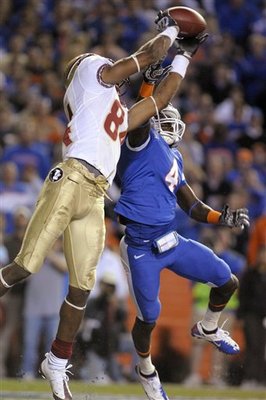 Remember Greg Carr? Imagine someone with his size but who will actually run routes. That's Rodney Smith.
The 6'6" sophomore will be the red zone target for Ponder. He's a far more polished route runner than Carr was and has big play ability.
Smith broke out in spring ball this season and is expected by the coaches to carry that into the regular season.
If in fact Smith emerges as a complementary receiver to Taiwan Easterling, Bert Reed, and Forston, then this offense will be an explosion of firepower.
Chris Thompson, Running Back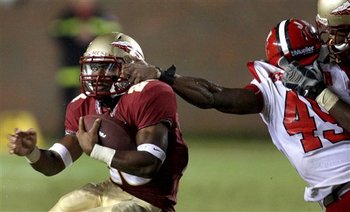 Chris Thompson emerged in spring ball as the starting running back for the upcoming season, passing Jermaine Thomas.
While the offense will feature a trio of running backs that will all see significant playing time, Thompson is predicted to be the spark plug for this offense.
Florida State hasn't had a 1,000-yard rusher since Warrick Dunn. Last season Thomas had 800 yards, but this season Thompson looks to finally break the streak and surpass 1,000 yards.
He's only 5'8" but has big-time playmaking ability.
Nigel Bradham, Linebacker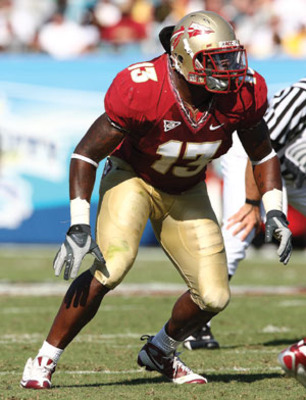 Bradham finally had his breakout season last year, but it was overshadowed by how terrible the defense was.
He finished with 93 tackles last season, and he will be looked at to be the leader of this young, struggling defense.
Bradham will be used in a different way under new defensive coordinator Mark Stoops. His physical size and speed will be useful in blitz packages and in covering duty.
The defense will go as Bradham does, and if he builds on his solid season a year ago, he has first round written all over him.
Greg Reid, Cornerback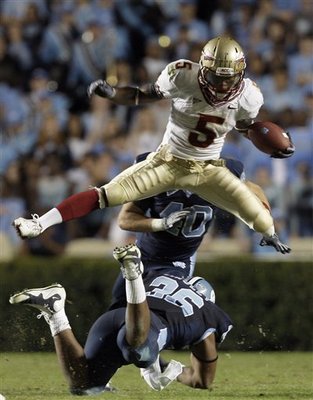 Greg Reid burst onto the season as one of the top freshmen in the country. His big-play ability was showcased last season not only in the defensive packages he was featured in, but also as a kick and punt returner.
Reid will have a bigger plate of responsibilities this upcoming season, one of them being asked to bolster a defense that was less than mediocre last season.
The pass defense was among the worst in the country, and Reid and company will be responsible for the turnaround.
Vince Williams, Middle Linebacker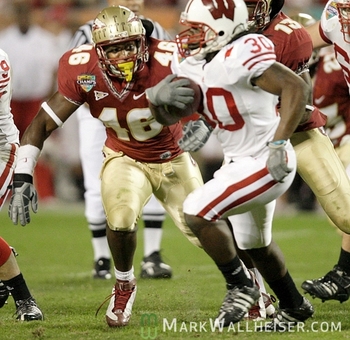 Vince Williams was poised to be the heart of the defense a year ago until a torn ACL sidelined him for the entire season, forcing him to watch from the sidelines.
Williams is back and healthy now and has picked up right where he left off.
Williams will be battling Kendal Smith for the starting middle backer spot but will also be asked to fill in for Bradham and Nigel Carr on the outside spots.
Williams had a solid freshman campaign and will hope to build on that this season.
Markus White, Defensive End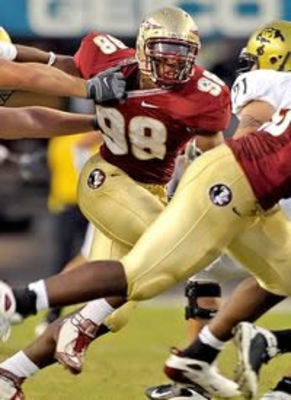 Markus White was supposed to be the defensive end that Seminole fans have been dreaming about, but he has been lackluster at best so far.
White has the great size and athletic ability to be a sack machine, but he just hasn't emerged yet.
He's a senior this year, and he will be asked to finally be the sack master that everyone had hoped he would turn into. It's his last chance to impress the NFL scouts, and under Stoops he could see more chances to get to the quarterback.
Xavier Rhodes, Cornerback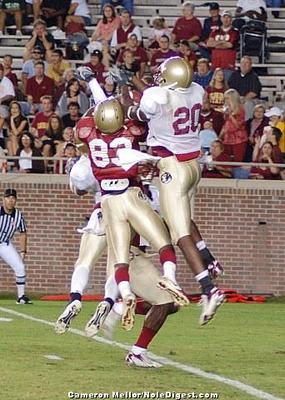 Xavier Rhodes emerged as the starter opposite Greg Reid at cornerback.
I know most of you are probably thinking, why don't I have a safety on this list? Florida State corners were the poster children for giving up enormous plays last season.
While Pat Robinson was a first rounder, he also found ways to get burned a lot last season.
Rhodes is a big corner, standing 6'1" and weighing 210 pounds. He's a redshirt freshman, so it's a surprise that he passed Ochuku Jenjie for the starting spot because he will experience growing pains, which is why he may be a stretch to be an impact player.
However, if Stoops likes him enough to make him a starter, that has to count for something.
Rhodes also had a stellar spring campaign, and that builds confidence in such a young player.
Jeff Luc, Linebacker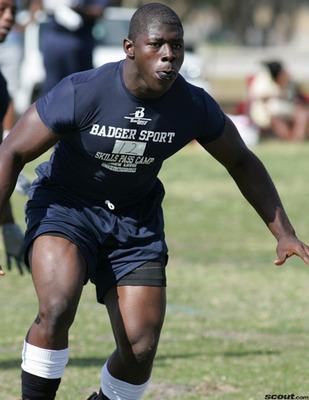 Luc is arguably the most physically gifted prospect ever to come out of high school. He stands at six feet tall and a staggering 250 pounds. He's a physical freak with a combination of size and speed.
Watch his highlights on YouTube and you'll see that he's a hitting machine—something that Florida State has been lacking as of late.
Luc could emerge as the best freshman defensive player by year's end next season and potentially an All-American.
Now that of course is wishful thinking, but Florida State hasn't had a recruit quite like Luc since Ernie Sims. Sims went on to be a first rounder and an All-American. Luc has all the potential in the world to be an immediate impact player.
ACC Champions?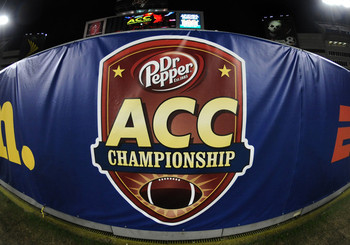 There is plenty of hype surrounding this Florida State Seminole team. If the pieces can fall in the right place, this team is poised to return to the ACC Championship.
They have a dynamic offense that can put plenty of points on the board, led by Heisman hopeful Christian Ponder.
The defense was one of the worst ever in the Mickey Andrews era last season, but there are new defensive players in the mix and a new defensive coordinator in Mark Stoops.
There is reason for hope in Tallahassee, and there is promise of a quick turnaround with Jimbo Fisher at the helm now.
Keep Reading

Florida State Football: Like this team?