Florida Gators: Five Thoughts to Think About This Offseason
The college football offseason is cruel. It taunts us, dragging on forever like a Brett Favre decision.
As some form of terrible self–punishment, I think about college football almost daily. It might just be that I'm obsessed. Although, I blame ESPN's daily airing of College Football Live.
Regardless of why I do this to myself, when I'm stuck in football mode, I focus on the Florida Gators.
Instead of just thinking, I thought I'd write down a few of my thoughts. So here's five to think about as you trudge through the offseason.
John Brantley Might Have the Shortest Leash Ever From a Fan Standpoint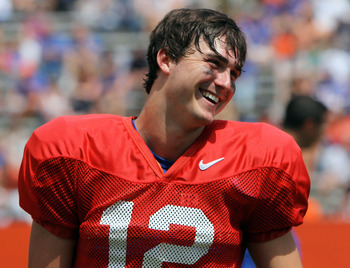 Everyone—and I mean everyone—already expects this guy to be great. He's on ESPN often for a guy who's never started a game.
He's got all the tools to succeed, and I see no reason for him not to. However, there are plenty of busts who have came in similarly hyped.
Brantley's make or break game is going to come relatively early. He's been touted as a sort of missing link to the 2009 offense. The one that was run by Heisman finalist, Tim Tebow.
Tebow's the standard Brantley must live up to. Don't get me wrong; I'm all in on this guy too, but I think early struggles will seal his fate in the eyes of the Gator nation.
The Defensive Transfers Might Be a Good Thing
The Gators have defensive depth issues after the departure of six starters and a role player.
This should have been compounded by the pending transfers of Adrian Bushell and Brendan Beal.
Only, it isn't.
Bushell was expected to compete for the starting job. His off-field issues got him kicked out of spring ball. He returned—only to be asked to leave again.
There is virtually no chance that he is going to be near the top of the roster in the fall after all of that. Despite his talent, he would have been a distraction.
Brendan Beal was not a distraction, but he was hurt a lot.
This pushed other players ahead of him on the depth chart, all but guaranteeing that he would not start.
Beal leaves a hole in the Gators' two–deep, which may require Austin to throw a freshman out there.
Using a guy in a backup role is better for his development than redshirting, and with two of the Gators' starting linebackers set to graduate next year, the experience will be crucial for down–the–road success.
Someone Is Going To Wear Jersey No. 15 Eventually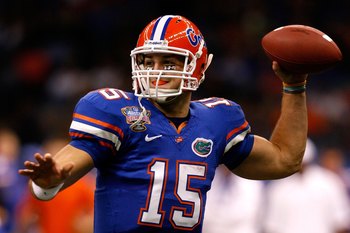 Talk about challenging yourself!
Whoever the brave soul is that eventually requests Tebow's number, I'm saluting you now.
Your swagger is unmatched.
You are declaring to everyone, "I'm going to be the best." You'll either succeed and be immortalized, or you'll fail and be laughed out of Gainesville.
Kudos to you, brave soul.
I don't think you're going to be around for 2010, but I'll be waiting for you when you show up.
Having Watched the Joker for Two Years, It Would Suck to Return to a 4-3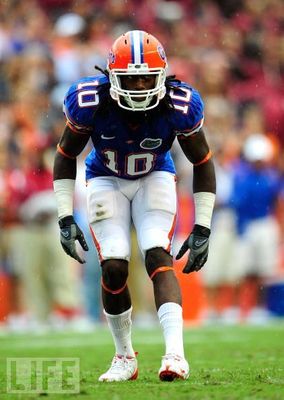 The "Joker" was the name for Charlie Strong's 3–3–5 package that the Gators used heavily from the Arkansas game in 2008 until the Sugar Bowl.
I don't know where the name stemmed from, maybe it was taken straight out of comic books. The Joker is an explosive and unpredictable villain, and the Joker package is exactly that in the eyes of opposing offensive coordinators.
As far as college football packages go, the 3–3–5 is the "in" thing. It features enough speed to combat the spread, and for teams like Florida, that has the advantage of recruiting monster safeties, it's as good against the run as a 3–4.
Teryl Austin used the package in the spring game, but he also reportedly worked a lot of 4–3 all spring.
The coach has to play his best players, which for the Gators, probably means playing four linemen. While the 3–3–5 will still be used, I'll miss it as a base set.
Hopefully UF vs. FSU Has That 90's Feel By November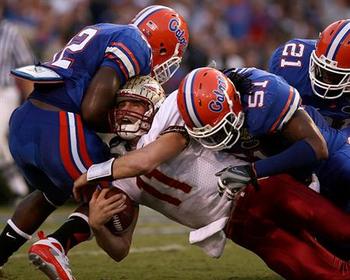 If everything goes according to plan, both teams are undefeated heading into Thanksgiving.
Many of you may not feel that way, preferring an 0–11 FSU team to laugh at.
I have a few reasons to cheer for a great FSU football team.
1.) Rivalries are better when both teams matter.
2.) When FSU's good, people forget about the FCS games on the Gators' schedule
3.) I'll be attending FSU Law in 2010. This means I'll be attending FSU football games. If I'm going to follow a team, I'm going to cheer for them as long as it doesn't conflict with my favorite team's interests. Basically, my Saturdays are going to suck if FSU isn't winning.
Keep Reading

Florida Gators Football: Like this team?