2010 FIFA World Cup: Introducing Team Serbia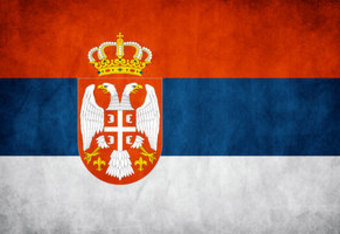 Welcome to one of those lands where the clouds of ethnic values have haunted the skies of regional history for the long, long times—Serbia.
It lies in "Balkan Peninsula;" which, in fact, is the name of mountain range called "Balkan" that runs through centre of Bulgaria to eastern Serbia. The countries which fall in that mountain range have the demonym for their people, "Balkans."
The term is considered dated now and "South East Europe" is used instead, as the term carried negative connotations for a long period, such as "Balkan Wars."
How I wish I was writing something on the subject of history or ethnicity when it comes to that particular region.
But, it's football that absorbs everything. And, this global game will be having its biggest festive starting June the 10th in South Africa. The Football juggernauts and underdogs will lock their horns to claim the prestigious honour and the biggest trophy—World Cup.
Serbia is one of them.
Serbia as a Country
Let's face it; the land has seen many wars, foreign invasions, conquests, and what not! You will find the "foot marks" of notorious historic ghost "Ottoman Rule" on this land as well.
Then we have their own kind of "Civil Revolution," monarchy, Balkan Wars, World Wars, Yugoslavia-Period, Ethnic War, and most recently, Kosovo War.
But it's humans who tread along all the roads which are laid ahead of them. A human can not change the past, never. But, he changes the destiny and makes it his own.
In 2006, Serbia and Montenegro parted ways, which resulted in their independence as a sole nation.
Now, there is no bound of being a part of "Kingdom of Yugoslavia," neither being duo-nation "Serbia-Montenegro." What we have now is Serbia, all independent. And, this applies to their representation in everything, including football.
Football World Cup and Serbia
Their World Cup qualification campaign started with a win against Faroe Islands, which was followed by a defeat at the hands of France.
The group was given to France and Romania by the football "experts," but at the end, Serbs topped the group, forcing France to go in play-offs against Ireland, and you know the world famous story, beyond.
Serbs claimed the Europe's qualifying group Seven with only two defeats; both came playing away—meaning they were unbeaten at their home-soil. Their scintillating performance of the run was hammering Romanians 5-0 at Belgrade.
This is their first World Cup as a single, independent nation. And the entire nation has backed their team with high hopes and lot of anticipation to do well in South Africa.
But it was not all bed of roses for Serbians. They failed to qualify for Euro 2008 finals, and the charge of the team was given to the new manager. His highly disciplined and iron-fisted approach has paid dividends in steering Serbia to their first major Football competition as an independent nation. The man behind the curtain is Radomir Antic.
The Team: The Renaissance
Whenever a country gains independence, the process of restructuring then begins; there is no brainer in that. Serbs didn't have to do that the hard way. Their football team lost many players to Montenegro and vice versa; Serbians started revamping the National team, which was nothing short of re-birth of football in the country.
The entire nation is now breathing with the whole squad, which has gone through the process of "cuts and trims" for the last four years.
The fact that they are playing World Cup and will stand shoulder by shoulder to football giants has generated waves of optimism across the nation.
And, all this is not coming out of some fluke. There has been no "lucky ducks" in this side of pond, trust me.
Their qualification only screams of depth in squad, unity, discipline, hard work, faith, and the mix of young-blood with some veteran juggernauts.
When you get all these traits, then there is no need of luck in long run.
Solid Defending
The Serbian back-line has been sort of an impressive rock-solid wall. Gone are the days of "famous-four," which hailed in Serbia-Montenegro times. This is a time of "mean machines" in their defence.
When you have Nemanja Vidic in your lineup then all you spill out is ruthless brutality in defence. Add the menace of Branislav Ivanovic and techniques of Aleksander Kolarov and your side is fearsome.
The star player at the back is certainly Nemanja Vidic.
Nemanja Vidic
Serbia finished their qualification group on top in every category. They outclassed France in goals scored for, goals scored against, goal difference, and point table, of course. In their 10-match journey of qualification period, they conceded only eight goals and didn't let the ball pass their goal-post in five matches out of those 10.
Their campaign was marshalled by Vidic at the heart of the defence and he will be the key player at their World Cup attempt this time, too.
Unrivalled in air, no-nonsense tackling (apart from when he goes against Fernando Torres), physical approach to the game, highly motivated, and that "Basterd" look are just one of his characteristics.
Being left out in World Cup 2006 Germany due to injury in his Serbia-Montenegro days, he certainly has a score to settle this time. Keeping his not-so-good season on club level and frustration of moving abroad has kept him silenced. He would redeem that miserable season foray with his performances in South Africa.
Expect this man to give his heart and soul on the pitch for the team at the World Cup., because that's what he has always done.
Midfield Prowess
The midfield of Serbia Football national team is well covered with depth, experience, and technique.
There stands an iron-willed man in the heart of Serbian midfield, captaining the Serbian ship as the island of World Cup nears and all the crew starts to rally behind him and just waiting for his roar of "Attack!"
Every team needs such a man, a captain, who keeps all his crew in a cohesive unit. To be like one, you need to be strong and selfless yourself with flawless exemplary character. Serbia has a gem with the very traits—Dejan Stankovic.
Stankovic's tireless running on the pitch and unselfish attitude has earned him plaudits across the football world.
He offers loads of experience with his age and stainless football career.
He is the man who keeps midfield orderly, jigsaws the opposition with his positioning, and scores some thunderous freak goals.
Along with Stankovic, Nenand Milijas will be playing the midfield role most probably. He has featured in Serbian World Cup campaign prominently. He is a good passer of the ball, and can be a threat on set-pieces.
Then we have Zoran Tosic who has scored four times in his last four matches for Serbia. He would be used as an impact substitute. The guy has got talents. He plays as left-winger but can be played at left midfield due to his passing.
Along with them, Serbia has Gojko Kacar and Zdravko Kuzmanovic, who are both versatile and utility midfielders. They are faring their trade in Bundesliga for Hertha Berlin and VFB Stuttgart respectively.
You Can't Fly without Wings
These two players need no introduction, now. They have made their reputation with their skills on pitch and undying dedication for the team whenever they have played on the pitch.
These two "perfect wingers" of the modern game will take the world by storm with the repertoire of tricks and marauding runs on the wings. Left wing belongs to Milan Jovanovic, who was the top scorer for Serbia in World Cup qualification campaign, and right wing is the hunting place for the "Serbian Player of the Year"—Milos Krasic.
Football has taken a huge shape-shift in this last decade. We have seen the teams triumphing over the rivals with the sheer display of "Football brain." We are seeing more and more "possession play." The game has changed a lot in that short time-span.
Similarly, we have seen the change in role of wingers.
Today, wingers have grown their armoury of skills. They are no more one-trick ponies. The great modern wingers of the game not only charge the runs on the flanks and cross the ball, but also happen to have predatory finishing. They don't "run away" from the opposing full-backs but instead, they "take" on them and out-wit them with their skills.
Arjen Robben is a prime example of modern winger. Theo Walcott is an example to take as "one-trick-pony."
Interestingly, Serbia is rich in wings. Jovanovic and Krasic, both, are the mirrors of "modern wingers."
Striking Force
Serbia's first-choice striker is none other than 6'7" giant Nikola Zigic. His height offers much composure up the field. Aerial abilities are always in his pocket, but what makes him so special is his swiftness in providing a crisp pass and ability to rifle the long-range spectacular hits that have come from both feet.
Marko Pantellic is usually playing with Zigic. He is another decent forward with a few flaws and many talents. His reputation goes wide as he has played for 11 club teams. So, don't ask him what experience is!
Then, we have Danko Lazovic. He is the best Serbian striker at the moment, in my opinion. He is a class player. He possesses pace, clinical abilities, and an enormous talent.
Currently, his participation in World Cup is clouded after a recent thigh injury. But, we hope that he will recover and will be named in final selection. He was largely used as a substitute in qualification campaign and has 10 goals to his name for international career.
House of the Rising Sun
Many countries in this World Cup will be consisted of the players who will be playing their last round of their international career. Many big players are already rooted out of the World Cup, as they were not included in preliminary squads.
The list is long, but to cut it short these are the players who are left out due to injuries or other unknown reasons; Torsten Frings, Ronaldinho, Adriano, Ronaldo, Cambiasso, Zanetti, David Beckham, Ballack, and the list goes on.
Even the ones who are included will be retiring after this World Cup.
But, Serbia has a different case.
There are only two players who are at the verge of ending their career—Dejan Stankovic and Marko Pantellic—while the rest of the squad is either in early or mid-20s.
Their future is bright. They have an army of young blood. Neven Subotic, Nemanja Matic, Miralem Sulejmani, Nemanja Tomic, Radosav Petrovic, Gojco Kacar, Slobodan Rajkovic are all Serbian blooming buds.
Many players will show off their worth and will be joining Europe's top clubs at the end of the World Cup and that will mark an evolution of Serbian stars across Europe.
How brutal the side would have looked, only if Bojan Krkic opted to play for Serbia instead of Spain!
Personal Opinion
If you are living in a country where football is not evolved at its prime levels, like Pakistan, and you know in heart that your country will never qualify for the World Cup Finals in your life, then you seek for countries that you would support as your home team.
That feeling of being a "fan" will never leave you alone.
In my case, I have supported Germans all my life.
But finally, Serbs have made their way into my heart. I have some feelings for the Slavic nations, and, Serbia and Croatia have always topped my list due to the fact I have read so much about that region. The fact that Croatia didn't make it to the finals, it left me with Serbia to cover at Bleacher Report, as I know Germany will be covered well.
I think that Serbians have all what it takes to qualify for the World Cup knockout stages.
The blend of ambitious youth with experienced veterans is always, always dangerous. It only brings success in style. The only thing which may haunt back Serbians is the raw experience at the bigger international stages.
The fact that they have never played at such a high level before may bring the ship down earlier than expected. But it doesn't mean in any way that they lack in confidence.
Many players will be coming with the sweet memories of making it to latter Champions League stages with their club teams. The others will be gunning to hit the back of net again to continue the success of the World Cup qualification campaign.
If you are counting Serbians as the underdogs, then do it at your own peril.
If all these things that I have discussed here don't bring them into World Cup knockout stages, then I don't know what will!
This article is
What is the duplicate article?
Why is this article offensive?
Where is this article plagiarized from?
Why is this article poorly edited?