The 10 Most Ridiculous Mascots Of All Time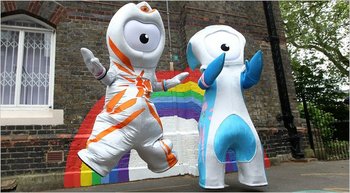 So London unveiled their mascots for the 2012 Olympics and... wow.
They are named Wenlock and Mandeville and in case you couldn't tell, they're watching you.
They look like Kang and Kodos from The Simpsons, only creepier and weirder.
But are they the dumbest mascots of all time? They certainly have plenty of competition. Let's see how they stack up.
No. 10: Amik the Beaver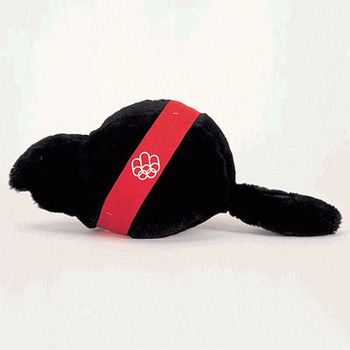 Amik the Beaver was the offical mascot of the 1976 Olympic games in Montreal.
Look, I understand it's Canada and they have beavers, but if this isn't the blandest mascot on the face of the earth.
It's basically an ink blot test with a sash.
No. 9: The UCSC Banana Slug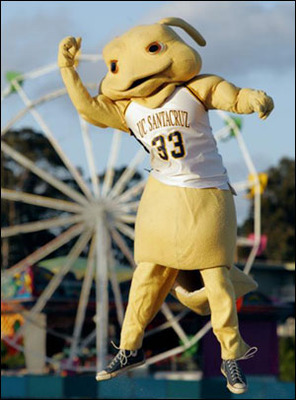 I get that the Banana Slug is a unique mascot and that UCSC went out on a limb here to go with an organism that exists in their region.
However, look at it. A) It's a freaking slug, a slug! B) It looks like a reject from Men In Black III.
Do you really want a mascot where you're hard pressed to think of five things that don't kill it?
No. 8: Goleo & Pille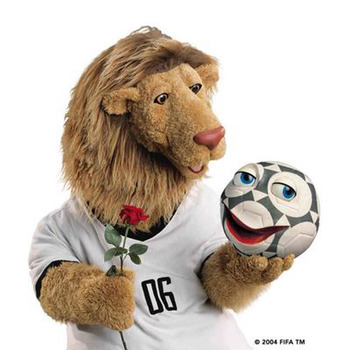 Goleo and Pille were the mascots for the last World Cup in 2006. Seriously, a lion holding a rose in one hand and a talking soccer ball in the other? It looks like something ripped from Peewee's Playhouse.
The rose and the upright, almost human animal just reminds me of Beauty and the Beast. I almost expect the soccer ball to be the lion's servant that was cursed to be kicked in the face for years and years.
And I'm not the only one getting a distinct "Willlllllllsooonnnnnnnn" vibe from that ball, am I?
No. 7: Oregon's Roboduck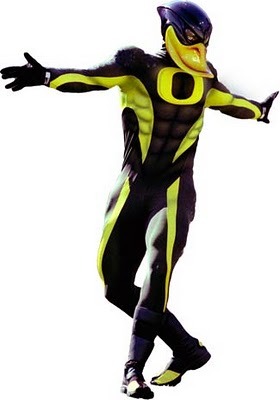 The original Oregon Duck mascot is and was awesome. It's basically Donald Duck, but in Oregon gear, and he gets into way more fights.
For some reason, somewhere along the way Oregon decided that they needed to switch things up and went this monstrosity otherwise known as Roboduck.
They couldn't have made this thing more unintentionally terrifying if they tried. It's a freak of nature. And just look at the 12 pack on that thing. You wouldn't feed bread crumbs to that duck, he would just come up to you and take it by force.
No. 6: Tip & Tap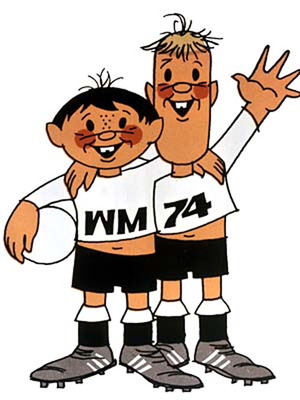 Tip and Tap were West Germany's first attempt at mascots for the 1974 World Cup. It was a complete failure.
First of all, the boys look ragged as hell, they're wearing midriff shirts, and their feet are so long that I doubt they could run, much less kick a soccer ball.
Speaking of soccer balls, I don't know what they're holding, but it looks like a solid white ball, which as far as I can remember isn't what a soccer ball looks like.
We should just call these two the Brokeback mascots.
No. 5: Watzit (Izzy)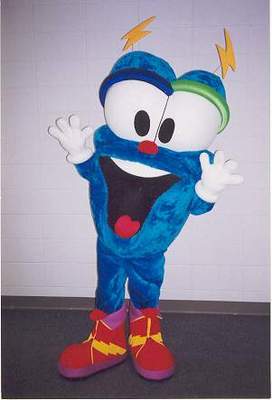 When your mascot's name is basically someone saying, "What is it?" I think you're in trouble.
Izzy (for short) was the terrible idea that Atlanta came up with for a mascot for the 1996 Olympics.
It perfectly exemplifies everything about the 90s, which is not a good thing. Bright neon colors that clash in every conceivable way? Yeah, all Izzy was missing was a pair of L.A. Lights.
No. 4: Wigan Athletic's JJ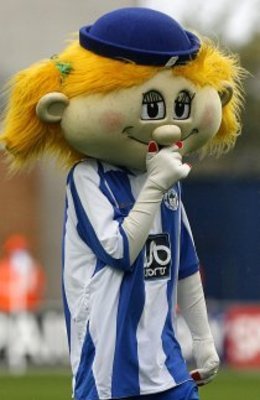 I don't really follow soccer much (or football, as people who actually care about the sport call it), but I haven't been too impressed with their mascot choices.
However, the worst by far comes from Wigan Athletic. It's a girl. That's it. I think she's some sort of guide, but whatever the hell JJ is, it's not a good idea for a men's team. Or any team for that matter.
Nothing says, "We're a superior team," like a girly mascot with perfectly manicured fingers.
Super, super weak.
No. 3: The Stanford Tree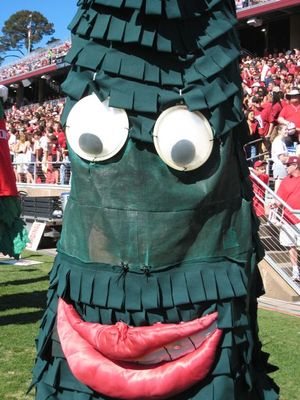 Look, I get it, everybody rips on the Tree. You're tired of it. You think the Tree is actually kind of a cool ironic mascot along the lines of the Syracuse Orange or whatever hell Western Kentucky has as a mascot.
However, just look at it. This is Stanford, one of the most prestigious schools that I've actually heard of. It's supposed to represent intelligence and excellence. The Tree conveys none of that.
It looks like a costume a 10-year-old put together at the last minute for their school play. You can see the guy in it. It's by far the ugliest mascot ever. You simply cannot have a list without The Tree on it. I'm sorry.
No. 2: The Spheriks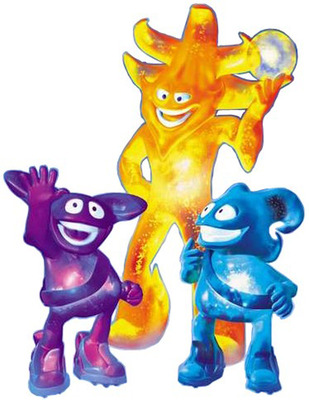 Um, wow. What can you say other than Japan is just freaking weird sometimes?
These creepy little guys look all nice and friendly until they jump into your body and steal your soul. Or at least that's what I imagine they do.
No. 1: The Evergreen State College Geoduck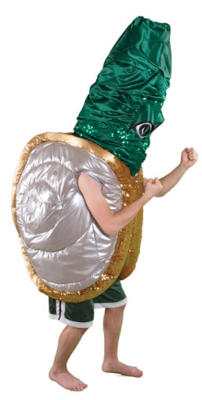 The geoduck is a mollusk that looks like it has a penis protruding from it. It's basically one of the ugliest things on this planet.
For some reason, a school actually decided to make it their mascot. Not only that, they built a costume of one.
I'm trying to decide what it looks like. The closest thing it resembles is a heavily armored pickle.
Keep Reading