NASCAR Nationwide Series Tests New Cars With New Looks at Daytona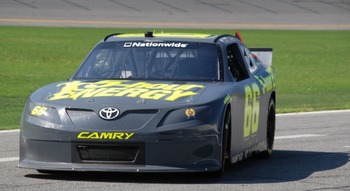 Daytona International Speedway hosted a two-day test of the newly designed Nationwide Series car. Four manufacturers, Ford, Chevy, Dodge, and Toyota will soon race redesigned cars that look more like street versions.
Toyota Camry sports a new look that driver Brian Scott of the No. 11 car called, "An incredibly good looking car. I really think the fans are going to identify well with them."
The New Dodge Nationwide Series car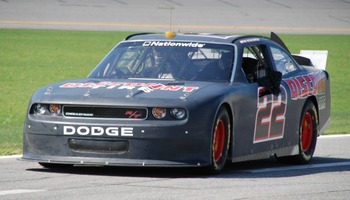 Brad Keselowski's No. 22 Dodge on pit road during the two day test at Daytona International Speedway. Keselowski said, ""It drove well, especially in the afternoon drafting practice."
No. 88 Impala JR Motorsports Nationwide car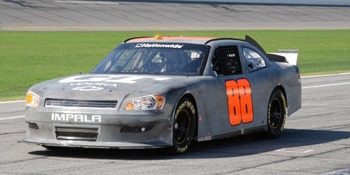 JR Motorsports tested the new Impala Nationwide car at DIS this week. Crew Chief Tony Eury Sr. said, "We really ain't got it figured out yet."
New Front end styling of the Nationwide Series Mustang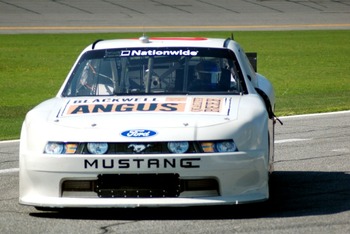 A new Roush Racing Nationwide Mustang turned off pit road on the way back to the garage for adjustments.
Daytona International Speedway press box
A corner of the DIS press box where spotters on the roof keep track of their cars on the 2.5 mile tri-oval during testing.
New Nationwide cars line up for drafting practice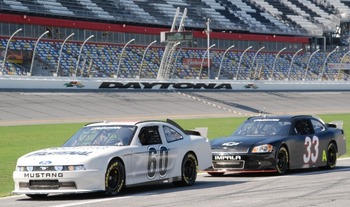 Roush Racing's No. 60 Mustang and Kevin Harvick Racing's No. 33 Impala park on pit road waiting for other cars to line up for drafting practice.
Crew members swap engines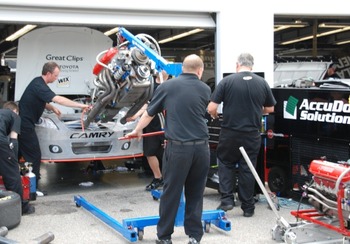 Gear heads know how to swap engines but these No. 38 Toyota team members quickly change out expensive equipment that failed during testing.
Kyle Busch gazes at the engine of his No. 18 Nationwide Toyota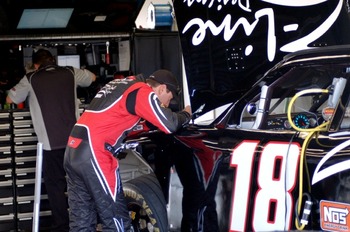 Drivers often have to wait during practice and tests sessions for crew members to make adjustments. Kyle Busch observed work that was going on under the car.
Drafting practice on the Daytona track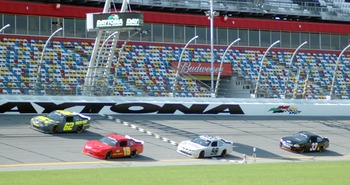 Drivers and teams are always eager for drafting practice at superspeedway tracks as it gives them better data about conditions.
Carl Edwards listens to Paul Menard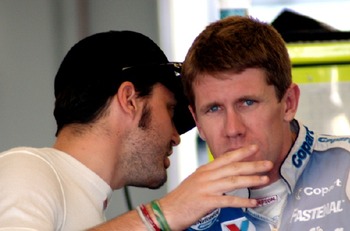 Ford team members often share data and knowledge. Paul Menard gave Carl Edwards vital information as he tested yesterday at DIS. Edwards did not test his new Nationwide car until the second fast day.
Keep Reading