Quite a Conundrum: The Buffalo Sabres and Their Free Agents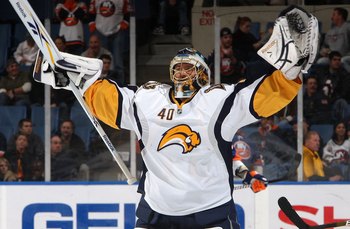 Sabres general manager Darcy Regier has already vowed that the offseason will begin a serious "rebuilding" period for the team.
Buffalo will not be rebuilding from the ground up, but the team will be bringing in the necessary pieces to establish a Stanley Cup caliber team.
But before the Sabres can go after any free agents, they have to worry about which players they will re-sign. Luckily for Regier, there are not too many players he will have to worry about.
A good sign for fans is that Mike Grier has already been re-signed to a one-year contract.
However, there are still a few players that the Sabres will need to re-sign in order to develop into the well-balanced contender they would like to be.
Raffi Torres (UFA)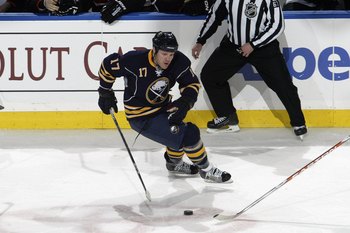 Picked up from Columbus on the March 3 trade deadline, Torres had just five points and no goals in all 14 regular season games that he played with Buffalo.
The unrestricted free agent had two assists in four playoff games, but still no goals and was a healthy scratch for two games.
Torres seemed like a great addition on deadline day—a tough goal-scorer with tons of potential on the second line—but his lack of scoring and the fact that head coach Lindy Ruff never let him near one of the top two lines quickly turned Torres into a waste of a trade.
When it comes down to it, Torres just doesn't fit the style of play in Buffalo and should not be re-signed.
Patrick Kaleta (RFA)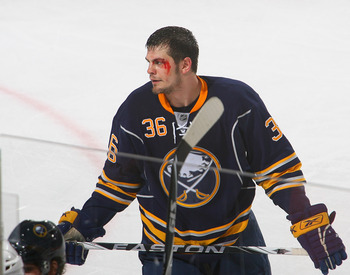 Kaleta is a heavy hitter and arguably the league's best agitator. He has lead the league in penalties drawn per 60 minutes in each of the last three seasons.
In the 2009-10 season, Kaleta set career-highs in goals (10), points (15), game-winning goals (four), shots (64), and average ice-time (10:09).
Kaleta's on-ice presence has made him a fan-favorite in Buffalo and an important part of every game. His game continues to improve every season and he even turned into an important penalty-killer this season.
Signing Kaleta should be one of the first things the Sabres take care of in the offseason.
Matt Ellis (UFA)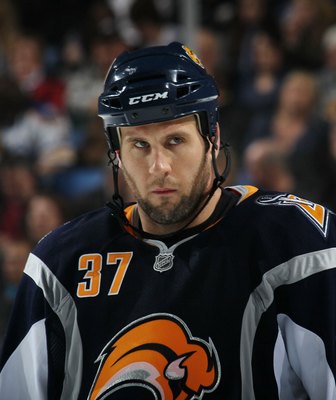 While Ellis never really hurt the Sabres, he also never provided any kind of spark to help.
In two seasons with Buffalo, Ellis posted 10 goals and 25 points. He averaged just under nine minutes per game and was a plus-three.
Although he played in 72 games this season, Ellis is easily replaceable. There are hundreds of players that can play the minutes Ellis played and produce much more from a points perspective.
No loss here—Ellis should not be re-signed.
Adam Mair (UFA)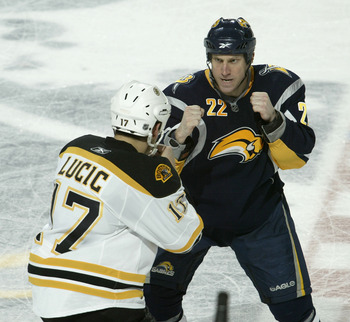 Mair has had a long career with the Sabres, and it's a shame that it might be coming to an end.
This past season, Mair had just six goals and 14 points—his lowest total in three seasons.
Like Ellis, Mair is a replaceable fourth-line player. Earlier in his career with the Sabres, Mair was known somewhat as an enforcer and would drop the gloves every now and again, but as of late the toughness just hasn't been there.
Don't expect Mair to be in a Sabres uniform next season.
Tim Kennedy (RFA)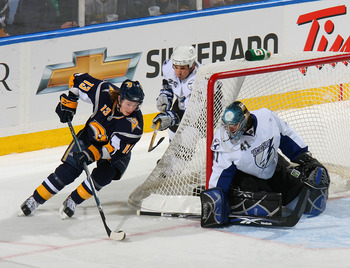 Kennedy had a roller coaster of a season for the Sabres.
The first three quarters of Kennedy's rookie season was a disappointment to say the least, but after being thrown on a line with Derek Roy and Thomas Vanek, Kennedy responded by creating plays and skating harder in both directions—a problem which had plagued the youngster for a majority of the season.
As a result of Kennedy's hard work on the ice, he was rewarded with more minutes in big situations. He showed a lot of promise toward the end of his first full season and was selected to Team USA for the World Championships.
Signing Kennedy to a one or two-year deal would definitely be a smart move for the Sabres—it will give the team a chance to hopefully see the 24-year-old continue to blossom into a stronger player.
Toni Lydman (UFA)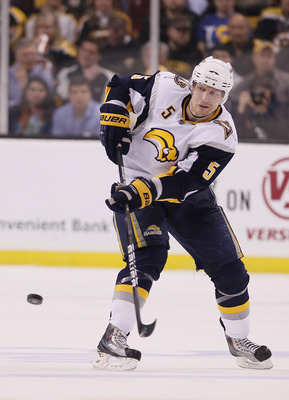 Lydman missed a bunch of games at the beginning of the season and was a defensive disaster in the middle of the season—but that can largely be attributed to his line mate, Steve Montador.
The 32-year-old Lydman averaged under 20 minutes of ice-time for the first time since joining the Sabres back in 2005. He finished with an average ice-time of 18:52 per game.
But Lydman looked like a different defenseman in the first round against the Boston Bruins. He played over 22 minutes in every game, including almost 36 minutes in the Game Four, double overtime loss.
This is a tough call. It wouldn't be the worst move to pair Lydman with Montador for one more season, since both seemed to improve drastically in the playoffs. Between Lydman and Henrik Tallinder, it might come down to which player will accept less money.
Lydman is probably a goner.
Henrik Tallinder (UFA)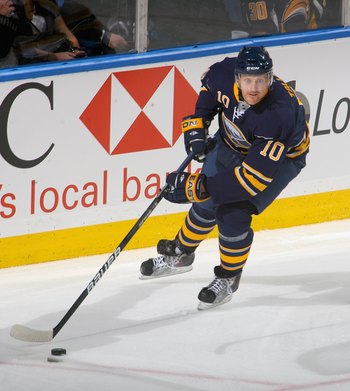 Hank had great numbers this season and his defensive play was fantastic all year long, thanks in part to playing with rookie phenom Tyler Myers.
Tallinder is in a very similar situation to that of Lydman. Both defensemen finished with four goals and 20 points in total, so throw that argument out the window.
The 31-year-old Tallinder averaged 20:37 of ice-time during the regular season, though he did play much less than Lydman in the playoffs—something I still don't understand.
As it was with Lydman, this is another tough call. Tallinder was given a lot of minutes in key situations during the regular season, but then he disappeared during the postseason.
If the Sabres can grab Tallinder for around $2.25 million for maybe two seasons, which is very plausible, then Hank will be in Buffalo next season.
Patrick Lalime (UFA)
In his two seasons with the Sabres, Lalime was an awful 9-21-5. He also had a goals-against average just under 3.00.
In the 2008-09 campaign, Lalime filled in for an injured Ryan Miller and his inconsistent play cost the Sabres a playoff bid.
Lalime was not much better this season. When called on early in the season, he proved that he could not give Miller the rest a starting goaltender needs throughout the season.
Some blame the defense in front of him, but even the defense could not help Lalime with his bad rebounds and soft goals.
With several options, including Jhonas Enroth who has been patiently waiting in the AHL, there is no reason for Buffalo to re-sign Lalime.
Keep Reading