How the NBA Draft Can Change These Franchises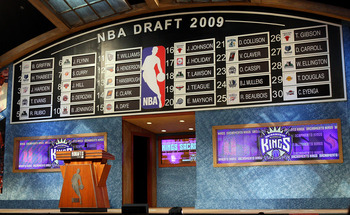 Washington moves up to first, Philly nabs second, and the Nets fall to 3rd. In the aftermath of one of the most anticipated draft lotteries in recent memory, we know now who won the John Wall sweepstakes.
With all the speculation over as to the order of the picking, we now get to ask, just who exactly are you going pick?
In what may be a league altering summer, with the combination of a strong draft class and the impending free agency frenzy, the urgency for a strong draft could sway where certain free agents look to relocate.
In this two part series, we will cover the ten teams that will be picking in this year's draft. With many of these teams well below the salary cap, their pick along with a suitable free agent pick up could transform their franchise, as well as the NBA, for years to come.
Washington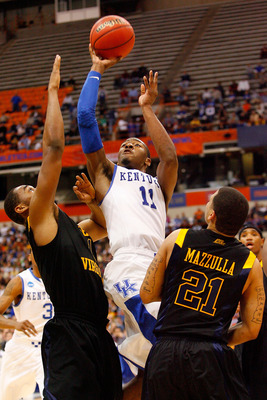 Starting Lineup 2009/2010
PG: Randy Foye
SG: Mike Miller
SF: Al Thornton
PF: Andray Blatche
C: JaVale McGee
Key Bench:
Gilbert Arenas
Josh Howard
Nick Young
The Pick?
John Wall
This is a no brainer. John Wall is head and shoulders better then everyone in this year's draft. He is just oozing potential.
Wall knows when to take over a game with either scoring or passing, and does each with extreme precision and accuracy.
Becoming more dangerous with his jump shot should be his number one priority heading into his rookie season, but he can only get better as the season wears on.
With the fiasco that happened in D.C. this year, the Wizards have made it clear that they are ready to start over.
While management has stated their plan is to stay with Arenas, that plan surely was scrapped once they nabbed the No. 1 pick. Arenas will hopefully be traded for an upgrade at any of the forward spots.
Andray Blatche will either A: mature into an excellent second option and grow with Wall, or B: be a constant problem for their young team.
If he grows up, the Wizards could look at a quick turnaround after last year's fallout. If not, the Wizards will again be looking at the lottery to find help for Wall.
Philadelphia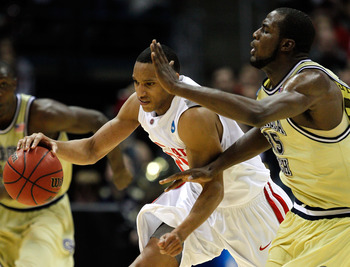 Starting Lineup 2009/2010
PG: Jrue Holiday
SG: Andre Iguodala
SF: Thaddeus Young
PF: Elton Brand
C: Samuel Dalembert
Key Bench:
Louis Williams
Marresse Speights
The Pick?
Evan Turner
Again, this should be obvious. The reigning college Naismith Award winner won't be waiting long to hear his name called, and Philly won't have to antagonize over who to pick between Wall and Turner.
Luckily for the 76ers, Turner is probably the better fit for them anyway, and they won't have to hear the harsh criticism they could hear picking the wrong guy (if there is one between these two).
Turner will step right in from day one and help turn around an underachieving Philly team. His ability to stretch defenses with his three-point shot is something Philadelphia has been missing, and his passing skills are extremely high and can only help his back court mate Jure Holiday.
The real question will be how their future coach will divide the touches between a number of capable scorers.
This team is in need of a trade badly, preferably with either Brand, who has been lackluster throughout his stay in Philadelphia, or Louis Williams, who will fall in the depth chart and would help many other franchises.
Much like Washington, look for Philly to bounce back if all the pieces are in place. On paper, this team can create a number of mismatches and are extremely athletic.
New Jersey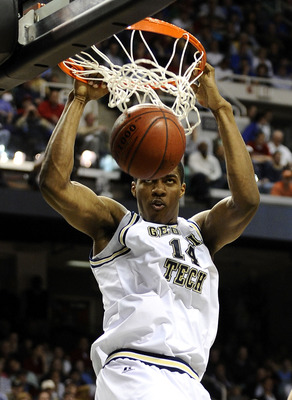 Starting Lineup 2009/2010
PG: Devin Harris
SG: Courtney Lee
SF: Terrance Williams
PF: Yi Jianlian
C: Brook Lopez
Key Bench:
Jarvis Hayes
Chris Douglas-Roberts
Bobby Simmons
The Pick?
Derrick Favors
The Nets cannot seem to catch a break, and falling out of the top two could potentially mean the end of the LeBron chase. Whether or not LeBron is or will ever be swayed to relocating to New Jersey is a different matter all together.
Derrick Favors, I think, is a phenomenal pick for the Nets to center in on as he is an athletic big man who can compliment Brook Lopez. Favors is explosive down in the paint, and while he needs to work on his post skills, should be able to get by with his athleticism alone as opposing bigs focus on Lopez.
The key to the Nets season will surely rest on the free agency period, so it is likely that Favors will feel much pressure to succeed right away, and will instead be allowed to develop. He is still young, but has tremendous upside, and with a commitment to defense he could be a strong shot blocker due to his great jumping ability.
Favors could very well be a pick that a lot of people will sleep on, but as this young Nets team grows older, look for Favors to be an important piece to future success.
Minnesota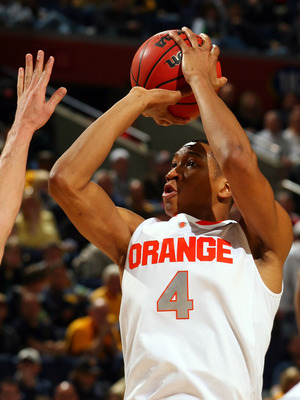 Starting Lineup 2009/2010
PG: Jonny Flynn
SG: Corey Brewer
SF: Ryan Gomes
PF: Al Jefferson
C: Ryan Hollins
Key Bench:
Kevin Love
Ramon Sessions
Damien Wilkins
The Pick?
Wesley Johnson
Wesley Johnson could be a perfect fit for Minnesota. He and Flynn went to the same school. His scoring ability is something the Wolves have lacked for a number of years from their wing players. He is unselfish, which is always important in the triangle offense.
Simply put, this could be a match made in heaven.
With Johnson's impressive offensive arsenal added to the ever improving Wolves, this could be the year that Minnesota finally escapes the cellar of the ultra competitive Western Conference.
It may be a stretch they make a solid playoff run like the Thunder this year, but an improvement after a 15 win season should be easily attainable, especially after the growth in Kevin Love and a year of experience for Flynn.
While Minnesota's franchise player continues to grow and mature overseas, rest assured that these young Wolves will have much more bit to them this coming season with the addition of Johnson, who could be an early favourite for Rookie of the Year.
Sacramento
Starting Lineup 2009/2010
PG: Tyreke Evans
SG: Andres Nocioni
SF: Donte Green
PF: Jason Thompson
C: Spencer Hawes

Key Bench:
Beno Udrih
Carl Landry
Omri Casspi
The Pick?
DeMarcus Cousins
This one's tricky. On one hand it seems as though Cousins could be the best big man in the draft. But I always felt that he was winded far too easily, and seemed to play for only half a game because of fatigue.
Is it worth it to invest a top five pick into a player that can dominate, but only for two quarters?
Sacramento is also fairly set at the forward positions, and would be far better suited to take a wing or shooting guard, but it would be a reach to take the likes of Xavier Henry (who I feel would be the best choice for the Kings) at number five.
I could potentially see the Kings trading down in the draft to allow another team to take the number five pick, but regardless of who picks him, I still see most teams taking Cousins.
Cousins was simply dominant at the college level, and if he can improve his cardio and stay in games, he could very well be a steal at number five.
Keep Reading