Analyzing the New York Yankees' Designated Hitter Carousel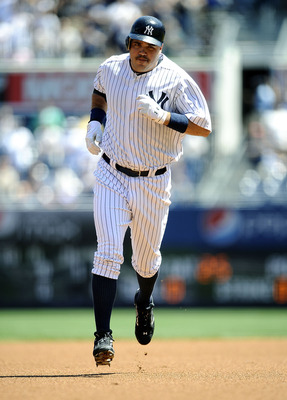 With the news coming in from all over that Nick Johnson will need wrist surgery and will be out until at least July, the Yankees have found themselves without an everyday designated hitter.
Johnson, who was batting an abysmal .167 to begin with, now needs a replacement in the lineup.
Since his departure, the Yankees have been shuffling a bunch of players around and giving their opponents different looks on almost a game-by-game basis.
The Yankees may not need to go out and get a DH if they are able to win with the current mix of players they have right now.
Only three games back of the red-hot Rays, they enter a time where the DH shuffle may be crucial to getting those extra wins needed to overtake Tampa Bay later in the season.
Here are some of the designated hitting situations the Yankees have gone with, some more they could go with, and how they will fare in-game.
Derek Jeter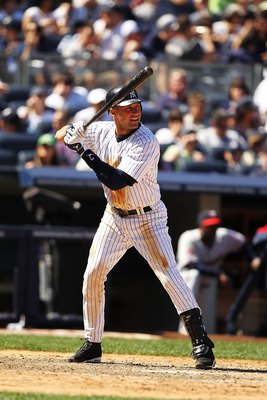 In order to give Derek Jeter somewhat of a rest, he has hit in the DH spot three times this season, while youngster Ramiro Pena plays shortstop.
Jeter, who has definitely lost a step or two in his game over the last few years, is a decent look for the DH position when he needs a half-day off.
His hitting stats this season are a .268 average with four home runs and 23 RBI.
Jeter, who has never really been known for his powerful bat, will most likely DH on days when he is unable to play shortstop due to a bit of fatigue.
I wouldn't look to Jeter too much to fill the DH spot this season.
Alex Rodriguez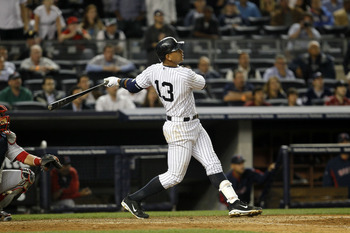 A-Rod is a decent option at designated hitter, as he may need a few half-days off as well.
Rodriguez has hit in the designated hitter spot three times this season and could see more work there with the loss of Nick Johnson for a few months.
Rodriguez could be a great option as a DH as long as Pena can step up and play third base, as he is usually used as a shortstop.
A-Rod's hitting stats up to date are as follows: .290 batting average, five home runs, and 31 RBI.
Marcus Thames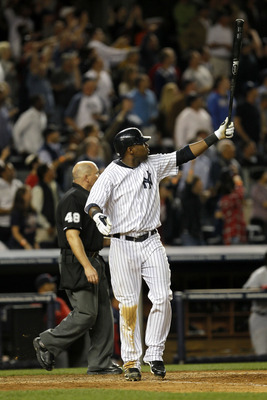 As the 2010 campaign goes on, one thing starts to become more apparent: Marcus Thames is a bad fielder.
That being said, he does produce at the plate and was able to lift the Yankees over the rival Red Sox with a recent walk-off home run.
Thames is only seeing action in the field due to an injury to Nick Swisher. With Swisher's return, Thames will most likely be used exclusively as a DH.
Thames is batting well against all pitchers, hitting .304 vs. right-handers and a monster .414 against left-handers.
Thames also has two home runs and 10 RBI.
I wouldn't be surprised if we saw Thames exclusively in the lineup often against left-handed pitchers.
Juan Miranda
Juan Miranda is a player who was recently called up from the minors and is doing a decent job filling in for the current M.A.S.H. unit that is the bottom of the Yankee lineup.
Miranda, a first baseman who has only played in five games, is batting .231 with a home run and two RBI.
Miranda may also fill in for Mark Teixeira at first base on days when Tex needs a break and is hitting in the DH spot.
I wouldn't look for too much out of Miranda right now, but in the future, he may become useful at DH or for a clutch pinch hit here and there.
Jorge Posada and Francisco Cervelli
The situation for the Yankees at catcher for the next few years is looking pretty solid.
While it is true that Jorge Posada is aging, and with his aging comes injury, he is still producing on the offensive side, like he always has.
To date, Posada is batting .326 with six home runs and 14 RBI.
On the flip side, young Francisco Cervelli is off to the races.
2010 has been an amazing year so far for a player who struggled to hit in AA.
Cervelli is currently batting a robust .375, with 15 RBI, but has yet to see his first homer.
Cervelli is proving that he can make the most of his playing time with Posada out of the lineup with his foot injury.
The Cisco Kid could see more playing time at DH if he continues to hit like he is now.
Keep Reading

New York Yankees: Like this team?