Don't Forget Robert Griffin: Baylor QB Aiming to Get Bears on Track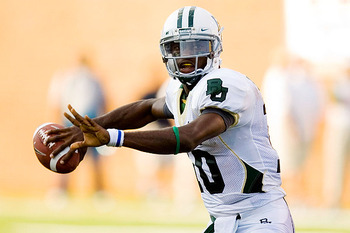 Remember the name Robert Griffin, aka RGIII, if you've forgotten it already.
Baylor's RGIII, the Big 12 Bears' starting quarterback, will be back with a vengeance on the college gridiron in 2010.
For those with short-term memories, as many sports fans tend to have, let's take a quick look back at just how good Baylor QB Griffin has been in the past—along with his plans for the future while donning green and gold…
High School Star in the Making: From Big Man on Campus to Newest Bear
Baylor football head coach Art Briles and red-shirt sophomore play-caller Robert Griffin III have been communicating with each other on the gridiron for quite some time now, as RGIII actually committed to Briles while he was still at the helm of the Cougars football program at the University of Houston.
Griffin III, a four-year star out of Copperas Cove High School—who led the team to a 13-2 overall record during his senior season, and second straight year as the school's starting QB—recorded 1,285 rushing yards with 24 touchdowns on the ground, along with 1,356 passing yards and 16 TD's through the air, his final year in Copperas Cove, Texas.
When first being pursued by recruiters across the globe, Griffin III was ranked as the fourth-best dual-threat quarterback in the nation by Rivals.com; and he was ranked No. 42 among Texas high school football players in 2008.
After originally committing to play for UH when Briles was the head coach of the Cougars, Griffin III switched his commitment and eventually signed a National Letter of Intent to play with the Bears when Briles left Houston for Baylor.
Freshman Phenom: Welcome to the World of NCAA Football, RGIII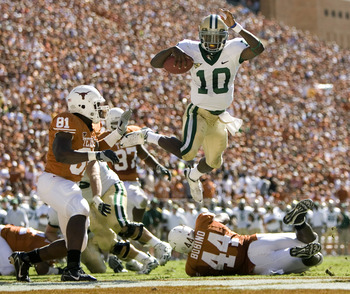 As a fish in the deep Big 12, Baylor's Robert Griffin III still shined quite brightly—despite all the flack the Bears get about being the weakest team in the conference—and was awarded with Freshman of the Year honors.
Statistically speaking, Griffin III (who started 11 of 12 games as a freshman) garnered 2,091 yards passing with 15 touchdowns and just three interceptions during the 2008 season with Baylor.
In the rushing department, Griffin III amassed 843 yards while scoring 13 touchdowns on the ground during his freshman campaign with the Bears.
What A Game (2008): RGIII Runs for 217 Yards, Throws for 129 More
Robert Griffin III truly burst into the national spotlight in his second start (third game) of the 2008 season when Baylor faced Washington State.
In that game, Griffin III garnered a school-record 217 rushing yards with two touchdowns on the ground, along with 129 yards passing with a TD, in a victory over the Cougars.
And in a breakout performance, Griffin III would go on to astonish and amaze both writers and fans alike during the 2008 Big 12 season; and he's bound to be a highlight reel showcase in 2010 as well.
2009 Campaign Cut Short: Super Sophomore Seasons Ends Early with Injury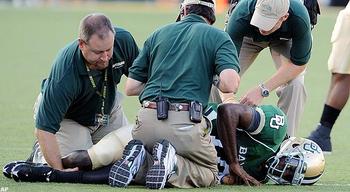 Just three games into his sophomore season, Robert Griffin III went down with an injury that would end his 2009 campaign—despite the battered QB playing on a torn ACL the remainder of the first half in Baylor's third game of the year.
In that game against Northwestern State, RGIII totaled 226 yards while passing for three touchdowns and no interceptions (in the first half alone), according to Baylor's official athletic site.
Thankfully, there are laws and rules in NCAA Football that protect players that go with the injuries early in the season—as Griffin III was able to successfully attain a medical redshirt to give him eligibility to lead the Bears through 2012.
In his brief 2009 stint, Griffin III garnered 481 passing yards (with four touchdowns and no interceptions) while amassing 77 rushing yards (with two TD's on the ground) while completing 65.2 percent of his passes.
Red-Shirted and Ready to Lead Baylor Football for Next Three Years…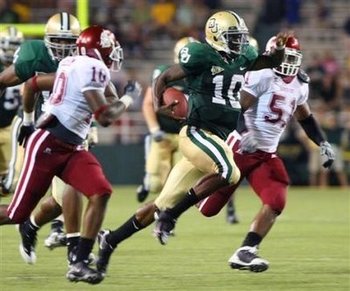 As mentioned in the prior slide, Baylor QB Robert Griffin III attained a medical redshirt for the 2009 season—allowing RGIII to lead the Bears through the 2012 season.
Griffin III, who is returning from a season-ending knee injury, participated in all non-contact portions of spring drills according to Baylor's official athletic site.
In addition, Griffin III is tied for ninth on the school's all-time rushing TD's list (15) and ranks No. 15 all-time at Baylor in passing yards with 2,572 entering the 2010 season.
Fans of BU football are holding their breath as the 2010 season approaches, hopeful and praying that Griffin III will return healthy and remain injury-free this year as the Bears aim to build upon the success they first tasted when RGIII erupted onto the scene.
And with head coach Art Briles leading the charge, a healthy QB and a fairly-new set of backs and receivers may just shock both the Big 12 and the world of college football in general as the upcoming season looms around the corner.
2010 Baylor Football: Bears Begin Season Sept. 4, Battle Sam Houston St.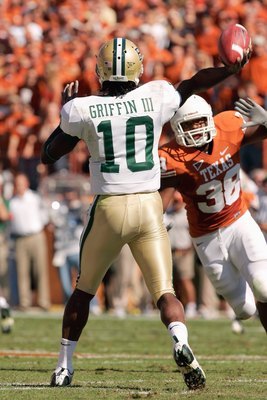 The Baylor Bears officially kickoff their 2010 season on September 4 at Floyd Casey Stadium in Waco, Texas.
And though a start-time for the Bears season-opener has yet to be announced, the Bears will begin Big 12 play at home against the Kansas Jayhawks on Oct. 2, 2010.
The remainder of Baylor's upcoming season schedule (* represents conference games) is as follows:
Sept. 11—vs. Buffalo (Parent's Weekend)
Sept. 18—at TCU [Televised Game, 3:30 p.m. CT]
Sept. 25—at Rice [Televised Game, 7 p.m. CT]
Oct. 2—vs. Kansas *
Oct. 9—vs. Texas Tech * [@ Dallas, Texas]
Oct. 16—at Colorado *
Oct. 23—vs. Kansas State *
Oct. 30—at Texas *
Nov. 6—at Oklahoma State *
Nov. 13—vs. Texas A&M *
Nov. 20—vs. Oklahoma *
It's only a matter of time before the weekends are once again filled with anticipation of upset Saturday's, as schools around the globe aim to improve as a new season looms.
And the 2010 will represent a fresh start for the upbeat Bears—with Baylor being both willing and able to shock the college football world this year.
With a healthy RGIII and a new set of faces, Art Briles and his underdog Bears are ready to hit the gridiron—and ready to prove once and for all that Baylor belongs in the Big 12 Conference.

*****
Denton Ramsey may be reached via email at denton.ramsey@gmail.com
[All Photos Courtesy of Google Images Search]
Keep Reading

Baylor Football: Like this team?