Five Players the Vancouver Canucks Should Target for Signing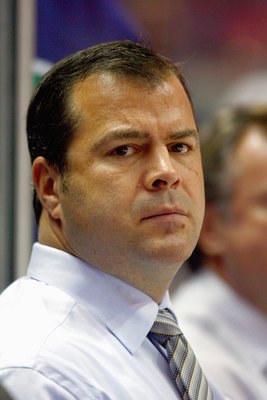 I will bring something up that I have mentioned before when it comes to signing free agents, and no, it's not about the amount of dollars.
What I see to attracting players to the Canucks is taking a look at where they were born, and if they fit your needs, then go hard after them.
Is there anyone playing in the NHL that wouldn't like to go back home to continue with their careers?
BC has contributed a number of players to the big leagues, and a few of them will be UFAs come July 1, 2010.
The first two are players that would help this team in the areas discussed following the second round loss to Chicago.
It is obvious that the Canucks defense needs to be overhauled. The team lacks both toughness and talent and does not have a Drew Doughty, Duncan Keith, or P.K. Subban in its organization or on the horizon.
So with that said, the 'Nucks will have to go out and sign some UFAs that will fill in the ranks of a top four D-man.
So I'm going to put on the coach's hat, and whispering into GM Mike Gillis' ear, I'll tell him we will be targeting the following, not only because they fill the needs but also because they are BC guys.
Dan Hamhuis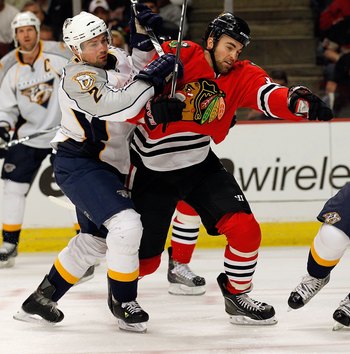 Dan Hamhuis, 28 - Defense – last season's cap hit: $2.5M. 5G, 19A, 148 Hits.
Born - Smithers, BC. Height 6.00, Weight 208, Shoots L.
If Sami Salo (shoots R) plays another year and can stay relatively healthy, Hamhuis and him would form your shutdown D-pair, and would they look good doing so.
Good solid D-man, good skater, moves the puck well, and likes to play physical.
Colby Armstrong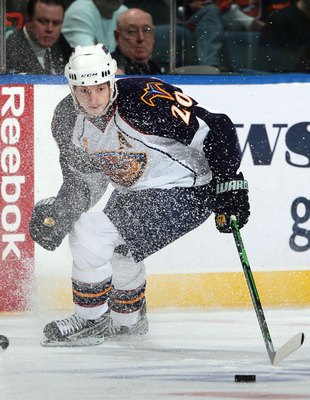 Colby Armstrong, 28 - Wing – last season's cap hit: $2.4M - 15G, 14A, 74 Hits.
Born - Lloydminster, BC. Height 6.02, Weight 187, Shoots R.
I see this player on the second or third line, and as I have said many times before, if Kyle Wellwood (if the Canucks re-sign him, and you know my choice) had someone like Armstrong on his wing, he would turn into half of a very productive duo.
Milan Jurcina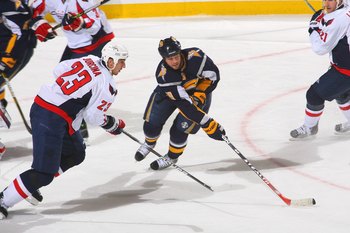 Milan Jurcina, D - 28, 6'4", 230, shoots R – last season's cap hit - $1.375M.
He only played 44 games last year with the Caps but finished with 88 hits. If you extrapolate that over a season he would have finished second on his team with 176.
Think about that, Canucks fans. He would have also been a top player in blocked shots on a 'Nucks team. He would fit in well beside Shane O'Brien, and not too many players would be camping out in front very often.
Anton Volcenkov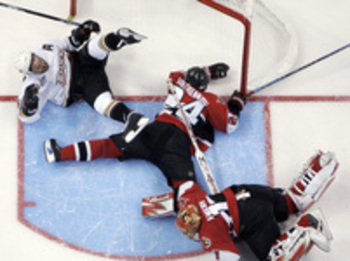 Sorry about the picture, but that's all I could find.
Anton Volcenkov, D - 29, 6'0", 227, shoots L – last season's cap hit - $2.5M – a good tough player that likes to hit, he finished fourth on the Senators with 152.
Finished second among D-men on the Sens in plus/minus. He is not offensively gifted, but hey, if he can look after the front of the net, then that's all he needs to do.
He would help a player like Alex Edler and maybe teach him a bit about playing tough.
Alexei Ponikarovsky
Alexei Ponikarovsky, LW, 31, 6'4", 220, shoots L – last season's cap hit - $2.1M
I liked this player when he was with the Leafs. He is not afraid of the tough going and was always in the top five of his team in hits.
He finished the season with Pittsburgh and was fifth in hits with 146. Had he played for the Canucks he would have been second. Besides that, he has some finish around the net with 21G and 29A.
Could play on the second or third line. Heck, he could play with the Sedins.
The Coach's Summation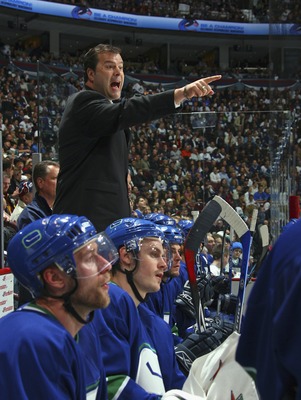 So now you're going to ask me, what do the Canucks do with Kevin Bieksa?
Well, at $3.5M for a fifth or sixth D-man who still has not developed into what they expected, then it's time to move him (to free up some cap space) or, as I wrote about earlier in the year, convert him to a forward.
Surely you can see a commonality with these players: Besides their talent they can all play physical.
The forwards would definitely upgrade the bottom two lines, especially the third, and could fit under the cap.

Now if only I can get Gillis' attention.
Keep Reading

Vancouver Canucks: Like this team?