The 10 Quickest MMA Beatdowns of All Time (With Video)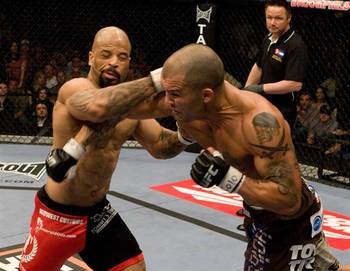 Who doesn't love a good knockout.
Nothing quite engages fans and gets the adrenaline pumping like a big KO finish to a fight and when those KO's come in fast or devastating fashion the excitement levels can reach fever pitch.
With that in mind I was recently taking a peruse through the archives for some of the fastest and most memorable quick MMA knockout's.
Here is a rundown in no particular order of the top 10 MMA Beatdowns that caught my attention and most definitely put a smile on my face.
Todd Duffee announces himself to the UFC Heavyweight Division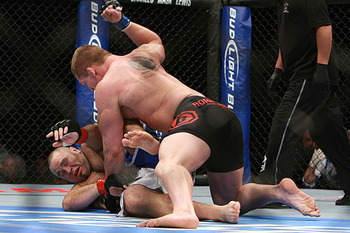 The current UFC record for fastest knockout is held by the young man mountain, Todd Duffee.
The Heavyweight prospect dispatched Canadian Tim Hague in just 7 seconds at UFC 102.
Sidelined for a lengthy spell due to injury, MMA fans will finally get the chance to cast hopefully a longer eye over Duffee as he returns to the octagon at UFC 114 against Mike Russow.
Watch out fans because so far his UFC career has lasted 7 seconds!

The Assassin Gets Taken Out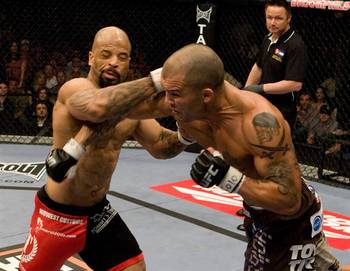 Houston "The Assassin" Alexander vs James "The Sandman" Irvin was a fight that was destined to end quickly.
Long before both of these fighters drifted into obscurity cased by their poor recent performances, Irvin and Alexander met in a hotly anticipated match of two knockout artists.
Alexander was the "Assassin" who had knocked off Keith Jardine in devastating fashion and Irvin was a rising 205lbs fighter. This one ended fast and was a highlight of how effective a superman punch can be.
Never Underestimate a Man with a Mustache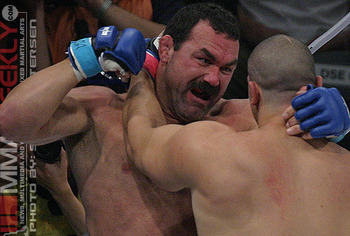 Back in the UFC early days or as I like to call it the glory days, Don Fyre was busy carving his name into MMA folklore as one of the founding fathers of the sport.
This fight was a great example of technique, timing and power beating a bigger fat man.
A Prodigy Is Born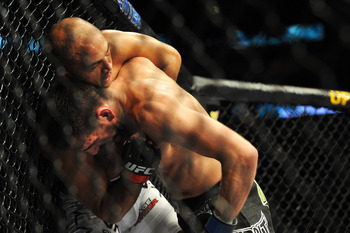 BJ Penn's performance in this fight at UFC 34 was amazing on multiple levels.
The finish of Caol Uno in 11 seconds and then the running to the locker room now live in UFC legend.
This was truly the night that the "Prodigy" announced himself to the world and the legend that is BJ Penn was born. Just sit back and admire.
Two Ultimate Fighter Contestant's Collide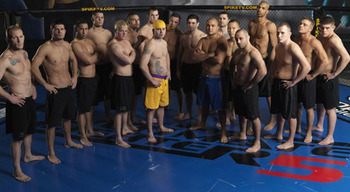 Before Manny Gamburyan scaled the heights of the WEC 145lb division he was a rising star in the UFC Light-weight Division.
His fight at UFC 87 against fellow Ultimate Fighter cast mate Robert Emerson was meant to be the continuation of his rise to glory.
Apparently Emerson didn't get the script as he proceeded to KO Manny Gamburyan.
The Kiss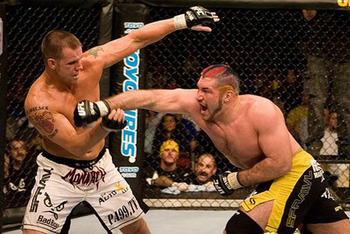 Back when the Japanese MMA organization Pride was at its best and the "Texas Crazy Horse" Heath Herring was a big fighter.
One of the most memorable moments in MMA history happened at the 2005 Open Weight Grand Prix. Although technically not a KO as the fight had not even started this moment will live forever for many fans as a funny moment in MMA history.
Now simply known as 'The Kiss'.
Smokin' Joe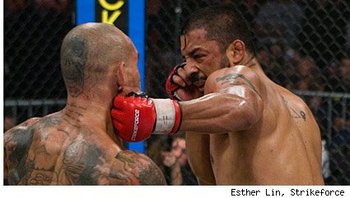 Joey Villasenor is now a known name to hardcore MMA fans, but before he hit the big time he was busy KTFO of his opponents.
King of the Cage was the promotion and New Mexico the location for this devastating KO by Joey Villasenor.
Watch once and smile, watch it twice and imagine if the right hand had connected as well, ouch!
Double KO = Youtube hit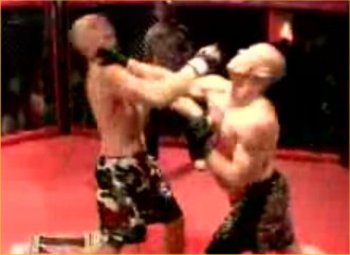 You probably won't know the names of these two fighters, but there is a high chance you may have seen this clip already.
Tyler Bryant and Shawn Parker partake in a few opening exchanges inside the cage before the unbelievable happens.
Double KO anyone.
Don't Judge a book by It's Cover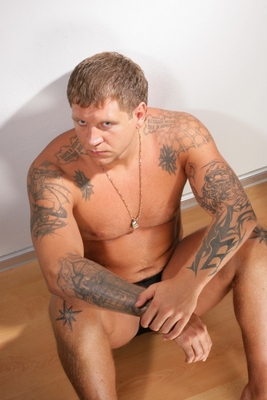 One of my picks purely because it truly exemplifies the phrase, "Don't judge a book by its cover".
Pre-fight without any prior knowledge you would think that the jacked up, huge, mean looking James Thompson is going to eat the pudgey Aleks Emlianenko alive.
It's great to prove people wrong right and the doughy Russian definitely does that.
Never Run Into a Fight!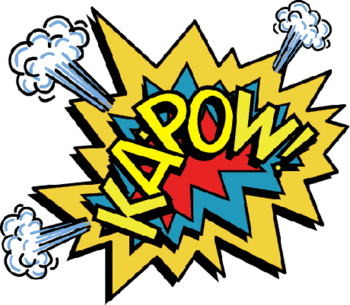 Another video that has done the rounds on youtube and the like for sometime.
However there is still no escaping the greatness of this video. Take a bow Chris Clements as a quickly lays the smackdown on Lautaro Tucas.
Keep Reading