2010 NBA Draft Lottery Results: Draft Order is Set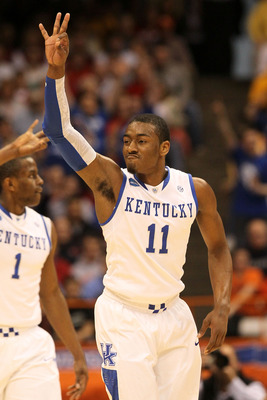 The Washington Wizards have won the John Wall sweepstakes, or at least the right to draft the Kentucky Wildcats star with the No. 1 overall pick in the 2010 NBA Draft after winning the NBA Draft Lottery.
The Wizards, who only had a 10.3 percent chance of earning the overall pick, topped the Philadelphia 76ers (2nd overall) and New Jersey Nets (3rd overall). The Nets entered the lottery with the best chance to get the No. 1 overall pick but ended up with the third overall pick, despite a 25 percent chance at the prize.
No. 1 Pick: Washington Wizards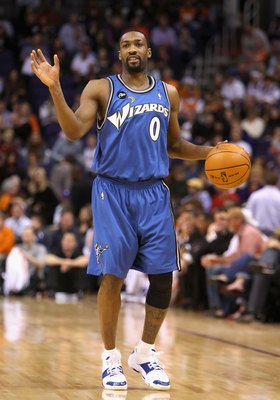 The Wizards, a franchise that has led a cursed existence including a failed management run by Michael Jordan and the NBA suspension of Gilbert Arenas, finally has something to smile about after landing the No. 1 pick.
With a guard rotation that includes Earl Boykins, Nick Young and Shaun Livingston, John Wall would start from Day 1 on this team and make them markedly better. Assuming of course he can avoid injury along the lines of the season-ending injury suffered by last year's pick Blake Griffin of the Los Angeles Clippers.
No. 2 Pick: Philadelphia 76ers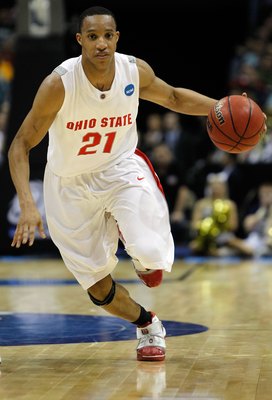 The 76ers will probably select Ohio State do-everything guard/swingman Evan Turner who paced the Buckeyes in scoring, rebounding and assists last season, despite suffering a serious early-season back injury. The question will be whether Philadelphia's Andre Iguodola can co-exist with Turner or whether Iguodola gets traded in the off-season.
No. 3 Pick: New Jersey Nets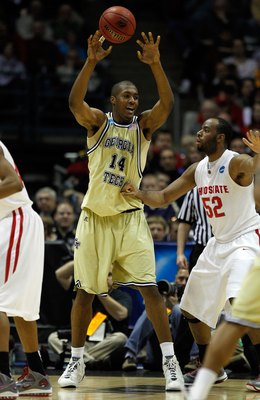 Russian billionaires and Jay-Z are crying their eyes out tonight after the Nets missed out on the John Wall prize—and runner-up Evan Turner—despite finishing with a record among the worst in NBA history. Instead of a potential starting lineup that could include John Wall, LeBron James, a power forward the team could acquire in a trade for Devin Harris and Brook Lopez, this squad will include a lineup of Devin Harris, Courtney Lee, Brook Lopez and Derrick Favors. Don't count on King James hopping aboard that train.
No. 4 Pick: Minnesota Timberwolves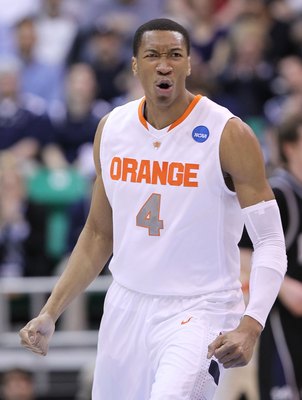 The T-Wolves are in trouble...again. With the No. 4 pick, there's no real slam dunk that makes sense. They have a roster that includes Jonny Flynn, Corey Brewer, Kevin Love and Al Jefferson. Would Wesley Johnson make sense to slide into the small forward spot? Possibly. Could the T-Wolves trade the rights to last year's pick, point guard Ricky Rubio, who returned to Europe, in a package deal? That's a definitely possibility. Will the T-Wolves make the playoffs next season? Doubtful.
No. 5 Pick: Sacramento Kings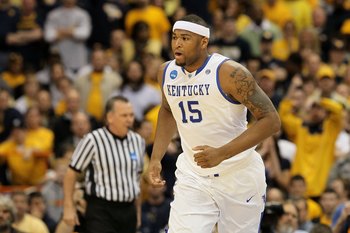 DeMarcus Cousins can't slip past the Kings at No. 5, can he? I thought he and John Wall had a shot to go 1-2 in the draft but draft experts have him slipping on the big board and targeted him as a late lottery pick. With a front line that includes Spencer Hawes and Carl Landry, the Kings could use a stud on the front line to pair with Rookie of the Year Tyreke Evans.
No. 6 Pick: Golden State Warriors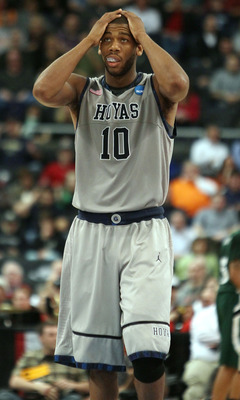 The Warriors scored big in last year's draft when they snatched Stephen Curry out of the Knicks clutches and he emerged as a Rookie of the Year candidate and the main reason why Monte Ellis is now trade bait. Coach Don Nelson prefers versatile swingman as opposed to true post players but he'll love Greg Monroe's high-post passing ability. He's athletic and can run the floor but doesn't have a true back-to-the-basket post game which is perfect for Nelly-ball.
No. 7 Pick: Detroit Pistons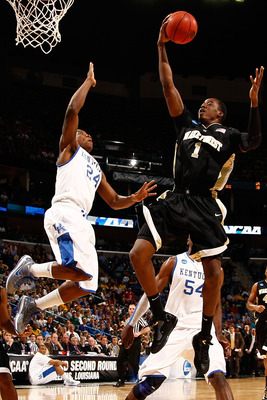 With the seventh pick, the Pistons will opt for the best player left on the board, Wake Forest's Al-Farouq Aminu, a banger down low who can score in close but will need to expand his shooting range in the league. He definitely fits the toughness bill that Joe Dumars looks for when rebuilding the Pistons roster.
No. 8 Pick: Los Angeles Clippers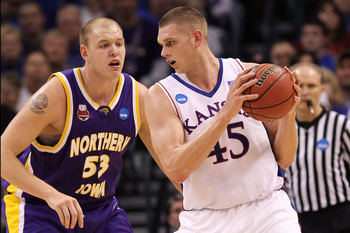 With last year's No. 1 overall pick Blake Griffin returning from injury and a nucleus that includes solid guards Baron Davis and Eric Gordon, the Clippers will probably look for size in the draft. Aldrich will have to compete with incumbent Chris Kaman for minutes, but he represents a legitimate shot-blocker and inside presence that the Clippers can use. And hey, what better way for a slow white NBA center to learn than study at the feet of another in Kaman?
No. 9 Pick: Utah Jazz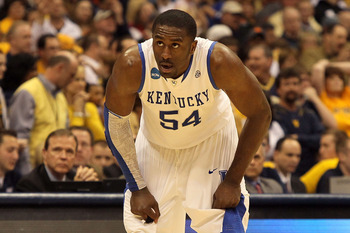 With Carlos Boozer a free agent and probably headed out of town with Paul Millsap primed to eat his minutes, the Jazz will be looking for depth on the front line and Patterson's wide body will fit the bill. He'll have to work hard to get in shape and learn the finer points of Jerry Sloan's pick-and-roll offense.
No. 10 Pick: Indiana Pacers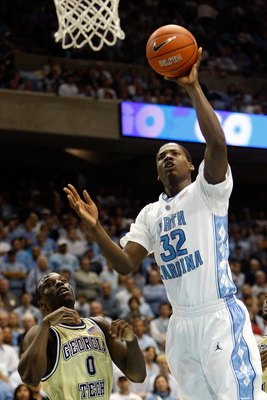 With the 10th overall pick, the Pacers could do worse than the smooth lefty Ed Davis out of North Carolina. Davis boasts an array of post moves around the basket but has never put up monster numbers in college because he tends to blend into the offense as opposed to demand the ball. We'll see if that changes in the NBA.
No. 11 Pick: New Orleans Hornets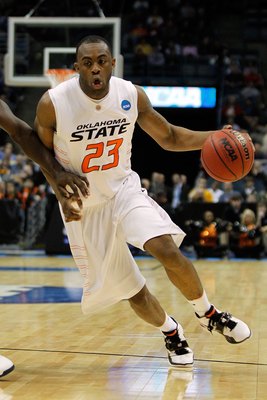 With Chris Paul back running the point and Darren Collison backing him up, the Hornets could use a sharpshooting 2-guard to make their backcourt dangerous. Enter Anderson, a sniper of a guard from Oklahoma State who will slide in nicely in the Hornets backcourt and form a dangerous inside-outside combination with David West.
No. 12 Pick: Memphis Grizzlies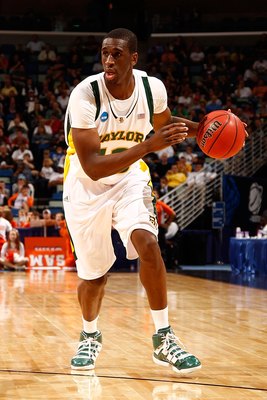 With a core that includes OJ Mayo, Zach Randolph and Marc Gasol, the addition of Ekpe Udoh, the best shot-blocker in the country, would translate into an imposing front line for the Grizz. Gasol and Udoh wouldn't be the most offensively talented pair down low but Zach Randolph would be more than happy to snap up their share of the shots and squeeze them off.
No. 13 Pick: Toronto Raptors
With Chris Bosh not coming back to the Raptors–and seriously, would you?—Toronto will have a big hole in their front line. Enter Whiteside, a legitimate 7-footer but albeit one who has matched his skills against mid-major talent while playing for Marshall.
No. 14 Pick: Houston Rockets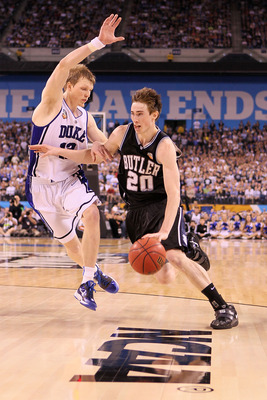 With a backcourt that now features Aaron Brooks and Kevin Martin, the Rockets need help on their front line. Gordon Hayward will represent an offensive alternative to Shane Battier at the three, with his ability to put the ball on the floor and shoot the deep jumper. Think of him as a poor man's Larry Bird, but really poor, borderline homeless.
Keep Reading