NCAA: Georgia's Ten Most Gut-Wrenching Losses Under Mark Richt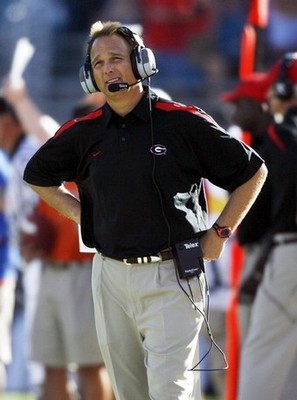 Over the past ten seasons, the University of Georgia has had a lot of success under Head Coach Mark Richt. The Bulldogs have brought home championships, and have competed at a very high level.
Unforunately, like any football team, the Dawgs have also been victim to gut-wrenching losses. The kind of losses that cause true fans to crawl under a rock and mourn for a week, a year, or maybe forever.
This article ranks the top-ten most heartbreaking losses endured by Bulldog Nation under Mark Richt.
No. 10 2008: Florida 49, Georgia 10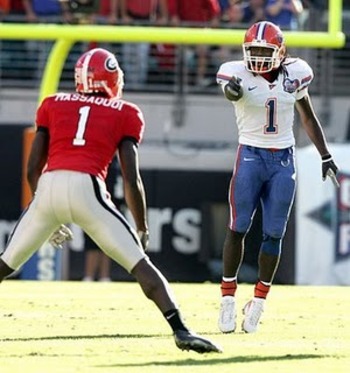 This game was none other than a complete demolition.
What started as a 14-3 deficit for the Dawgs quickly evolved into a 49-10 beatdown at the hands of the hated Gators.
Matthew Stafford threw three interceptions, Knowshon Moreno lost a fumble, and Blair Walsh missed two field goals in the 39 point defeat which was and is the worst loss (point-wise) under Mark Richt.
Georgia had hoped to win the SEC East, but it all came to a end as Florida won for the 16th time in the last 19 meetings.
To make matters worse, Urban Meyer decided to call two timeouts in the final 44 seconds of the game.
No. 9 2008: Alabama 41, Georgia 30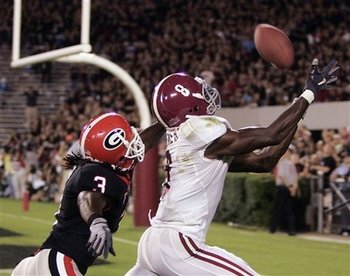 College Gameday, National TV, Sanford Blackout... the Dawgs can't possibly lose a game with this setting, right? Wrong.
Bulldog Nation is reminded of the shocking 41-30 loss to Alabama in 2008 every time ESPN shows highlights of the Crimson Tide.
Georgia entered the match-up with an eleven-game win streak and was ranked third in the country. What was supposed to be a statement game turned into a reality check for Georgia's players and fans.
Alabama jumped out to a stunning 31 point lead before halftime (assisted by Georgia penalties that extended their drives).
Georgia fought back in the second half, but it was already over by then.
No. 8 2004: Tennessee 19, Georgia 14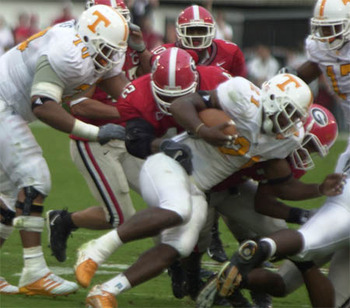 The third ranked Bulldogs strutted into this game with a 17-game home win streak, a victory over defending SEC Champions LSU, and were looking to take control of the SEC East.
However, throughout the game, the Bulldogs were unable to run the ball successfully. They also had 82 yards worth of penalties and a missed 29 yard field goal.
With one second left in the game, on the Tennessee 19, Georgia had a chance to win the game, but David Greene threw an incompletion which handed the Volunteers their first victory over Georgia since 1999.
No. 7 2006: West Virginia 38, Georgia 35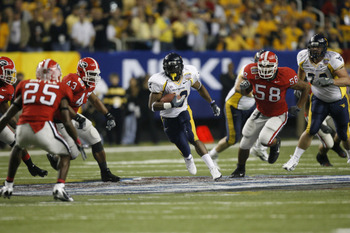 Surprisingly, home-field advantage in the Georgia Dome and a great second half effort were not enough to help Georgia overcome a 28-0 deficit in the 2006 Sugar Bowl.
West Virginia and running back Steve Slaton gave the Georgia defense fits throughout the game. Slaton was unstoppable as he ran for 204 yards (a Sugar Bowl record) and three touchdowns.
Despite 14 points off of two Georgia fumbles, the Mountaineers allowed Georgia to get within three twice during the second half.
Early in the fourth quarter, though, West Virgina converted a 4th-and-6 which led to a 38-28 lead for the Mountaineers with eight minutes to go, eventually sealing the Bulldogs' fate.
No. 6 2006: Vanderbilt 24, Georgia 22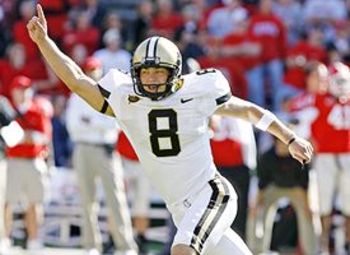 On this fateful day, historically weak Vanderbilt upset the historically powerful Georgia on homecoming. It was a two point loss that left the entire Bulldog Nation dazed and confused.
It was a two point loss that made a four point loss to Kentucky later in the season look reasonable.
Coming off a beatdown by Tennessee, Georgia lost to Vanderbilt on a 33 yard field goal with two seconds left. It was a loss that could have gone the other way if Georgia had made a 37 yard field goal and converted a two point conversion with five minutes remaining.

What make this loss even worse are two stats:
The Bulldogs lost to Vanderbilt for the first time since 1994;
and they lost to an unranked team for the first time since 2002.
No. 5 2009: LSU 20, Georgia 13
Up until this point, both Georgia and LSU had their struggles.
At No. 4, LSU was looking to solidify itself as a top ten team. At No. 18, Georgia was looking to get the win that would boost them to yet another ten-win season.
Overall, this game was not hard to watch. Georgia found its running game, and seemed to be in it up until the end. Late in the 4th quarter, AJ Green caught an amazing touchdown pass that gave the Bulldogs a 13-12 lead, and sent Sanford Stadium into an absolute frenzy.
In the heat of the moment, Green drew a phantom excessive celebration penalty that will go down as one of the worst calls in Georgia football history.
On the ensuing kickoff, the penalty, along with poor coverage, gave the Tigers outstanding field position which led to a game-winning touchdown run by Charles Scott.
Poor officiating, poor tackling, and missed opportunities resulted in a heartbreaking for the Bulldogs.
No. 4 2009: Kentucky 34, Georgia 27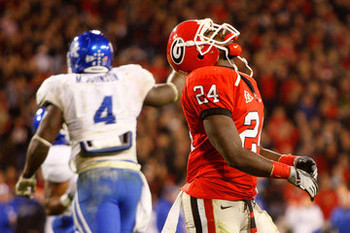 Last season, 14 second-half points off turnovers resulted in Kentucky's first win Between the Hedges in 32 years.
Despite a 20-6 halftime lead and gaining over 200 more total yards than Kentucky, Georgia could not hold on as it committed four turnovers and dropped to a miserable 6-5 on the season.
The Bulldogs had a chance to tie the game twice in the final two and half minutes, but a Washaun Ealey fumble at the one yard line, and a Joe Cox interception helped the Wildcats upset.
If you have never heard utter silence, you should have been in Sanford Stadium November 21, 2009.
No. 3 2005: Auburn 31, Georgia 30
If the Bulldogs had not won the SEC title in 2005, this easily could have been the No. 1 gut-wrenching loss under Mark Richt.
Two minutes left in the fourth quarter, 4th down-and-10, and up by two, the Bulldogs had this one in the bag.
But Auburn had other plans.
The Tigers converted the fourth down by completing a 62 yard pass to the Georgia three yard-line, and ran down the clock to hit a game-winning field goal.
The No. 9 Bulldogs walked off the field in shock after a one point loss to the hated Auburn Tigers.
No. 2 2002: Florida 20, Georgia 13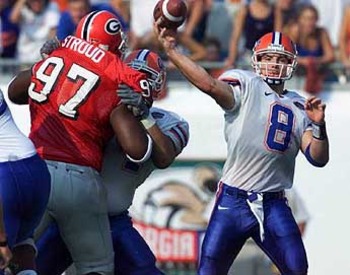 The 2002 loss to the Florida Gators is one that no Georgia fan ever wants to relive.
As if losing to the hated Gators were not enough, the Bulldogs also lost a shot at an undefeated season and a National Championship.
On this day, the Florida passing attack was seemingly unstoppable as Rex Grossman threw for 339 yards. Georgia was 0-13 on third down conversions, and led 13-12 in the fourth quarter.
After allowing a Florida touchdown, the Bulldogs had one last chance to tie the game with 2:23 left in the game. David Greene threw a pass to Terrence Edwards at the Florida 30, but on a day that was anything but lucky for the Bulldogs, Edwards proceeded to drop the pass.
After the game, Jon Stinchcomb, in tears, stated, "It's real unbearable. For the rest of our lives, all the seniors will know they never beat Florida."
No. 1 2008: Georgia Tech 45, Georgia 42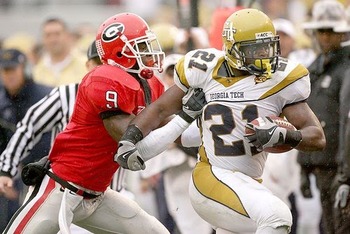 Here it is: The most gut-wrenching loss under Mark Richt.
In a season where nothing went as planned, the Bulldogs came into this game with hopes of having back-to-back 11 win, 2 loss, Top 10 seasons. Georgia also had the chance to tie Georgia Tech for the longest win streak in the series at eight games.
The first half started off predictably as the Bulldogs built themselves to a 16 point lead. However, Georgia's defense was pitiful and Georgia Tech's offense was ready to explode.
GT came out and dominated the third quarter. The Yellow Jackets finished the game with 409 rushing yards, and a three point victory over their arch-rivals.
The players took twigs from Sanford's hallowed hedges, and fans gave Bulldog Nation hell for the next 365 days.
What started out as a season destined for glory, ended with a loss to a team that had become irrelevant over the past seven years.
That is why the 2008 loss to Georgia Tech is the most heartbreaking.
Although I am focusing on the negative now, Part Two will be highlighting the biggest wins under Coach Richt.
Keep Reading

Georgia Bulldogs Football: Like this team?