Whipper Snappers: Five Young QBs Who Could Break Into the NFL Elite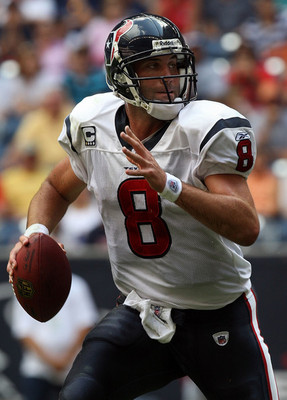 In my previous article I mentioned five quarterbacks who could lose their elite status.
It's only fair that I now discuss five quarterbacks who could achieve elite status with strong showings in 2010.
These are the new guard. The young guys who will snatch your daughter right out from under your nose, pop their collars, and waltz right through your prized hydrangeas without a second thought.
These are the guys who could be top-tier quarterbacks for years to come. All had strong 2008 seasons and have to continue to play at a high level to prove that their successes were not flukes.
So without further ado.
Matt Schaub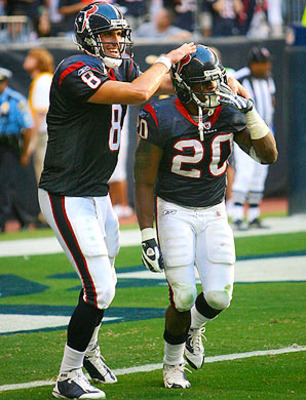 Life wasn't always easy for Matt Schaub.
Schaub played second fiddle to Michael Vick for three seasons, but played admirably when he got the chance.
Then, in 2007, he was traded to the woeful Houston Texans. That was the same year Vick was indicted.
Now, instead of starting for a team with an established history and fan base, he was starting for a team that had gone 2-14 just two seasons prior, and who was trying to wrestle attendees from a rabidly loyal Dallas Cowboys fan base.
However, Schaub has shown that he could have started for the Falcons even before Vick had the number seven on his back replaced with a DOC.
Schaub's impact lifted the team from a 6-10 record to an 8-8 finish in 2007, which marked the franchise's first non-losing season.
In 2008, Schaub kicked it up a notch, throwing for over 3,000 yards in just 11 games and finishing the season with an impressive 92.7 QB rating.
Last season, Schaub improved yet again. He started all 16 games in a season for the first time in his career. He showed poise and calm in the pocket and a penchant for wise decision-making.
Although not gifted with supreme arm strength, Schaub made up for that with his accurate passing and hefty football IQ. In many games he reminded fans of Peyton Manning with his crisp line-drive passes, especially in his short-to-mid range completions.
Schaub helped the Texans to a respectable 9-7 finish, led the league in passing yards, and garnered his first Pro Bowl bid.
Schaub has the easiest route to breaking into elite status, and might have already done so if not playing for the oft-forgotten Houston Texans.
Joe Flacco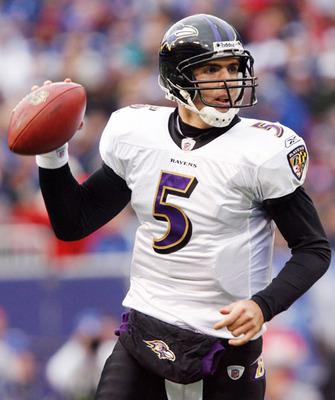 Flacco was initially undervalued coming out of Delaware, which is known for anything but its football program. However, Flacco impressed NFL scouts at the combine with his size and arm strength.
Anyone who has seen him play knows that the kid has a cannon.
Flacco was thrust into the driver's seat as soon as he was drafted. He has started all 32 games for the Ravens since they picked him with the 18th overall selection in the 2008 draft.
A trial by fire like that can irreparably rattle some QBs, and it is a testament to Flacco's mental toughness that not only did he perform, he also won games.
Flacco showed he could make many tough throws, but also forced the deep ball at times (Hell, if I could toss the pigskin 75 yards, I probably would too.), which led to a 14-12 TD/INT rating.
Flacco improved in 2009, although the team's record did not, and took them to the second round of the AFC Playoffs, where they were dismantled by the Indianapolis Colts.
Flacco needs to take care of the football better and show more accuracy in his short-game. However, he has shown that he is a leader and the Ravens have rallied around him. It is no stretch that he could soon be mentioned among the top signal callers in the league.
Mark Sanchez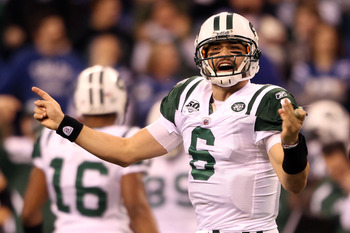 Mark Sanchez is one case where statistics don't tell the whole story. Although Sanchez's numbers don't indicate that he is close to being an elite quarterback, the fact that he took his Jets to the AFC Championship game in his rookie year speaks volumes.
Sanchez was aided by a burly offensive line of former first-rounders and the emergence of Shonn Green as an elite running back, but "Dirty" Sanchez still deserves some credit.
He showed great determination and focus throughout the 2009 season. Even when he made a bad throw, he didn't follow it with a series of conservative, tentative, and often ineffective throws, as many young quarterbacks tend to do.
Sanchez showed that he is capable of big plays and putting his team into a position to win. Although you can't call someone elite in just one season, if he takes the Jets deep into the postseason again, he just might have a case.
Aaron Rodgers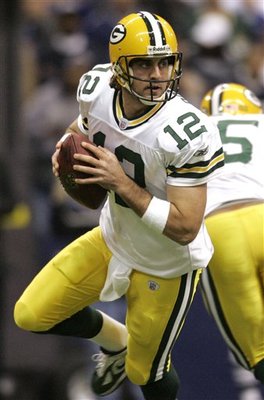 Aaron Rodgers came into the league backing up a legendary icon, who also never missed a game, in a football crazed town.
Although that is not every rookie's ideal situation, once Rodgers got his butt off the bench, he was faced with a situation equally as undesireable. Fill the shoes of the greatest QB in Green Bay and, as some would argue, NFL history.
Aaron did not falter when stepping up into the number one spot on the depth chart. He took his years under Brett Favre and soaked up all he could from the grizzled vet. It shows in his play.
More game manager than gunslinger, Rodgers has surprised many fans by hanging tough in the pocket and delivering surprisingly powerful balls to his potent weapons at receiver.
Although Rodgers is not the run-and-gun that Brett was, he has shown that he can execute on the bootleg and play-action.
Aaron Rodgers is not Brett Favre, and that may not be a bad thing. Rodgers' more conservative tendencies led him to record only seven interceptions to his 30 touchdowns in 2009. Besides his own miraculous 2009 campaign, Brett never threw less than 10 picks in a season.
If Rodgers can work on a quick release and develop better evasion skills in the pocket in 2010—he was sacked 50 times in 2009—and lead the Packers to the playoffs again, cheeseheads may think of Rodgers to be the second coming of number four.
Matt Ryan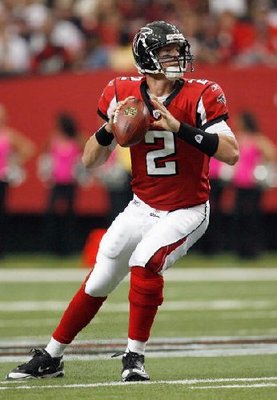 Matt Ryan probably has the most work to do out of anyone on this list to break into the NFL's top-tier of quarterbacks. Unfortunately, he may not be able to do it in a Falcons uniform.
The Falcons are a team that is on a steady decline, despite having a very productive running back in Michael Turner. They went from 11-5 to 9-7 and do not show signs that they are going to stop the bleeding in 2010.
Matt Ryan is young, but has showed signs that he could be a very efficient and productive quarterback. To be elite, however, Matty Ice really has to step his game up.
He has a tendency to rush his reads, especially after having his cage rattled a few times. He needs to play to his nickname, slow things down, see the field, and make the right reads.
He still has some viable offensive weapons to look to and has to put the ball up and trust them to make the catches. I don't think Matt Ryan will break into the elite this year, or maybe even the next without spectacular play, but I see it in this kid's future if he makes the necessary adjustments.
Keep Reading

Houston Texans: Like this team?