Now I Ain't Sayin' He a Gold Digger: Baseball's 10 Most Overpaid Players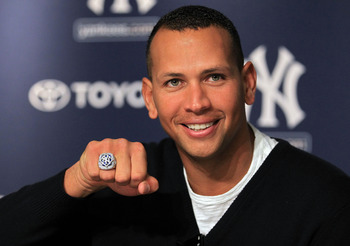 In real life, if you buy a product that doesn't do what it's supposed to, you can return it. If you purchase a blender that doesn't mix food, or a lawnmower that doesn't cut grass, you can usually get a refund or exchange it for one that works.
Baseball teams don't have that luxury. When GMs sign players, the name of the game is caveat emptor—buyer beware.
If a team signs a player expecting him to contribute 15 wins or 30 homers a year and he doesn't deliver, there's no way to return him for store credit, and he still gets paid like a star.
The following are the 10 players who have given their respective teams the worst returns on their hefty investments this season. Some have been merely disappointing, some have been used inefficiently, and some have actually been worse than a replacement-level scrub.
To help illustrate just how overpaid these players are, each slide contains the player's FanGraphs Salary Valuation (an estimate of how much a player's production is worth, based on Wins Above Replacement) for the 2010 season, projected over 162 games. Some of them have been so bad that they've actually provided their teams with negative value.
Congratulations to the teams whose players aren't on this list!
Thanks to Cot's Baseball Contracts for the salary figures.
Honorable Mentions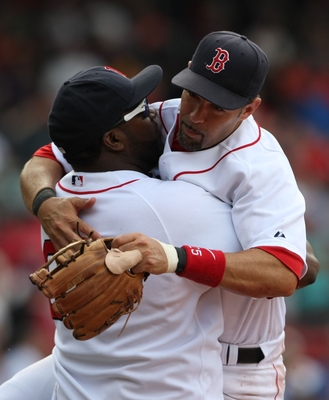 Todd Helton, Rockies: $16.6 million
As a clubhouse leader and three-time Gold Glove winner, you can't blame the Rockies for keeping him around. But despite a paltry .291 slugging percentage, he's getting paid like he's hitting 49 homers again.
Mike Lowell, Red Sox: $12 million
He's walking more than he's striking out and owns a decent .757 OPS, but you don't give a benchwarmer an eight-digit salary.
Gil Meche, Royals: $12 million
As Branch Rickey told Ralph Kiner when he asked for a raise, "We would have finished last without you." Oh, and he has a 7.17 ERA.
David Ortiz, Red Sox: $12.5 million
If you ignore the strikeouts, Papi's numbers (six homers, .763 OPS) aren't that bad, especially considering he's always been a slow starter. But the bar is raised significantly when you're the DH of a high-profile team.
Javier Vazquez, Yankees: $11.5 million
An 8.10 ERA? That's what happens when a fly-ball pitcher walks more than five batters a game and moves to Yankee Stadium.
No. 10: Kerry Wood, Indians: $10.5 million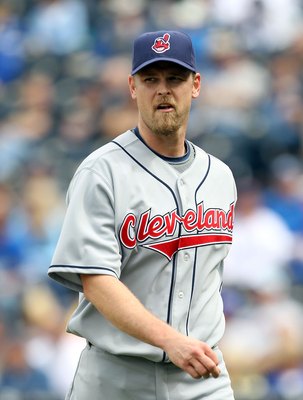 Noteworthy Numbers: 0-1, 9.00 ERA, 2.50 WHIP
FanGraphs Valuation: -$0.5 million
A team with no real chance of contending handing a reliever an eight-digit salary? That's strike one.
He goes on to miss more than a month of the season? There's strike two.
He comes back from the DL and pitches so poorly that Cleveland fans start pining for John Rocker? Now GM Mark Shapiro gets to hang his head and walk slowly back to the dugout.
Even before Wood's health failed him, the best case scenario for the Tribe was to ship him off to a contender at midseason. As of now, though, there aren't many suitors lined up to take him.
No. 9: Alex Rodriguez, Yankees: $33 million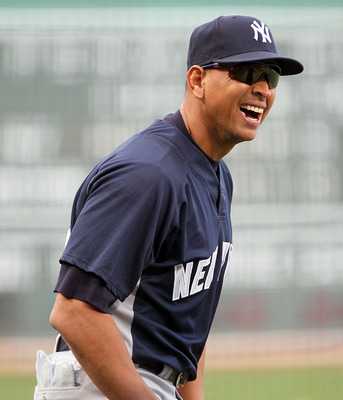 Noteworthy Numbers: .279 batting average, four homers, .828 OPS
FanGraphs Valuation: $21 million
It pains me to say it, but there's nothing wrong with A-Rod's numbers this year.
He's still a solid hitter, he's showing decent power, and he's even improved his fielding, posting a positive UZR for the first time since 2004. There isn't a team in the game that wouldn't love to have that production.
But "solid hitter" and "decent power" seem like disappointing descriptions for the highest-paid player in the game.
Something clearly isn't the same; maybe age is starting to catch up to him, or maybe he's just off to a slow start.
Either way, he still deserves a sizable paycheck. Just not this big.
No. 8: Eric Chavez, Athletics: $12 million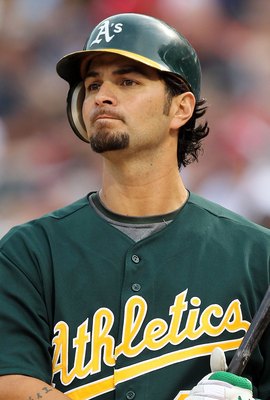 Noteworthy Numbers: .250 batting average, one homer, .657 OPS
FanGraphs Valuation: -$4.3 million
After taking the rest of the league to school by using inefficiencies in the game to win with undervalued talent, the Athletics have ended up with an expensive failure of their own.
According to FanGraphs, Chavez has provided the A's with roughly 50 cents on the dollar for the team's investment since signing a six-year, $66 million contract extension in 2004.
Oakland moved him to DH this year in hopes that focusing solely on offense would keep him healthy and add some spark to his bat.
Spoiler alert: it hasn't helped.
In Moneyball, Athletics' GM Billy Beane was quoted comparing Chavez favorably with Alex Rodriguez. Well, in this list, Chavvy wins.
No. 7: Jeff Suppan, Brewers: $12.5 million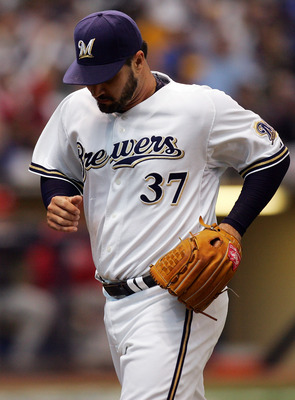 Noteworthy Numbers: 0-1, 6.20 ERA, 1.82 WHIP
FanGraphs Valuation: -$0.5 million
Suppan's salary raised some eyebrows even before Opening Day. With a career K/9 rate under 5.0 and coming off the worst season (7-12, 5.29 ERA) of his uninspiring career, he was a questionable choice for the back of the Brewers' rotation.
But the original scenario looks like a bargain now that he's been moved to the bullpen.
Only nine relief pitchers in baseball earn more eight digits a year. Some either are stud closers, like Mariano Rivera and Francisco Rodriguez, or used to be, like Francisco Cordero and Brad Lidge (the other five are on this list). Neither shoe fits for Suppan.
It's stupid to pay $12.5 million to a starter with a 6.20 ERA, but it's downright absurd to shell out that kind of cash for someone who pitches that poorly out of the bullpen.
No. 6: Oliver Perez, Mets: $12 million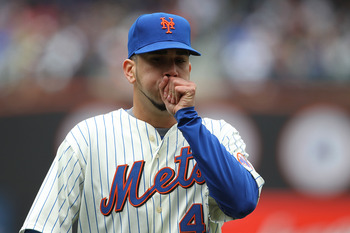 Noteworthy Numbers: 0-3, 5.94 ERA, 1.92 WHIP
FanGraphs Valuation: -$3.8 million
It's been a bad year for Oliver Perez, who as of this weekend is the latest overpaid starter to become a ridiculously overpaid reliever.
The root of his problems is a nauseating 7.6 BB/9 rate—the worst in baseball. His struggle with walks is the predictable result of combining a below-average rate of hitting the strike zone (46 percent) with the ninth-worst O-Swing rate (23 percent) in the league.
His 7.3 K/9 rate is solid, but it's the worst of his career and not nearly enough to offset his abysmal walk rate.
His fastball has slowed from 91 MPH in 2008 to 88 MPH in 2010, while his change-up has gone from 80 MPH to 85 MPH over the same time span. There's your problem.
Like Suppan and Wood, Perez is collecting an eight-digit salary while providing mediocre production from an unimportant role. He might have a better chance of earning his keep if his job was parking cars.
No. 5: Eric Byrnes, Retired: $11 million
Noteworthy Numbers: .094 batting average, zero homers, .393 OPS
FanGraphs Valuation: -$6.8 million
After accumulating 7.0 Wins Above Replacement with the Diamondbacks from 2006-7, Byrnes was rewarded with a $30 million contract extension.
In the two subsequent seasons, he played so poorly (.653 OPS) that Arizona was forced to swallow his $11 million salary and release him.
Hoping that Byrnes would be able to recapture some of his former talents, the Mariners signed him to a one-year deal in January. But as you can see, he only got worse, and he got cut from Seattle, too.
Now retired, Byrnes is playing in a slow-pitch softball league where no matter how well you play, "the beer is still cold and the burgers are still good." Oh, and his two most recent employers are still paying him a small fortune.
No. 4: Joe Nathan, Twins: $11.3 million
Noteworthy Numbers: n/a
FanGraphs Valuation: $0.0 million
Imagine you suffered an injury that would prevent you from working for the next year, maybe more, and could hamper your ability to do your job well for the rest of your career.
Now imagine that your employer is still required to pay you $24.5 million over the next two years, even if you never work again.
Congratulations, you're Joe Nathan.
No. 3: Carlos Zambrano, Cubs: $17.9 million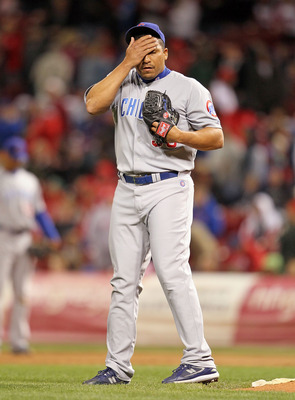 Noteworthy Numbers: 1-3, 7.07 ERA, 1.89 WHIP
FanGraphs Valuation: $4.3 million
The highest-paid reliever in the game is not Mariano Rivera, or Francisco Rodriguez, or even Jonathan Papelbon.
It's Carlos Zambrano.
In one of the most insane managerial decisions of the year, Cubs manager Lou Piniella demoted Big Z last month to correct an imbalance between the rotation and bullpen.
Zambrano's 3.55 xFIP shows that he's pitching a lot better than his superficial stats would indicate; he's on the unfortunate end of a .439 BABIP and an 18.5-percent HR/FB rate—more than double his career mark. And the move to the bullpen neutralizes his best attribute: durability.
That being said, you don't send the third-most expensive pitcher in the game to pitch relief unless he's channeling Rollie Fingers.
The misallocation of payroll is simply embarrassing.
No. 2: Aramis Ramirez, Cubs: $15.8 million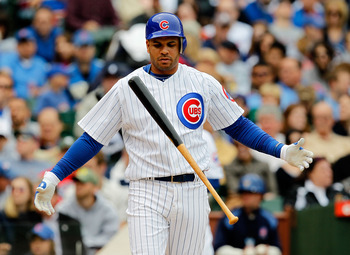 Noteworthy Numbers: .167 batting average, three homers, .502 OPS
FanGraphs Valuation: -$15.8 million
In the five years from 2004-8, Ramirez was consistently one of the top third baseman in the game; he averaged 32 homers, 105 RBI, and a .920 OPS during that span, never dipping below 27, 92, and .898, respectively.
Even in 2009, when injuries kept him off the field for half the season, he continued on his pace, smacking 15 homers and 65 RBI with a .905 OPS. Not bad for a down year.
This year, something is different.
His anemic offensive production can partly be explained by a huge jump in his strikeout rate (24 percent—more than his 2006 and 2007 seasons combined). He's swinging at fewer pitches in the zone (72 percent, down from 77 percent) and making less contact when he does (83 percent, down from 89 percent).
Perhaps more troubling is his alarming 59 percent FB rate—a 15-point jump from last year, and second in baseball behind Mark Reynolds. The difference: Reynolds' 19.6-percent HR/FB rate is more than quadruple Ramirez's anemic 4.7-percent figure.
When fly balls don't leave the park, they get caught. So it's not just luck that's dragging down his .190 BABIP.
Until Sunday night, the only player who is in the top 25 in FB rate who had a lower HR/FB rate than Ramirez was...
No. 1: Carlos Lee, Astros: $19 million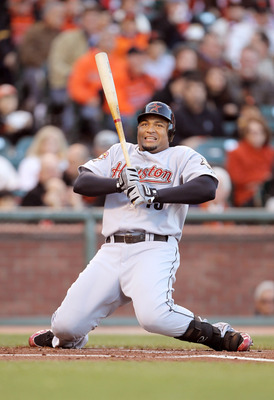 Noteworthy Numbers: .199 batting average, three homers, .548 OPS
FanGraphs Valuation: -$18.8 million
Question: what happens when a power hitter stops hitting for power? Answer: Carlos Lee.
With a .103 ISO, he's actually looking up at Yuniesky Betancourt and Nyjer Morgan. And his 5.2-percent HR/FB puts him behind such sluggers as Howie Kendrick and Akinori Iwamura.
Oh yeah, and his O-Swing rate (31 percent) has suddenly gone through the roof. His 15-percent strikeout rate is already the worst of his career, but that's likely to shoot skyward unless his plate discipline improves.
Then there's his poor fielding. His .962 fielding percentage trails only Alfonso Soriano for worst among MLB outfielders, and he's third from the cellar among big-league left fielders in UZR (-4.2).
It would be hard to make a case for giving Lee nearly $20 million a year when he's at his best. It's downright criminal to give him so much cash when he's playing like this.
Keep Reading