2010 Carolina Panthers: Projected Depth Chart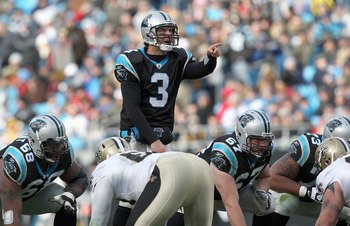 As we move closer to the start of the 2010 NFL season, many questions remain surrounding the Carolina Panthers.
After failing to sign impact players during free agency, Carolina chose to build through the draft, including selecting their franchise quarterback.
Training camp is not too far away, so I have decided to project Carolina's depth chart coming into Week One.
Quarterback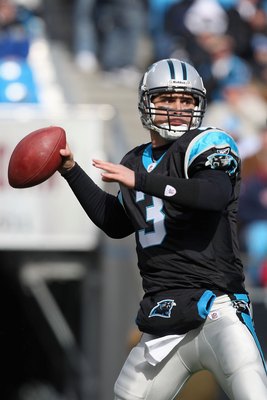 1). Matt Moore, #3.
2). Jimmy Clausen, #2. (R)
3). Tony Pike, #16. (R)
Released:
Hunter Cantwell, #14.
This will be Carolina's most watched position during training camp. They gave the starting position to Matt Moore after Delhomme was released after another dissapointing season.
Moore was impressive, but nothing special.
During the draft, Carolina didn't pick until the second round, where Jimmy Clausen fell to them. The second they drafted him, the Panthers' starting quarterback was in question.
They also drafted Cincinatti's Tony Pike in the sixth round, who I fully expect to make the roster.
Running Back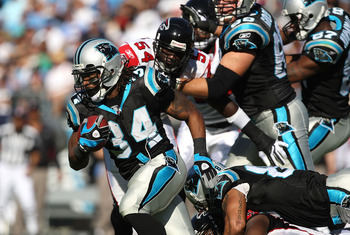 Running Back:
1). DeAngelo Williams, #34.
2). Jonathan Stewart, #28.
3). Mike Goodson, #33.
Fullback:
1). Tony Fiametta. #42.
Released:
Daniel Porter, #37. (R)
Tyrell Sutton, #22.
Rashawn Jackson, #38. (R)
Josh Vaughan, #40. (R)
Not much of a competition here, as Carolina's top running game features DeAngelo Williams and Jonathan Stewart, two top running backs in the game.
The third back goes to Mike Goodson, a fourth round pick last season that disappointed, but should improve this season.
After the release of Brad Hoover, Fiametta beats out rookie RaShawn Jackson to win the job.
Receivers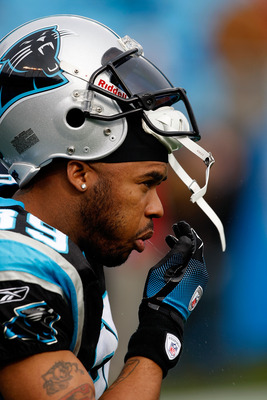 Wide Receiver:
1). Steve Smith, #89.
2). Dwayne Jarrett, #80.
3). Brandon LaFell, #11. (R)
4). Armanti Edwards, #10. (R)
5). David Gettis, #12. (R)
6).Kenneth Moore, #81.
Tight End:
1). Dante Rosario, #88.
2). Jeff King, #47.
3). Gary Barnidge, #82.
Released:
Trent Guy, #84. (R)
Dexter Jackson, #19.
Charly Martin, #80.
Wallace Wright, #15.
Oliver Young, #18. (R)
Andrew George, #85. (TE)
Carolina will hold on to three of their rookie receivers. Armanti Edwards was a quarterback in college, and will learn to play receiver in the NFL from another former third-round pick, Steve Smith.
Other draftee's LaFell and Gettis are big targets, giving the Panthers' needed young talent at receiver.
The tight ends make no change, as they showed improvement throughout the 09' season.
Offensive Line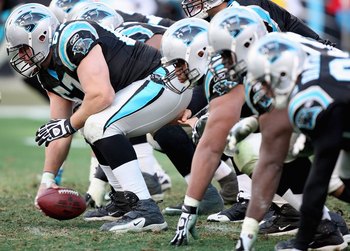 Offensive Tackle:
1). Jordan Gross, #69. (LT)
2). Jeff Otah, #79. (RT)
3). Geoff Schwartz, #74.
Offensive Guard:
1). Travelle Wharton, #70.
2). Mackenzy Bernadeau, #73.
3). Duke Robinson, #72.
Center:
1). Ryan Kalil, #67.
2). Steve Justice, #63.
Released:
Mark Ortmann, #75.
Rob Pettiti, #64.
Gary Williams, #65.
Ray Histake, #62. (R)
Kurtis Gregory, #78. (R)
Noah Franklin, #77. (R)
CJ Davis, #71.
Carolina has been consistent with their starters on the offensive line, although injuries have kicked their butts every year.
Kendrick Vincent has yet to be re-signed, so either Bernadeau or Robinson will start in his place.
I'm concerned with the depth on their line, although they have many players that can play different positions, they still lack depth.
Defensive Line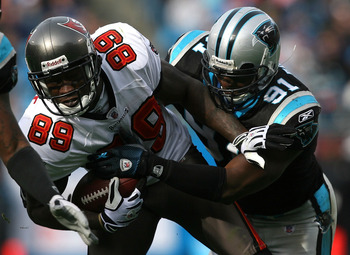 Defensive Tackle:
1). Tank Tyler, #93.
2). Louis Leonard, #94.
3) .Corey Irvin, #60.
4). Ed Johnson, #99.
5). Nick Hayden, #98.
Defensive End:
1). Everette Brown, #91. (RE)
2). Tyler Brayton, #96. (LE)
3). Charles Johnson, #95.
4). Greg Hardy, #76. (R)
Released:
Hilee Taylor, #97.
Eric Moore, #66.
Andre Neblett, #68.
Derek Landri, #61.
This is the position that took the most beating during the offseason. All-Pro defensive end Julius Peppers signed a long-term deal with the Chicago Bears. Carolina also released starting defensive tackles Maake Kemoeatu and Damione Lewis, leaving Tyler Brayton as the only returning starting defensive linemen.
Coming into the starting roles at tackle are Tank Tyler and Louis Leonard, both were acquired via trade during the season in '09, also ending their season on IR.
At defensive end, '09 second round pick Everette Brown comes in to replace Peppers. Tyler Brayton, who re-signed during the offseason, will return as the left defensive end.
Linebacker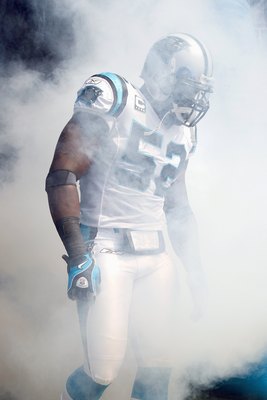 Inside Linebacker:
1). Jon Beason, #52.
2). Dan Connor, #55.
Right Outside Linebacker:
1). Thomas Davis, #58.
2). Eric Norwood, #92. (R)
Left Outside Linebacker:
1). Jamar Williams, #53.
2). James Anderson, #54.
Released:
Quinton Culberson, #56.
Mortty Ivy, #54.
Jordan Senn, #57.
Sean Ware, #49. (R)
Brett Warren, #48. (R)
This is the position of strength for the Panthers, who added Jamar Williams via trade with the Bears, and drafted Eric Norwood in the third round, who i expect big things from.
Na'il Diggs was one of the any players to be cut during the offseason, and he will be replaced by either Connor, Anderson or Williams to start the season.
But expect a lot of playing time from Norwood, who many expect to be the next Elvis Dumervil.
Defensive Back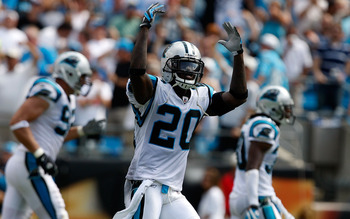 Cornerback:
1). Chris Gamble, #20.
2). Richard Marshall, #31.
3). Captain Munnerlyn, #41.
4). RJ Stanford, #35. (R)
5). CJ Wilson, #27.
Free Safety:
Charles Godfrey, #30.
Jordan Pugh, #29. (R)
Marcus Hudson, #25.
Strong Safety:
Sherrod Martin, #23.
Aaron Francisco, #21.
Released:
Marcus Walker, #24.
Brian Witherspoon, #32.
Matt O'Hanlon, #39.
Robert McClain, #36. (R)
Carolina is strong at the cornerback position, but after trading Chris Harris back to the Bears, they're lacking at safety.
09' second round pick Sherrod Martin will start at strong safety, moving him from free safety.
With Richard Marshall unhappy with his current contract situation, expect surprise seventh-round pick Captain Munnerlyn to get a lot of playing time.
Special Teams
Kicker:
1). John Kasay, #4.
2). Aaron Pettrey, #6. (R)
Punter:
1). Jason Baker, #7.
Kick Returner:
1). Armanti Edwards, #10.
2). Mike Goodson, #33.
Punt Returner:
1). Armanti Edwards, #10.
Long-Snapper:
1). JJ Hansen, #44.
Released:
Todd Carter, #5.
Blake Hauden, #8.
Carolina has stayed consistent with Kasay and Baker.
Although, they bring in Edwards to return punts and kicks, and also signed Aaron Francisco to help defensively.
Ohio State kicker Pettrey will replace Rhyss Lloyd, who singed with the Vikings, as their kick off specialist.
Keep Reading

Carolina Panthers: Like this team?